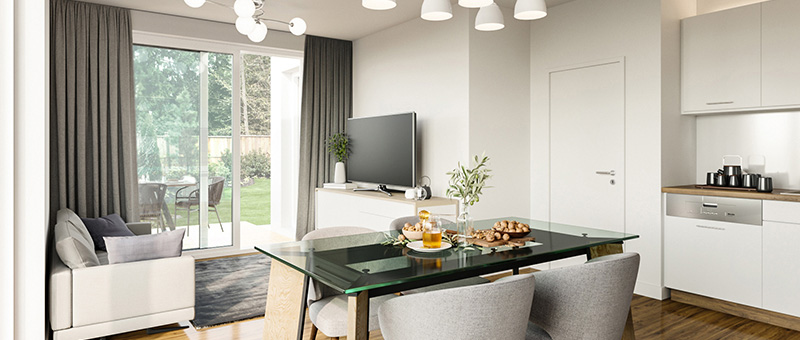 In order to sell old property, realtors do their best to update a traditional home and improve its presentation, using actual or virtual staging. It's no surprise that outdated dwellings and old-fashioned furniture don't attract prospects, more like they turn them off. Thus, modernizing the home is a key factor that can directly affect sales.
However, doing physical renovation and buying new furniture is a big deal. And usually, the homeowners want to sell the property asap and don't spend a dime on its improvement. Therefore, virtual staging becomes the only solution for a realtor to update a traditional home with minimum expenses. Let's take a look at 5 easy steps to remodel old properties with the help of CG technology.
#1. Make Virtual Cleaning and Erase Extra Stuff from Photos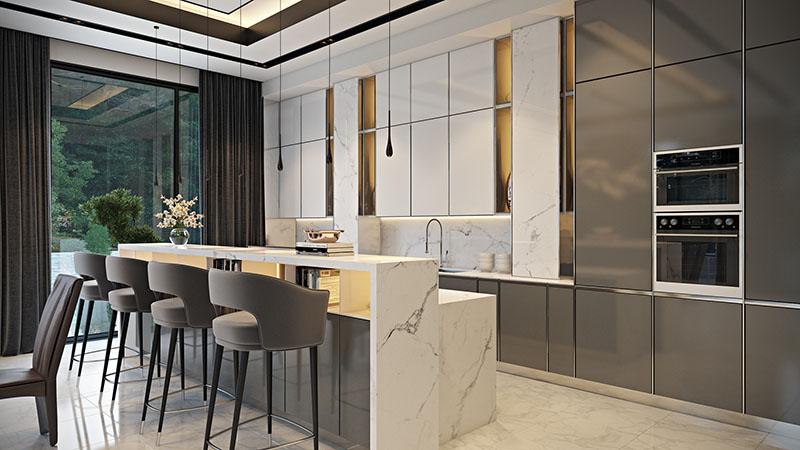 The longer people live in the house, the more stuff they accumulate over the years. Usually, these small things could be invisible to the owners as they get used to them. But when it comes to selling the home to new tenants, the property should look fresh and have no traces of someone else's life. Of course, no one wants to move into a house filled with other people's photos, souvenirs and decor.
Therefore, you must clean the house from top to bottom to get rid of every small detail before posting those photos in the listing. Unlike physical cleaning, updating the traditional home with the help of CG technology is an easy and trouble-free option. Using special software, CG artists can retouch the fridge magnets, outdated home decor, family portraits, etc. to clean the whole place and make it look neat.
#2. Update a Traditional Home with Modern Digital Furnishing
Before

After
With the help of virtual home remodeling, CG artists can completely restyle and update home interiors. Most often, digital restyling is used to replace old furniture and decor with a new one. But sometimes the furniture pieces that previous owners have been buying over the years could be so random that they don't blend harmoniously. So when it comes to virtual restyling, professional CG artists can choose objects that work well together and create a thought-out designer look for the whole home.
Professional CG studios have their libraries of 3D furnishings and ready-to-use furniture sets. Therefore, 3D artists can pick any ensemble to create a new look and completely update home interiors in just 48 hours. On top of that, they can even choose 3D furniture pieces from any brand, including the luxury ones, which, of course, a realtor can barely afford to use in physical staging.
#3. Be Minimalistic in Your Decorative Approach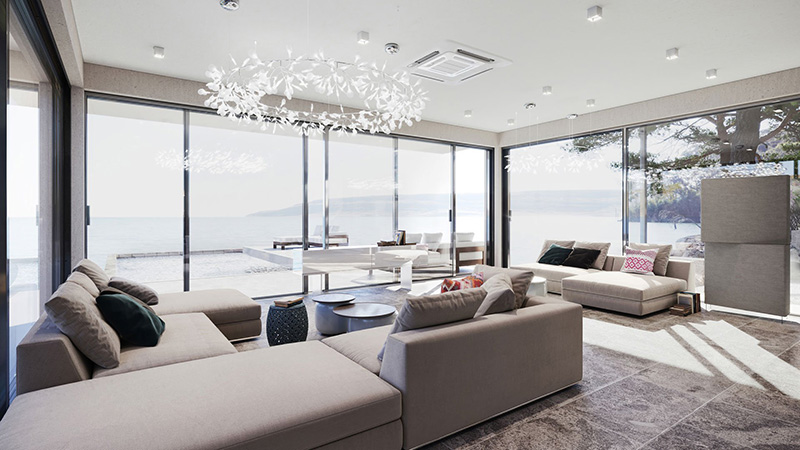 To update a traditional home and make the interior look more stylish and renewed, you need to minimize the amount of furniture and decor. Take an inventory and remove all unnecessary items that don't flatter this home — extra shelves, dressers, poufs, flower pots, and so on. The fewer things, the more spacious and stylish the home looks.
Minimalism was and still is a huge interior trend that makes dwellings look brand new and more attractive for prospects. This method helps to modernize the house and saves the budget for preparing it for sale at the same time. Thus, using a minimalistic approach to remodel a traditional home is always a win-win move for a realtor.
#4. Transform a Traditional Home with Interior Makeover
Before

Virtual Renovation

After
To renovate old property and update a traditional home is a smart move that helps to sell properties faster and for a better price. However, doing an actual repair for the whole house is a huge expense and a job that takes too much time and effort. Therefore, virtual staging services for an interior makeover can save lots of resources and provide a new look for a traditional home.
Firstly, using graphic editors, CG artists can retouch some interior defects such as cracks on the walls or stains on the wallpaper. This might work for traditional homes that just need a little polish. For more damaged or completely outdated properties, 3D experts can replace all the floors, doors and windows, repaint the walls, restore some architectural elements, etc.
The biggest benefit of CG technology is that artists are not limited by actual materials and catalogs since they deal with digital libraries. For virtual renovation, they can use any finishing materials and textures they know will work better for the home interior without actually buying any of them.
#5. Finalize Home Presentation by Virtually Renovating the Exterior
Before

After
The outdoor of the house also plays a big role in the listing's popularity. Surely, prospects are more interested in interior living spaces but they expect the exterior to be in tune with interiors. If the real estate's premises look neat and fresh, the outdoor space simply can't look shabby. Therefore, by updating the exterior of a traditional style home, the realtor undoubtedly gets more chances to sell it.
Using 3D soft and graphic editors, CG artists from a professional 3D studio can add little touches here and there to improve house outdoors. For example, it's easy for them to fix the fence, remove extra objects from the lawn, add greenery, etc. Or else, they or even make more radical changes, say, repaint the walls of the home. Of course, good CG specialists won't overdo the editing, because they know that their task is to keep the house recognizable but make it the best version of itself.
Remodeling traditional homes in order to make them relevant to modern prospects is a complex process. There are many tricks to digitally update the old house. But before ordering any CG editing, a realtor should outline the target audience to define what home they might like. Based on that, a marketer can set the task to CG studio — it can be as minimal as simple virtual cleaning or a complete renovation of both interiors and exteriors. After getting the task, professional CG artists take full control of the situation and use all their skills to update real estate with techniques of virtual restyling and renovations. The final results of the home makeover will look stunning and, most importantly, absolutely photorealistic.
Looking for a way to update a traditional home and make it a winning offer? With our virtual staging services, you'll get the images of a renewed stylish home that will sell real estate with lightning speed!
https://virtual-staging.archicgi.com/wp-content/uploads/2020/06/update-a-traditional-home-View04.jpg
340
800
luzina
https://virtual-staging.archicgi.com/wp-content/uploads/2020/04/archicgi-logotype-white-300x85.png
luzina
2020-06-03 16:30:41
2020-06-08 13:53:53
UPDATE A TRADITIONAL HOME: HOW TO MODERNIZE OLD REAL ESTATE VIRTUALLY