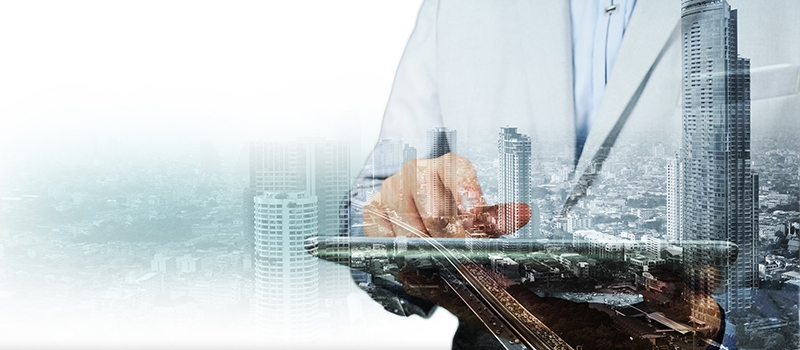 The popularity of the internet has fundamentally changed how marketing in real estate works. Gone are the days when yard signs showed properties were on sale – as many as 51% of homebuyers in the United States today rely on online purchases. Shopping online gives them access to data beyond property description, see social data, know current real estate trends, and connect with agents at the touch of a button. It only makes sense that any real estate agent worth their salt would incorporate the internet in their marketing strategy. 
It is very natural to find this overwhelming – after all, there are literally thousands of channels out there to choose from, and each offers a specific set of benefits. But it does not have to be that way. Here are the top platforms you should use as a real estate marketer to maximize your reach, find and nurture more leads using eye-catching visual content like virtual staging, and finally convert them to successful sales.
#1. Zillow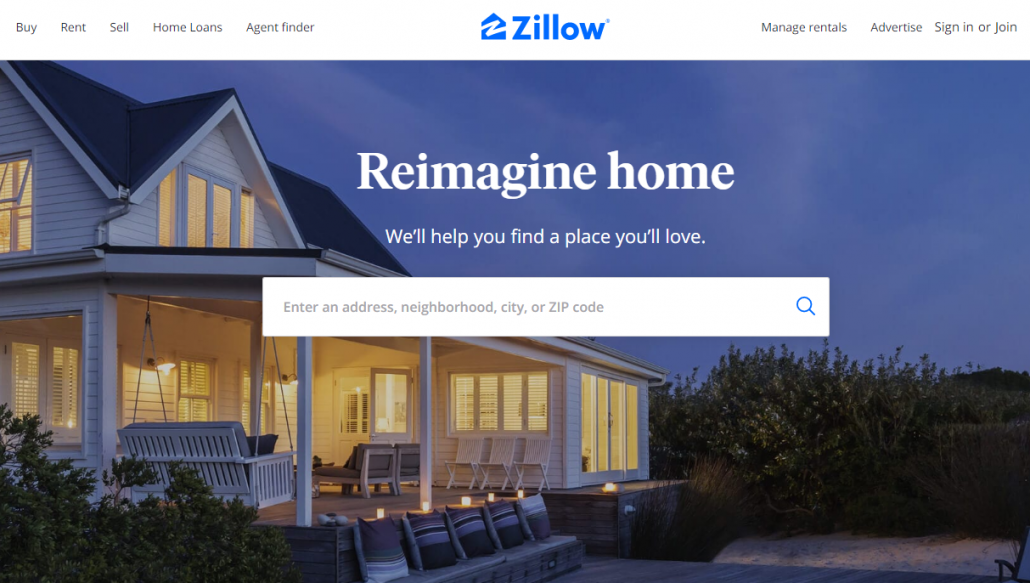 Website: https://www.zillow.com/
Love it or hate it, you just cannot afford to ignore it – that is where Zillow stands when it comes to marketing in real estate. At over 36 million unique monthly visitors (as of 2018), the site is literally the best in the entire real estate industry. Popular amongst real estate agents and buyers alike Zillow has earned a niche for itself in connecting millions of buyers and agents successfully. 
The website is renowned for having invented the term "Zestimate" – an automated valuation model (AVM) which uses a proprietary formula to calculate a property's value in real-time. This will allow you to better understand and navigate real estate markets as an agent. In addition to a wider reach, listing a home on Zillow will give you access to a local news feed, real-time pricing tool, a sales proceeds calculator, and of course your listings' "Zestimate" value.
#2. Trulia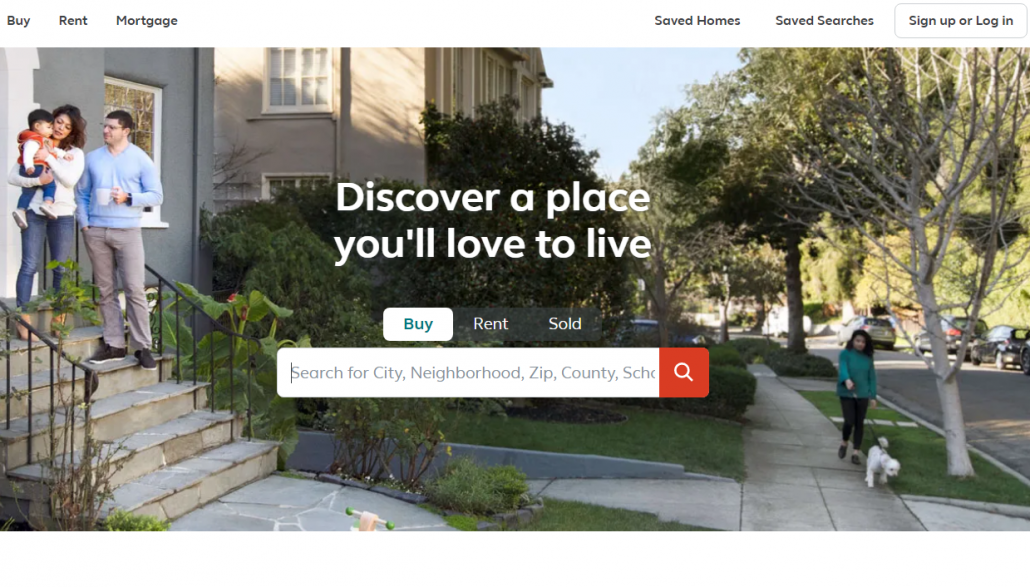 Website: https://www.trulia.com/
Trulia is a real estate property listing website that ranks only second to Zillow. Although the company is now owned by Zillow itself, Trulia continues to operate independently and has its set of unique features and benefits. The platform is known for its educative bent – it goes beyond marketing statistics and numbers to offer and added insights into what makes an area desirable to be lived in. 
Trulia adds various lifestyle factors in its search filters. This includes demographic data, proximity to shops and public places, commute levels and crime rates. This is actually an advantage when it comes to marketing in real estate because it allows you to portray your listings as a community your clients would thrive in – which automatically increases the chances of it being sold. The platform also has an open community of real estate agents, brokers (and sometimes buyers) where you can discuss issues and learn from others in your field.
#3. Realtor.com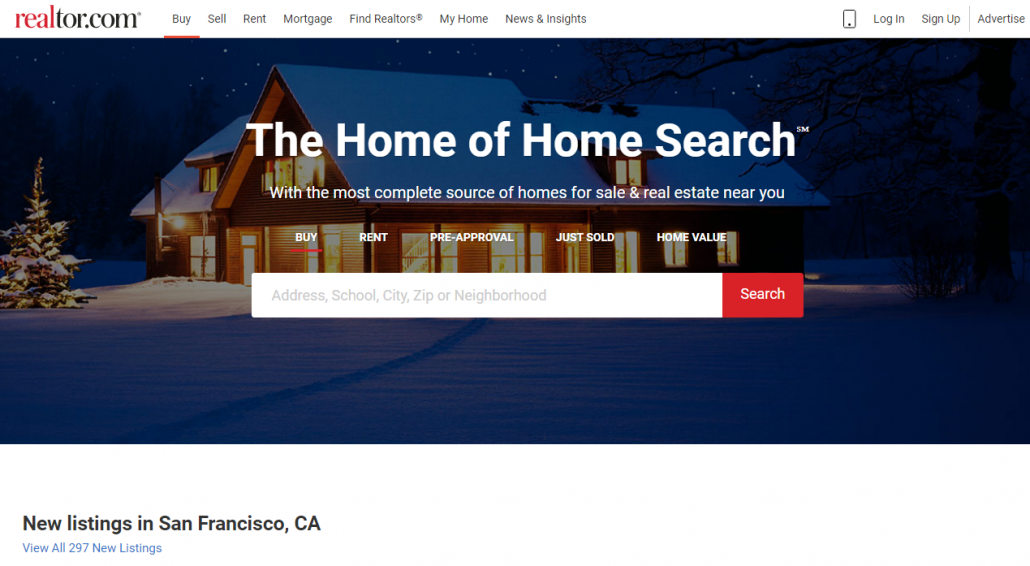 Website: https://www.realtor.com/
Launched in 1994, Realtor.com is one of the first online listing companies in the digital space, and even after 26 years of operation is robust enough to be featured in the "big three" listing sites. It is one of the most authentic sites to exist in the entire real estate industry – it is officially listed in the National Association of Realtors (NAR) website, and all realtors on the site are NAR certified as well. 
Besides giving you a wider reach and your listings better visibility, Realtor.com offers expert insights on best practices in marketing in real estate that agents can use to stay on top in their field. The platform offers detailed overviews on current real estate trends and affordability distribution that can help you understand when, where and how you should list your properties. And since it's officially certified by NAR itself, there is no doubt on the authenticity of its content.
#4. Redfin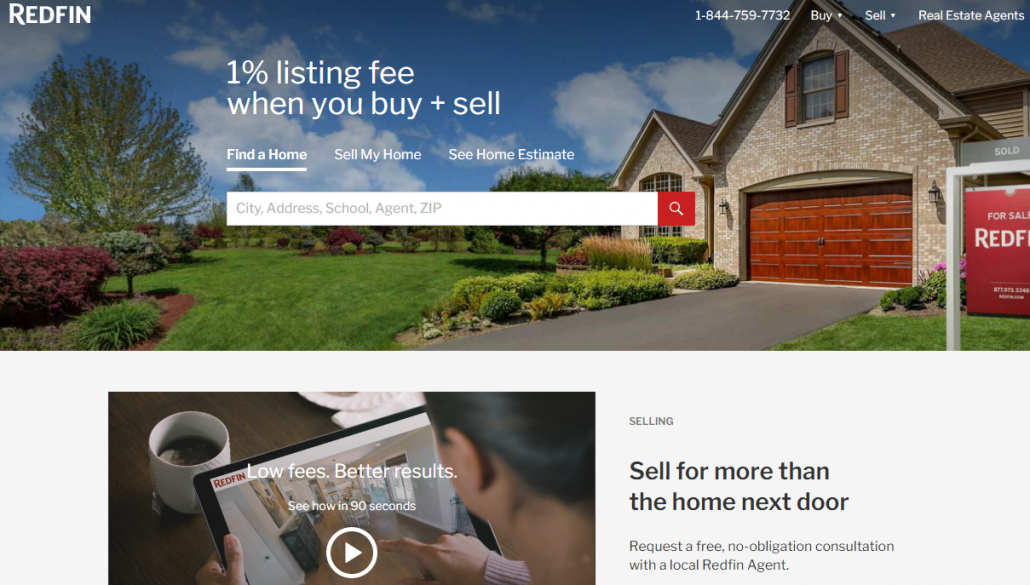 Website: https://www.redfin.com/
Although it is not among the top three websites for marketing in real estate, Redfin is super-popular among buyers for its 1%-only fee, as opposed to the average 2.5%-3% for real estate agents. This may seem like a disadvantage, but if you think about it, listing your property on the platform gives you a wider exposure and a better chance of selling at a good price in a shorter time frame – which more than covers for the extra listing fee. Redfin also has added features such as location-based searches, an affordability calculator, and scheduling appointments directly via the website.
What really sets Redfin apart is the fact that it is one of the few existing top real estate brokerage sites that allows agents to display full 3D walkthroughs and virtual tours of their property listing. Such tours can be created with the help of 360 virtual staging – it is a process where you can have your property staged to make the realistic picture of a lived-in home. This allows your customers to feel more proactive and involved in the picture, and will exponentially increase their chances of making a purchase – all without you having to spend thousands in physical staging, maintenance, and photography for marketing purposes. At ArchiCGI, we can virtually stage your property with 3D furniture models and decor elements to render high-quality images in different interior design styles.
#5. Sotheby's Realty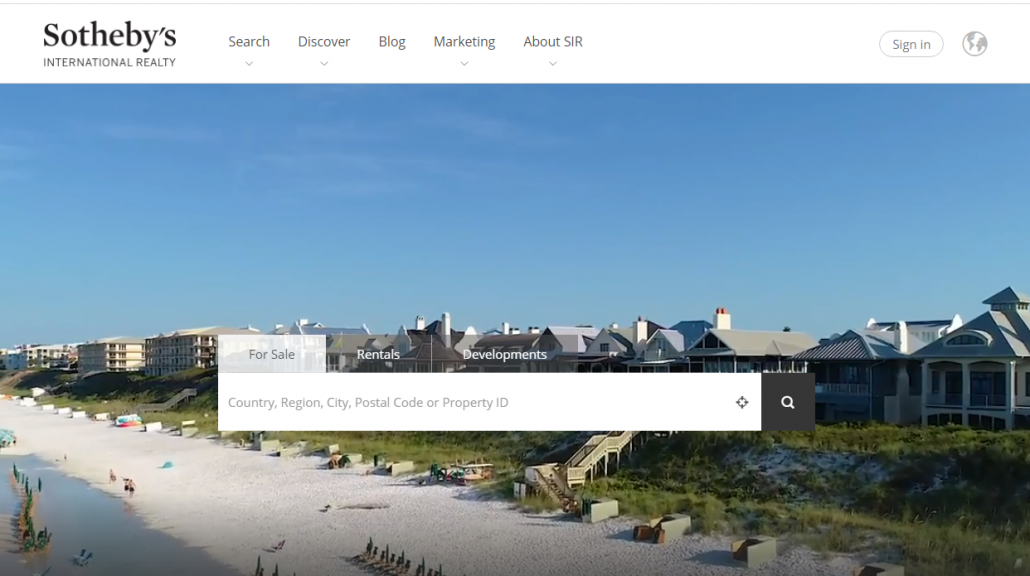 Website: https://www.sothebysrealty.com/eng
When it comes to luxury properties, the marketing strategies for real estate agents tend to be a little different. Given that luxury homes are niche in nature, agents must make sure that they are indeed marketing them to the right audience and in the right places. One place where realtors can list such properties and make sure that it gets the attention it deserves is Sotheby's International Realty. 
Coming from the prestigious Sotheby's of England, the site specializes in listing high-end luxury real estate and connecting buyers to local agents selling said luxury property. The site attracts wealthy clients from all over the world (many of whom are known to buy an overseas property). The site also allows you to list features that are otherwise given a miss on general real estate websites – architecture, amenities, and outdoor spacing. 
#6. FollowUpBoss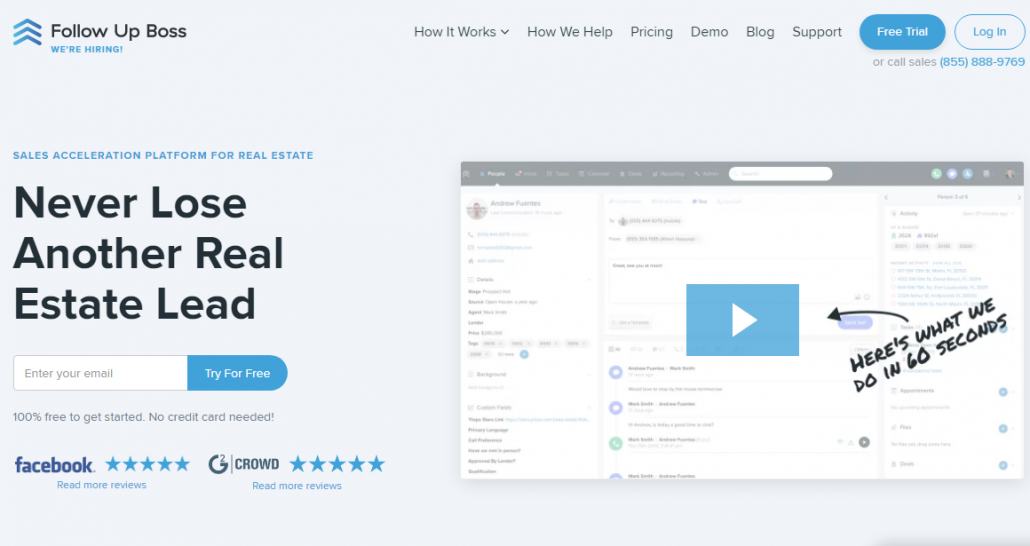 Website: https://www.followupboss.com/
Having a fast response time, and following up regularly with both prospects and clients is one of the most underrated ways to successfully market as an agent. This is easier said than done, especially if you are not using the right tools to manage the large quantity of data. With FollowUpBoss, you can easily solve this problem by adding and managing your contacts and interactions in a single space.
FollowUpBoss is a Customer Relationship Management (CRM) software focused on managing leads to help simplify marketing for real estate agents. The platform allows you to manage emails, write auto-responders for specific situations, and view all available related to social media. It also offers templates that you can automate and use for your prospecting and sending emails in your marketing plan, and allows you to set goals and reminders to help you be more productive.
#7. CallAction
Website: https://callaction.co/
Successful marketing in real estate requires your strategies to be as streamlined as possible. CallAction helps you achieve this by tracking both your online as well as your offline communication channels. The platform allows you to add records and notes from conversations phone calls, emails, and text messages. It also showcases metrics that allow you to easily capture, track, and respond to your clients for increased engagement and conversions.
The most beneficial aspect of CallAction, however, that it is very handy for conducting real estate marketing in several localities at once. The platform has the ability to have a unique local or toll-free phone numbers on the basis of their location where your prospects and clients can contact you. This is a great way for you to be the local friendly face in several places at once – without having to actually be physically present in all of them. It also helps you track all of your inbound calls. 
#8. ScheduleOnce by OnceHub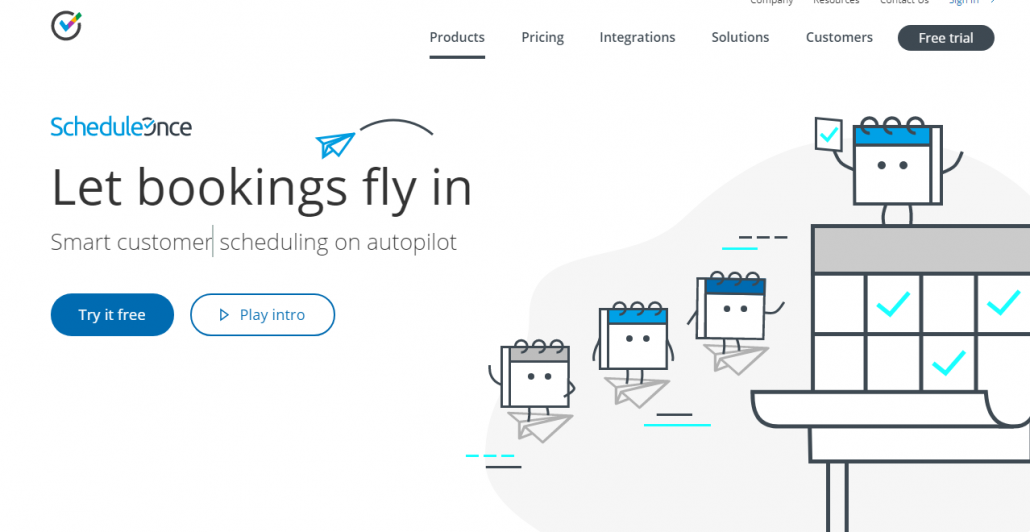 Website: https://www.oncehub.com/scheduleonce
The lack of proper scheduling is one of the biggest time-wasters when marketing in real estate. A lot of scheduling and meetings are done by playing-by-ear. This leads to several back-and-forth texts and/or email conversations, which tend to get tedious and time-consuming.
ScheduleOnce cuts through the awkwardness by creating an online calendar and sending it over to your prospect or client. They can then easily see your time commitments and available time, and choose from them according to their convenience. ScheduleOnce can also be integrated into your website and social media, making it easier to book more meetings directly without any conversations at all.
#9. Hootsuite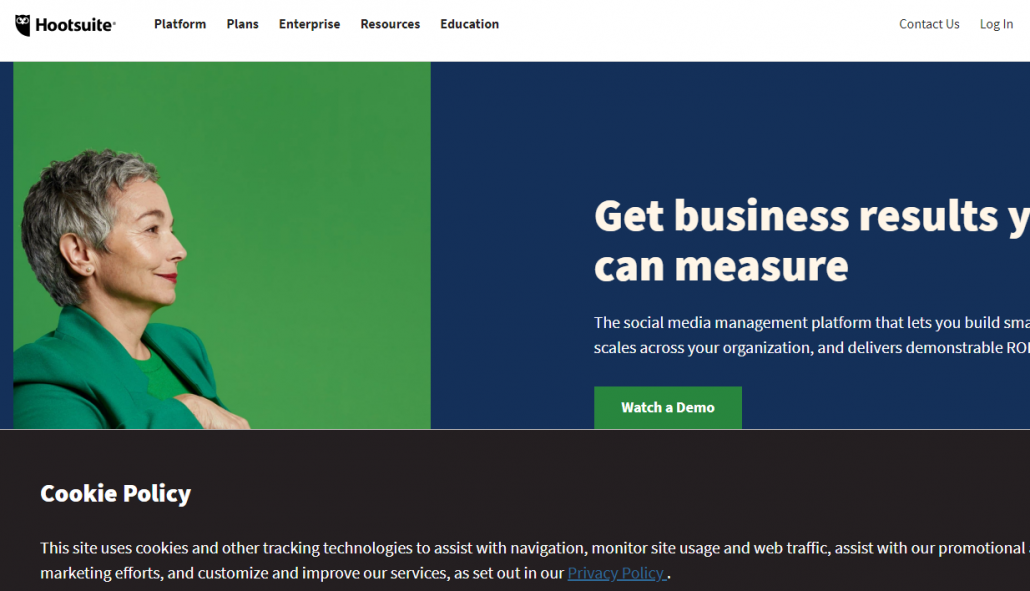 Website: https://hootsuite.com/
Marketing plans for real estate today involve a lot of online promotion through various social media. With all the different SM platforms out there, posting on each individually can get very time-consuming. With Hootsuite, you can easily invest your time in more productive pursuits by managing all of your social profiles in one place. 
Hootsuite allows you to manage multiple social media pages by auto-posting to all of your pages. Simply put, all you need to do is post on Hootsuite, and it will do the rest. It also offers other value-added features such as being able to research keywords, filter social chatter by location, languages, and hashtags. This allows insight into what other real estate marketers might be doing and gives you a chance to learn from them – or at least avoid their errors.
#10. DocuSign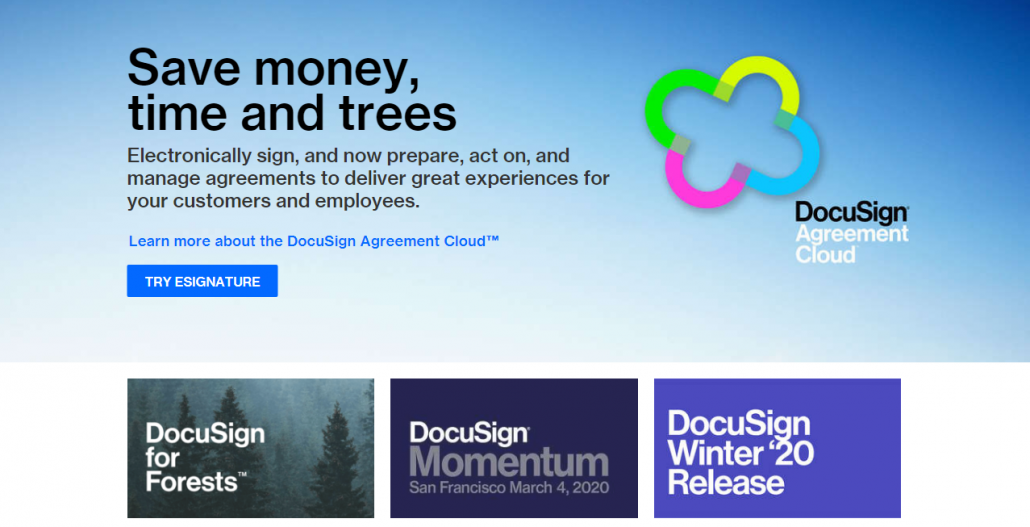 Website: https://www.docusign.com/
Paperwork is a very vital part of the real estate selling process – the lack of proper documents can make things extremely inconvenient for all parties involved. It is also very time and detail-intensive as you have to manage different kinds of contracts and ensure that the signatures are present in the right places. DocuSign can easily help you organize and handle all of your paperwork in a single place, leaving you to focus better on other marketing aspects. 
DocuSign allows you to manage your books, contracts, and signatures virtually. For instance, if you have missed getting a particular document signed, you can simply access and send it digitally. It also allows for embedding payment requests and electronic signing, which makes the signing process much simpler and faster. Last but not the least, it can automate various common agreements and contracts, making the process of drafting real estate documents faster while remaining fully compliant and secure.
Marketing in real estate is more of a marathon than a sprint – you must have a proper marketing strategy in place and make sure that you are visible where it counts. By utilizing the above-mentioned websites and its services, you can make sure that you are steadily converting leads – no matter what the situation of the real estate markets.
Are you looking to stand out of the crowd by getting your property listings virtually staged? You can contact us – at ArchiCGI, we offer professional digital staging services for a wide variety of moods and styles. Our team of professional 3D artists and designers can set the virtual stage as per your requirements. You can then show your clients the best version of their future home – one that they simply cannot refuse. 
https://virtual-staging.archicgi.com/wp-content/uploads/2020/02/marketing-in-real-estate-top-10-promoting-channels-view-e1586940261695.jpg
350
800
vysotskaya
https://virtual-staging.archicgi.com/wp-content/uploads/2020/04/archicgi-logotype-white-300x85.png
vysotskaya
2020-02-10 16:30:49
2020-04-15 08:44:26
MARKETING IN REAL ESTATE: TOP-10 PROMOTING CHANNELS