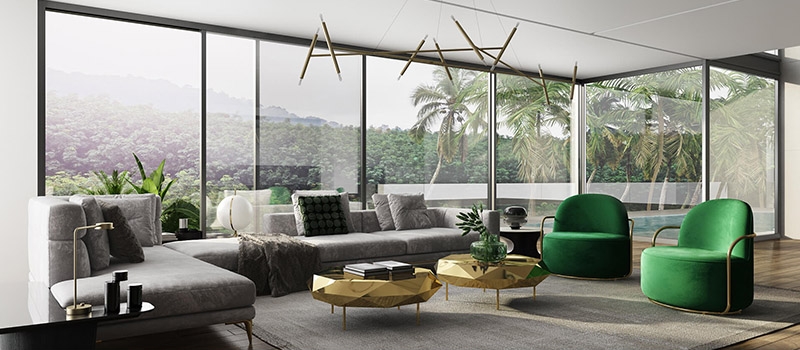 When a realtor strives to sell empty properties or outdated houses, they have to provide attractive images to catch prospects' attention. Therefore, they choose real estate photo enhancement as a budget-saving option to get outstanding pictures for listings. 
There are a few ways to get those photos – real estate agents can either order Photoshop retouch or digital staging from 3D virtual staging studio. Photoshop is probably the most popular software for retouching and post-processing, so a skilled photoshopper can try to transform the real estate photos without using special 3D programs.
On the other hand, photoshopping the whole property could turn out to be very pricey. The thing is, it requires too much of painstaking work, especially if you need to not just fill an empty room, but to replace some furniture and decor with another. This task could take a lot of time, hence, money. The worst part is that the result can easily disappoint a realtor since the image won't look photorealistic – more like tiny pieces glued into a collage.
So what is better to use for a stunning high-quality photo enhancement – Photoshop editing or virtual staging? Let's compare these two options by 5 criteria to choose the most effective one.
#1. Complexity
Before

After
Trying to make a full real estate transformation in Photoshop is a big deal – it's very time-consuming and burdensome. Even filling the empty room seems to be a pretty manageable task – 2D graphics artists still have to spend days to find matching furnishing and decor images to cut and paste suitable objects into property photos. 
If the task is more complex, such as removing objects from the picture and replacing them with the new ones, 2D artists get even more pain in the neck. They have to not just meticulously erase the object itself but also its reflections and color undertone from all surrounding objects before adding new pieces. No need to mention that this tremendous amount of work must be paid properly.
Using digital staging software real estate photo enhancement goes much easier since CG artists can use 3D models of a ready-made furniture set. After that, they build a scene with cameras and light sources to render it with the necessary settings to get a perfectly fitting set for the room.
#2. Quality Furniture Items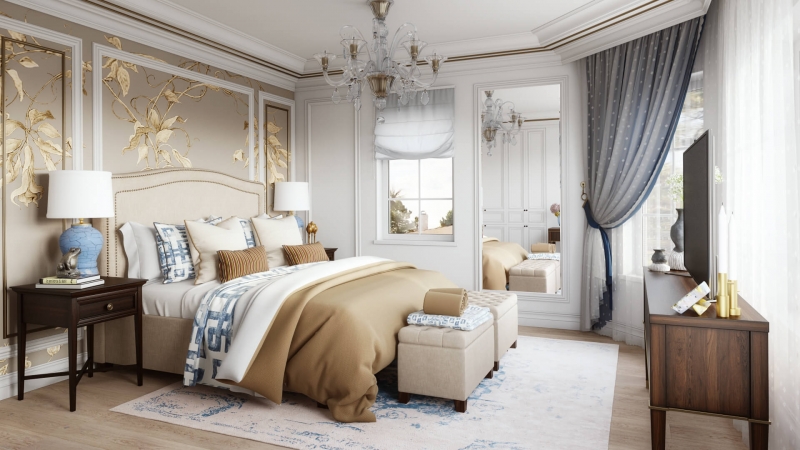 In fact, a complete real estate photo enhancement in Photoshop is Mission Impossible because, first, one has to find quality furniture images to use. To do so, you have to go through many websites and free pictures stocks to find the pieces that are stylish and of high quality at the same time. 
By contrast, using modern virtual staging means that furnishing and accessories won't be selected randomly. Because 3D artists work with 3D models they don't have to compromise on aesthetics or quality – CG experts can choose the most stylish furniture ready-models from their library or even make top-quality pieces from scratch. Therefore, while choosing the best contractor for real estate photo enhancement, realtors must be sure that CG artists have years of practice behind them, professional skills and the most effective visual solutions at hand. 
#3. Proportions and Perspective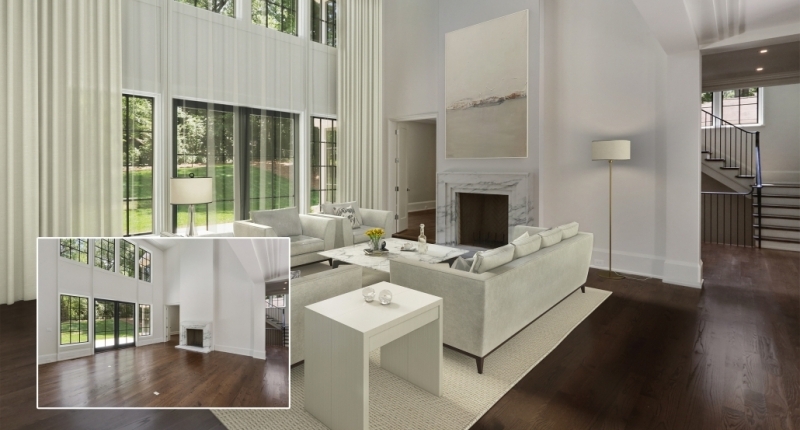 When adding objects to an empty room, it's very important to go right with the proportions and horizon. The rule is simple –  all objects must have the same perspective according to each other and to the room. 
So here's one of the biggest problems of photoshop-staging – it's almost impossible to find furniture and decor pieces that were all shot from the same angle. Therefore, there are only two possible options – CG artists either spend several days perusing the Internet in search of furniture from the right perspective or cut some nice pics and insert pieces as they are. Surely, the last idea won't work properly. Instead, the whole real estate photo enhancement will look like a surreal collage, nothing more.
In virtual staging program, the horizon line could be easily defined by placing cameras from the right angles. After setting them up, 3D artists create a scene and fill it with furniture 3D models for final rendering. With this approach, the perspective and proportions of furnishings perfectly match with the original real estate photo.
#4. Photorealism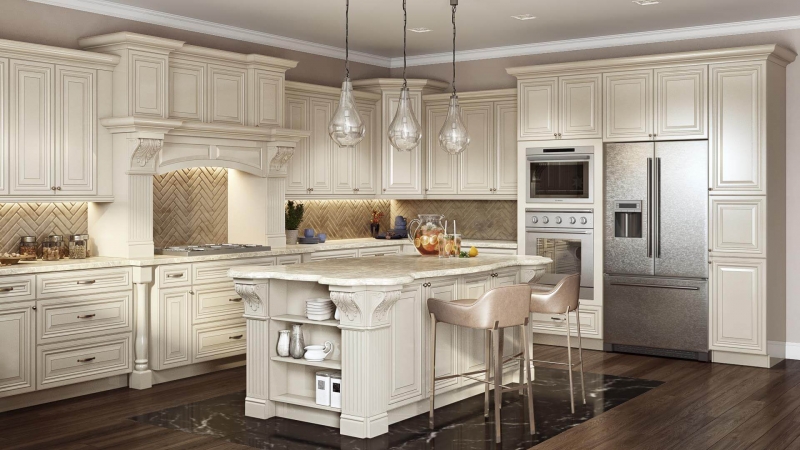 To create photorealistic real estate enhancement in Photoshop, artists can spend an enormous amount of time and effort on finding furniture pics, cutting and pasting them into the photos of real estate. After that, they also have to make objects blend into the environment – so 2D experts have to paint all the shadows, lights and flares by hand. However, even if separate furniture pieces look fine, they most likely won't match all together naturally. In the end, this real estate photo enhancement won't look like a real photo.
In contrast, digital staging images are 100% photorealistic thanks to the matching furniture that was rendered in a similar environment as the original real estate photo. To achieve that, 3D artists insert the full furniture set into the main picture as one whole piece, including all the reflections, lights and shadows. Therefore, all that's left is to add a little post-production efforts for colors enhancement or emphasizing the details. 
#5. Immersive Capabilities
Sure, static images for real estate enhancement could look quite realistic, but none of them could be as immersive as a virtual 360 view. It's one of the most impressive and simply jaw-dropping options for clients. Using a virtual tour, they can take a walk around a digital house, examine every room in 360 view and immerse into the atmosphere of a cozy and stylish home. However, It's impossible to make a virtual tour or any motion graphics, for that matter, in Photoshop – this soft works with static pictures only. 
As for digital staging software, it is possible to create a full-furnished digital home and show it from all angles. Of course, making it requires a bit more work than still images but the result is worth it. A virtual tour not only impressive for listings, but it also works great with luxury property and busy high-end customers, who can't visit the showings but still want to take a look at real estate.
Even with digital staging, sometimes CG artists use Photoshop for the final post-processing and color correction. For example, saturating the colors or retouching small details always works well for real estate photo enhancement. However, using only Photoshop to completely transform real estate in the picture is not the best decision. 
To sum up, it's obvious that Photoshop editing requires more work, but doesn't guarantee stunning results, while virtual staging provides quick, inexpensive and breathtaking real estate photos.
Want to try impressive real estate photo enhancement services? Contact us for virtual staging solutions and get 100% photorealistic digital staging that will boost your sales!
https://virtual-staging.archicgi.com/wp-content/uploads/2020/02/real-estate-photo-enhancement-photoshop-vs-virtual-staging-View05.jpg
450
800
luzina
https://virtual-staging.archicgi.com/wp-content/uploads/2020/04/archicgi-logotype-white-300x85.png
luzina
2020-02-07 16:30:43
2020-04-15 08:44:55
REAL ESTATE PHOTO ENHANCEMENT: PHOTOSHOP EDITING VS VIRTUAL STAGING