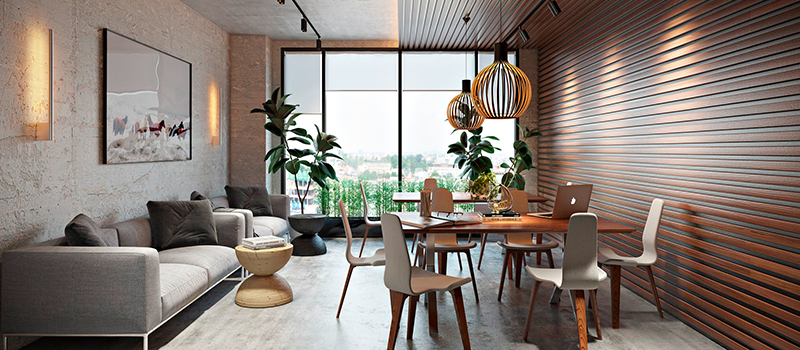 Many real estate agents nowadays are choosing virtual staging over the real one. Knowing little about CGI services at the beginning, they are naturally afraid to overpay for those. Therefore, they want to compare different options to find the most optimal one in terms of both cost and quality. This is where one particular question always comes up: Photoshop virtual staging or 3Ds Max one – which one is better?
It is quite understandable since people with no experience of using virtual staging services might think that Photoshop will provide simpler, quicker, and less expensive solutions. While terms like "3D modeling", "3D rendering", and "computer-generated imagery" can make it seem like 3Ds Max staging is an extremely complex process that takes forever to finish. However, this couldn't be more wrong. And when a realtor starts working with a professional virtual staging company, they soon realize it. But for now, let's find out the pros and cons of both programs and see for ourselves which one is actually better for virtual staging!
Pros of Photoshop Virtual Staging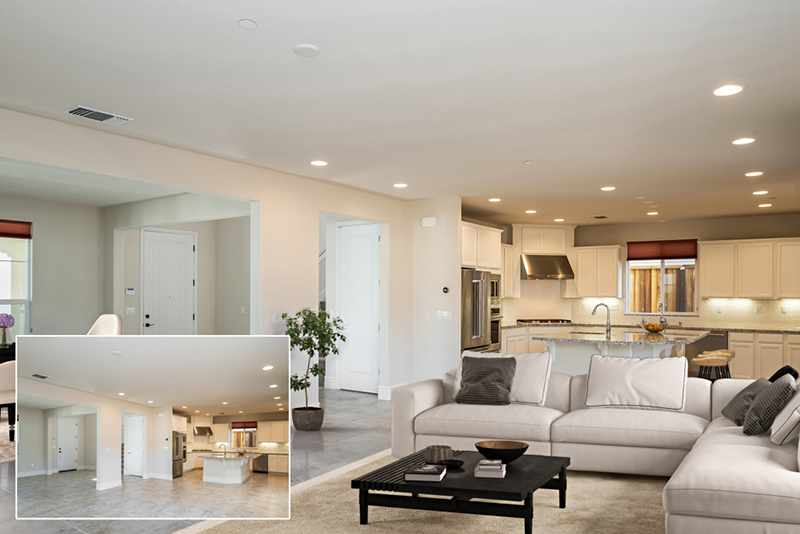 #1. The Best Software For Making Small Corrections
When it comes to photo editing, Photoshop is undoubtedly the go-to program. Sometimes, a realtor may not need the full virtual staging package, and that's where Photoshop comes in handy. For example, a property is being sold with furniture and overall it looks nice. But the photos of it still need some minor adjustments, like removing a crack or a stain here and there. Light and color correction are also crucial to present the place in the best way possible.
Furthermore, one might want to change the colors of walls, carpets, or curtains – just to show prospects that a place can shine with only a little work on it. And adding a few simple decor elements such as artwork or plants can also help to liven things up. So, in case no major editing is required, Photoshop virtual staging, or rather image enhancement, works perfectly.
#2. Object Removal Feature
When something needs to be removed from a property photo, Photoshop is the essential software for that. It has several tools and an AI designed specifically to remove objects of almost any size, keeping even busy backgrounds intact. And actually, CGI specialists who work in 3Ds Max often need to use Photoshop first to clear the space in a photo. Typically, the objects that get removed are pieces of furniture and major imperfections in interior photos, as well as dry bushes, broken fences, and piles of leaves in exterior pictures.
Cons of Photoshop Virtual Staging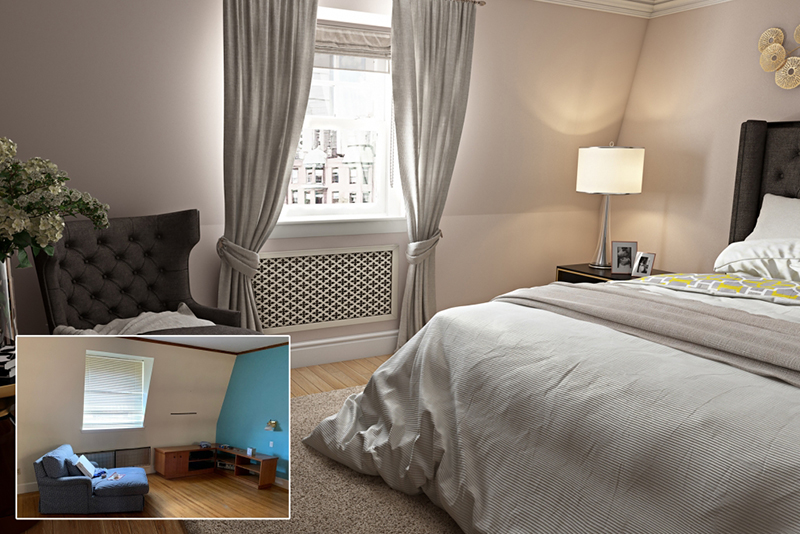 #1. Low Image Quality
Doing virtual staging in Photoshop means working exclusively with photos. A specialist must find every single staging item separately on photo stock websites, cut them out and paste into the property photo. Then, they adjust the proportions and do the necessary light and color correction. And finally, it's also necessary to create shadows and reflections in all the right places.
Overall, Photoshop virtual staging is an extremely tedious process that requires a great deal of expertise in photo editing. But it's still a real challenge even for a skilled professional because finding the right staging items in high quality and shot from the necessary angles is a painstaking task. Furthermore, it's impossible to create multiple views of one room from different angles, since all the staging items are unique photos.
#2. Limited Options
Apart from finding the right angles, there is also a problem of finding staging items that will actually match and form a cohesive interior together. Pulling single objects from multiple different pictures makes it impossible to create a good, stylish design. At best, the result will look like a patchwork quilt.
#3. High Risk Of Fraud
Photoshop is a rather popular program and many people have basic knowledge of it. Also, one doesn't require a very powerful computer to use it. As a result, many amateur photo editors see it as a source of easy income. They offer low-quality Photoshop virtual staging services at ridiculously low prices as well, which attracts inexperienced realtors. Those "stagers" might even use images that don't belong to them in their portfolio, so their clients won't know what awaits them. To avoid such situations altogether, a realtor must invest some time in research and find a truly professional virtual staging company.
#4. Long Turnaround Time
It comes as no surprise that finding suitable pieces of furniture and decor takes an incredibly long time. Then, there's the editing part: cutting and pasting, adjusting the size, color-correcting every item, etc. This means that, first of all, a realtor will have to wait for days for a couple of images to be finished. And, what's even worse, there can't be a certain time period within which the job will definitely be done. All because it largely depends on an editor's luck in finding the necessary staging items.
Pros of 3Ds Max Virtual Staging
#1. High Quality
When it comes to major makeovers or furnishing empty rooms from scratch, 3D modeling software is essential. And one of the best programs here is 3Ds Max. It allows to produce results that perfectly follow the best virtual staging quality checklist items, such as photorealism, great textures, correct lighting with all the shadows and reflections in place, etc.
That is because working in 3Ds Max, a 3D artist recreates the whole room in 3D, having the ability to position every piece of furniture in the desired place, at the desired angle. After that, multiple 2D images can be rendered, showing the room from different angles. Those final images look just like photos, with all the elements blended in organically.
#2. A Multitude Of Ready 3D Models To Choose From
Unlike the case of Photoshop virtual staging, where one has to work with photos, working in 3Ds Max is all about mixing and matching 3D models. Fortunately, there are whole libraries of those with furniture and decor items in different styles. That makes it possible to create beautiful and diverse scenes suitable for every target audience. Furthermore, professional 3D artists are skilled in interior design, so realtors don't need to worry about its appeal.
#3. Perfect Proportions
3Ds Max offers all the necessary tools to measure the space precisely and to adjust the size and angles of virtual staging items accordingly. This way, the scenes always look extremely realistic with all the objects in them proportionate to each other and the overall space. Moreover, having accurate dimensions is always crucial to show the real size and capacity of a property.
#4. Interactive Formats
With 3D modeling, it's possible to create not only still 2D images, but also before/after sliders and 360o views or tours. Those can really help realtors to make their listings more informative and engaging. For instance, a 360o tour can provide a prospect with enough details, which will save them the time of visiting the property in person. Or, in case a prospect loves the tour, they will be much more likely to request a visit to the place, leaving other options behind.
#5. Short Turnaround Time
A professional CGI company can deliver results within only 2 working days, which is practically impossible to do with Photoshop virtual staging. That is because staging in 3Ds Max allows to assemble virtual scenes quickly and render views from multiple angles automatically in one go. Plus, the quality of the final images is always flawless. Some orders, such as 360o tours, might take a little longer to produce, though. But the interactivity and gamification that they provide are totally worth it.
Cons of 3Ds Max Virtual Staging
Before

Virtual Renovation

After
#1. Making It Look Too Good
Well, let's be honest, it can happen. Professional virtual stagers do know their necessary limits here, but they don't always know how exactly the realtor is going to use the images. The latter might fail to properly disclaim that the images in the listings are virtually staged, and to what degree they are edited. In case major flaws of a property are digitally removed and the original photos are not provided, the realtor can get into serious trouble.
#2. Getting Carried Away With Styling
Many realtors who are used to working with real staging are also used to it always looking quite the same. Therefore, upon discovering virtual staging, they might get too creative with their style references, which can lead to unfortunate consequences. For instance, failing to consider a property's market positioning and choosing an inappropriate style for it will most likely result in losing the target audience.
So, here we are, at the end of our comparison of Photoshop virtual staging with 3Ds Max one. To conclude, it is fair to say that, first of all, Photoshop and 3Ds Max are two very different programs designed for different purposes. Photoshop is perfect for image enhancement, while its photo editing capacity cannot compare with CGI in terms of flexibility and speed. 3Ds Max, on the other hand, is absolutely the go-to software for virtual staging, as the number of pros shows. But even so, it does require some help from Photoshop when it comes to pre- and post-modeling image editing.
Are you interested in virtual staging services for boosting your property sales? Contact us and get the most stylish images for your listings within just 48 hours!
https://virtual-staging.archicgi.com/wp-content/uploads/2020/05/photoshop-virtual-staging-vs-3ds-max-view-main.png
350
800
anastasiia
https://virtual-staging.archicgi.com/wp-content/uploads/2020/04/archicgi-logotype-white-300x85.png
anastasiia
2020-05-27 16:30:46
2020-05-25 14:30:00
PHOTOSHOP VIRTUAL STAGING VS 3DS MAX: PROS AND CONS