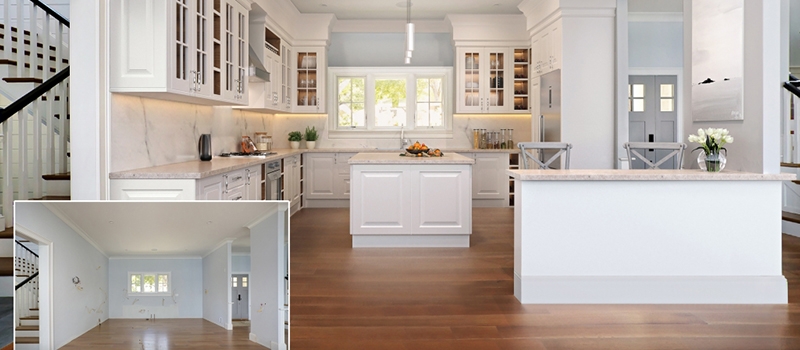 Spotting the target market allows companies to work out effective marketing strategies. Usually, it is defined by a group of individuals that have the same needs or qualities. These people are basically the end-users that tend to buy the company's product. The real estate business is not any different.  
Instead of wide advertising campaigns reaching the masses, real estate agents can position themselves as leaders in selling a particular kind of property on a specific geographical area. Building a tailor-made for the target market marketing campaign helps increase the response rate to promotional activities as well as boost sales.
To convey the message that is relevant to a target audience, realtors might use articles, blogs, website content, newsletters, catalogs and virtual staging. The latter has proven to be successful in satisfying the needs and wants of the target audience. How so? In an industry in which visual content has long been king, it represents solid opportunities in terms of smart targeting. Let's find out which ones exactly.
#1. Modern Virtual Staging Adds to Brand Identity and Positioning
To be at the top of the business, one must follow competitors' targeting activities. This helps understand how their own services or products can be better marketed to chosen segments. A company needs to determine the brand's identity, the signature features of services or products, and position itself as a leader in a niche. 
Virtual staging helps companies stand out in the crowd by lending to all the company's channels those unique brand attributes. For example, the website houses a 360-degree virtual tour that allows examining the inside of the home. Herewith, the tour comes with the text about the company, its logo and address map. 
#2. Modern Virtual Staging Allows Brand Repositioning and Targeted Resegmenting
Before

After
If the previous marketing campaign didn't work out and people simply didn't fall for the message, modern virtual staging will help reposition and, that way, target new sectors on the real estate market. It is possible by using a new message. For example, if the agency wants to reposition itself as the one that deals with upper-class clientele, it should use messaging that reflects sophistication, expertise, and wealth in their channels and presentation materials. 
To achieve this, virtual staging specialists can create designs to meet the needs of specific niche to serve an especial demand within the market. For example, by offering the designs of top-notch kitchens with bold textures, exotic materials, and rich hues. So, that way the agency changes its perception by potential buyers.
#3. Modern Virtual Staging Means the Content Hits Home with Prospects 
If realtors or brokers market themselves particularly to luxury homes, digital staging services can create exactly what those A-class people are after. These could be listings for the website, catalogs, simple CG images for social media posts and ad platforms like Zillow. 
For example, the specialists design a grand entry accompanied by an airy floor layout. Or, they can add technological updates meaning 'smart homes are the new luxury homes'. If this is what most buyers search for, it should be found in the agent's presentation. For families with young children, digital staging artists can offer playrooms with furnishings and accessories that exude fun and joy. When having references from the realtors based on the target audience avatar, the specialists craft exactly what will resonate with people.
#4. This Technology Allows Customizable Modifications 
Before

Virtual Renovation

After
If brokers are dealing with the audience that survey as-is property options (homes requiring some repairing) to purchase, then modern virtual staging has a solution as well. There's such a feature called "renovation." It allows decluttering spaces, removing the objects to highlight the property's selling points. Usually, virtual renovations are done with honesty and integrity. They are not supposed to deceive the prospects but to communicate what a space could be. This is why virtual staging specialists work with experts to make sure that the mock-ups they are presenting are actually feasible.
When artists and realtors cooperate, the latter always decide on the level of detail, such as types of furnishings, adding or moving windows and walls, colors and finishes. They can make modifications during the design process to make the digitally staged images the most relevant and appealing to a target clientele.
#5. Digital Staging Helps Target Any Segment of the Market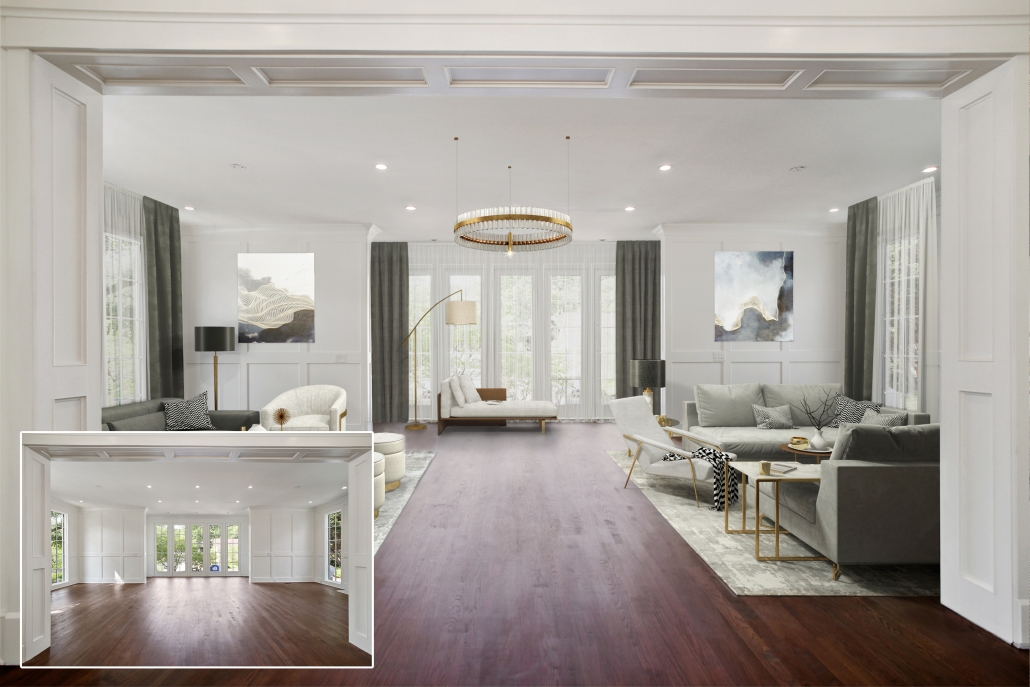 It's a common situation when vacant properties cannot be sold simply because they are empty. This is where modern virtual staging can come in handy as well. With this technology, it is possible to demonstrate the potential of vacant properties by showing the house virtually staged with furniture. After envisioning themselves living there or making a suggested makeover, they won't be distracted by the current emptiness of the home. This opportunity especially makes sense when realtors need to target a very specific type of buyers. 
For example, an agent got to know where most of the condo transactions were happening in the areas near their neighborhood. So, they decided to focus on making single-family home offers with brochures, targeted Facebook posts, and other local advertising channels. To do this effectively, they've got a set of promo materials for condos. These are before-after images with the digitally staged interior, virtually staged landscape because surroundings matter to families, and some accent rooms CG images. This is one of the ways for the agencies to reach out to the most specific and narrow target audience.
Like any business nowadays, the real estate market is not about the masses, it's all about targeting. To make it more powerful and the message – more accurate and results-oriented, realtors need the imagery that resonates the most with potential buyers. This can be only modern virtual staging. It helps create the visual content that fits the tastes and needs of any segment and anchors in people's mind as an expert in a particular niche. In the meantime, it is enough flexible to help the agencies do rebranding and repositioning to reach other sectors. To sum up, wherever it is used, it's always a win-win for the business. 
Want to make your marketing more targeted and meantime more appealing to potential buyers? Use our modern virtual staging services to get killer virtually staged images that will definitely get you more deals! 
https://virtual-staging.archicgi.com/wp-content/uploads/2020/02/modern-virtual-staging-target-marketing-view-e1586940342597.jpg
350
800
vysotskaya
https://virtual-staging.archicgi.com/wp-content/uploads/2020/04/archicgi-logotype-white-300x85.png
vysotskaya
2020-02-03 18:30:06
2020-04-15 08:45:46
MODERN VIRTUAL STAGING: HOW IT MAKES REAL ESTATE MARKETING MORE TARGETED