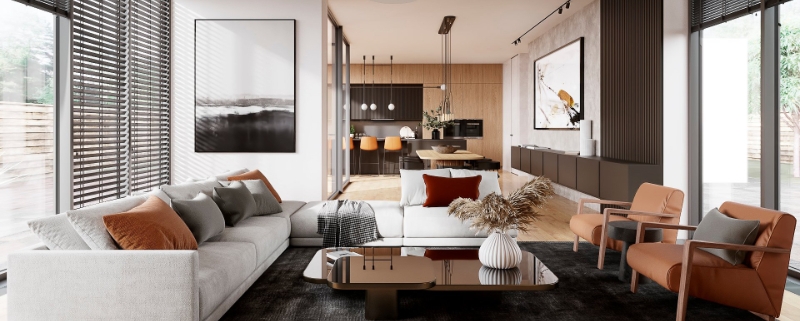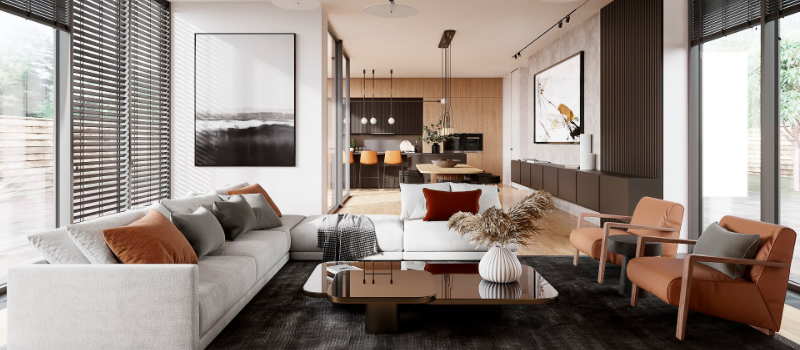 When browsing real estate listings, prospects pay close attention to a living room. That's the place where they envision themselves relaxing after a busy day and having fun so it has to be perfect. Thus, having stylish images of a family room is a must for property listings. One of the biggest questions for realtors and real estate brokers, though, is how to stage furniture in a living room so it strikes a chord with potential buyers?
According to statistics, US home sellers spend $6,570 on the actual staging of their properties, on average. It comes as no surprise that not every realtor and real estate broker is willing to spend so much money on staging. Therefore, many opt for a virtual furniture arrangement so they don't have to deal with rental, transport, movers, and photographers. Since virtual staging is done in CG software, it goes faster and costs less than the actual one.
As a virtual staging studio, we create a digital design for all types of premises. Thus, we know all ins and outs of how to stage a living room for eye-catching listings. Here are 7 professional tips from our top CG artists!
#1. Opt for a Simple and Spacious Furniture Layout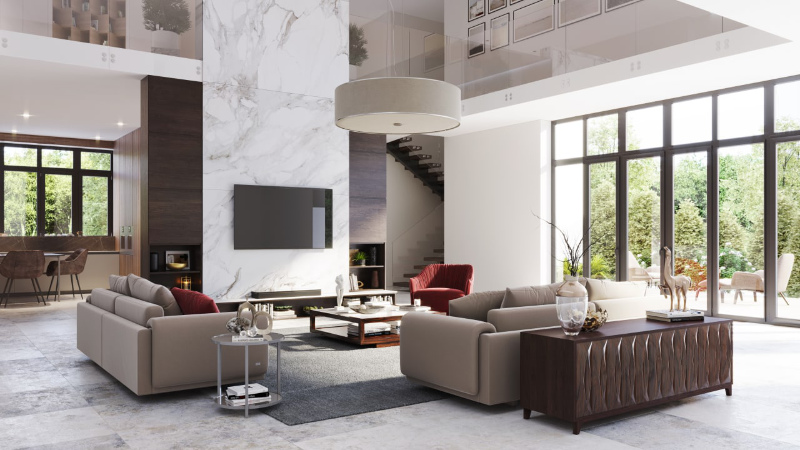 How to stage furniture in a living room so the space looks bigger and more welcoming? Firstly, professional CG artists never push all the furniture against the walls, they arrange the set closer to the center of the room. This way a living area has plenty of space and doesn't look cramped. Secondly, they use low-profiled soft furnishings to create a feeling of openness and spaciousness. Bulky furniture takes too much space and makes it difficult to understand the real proportions of the room, hence, see all the benefits of the house.
#2.  Choose a Neutral Color Palette with a Few Bright Accents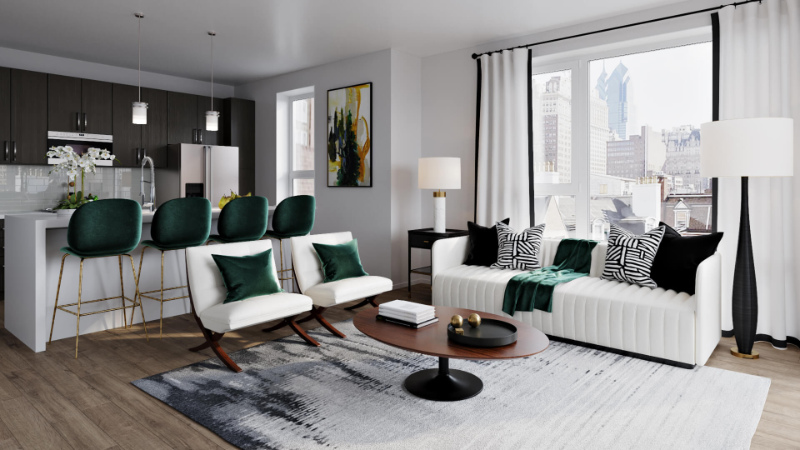 Since virtual staging is not an interior design project, it should be neutral color-wise to suit the tastes of the majority of prospects. That's why most of the interiors in listings are of white or light beige color palettes. But how to stage furniture in a living room without making it look sterile and boring? 
For this, CG artists often stick to the 60-30-10 rule. This means that 60% of the room, the walls and rug area, should be of the primary neutral hue. 30% goes for furniture that is of the secondary neutral color. And only 10% of the living room design can include bright and contrasting colors presented by accessories and textiles.
#3. Create a Soulful Life Scene not just a Furniture Arrangement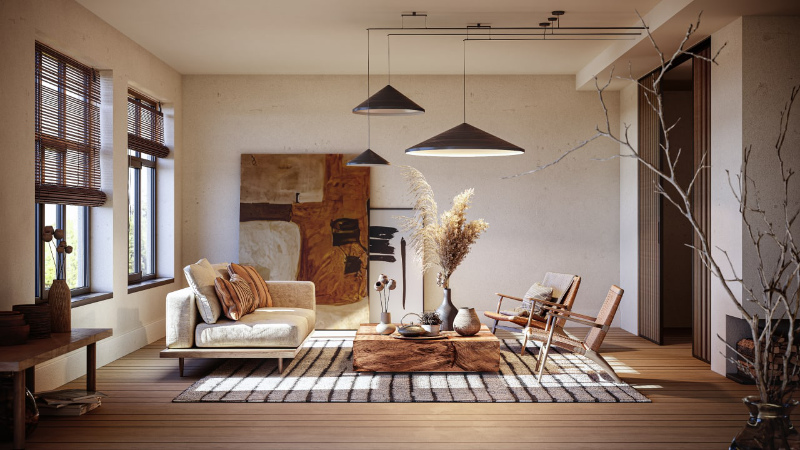 To stage furniture in a living room, one can't simply fill the space with stuff. The real estate picture should represent the lifestyle that comes with a house. That's why it's so important to provide CG artists with all the info of the property including the target audience. If a realtor markets real estate as a family home, it means that a living room must be cozy, warm, and have plenty of furniture to fit everyone. 
When selling luxury business real estate, its living room should reflect the status of the owner. For that, CG stagers opt for modern high-end furniture and decor. They finish the luxury look by incorporating art pieces, vinyl collections, expensive coffee-table books, and such.
#4. Choose Natural Materials and Textures for a Virtual Design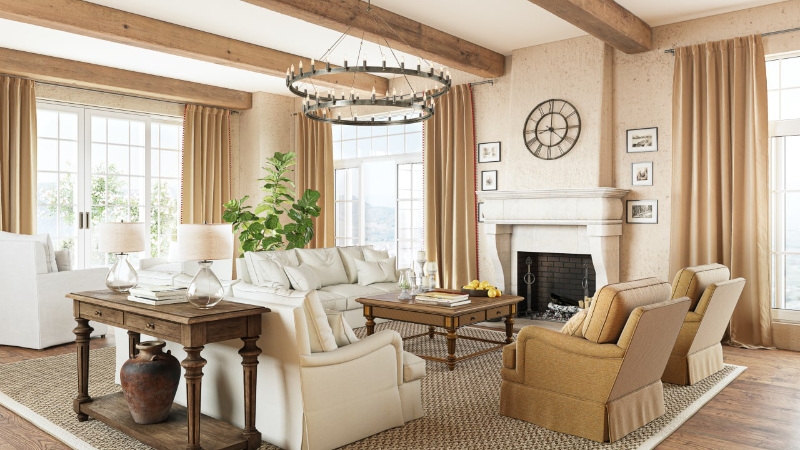 The best materials for a living room are natural ones that go well with the furniture. We're talking about wood, warm stone and concrete, jute, brass, and copper. When it comes to furniture upholstery and textiles, CG stagers pick the softest textures that channel that "homey" vibes, for example, cotton, linen, wool, and suede.
Depending on the interior style, CG artists opt for matte or glossy textures for surfaces. Also, they use sumptuous materials for luxury virtual staging and more common ones for middle-class homes to help realtors properly market a house.
#5. Add Coziness to the Room with Textiles and Accessories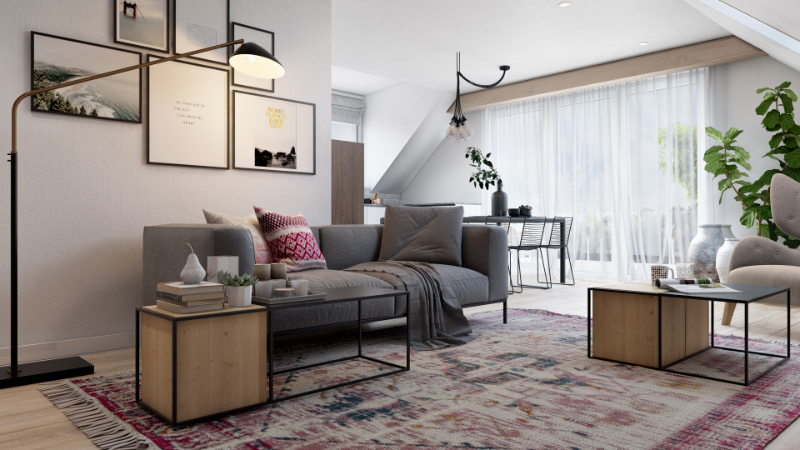 While discussing how to stage furniture in a living room, selecting suitable decor and accessories is no less important. Small knickknacks and a variety of textiles — that's what creates a truly cozy ambiance.
Firstly, CG artists pick a rug that warms up the floors and adds color to near-the-sofa areas. The second component is textiles such as pillows, blankets, and throws. The third one is small decor items such as candles, crystals, books, vases, etc. To complete the look and bring more life and color to a living room, CG experts often add plants and flower arrangements.
#6. Use Mirrors to Brighten and Add Depth to the Space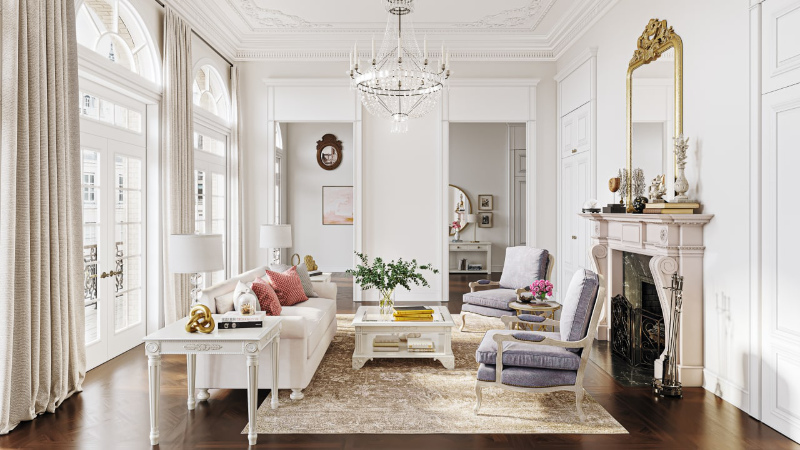 Mirrors are one of the most common ways to visually expand the living room, and both interior designers and CG stagers use them. Usually, mirrors are placed in front of the window to bring even more light to the room, which is a brilliant idea for smaller living rooms. In general, the more reflecting surfaces in the room, the bigger it looks. Therefore, CG artists furnish living rooms with wall mirrors, glass-covered coffee tables, cabinetry with a glossy finish, etc. This way they can visually double the space and add depth to the room.
#7. Arrange Furniture to Draw the Eye to a Focal Point of the Room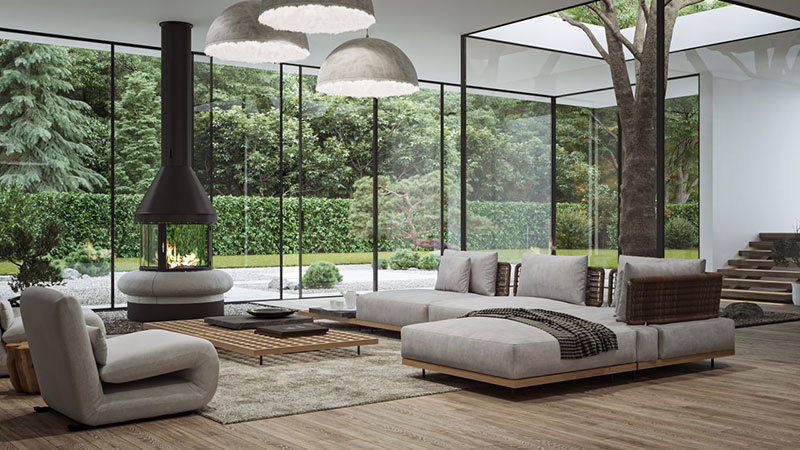 One of the best tips on how to stage furniture in a living room is to use it as a guideline to draw the eye towards the focal points of the house. Usually, those are a stunning view or a fireplace. To focus the viewer's attention on a mantle, CG specialists arrange seating around it, then add accessories on the shelf and put a rug before the fireplace. As for the window view, they use low-profiled furniture and lightweight lighting fixtures of neutral colors to not distract the buyers' attention from the nature outside. 
So, how to stage furniture in a living room according to professional CG artists? Firstly, one should opt for simple low-profiled furniture that doesn't block the view and lets a space breathe. Secondly, it's important to create not just a furniture arrangement but a life-like scene that sells a certain lifestyle. The third tip is to carefully select accessories and decor to enhance the homey ambiance — textiles, art pieces, candles, plants, mirrors, etc. And lastly, the best materials and textures for living room virtual design are natural ones. 
Can't wait to use all these ideas for staging properties? Order virtual staging services from us, and we will furnish any room in any style within 48 hours!
https://virtual-staging.archicgi.com/wp-content/uploads/2021/09/modern-living-room-virtual-staging.jpg
350
800
luzina
https://virtual-staging.archicgi.com/wp-content/uploads/2020/04/archicgi-logotype-white-300x85.png
luzina
2021-09-24 16:30:59
2021-09-24 16:23:52
HOW TO STAGE FURNITURE IN A LIVING ROOM: 7 IDEAS OF VIRTUAL DESIGN