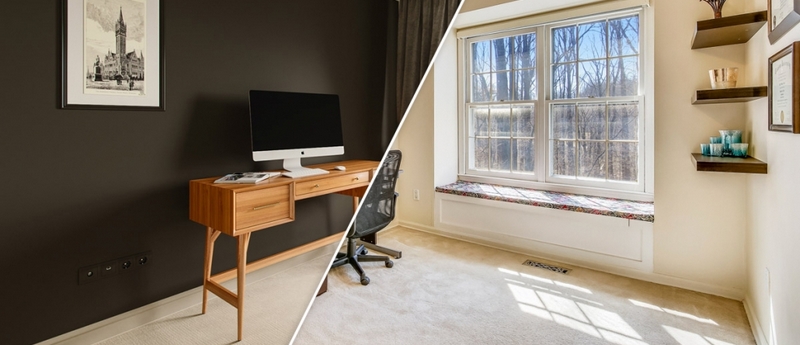 Many real estate agents are torn between two essential technologies when it comes to business growth. The question arose about which strategy to choose and which rules to follow. One of the methods is up-to-date and can help multitask and the other one is pretty familiar and enriches the experience. Each one has its benefits, and this list is for you to decide which way to go.
This is why we call your attention to have a look at a battle between a real estate photography studio and a virtual staging company, which may help to determine the path you should take the business on to make your sales go through the roof.
Advantages of Virtual Staging
Before

After
#1. Extraordinary Speed Of Making
Creating 3D rendering, as opposed to real estate photography, is drastically less time-consuming. While a drawn-out process of creating and retouching is taking place with physical staging, it is possible to get a good handful of virtually staged house prototypes in just a few hours. It also does not require workflow control by being physically present in real estate like photos taking procedure does.
A real estate agent can reach the team in a snap to get to know the current order status. There is no need to worry about the deadlines, because the experienced team definitely knows how to communicate with each other, and time flies in a good way. Ergo, the time formed by it can be spent on another business or to your heart's content.
#2. Absolute Price Leadership
It goes without saying that besides being a stumbling block for passage of time, hiring a large team to take one single real estate photo is not light on the wallet. 3D visualizing is something that may be called a happy medium. Reasonable price, along with superb quality safely take these services into the lead, not only when it comes to luxury real estate. It is also a secret ingredient of estate agents' business, which crowds obsolete real estate photography out.
#3. Being A Marketing Breakthrough
Photography for real estate, in contrast with its up-to-date analog, precludes making exclusive and unrepeatable design. 3D rendering professionals can make anything in a matter of minutes. By having access to a colossal library of ready-made furniture templates, it is now increasingly effortless to fulfill every client's wish, starting with creating a piece of furniture out of prototype to placing it in any possible environment. 
#4. Effortless Touching Up
Making adjustments even in ready renders is not just trouble-free, but this can and should be done, but it is grueling beyond belief when it comes to real estate photos. A perfectly qualified 3D artist is always glad to help out with getting the highest level of satisfaction. Everything can be touched up ranging from a furniture style and its arrangement to light sources and time of the day. Real estate photography cannot boast that, since even the slightest alteration takes plenty of time.
#5. Convenience And Top-Notch Quality
Virtual staging quality is clear on default. If a truly responsible and dexterous contractor has been picked, then pictures may be used not only on a furniture site but also for outdoor advertising, flyers, and mobile apps. Even virtual tours and animation creating becomes easily attainable, unlike real estate photography, where it is not feasible at all.
As a fact,  real estate photographers usually work on their own or with an assistant, hence a considerable amount of work rests squarely on their shoulders, which drastically slows the process down. In a 3D studio, there is a good deal of 3D artists, who may cover each other to provide a client with swift order delivery.
Disadvantages of Virtual Staging
Before

After
#1. False First Impression
Top-notch professionals may boast of such a natural and harmonious content creation, that over and over again people are wary about the way a render has been done. 3D artists with extensive experience acknowledged what exactly wins customers over. Sometimes they can create a design, which is more snug and down-to-earth to match the target audience's expectations. Real estate photography possesses narrow sets of opportunities and options providing, while virtual staging experts may regulate given space and elements' style.
#2. A Bunch Of Amateurs
What happens as in real estate photography and in other spheres of life, in virtual staging it is possible to bump into a green inexperienced freelancer or rely on word-of-mouth. To secure yourself and get an expected outcome it is preferable to contact a competent agency. Make certain that a site has a marvelous design, its proper maintenance is respected and a thoroughgoing range of services is present. Moreover, an online order calculator is a quite common thing on sites, which provide their customers with the highest quality services. It is extremely convenient when it comes to working out an indicative price, which hardly ever happens with photography real estate.
Advantages of Real Estate Photography
#1. Familiarity Of Use
Certainly, one of the few pros of real estate photography is its familiarity of use. To numerous real estate agents, it is way more effortless to get through a whole bunch of people, hire a mixed-bag team and waste a couple of weeks, if not months to make sure the work is being done well and on schedule. It is no surprise that for the majority of realtors photography for real estate seems to be the only way to frame their work since not everyone wants to keep up the date.
#2. Gaining Experience From Scratch
Using real estate photography services also may be a great source of gaining experience. This arduous process of product creation from start to finish must be passed to learn all ins and outs of the real estate business. However, the relevance of this experience might be argued, but still is also the case.
Disadvantages of Real Estate Photography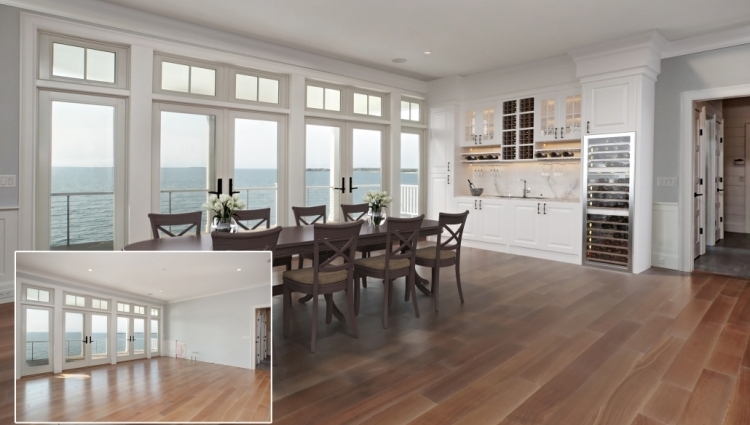 #1. Exorbitant Expenses
Surprisingly, real estate photography prices are several times higher than the price of visual rendering, although at first glance it might seem untruthful. As a matter of fact, fresh analogs of real estate photos may be made really well at a reasonable price, which places a higher value on it as a sale tool. Photography in real estate requires heavy financial costs, as to produce a relatively nice result a great pile of professionals should be found.
A real estate agent needs to find a talented real estate photographer, hire a diligent retoucher and well-trained assistants, buy appropriate decorations and sometimes even look for a whole squad of loaders. This is not just about luxury homes, but also usual houses. In the present-day world, this game is not worth the candle, because getting an impressive result can be achieved without any excessive profligacy.
#2. Wasting Of Valuable Time 
Photography in real estate hardly can go toe to toe with a record speed of making virtual staging. Picture this – to take one single picture by means of real estate photography a team has to spend considerable time and effort. Seeking and hiring people, studio renting, teamwork control, buying matching decorations, you name it. 
Moreover, specialized studios are usually located in the middle of nowhere, which hinders the state of affairs. This holds the process up and a single picture creating may take a significant amount of time. Do not forget to add temporary yet considerable transportation expenses on top of that.
#3. Impossibility To Make Adjustments
Another real estate photography disadvantage is the impossibility of making adjustments. To say nothing of touching up finals, changing decoration colors and furniture texture at a real estate photo remains a challenge. Even with the use of good-old Photoshop creating the natural light effect is still a back-breaking process. A taken photo is just a 2D picture, so even trivial furniture replacement is impossible without losing quality.
#4. Limited Design Capacity
It is absolutely inconvenient to work with large quantities of items and a big space when a lot of furniture and decorations are not yet in place. If a realtor wants to make furniture arrangements in different styles and environments, it cannot be achieved, since a real estate photographer cannot change the whole design to a brand-new one. It requires hiring an interior designer to set up a plan and purchasing a huge number of furniture and decoration.
Real estate photography, as opposed to virtual staging, does not provide any possibility of placing furniture without physical items. Moreover, when the target audience is mixed, it is nearly impossible to please everyone, because buying new decoration and furniture over and over again is obviously not cheap at all. So at the end of the day photography for real estate may make content only for one type of audience.
#5. Mediocre Quality
If different adjustments still have to be made, then picture quality will be totally abominable. These photos do not seem possible to be used not for a site, not for an outdoor advertisement, not even for regular flyers. Unfortunately, it is something that occurs quite frequently, because real estate photography post-processing takes place only in photo editor apps and nothing but the surface has been touched up. Needless to say, photography in real estate takes a back seat with its futility, when it comes to depth, light, and proper shadows.
So, after reading relevant pros and cons of these services the choice is yours. If you want to move with the times and stimulate your business growth, the right strategy has to be followed. Some real estate agents find it difficult to move away from the outdated notion of how to run a business. Nevertheless, the fear of being innovative will not lead to booming business development.
Would you like to get all the novelty advantages to boost the competence of running your real estate services and completely abandon outdated real estate photography? Do not hesitate to contact us and see for yourself that trying new solutions does not entitle taking risks and make sacrifices. Get blue-ribbon virtual staging services and make your clients keep coming back! 
https://virtual-staging.archicgi.com/wp-content/uploads/2020/08/real-estate-photography-view.jpg
345
800
vysotskaya
https://virtual-staging.archicgi.com/wp-content/uploads/2020/04/archicgi-logotype-white-300x85.png
vysotskaya
2020-08-21 16:30:28
2020-08-21 14:31:17
REAL ESTATE PHOTOGRAPHY VS VIRTUAL STAGING: WHO WINS THIS BATTLE