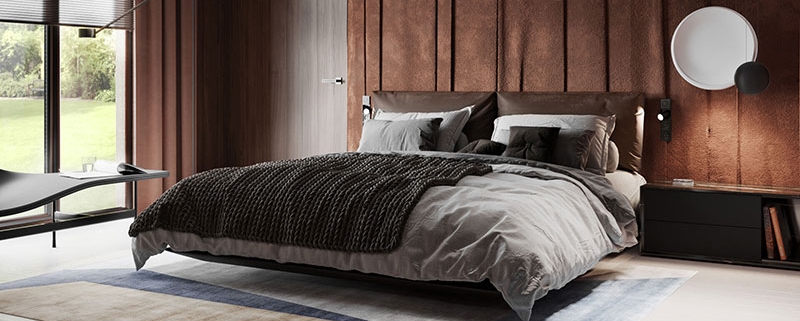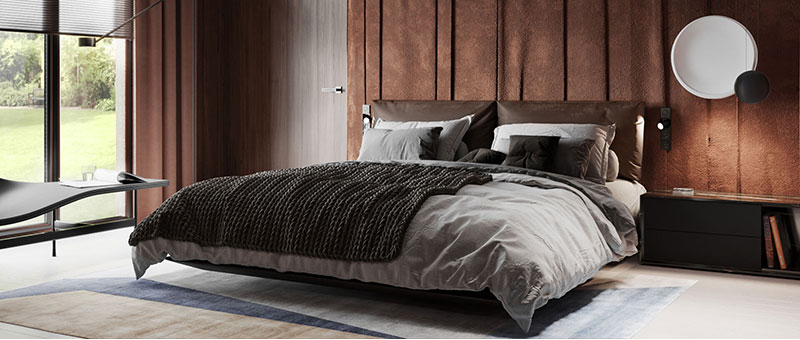 The key to selling a property is showcasing to prospects its sophisticated interiors in all their glory. A living room has to look welcoming and elegant, the dining room must be cozy and spacious enough for family gatherings. As for a bedroom, it should be the most serene and intimate space in a house. No surprise, prospects have especially high expectations for it.
If a bedroom is shabby and cramped, prospects won't get the feeling that they will have enough rest in it. Also, if the color palette is annoying, they won't give it a chance and skip the listing. Therefore, staging a bedroom not only makes it look comfortable and relaxing — it significantly increases the odds to sell the house faster and for a better price.
However, physical staging is not the best choice here. Even if a realtor decides to change just a couple of pieces of furniture and decor — they have to rent or buy those. Needless to say, the actual renovation may cost a fortune and not every homeowner wants to deal with it. Physical remodeling requires buying materials and furniture, hiring constructors with transport, and so on. Virtual staging, on the other hand, is made by one or a group of CG artists who use only 3D technologies to change finishing and add furniture. Thus, staging a bedroom digitally is little cost, big return.
As a virtual staging company, we made a list of 5 digital makeover ideas that can completely transform your bedroom. Take a look!
#1. Reconsider an Interior Style for a Full Home Makeover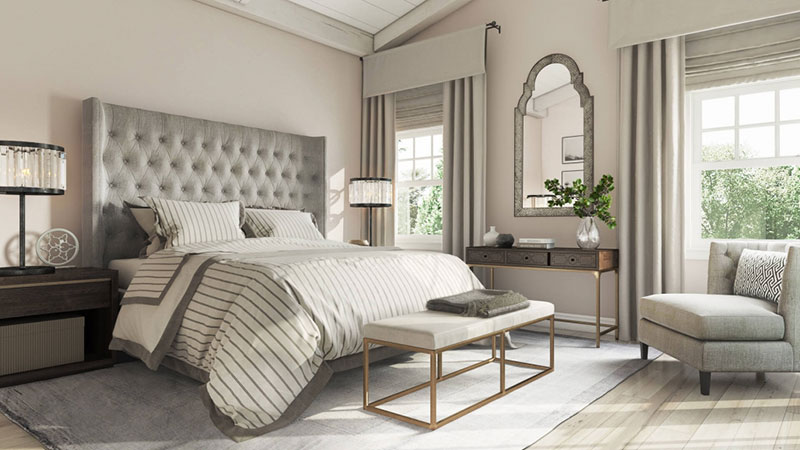 For starters, it's worth taking a look at the very style of the bedroom interior. Perhaps, it is simply outdated or doesn't have any specific design aesthetics because previous owners furnished it with random furniture pieces that came at hand. In such cases, virtual staging is a great way to find new design styles to the property and present it in a new light.
For this, a realtor can dive into interior styles and design trends to pick up a new image for the bedroom. When a real estate agent doubts their choice, they can consult with professionals from a virtual staging studio. All studio artists take special courses and some of them are trained interior designers. Therefore, the studio stagers have a holistic vision of a future interior and enough knowledge to create a trendy and elegant bedroom.
#2. Experiment with Furniture Layout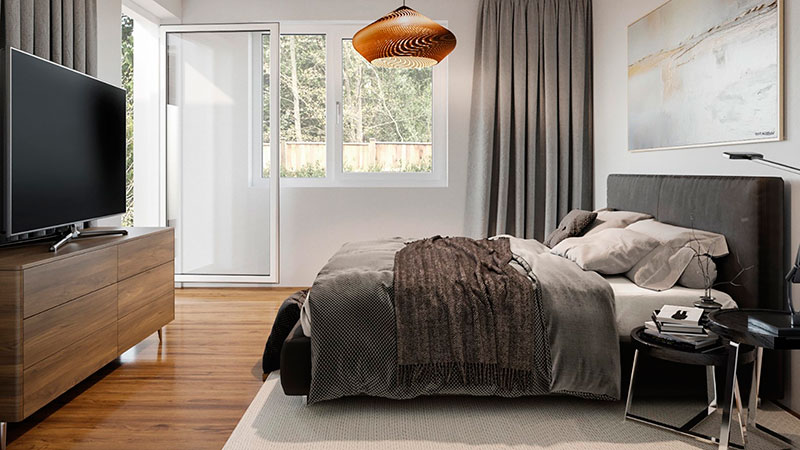 Another common problem with old bedrooms is an overabundance or lack of furniture. When there are too many objects in a room, it looks cluttered. A small amount of furniture, on the other hand, makes a bedroom look uninhabited and uncomfortable. Staging a bedroom so it could become spare without being austere is a tricky but possible task.
To balance the number of furniture pieces and their proportions, realtors need to get help from professional CG stagers. Firstly, specialists can erase current furnishings from the photo using CG technology. Then they select the best 3D models of virtual furniture for real estate from their library and add new arrangements to the photo. 
With those ready-to-use 3D sets, CG artists can pick furnishings of any style including both mass-market and luxury design pieces. Having this option at hand, real estate marketers can target their staging at a specific type of prospect and sell a property even faster. 
#3. Change Flooring and Wall Covering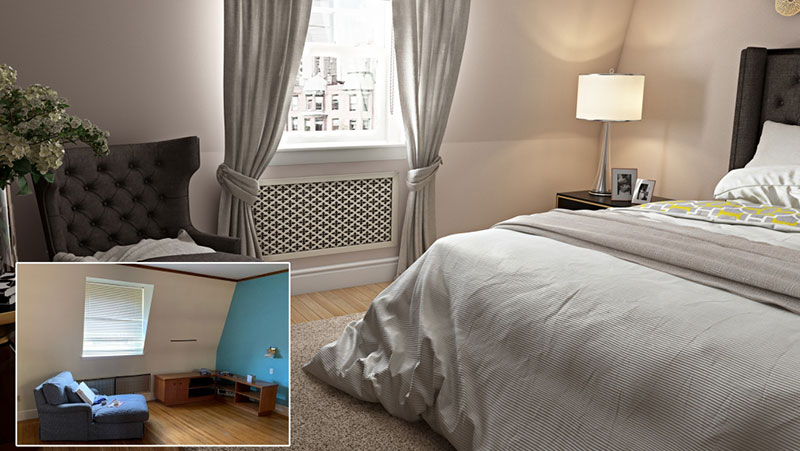 Sometimes, it's enough to change finishing to make bedroom interior look brand-new. By choosing another wall color and replacing floors, one can achieve an invigorating presentation of a house. It's especially important for staging a small bedroom where dark colors make the space look snug and gloomy. By simply choosing lighter tones, CG stagers can make a room look spacious and sunny — a comfy mood we are all striving for in our bedrooms.
In terms of staging a master bedroom, CG artists usually use calming wall colors, natural wooden floors and fluffy carpets to add more comfort and serenity to the space. Unlike actual staging, virtual solutions don't require any spending on materials and construction teams. Therefore, CG stagers can select any texture and material from their base and create a perfect homey bedroom that calms and restores its owner.
#4. Add More Homey Decor Elements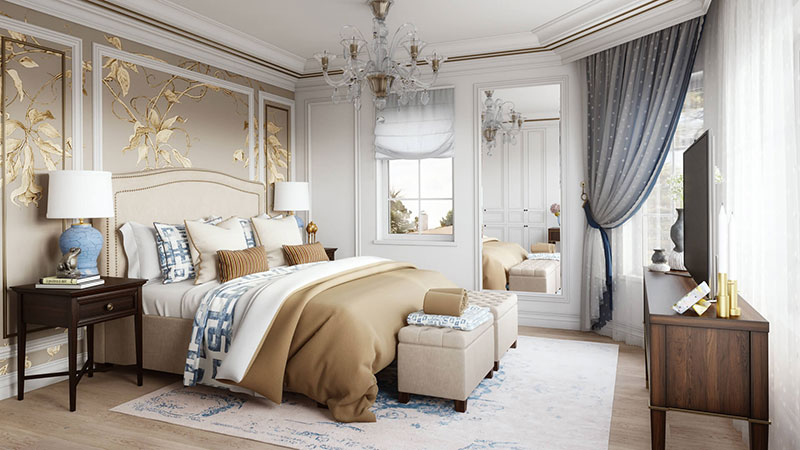 Staging a bedroom is simply impossible without decorative items. By putting nice accessories into a room, one can create a well-thought-out look and emphasize its coziness. Such small things as plants, artworks and statuettes can not only dress up the room but also bring together the whole interior. 
Virtual staging studios have tons of 3D models of decor in their library so CG artists can choose any item to style the interior. Professional stagers know exactly how to combine beauty with comfort. Usually, they start with adding greenery and art that brings life and joy to the interior. Then, they focus on arranging pillows and beautiful bedding to style a perfect bed. And last but not least, they put some accessories on the vanity to make a bedroom look inviting and cute.
#5. Enhance a Bedroom's Ambiance with a New Lighting Scheme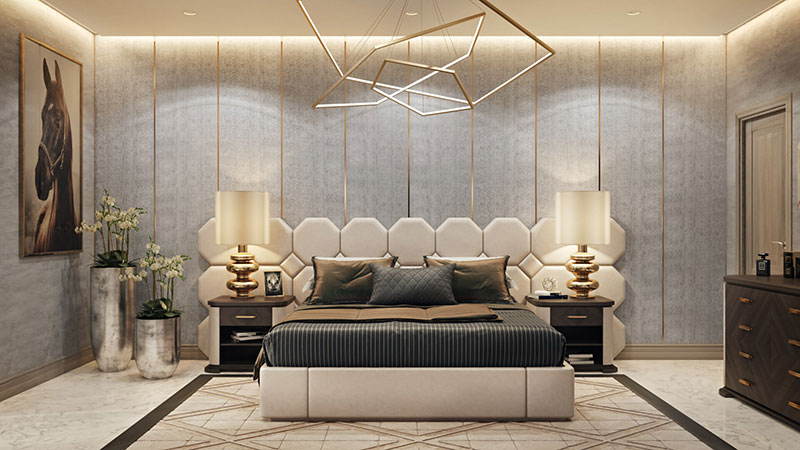 When staging a bedroom, CG artists always carefully plan lighting layout. Of course, the bedroom interior should convey intimacy and speak comfort to prospects. Therefore, 3D experts must make sure that the whole lighting scheme is enhancing serenity and comfort as well as making the space more harmonic and well-organized.
To create such an ambiance, 3D artists avoid bright overhead lighting. They know that dim lights are the key to get a relaxed feeling. CG experts prefer to use a hidden backlight that gently outlines the contours of the room. They also add sconces and lampshades so that the bedroom interior stays cozy and peaceful. No doubt, one can turn the bedroom into a real sanctuary only by carefully planning out the lighting.
With virtual staging services at hand, realtors get plenty of options on remodeling and staging a bedroom. CG artists can transform the entire interior — change furniture layout, renovate the room, replace furniture, add more decor, and enhance homey vibes even more with well-thought lighting schemes.
When working with a professional virtual staging studio, you don't have to worry about anything — their specialists have enough experience and skills to cope with a task of any complexity. Also, all studio artists study interior design and follow new trends to stay on top of the staging game. And having an extensive library of 3D furniture, decor and finishings allows them to create any digital interiors a client wants. 
Do you think the property on sale needs a stunning transformation? Try our virtual staging services and you will get photorealistic bedroom makeover in any interior style!
https://virtual-staging.archicgi.com/wp-content/uploads/2020/07/staging-a-bedroom-5-tips-View07.jpg
340
800
luzina
https://virtual-staging.archicgi.com/wp-content/uploads/2020/04/archicgi-logotype-white-300x85.png
luzina
2020-07-01 16:30:48
2020-07-01 13:18:27
STAGING A BEDROOM: 5 DESIGN IDEAS FOR STELLAR DIGITAL MAKEOVER