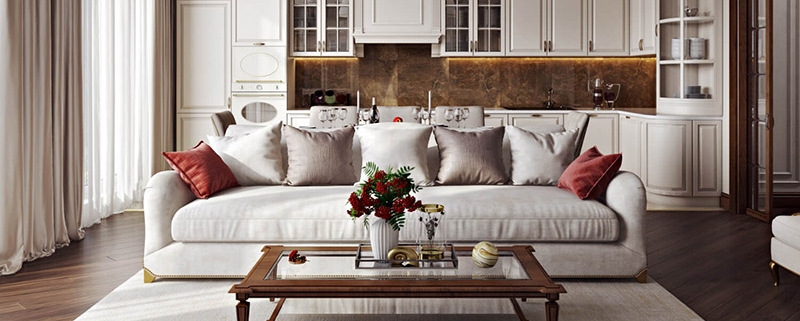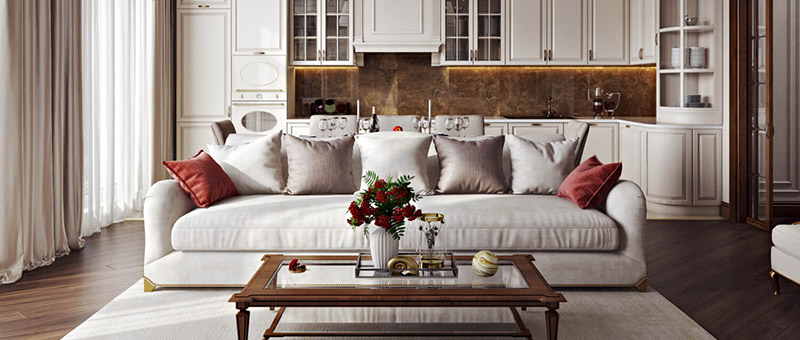 3D programs and 2D graphic software simplified the presentation of properties and made life easier for realtors and real estate marketers.  After all, CG imagery solves their biggest problem — how to sell empty and outdated houses at a good price without the actual remodeling of real estate. 
Spending money and time on physical furniture arrangement or renovation is a thing of the past because today digital solutions are affordable and trouble-free. Therefore, many realtors turn to 3D or 2D graphic tools for staging. Now, the question is, between real estate photoshop vs virtual staging, what is the best option?
On the one hand, it's better to choose a professional virtual staging studio to do digital staging. These guys have enough resources to make top-quality remodeling — advanced hardware, the most updated 3D programs and experienced 3D artists. On the other hand, Photoshop is a more universal software that is easy to use not only for specialists from the studio but also for freelancers. Most of the time, freelance photoshopers can do it a little cheaper but not necessarily faster.
So, which solution is the right one for your project? To compare real estate photoshop vs virtual staging and understand which method is the fastest, we outlined 5 critical parameters to see the most effective and time-saving option.
#1. Adjusting the Horizon and Perspective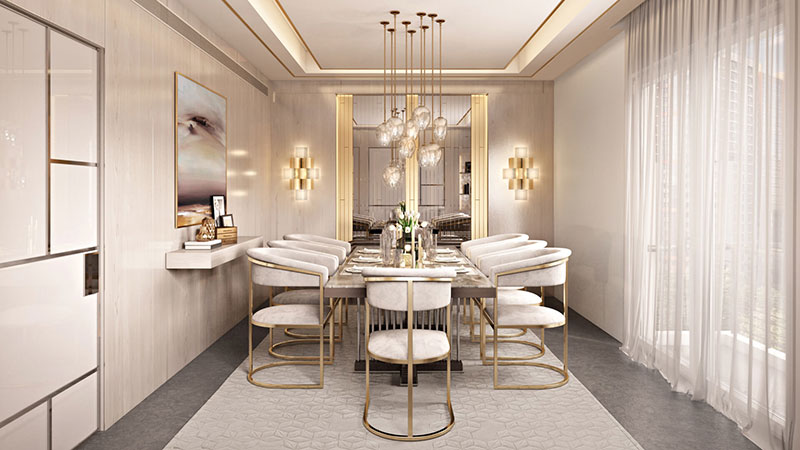 Choosing between real estate photoshop and virtual staging, one should keep in mind that in fact, it is a battle between 2D and 3D. Photoshoppers work with photo editing while virtual stagers recreate real estate as a 3D scene, fill it with 3D objects and only then render everything back in 2D. Surely, in terms of interior and real estate that are three-dimensional by nature, 3D imagery is definitely the winner. 
Having 3D software at hand, 3D artists can build a 3D model of the exact room that is in the photo. Then, they install cameras and recreate the same horizon line as it was in the original picture as well. As a result, all 3D objects in the room will be automatically placed correctly and look 100% realistic without any distortion. 
A Photoshop artist can try to approximately recreate the perspective and horizon line, but the chances to make a mistake are very high. Even the slightest digression will become obvious for the human eye because all objects and textures get skewed. To put it simply, setting up the exact angle that is in the original picture takes a lot of time and skills and is almost impossible in Photoshop.
#2. Fixing the Proportions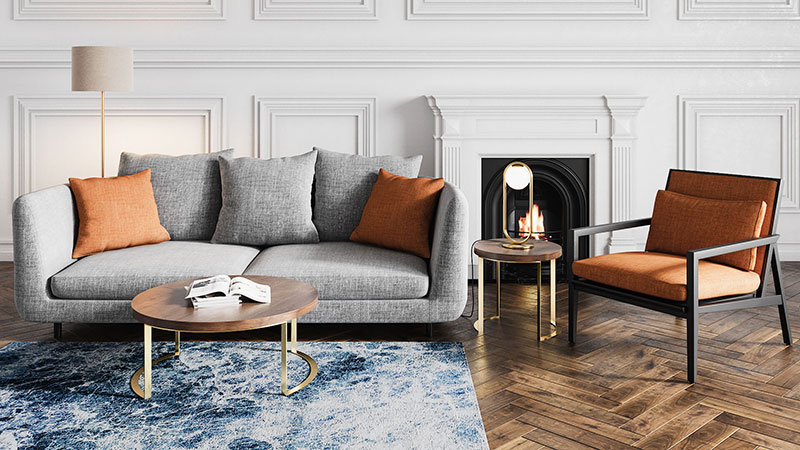 Fixing the proportions is a problem that only Photoshop users have. Because they cut and paste elements of different sizes into the pic, they have to adjust the dimensions simply by eye. Besides being a tremendous waste of time, real estate Photoshop also often ends up with classic bloopers, such as huge flower pots and a small king-size bed.
In terms of dimensions and proportions, real estate Photoshop vs virtual staging battle always ends up in favor of virtual furniture placement. CG artists build the entire 3D furniture set in a 3D roomset, thus, the whole composition is in sync with room dimensions. Every item 3D artists use is showcased in its accurate size. Therefore, after the entire 3D scene is rendered, it all looks organic and not artificially placed on top of a photo like some kind of collage. 
#3. Setting Up Lighting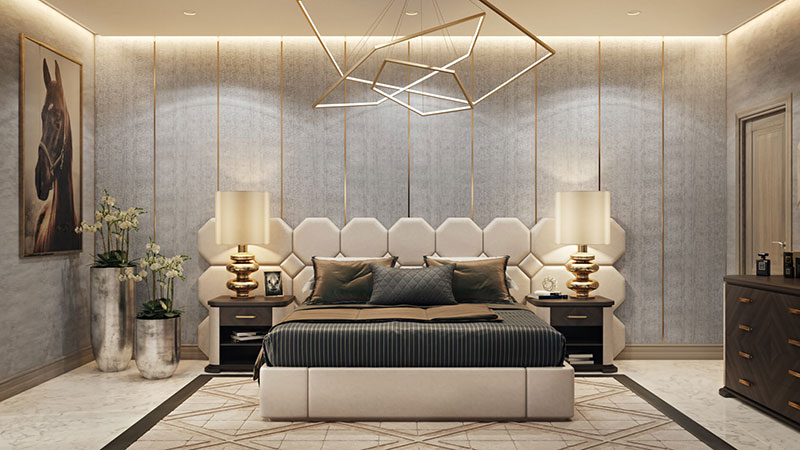 Since Photoshop is a 2D graphic editor, it's close to impossible to set natural light and shadows in it. CG artists have to spend hours and hours, hand-drawing all the shadows from objects, highlight all the sides, as well as add reflections and glares. Surely, a photoshopper has to be a professionally trained artist to make flat surfaces look three-dimensional. But even in this case, it will take plenty of time and effort to make Photoshop real estate editing look realistic and as a natural part of the original photo. 
With 3D technology at hand, CG specialists can place various light sources, both natural and artificial, and the software will calculate all shadows, shades and highlights automatically. Therefore, 3D specialists don't have to additionally set up everything by hand to get realistic furniture placement. Moreover, a photoshopper has to draw reflections and shadows for each photo, while a CG artist can make remodeling for as many pictures as one needs with both daylight and evening light.
#4. Applying Textures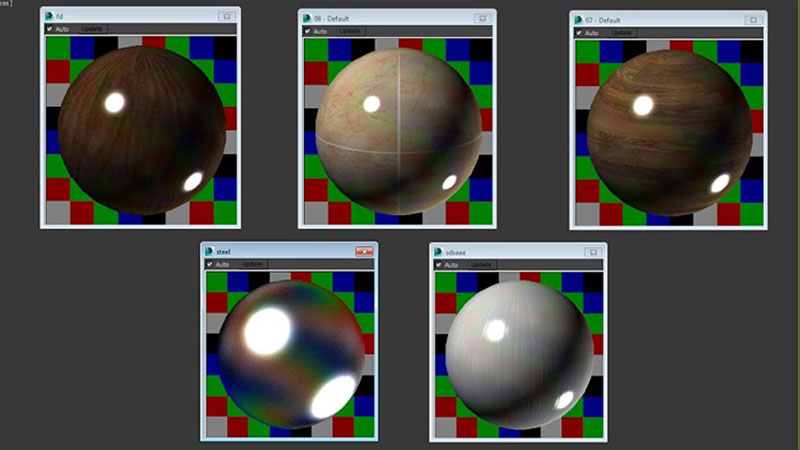 The basic principle of using textures in real estate Photoshop vs virtual remodeling is the same. Both types of editing utilize texture maps, which are simple 2D pictures that are digitally placed on top of the surfaces. However, the way they are applied and set up is very different in each case.
CG artists apply 2D texture maps to all 3D models in the scene. Thus, all the finishing materials and furniture textures will look 100% real, no matter if the objects are simple or complex. Moreover, to enhance photorealism, virtual stagers set up material qualities. They can change their relief, reflexivity, opacity, and other characteristics in just a few minutes. Therefore, all glazed and matted textures work perfectly well on every surface. 
When you try to apply any texture in Photoshop, you work with plain 2D surfaces only. Since there's no third dimension, a photoshopper must guess the horizon line to adjust a texture map to all objects. On top of that, all properties of materials have to be set up by hand. No need to mention that even the slightest inaccuracy will turn into a true disaster in case of parquet or tile flooring making the whole remodeling look amateurish.
#5. Choosing Furniture and Decor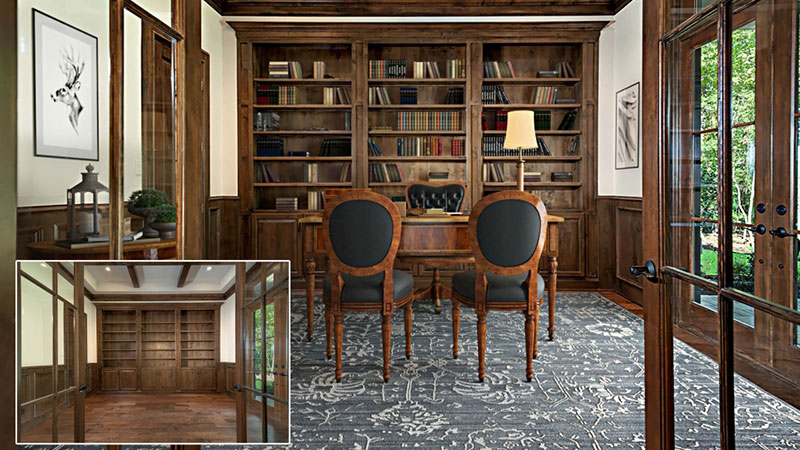 Traditionally, virtual staging studios have libraries of 3D models of furniture and decor, and even ready-to-use 3D sets categorized by style. This is a handy way to transform real estate using the desired furniture pieces without compromising on quality and aesthetics. Far-sighted studios fill their libraries with all types of furniture — from IKEA bestsellers to luxury design items, so they could create different interiors. Moreover, all of these 3D models can be edited and customized in a couple of clicks — CG artists can change their sizes, colors and materials in no time.
As for real estate Photoshop staging, 2D artists have a very limited selection of furnishings. First, they must find furniture items that were shot from the right angles so that pieces could fit perfectly into the original photo of real estate. Secondly, photoshoppers have to make sure that cuttings have the same lighting and shadows to blend well with the interior of the property. And last but not least, all edited images have to be in high resolution. 
To sum up, real estate Photoshop vs digital staging is a clash of titans that resolves in favor of virtual furniture arrangement. Obviously, Photoshop is the perfect software for post-production but not for realistic virtual staging from scratch. In this type of editing, objects don't blend well with each other because they were cut out from various photos with different lighting and angles. As a result, a photoshoper can spend hours and days at the computer, but the final real estate Photoshop picture would still look more like a collage or an interior mood board than a real photo of a staged property. 
In turn, virtual remodeling might also imply Photoshop editing at the final stage but all the main work is done in 3D software. Therefore, all dimensions, textures, lights and shadows look 100% realistic and could be set up quite fastly. On top of that, using ready-made 3D furniture sets accelerates the process even further and provides stylistically diverse interior design options.
Ready to try digital staging for real estate? Reach to us for virtual staging services and we will make photorealistic furniture arrangements for your photos of empty properties in no time!
https://virtual-staging.archicgi.com/wp-content/uploads/2020/06/real-estate-photoshop-vs-virtual-staging-View07.jpg
340
800
luzina
https://virtual-staging.archicgi.com/wp-content/uploads/2020/04/archicgi-logotype-white-300x85.png
luzina
2020-06-24 16:30:57
2020-06-24 15:38:51
REAL ESTATE PHOTOSHOP VS VIRTUAL STAGING: WHAT IS FASTER