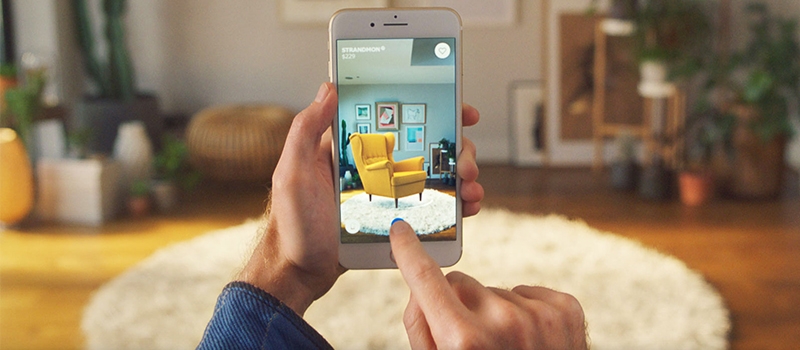 Virtual furniture tools are a powerful instrument in the hands of furniture manufacturers and marketers. They create brand new opportunities for people to see how the products will fit in their real-life interior design.
This delivers immediate gratification since offers the imagery that hits home for prospects with a few clicks. Such approach actively adds value in a relationship with customers and augments it constantly. As a result, it brings about real tangible customer experience and, thus, a competitive edge in every sales channel. 
For manufacturers and marketers, it's a sigh of relief since they get rid of everything associated with physical staging. So, there are no longer furniture transportation to a staging place, staff involvement, and photoshoots that do not guarantee presentation-wise photos of properties. 
Although virtual furniture staging software is mainstream right now, it might be challenging to pick the best one to use for the business. Here's an overview of 7 online tools, be it software or apps, that allow customers to see the products integrated into their home design in real-time.
#1. VisualStager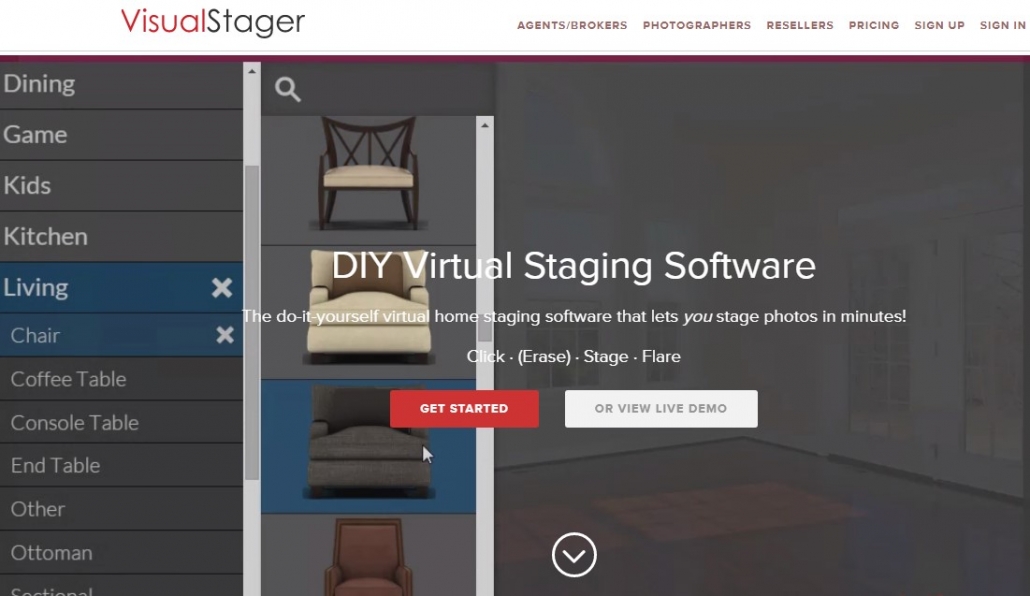 VisualStager is a tool for virtual home staging that real estate agents and marketers will find helpful for the business. It offers up to 4000 decor and furniture elements to integrate when staging virtually an image with a new look. Moreover, afterward, one might have an interactive staging tour around just-made design. 
So, how it works? A user takes a picture with the camera and uploads it to a VisualStager. If necessary, they can remove unwanted items in a real room after their digitizing. Then, they select new 3D models from the provided base and stage the room on their own taste. The software also allows sharing staged photos in a JPGS format. 
#2. Pepperfry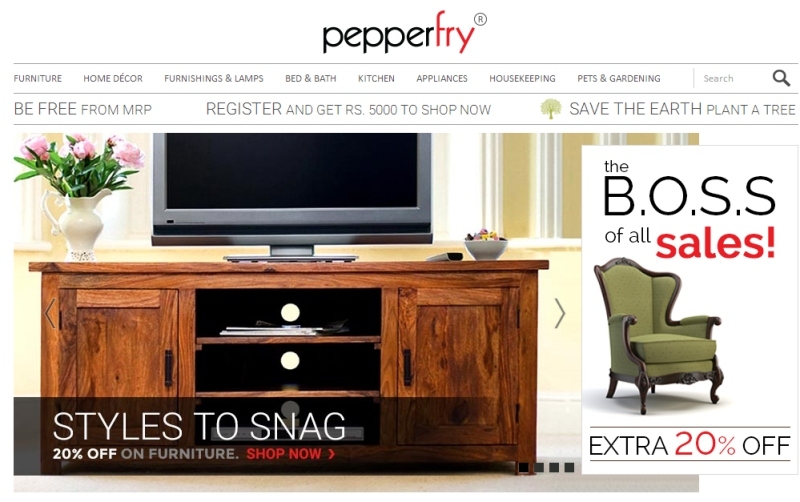 If one wants to refresh their home than Pepperly virtual furniture app is a perfect fit. It provides about 95K items of more than 30 brands. Moreover, the application allows checking straight away how the selected one looks in someone's home.  
There's a 3D view feature in the app. So, users need to enable the camera and point it toward the place where the selected item is desired to be. This way, they can "try on" its 3D model exactly in the place where the camera is. Moreover, it is possible to drag the object, move it around, tailor the dimensions, and change colors.
#3. My360 Virtual Tour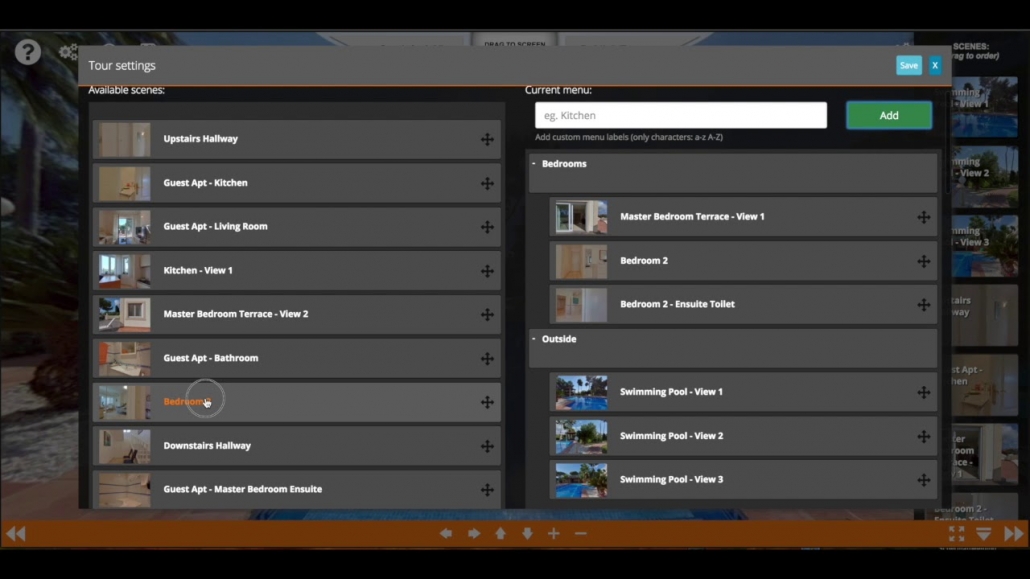 This virtual furniture software is a must-have for any broker striving to sell luxury homes and not only. Anyone can find it useful as well since it allows to stage the space virtually and turn it into a dynamic, interactive VR tour. A virtual tour is a compilation of 360-degree rotating images that are interrelated providing a user with the opportunity to move virtually between images and examine every corner of the property and furniture pieces. 
So, a user takes pictures, uploads them, creates a tour, and customizes them with up to 50 additional features available for editing. The app also allows publishing the tour on websites, social media, any other channel of advertising.
#4. Room – Wayfair App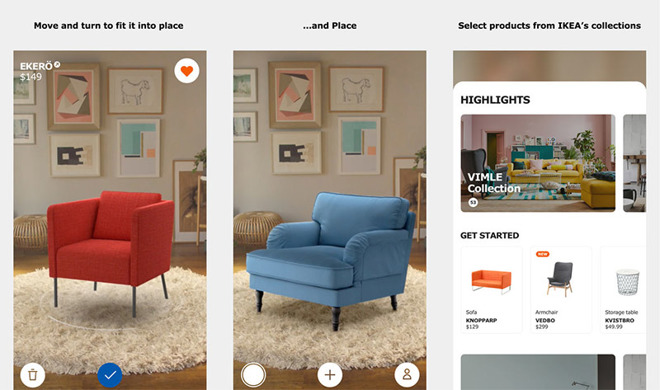 Wayfair Inc. is a huge online retailer that sells about 5K brands and makes billions. Thus, in 2018 it sold almost $7B worth of items, herewith making about $1.5B. The company has developed the app to deliver the best customer experience to its shoppers. It sells more than 7M items throughout 5 channels, including the Wayfair virtual furniture app. 
It features an innovative 3D View in Room allowing seeing the selected object in one's space before the purchase. The good news is that the items being put into some place of the home have real-life sizes. It is a great way to shop and compare the items and, thus, make more informed decisions. 
#5. Ikea Place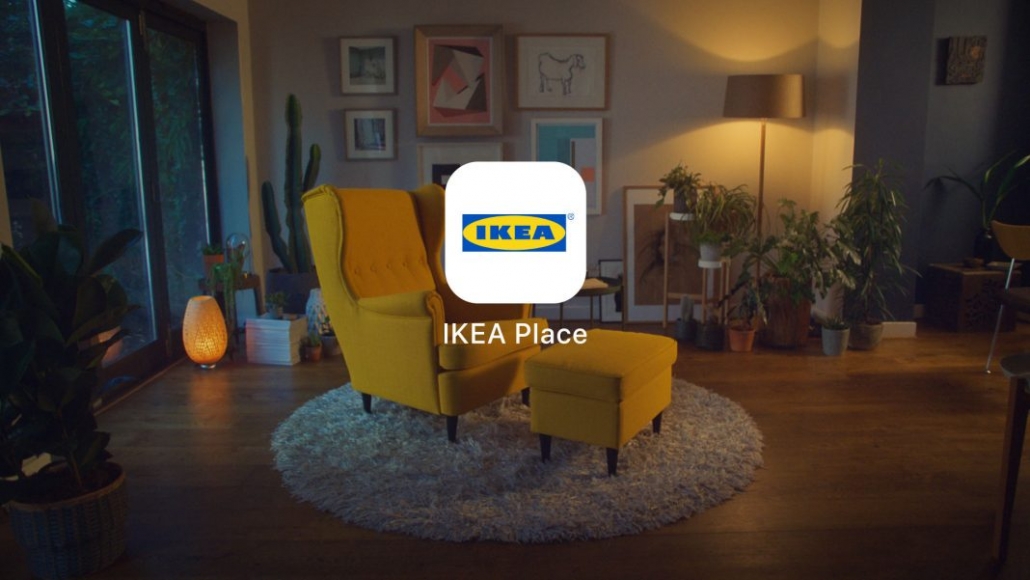 Ikea is a pioneer in terms of posing the products via 3D renders. They look as photorealistic as real photos and provide all the information necessary for the purchase. The giant company created an augmented reality Place app. The vision of the company is to combine the latest AR technology and its home solutions to deliver a brand new experience with IKEA.  
The idea of the app is to shop stuff by previously searching and examining it with customers' mobile phone camera. The rest works by the same logic as the virtual furniture tools above. Users pick a few products or create a room set and house virtually their adjustable 3D models into space. 
#6. Overstock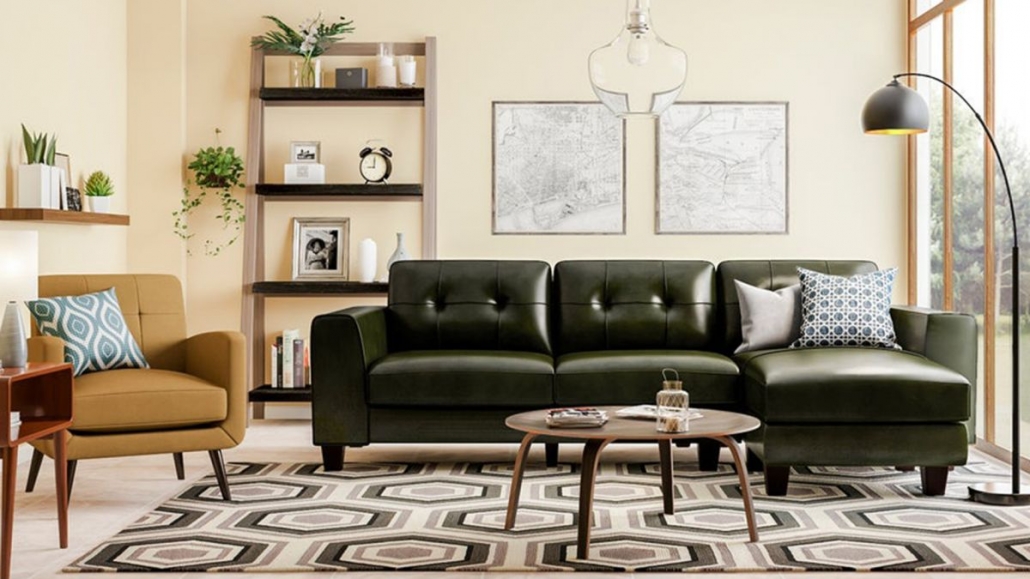 Overstock.com, Inc. is the largest online retailer of furniture, decor elements, art pieces in the USA and throughout the world. The retailer poses as "tech-driven", and partnered up with eComm software developer Seek to develop digital staging software to revamp the website's shopping experience on smartphones. Now, thanks to AR and 3D technology, prospects can monitor furnishings in 360-degree detail within their mobile devices. 
Shoppers look for furniture and throw AR models of the products into actual surroundings. They can see if that accent table blends in with an existing room's layout. Using AR activates real-world sized virtual models of furniture to be placed into space just using the phone's camera and display. Users simply need to move the device around to let the camera read the space and assess depth and distance. Then a 3D model that keeps its actual size is put into real space. It is also possible to move or resize a 3D model in AR to meet people's specific needs.
#7. Roomle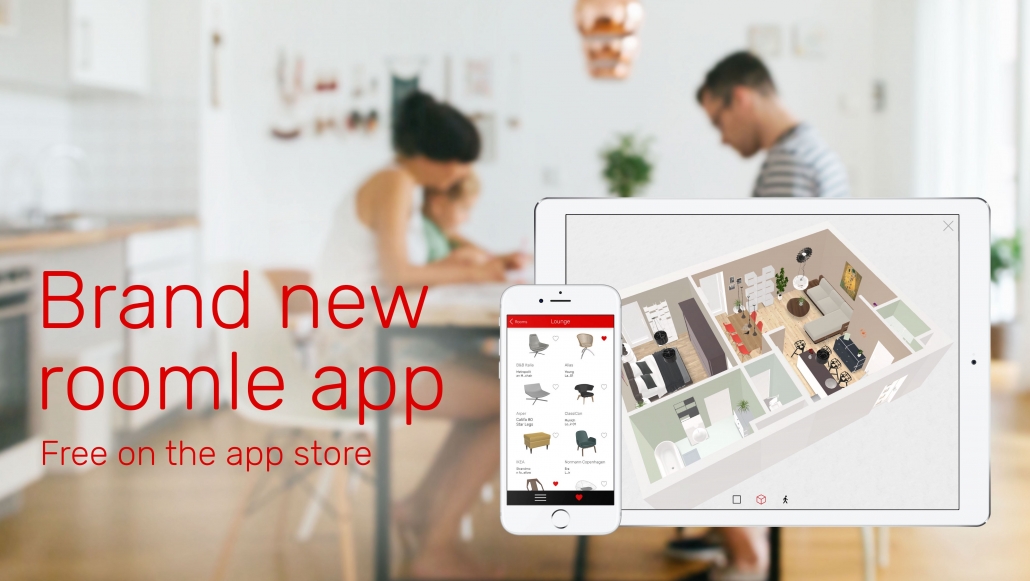 It is a digital platform and a 3D product configurator. It has developed virtual furniture software to help producers, retailers, shop-fitting and real estate industries to lead in the business. Users can get realistic and high-quality 3D visualization of their goods. 
AR adopted on the retailer's website literally brings a showroom into the prospects' home. So, they only need smartphones or tablets to try out the objects. In other words, any item becomes digitally available in customers' rooms. They can walk around it in real-time and assess every angle and position for furniture 3D models to assess how they'll look like in their home. 
Using virtual staging software has proved its efficiency. People like purchasing with VR and trying a product at their homes with AR. When Overstock adopted 3D technologies in 2017, they saw sales increase and overall satisfaction from the customers. They claim the technology resonates with %100 mobile users coming to a website or making in-app purchases. In short, the tools that provide such an interactive opportunity to assess furniture from the comfort of home will definitely guarantee a competitive edge to their users. 
Tired of doing all of the product photography or digitization in-house? Reach out to us to get top-notch virtual staging services to ramp up your business significantly.
https://virtual-staging.archicgi.com/wp-content/uploads/2019/12/virtual-furniture-top-7-online-tools-view-e1586941330289.jpeg
350
800
vysotskaya
https://virtual-staging.archicgi.com/wp-content/uploads/2020/04/archicgi-logotype-white-300x85.png
vysotskaya
2019-12-12 16:30:02
2020-04-15 09:02:25
VIRTUAL FURNITURE: 7 ONLINE TOOLS TO PUT IT IN A REAL ESTATE INTERIOR