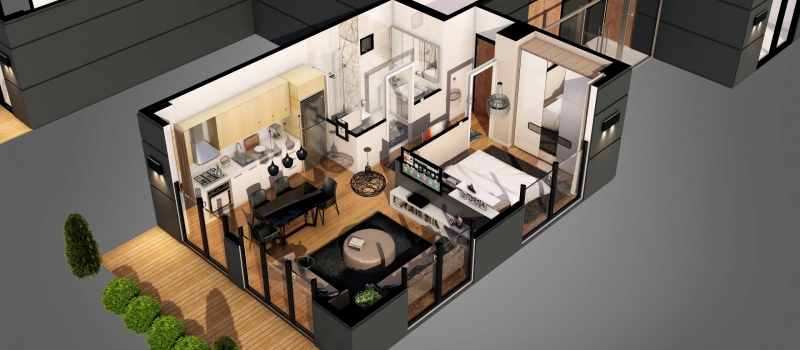 What makes a real estate listing an effective sales tool? Of course, its efficiency and conversion directly depend on every single visual — from property photos to floor plans. Traditional 2D drawings are often too complicated to understand for anyone but engineers.
Since most prospects can't read blueprints, they are not able to figure out the layout and real proportions of the property. It's also difficult for them to imagine real estate in 3D by looking at lines and squares. Therefore, realtors and real estate marketers can replace 2D drafts with virtually staged floor plans to make their listing informative and win a customer.
A 3D plan is often called a doll-house or a house in miniature. Such a layout not only showcases floor plans in 3D but contains all the furniture, lighting, plants and accessories — just like a real home does. Because its creation requires more effort and expertise, a 3D floor plan costs more than 2D drawings. On the other hand, a 3D plan adds a height dimension to the plan and prospects can see the true parameters of the house before even visiting it.
So, virtually staged floor plans vs property 2D drawings — what to choose? We compared them based on the 5 key features to find out which one is the most effective solution. Let's go through them! 
#1. An Entire House in 3D vs A Flat 2D Floor Draft 
Before

After
To be honest, it's hard or even impossible for most of the prospects to read the drawings correctly. They end up looking at the lines and numbers struggling to imagine how all that works in 3D. To them, this strange image has nothing in common with a beautiful home they are looking for.
There are certain things like the height of the ceiling that is never visible in the 2D floor plan. For example, if a property has such alluring features like floor-to-ceiling or picture windows — alas! They will look like a standard window on a 2D plan and prospects won't even understand that a house has them. And the only losing side here is a realtor who didn't show off the home in detail.
As for virtually staged floor plans, they display every floor of the property as a small three-dimensional model. Therefore, prospects can get a clear picture of how many rooms it has, as well as what are the height and the real size of all windows. 
#2. A  Fully Furnished Home vs Empty Spaces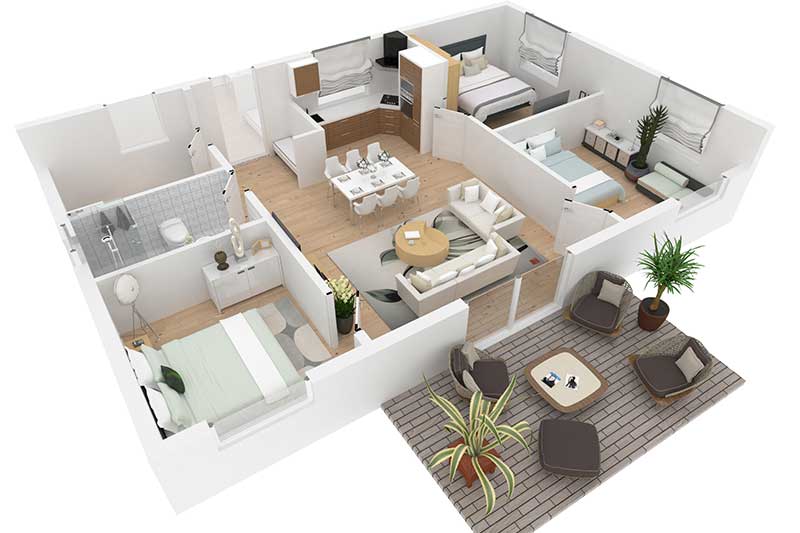 Usually, 2D drawings of the property don't have any furniture in them. 2D floor plans display only walls, doors and windows gaps. In a best-case scenario, they also indicate basic plumbing and kitchen communications. However, this information is simply not enough — after all, the prospects want to understand how spacious the house is and how many furniture items they need to buy to furnish it.
Virtually staged floor plans have all furnishing and decor already beautifully arranged by professionals. Digital staging not only outlines the purpose of each room but provides prospects with nice design ideas. Since many CG artists juxtapose interior design knowledge with CG skills, they know how to create personality-packed and comfortable virtual spaces. 
Therefore, customers can take a virtually staged layout as a reference and repeat it in real life. Using 3D floor plans as a professional guide, they can avoid buying extra furniture that won't fit into a new house and spend their coin wisely. 
#3. Entertaining vs Boring Content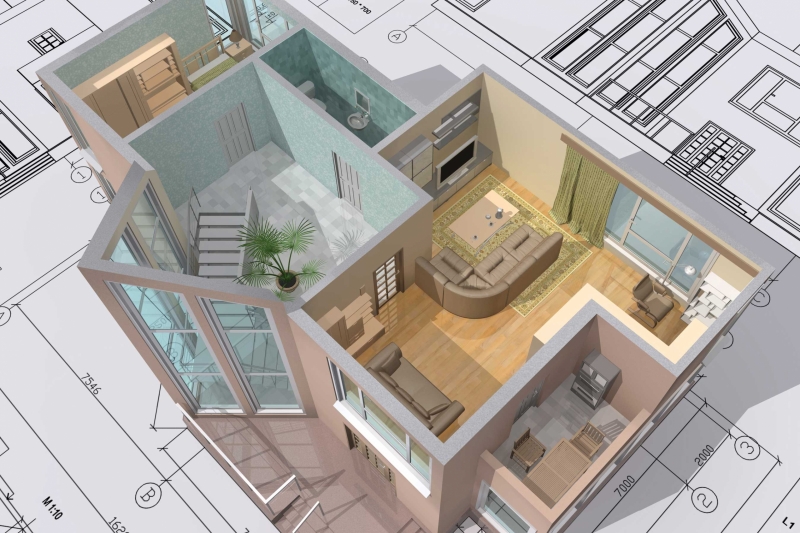 You can't overestimate the importance of visual content in real estate marketing. Until prospects visit the home physically, pictures and floor plans are all they can rely on. Therefore, a 3D model of a house always makes a winning listing – it's cute, interesting to look at and it also boosts prospects' fantasy. That's why virtually staged floor plans are perfect content for social media, offline catalogs and property websites equally – they are entertaining and stand the listing out from competitor offers. 
Just take a couple of minutes to scroll through listings on real estate platforms – they all look the same with their dull 2D drafts. But nobody will consider looking at a 2D drawing for a long time — a one-time glare is all you can get from it. 2D drafts don't make engaging content on social networks no one shares or likes them. Also, it's not luring enough for listing platforms and advertisements. Today's high-fed audience wants to see some entertaining visuals and not incomprehensible lines and squares.
#4. Multi-Use vs Single-Use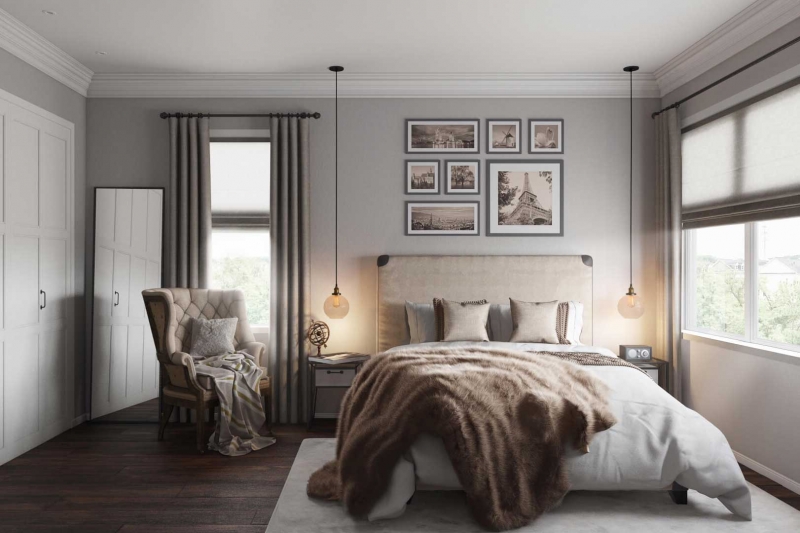 Virtually staged floor plans hold endless creative potential and can be used not only as a property layout. A top-quality 3D plan could be a source of extra images and an ideal basis for an immersive 360 view virtual tour. Since they've already virtually staged the house, all CG experts have to do to make a 360 tour out of a 3D floor plan is to add ceilings and install 360-degree cameras in every room. 
In order to get additional pictures of the virtually arranged property, CG artists simply rearrange camera views to the best angles and push a render button. This way they can take a bunch of new images without creating a new project from scratch.
As for 2D floor plans, they don't have such potential. A 2D drawing is just a one-time picture and it couldn't be transformed in 3D at once. To get 3D imagery, CG experts have to transfer 2D floor plans to 3D soft and make virtual staging of the whole house from the ground up.
#5. A-Class vs Non-Guaranteed Quality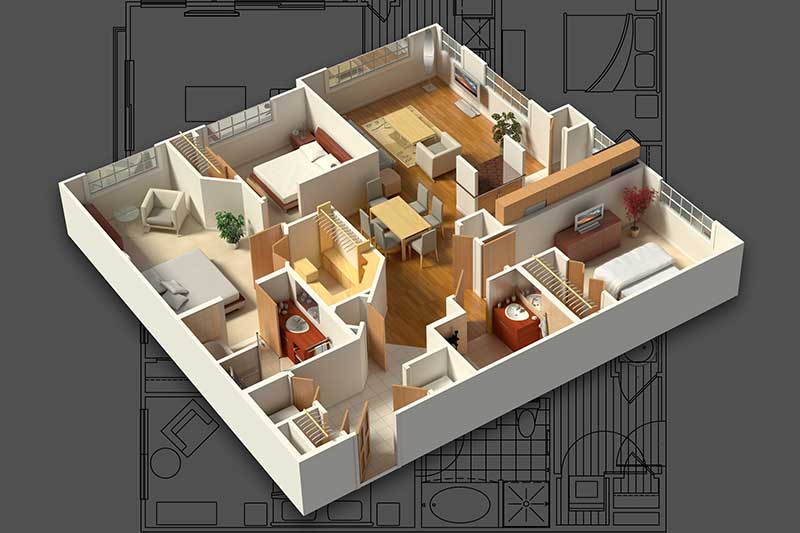 Often, realtors and marketers get ready 2D floor plans from the developer or documents for a property. Therefore, they decide not to order new ones for listings. That's why some real estate ads include 2D drawings of bad resolution and low quality. Obviously, such 2D plans are low-end and non-prestigious to use for paid promo, listings and SM marketing. On top of that, you can't print low-resolution images in brochures and flyers — they will be too small and pixelated.
A virtually staged floor plan, on the other hand, is high-quality imagery. Surely, it costs more than 2D plans but its quality is directly proportional to the price. Since it contains a lot of 3D models and textures, it takes more skills and time to make. But in the end, realtors get highly informative, attractive visuals that also have the potential for future uses. All in all, a virtual 3D floor plan is an investment that pays off.
At all points, virtually staged floor plans are a more profitable investment in your business than 2D layouts. 3D plans provide prospects with lots of information and also have an entertaining aspect to them. Also, 3D layouts can always be modified and used multiple times as a source of additional images and 360 virtual tours. As a result, CG staged floor plans work perfectly for listings, social media marketing, online ads, printed materials, outdoor promo, etc.
Ready to try virtually staged floor plans for your real estate listings? Contact our CG team for virtual staging services, and a fully-furnished 3D plan will make your listing a true eye-candy that lures buyers away from your competitors!
What is a 3D floor plan?
A 3D floor plan is a cut-out view of the house in 3D. Virtually staged plans have all furnishing and decor, lighting and plants – therefore, they look like a real house in miniature.
How CG stagers create 3D floor plans?
First, they build a 3D model of the house without a roof based on 2D drawings. Then, they set up materials and textures for walls and floors, add furniture, accessories and lighting fixtures. After the furniture arrangement is done, they install the camera on a certain distance from the 3D model and make 3D rendering.
Why 3D plan is more informative than a 2D property drawing?
A 3D floor plan showcases the height of all premises, as well as walls and windows of the home. 2D drafts represent a home only in two dimensions, thus, they simply can't display the height. On top of that, a 3D plan has all furnishings in it and looks livable. Therefore, prospects can get the real proportions of each room and envision the property as their home.
What is the cost of a virtually staged floor plan?
Every CG staging company has its own price list so you should contact managers for accurate info. Our studio charges $216 to $162 per photo depending on the number of pictures.
https://virtual-staging.archicgi.com/wp-content/uploads/2020/09/virtually-staged-floor-plans-vs-2d-drafts-View06-scaled-e1598957811558.jpg
350
800
luzina
https://virtual-staging.archicgi.com/wp-content/uploads/2020/04/archicgi-logotype-white-300x85.png
luzina
2020-09-01 16:30:41
2020-09-01 11:03:01
VIRTUALLY STAGED FLOOR PLANS VS REAL ESTATE 2D DRAWINGS