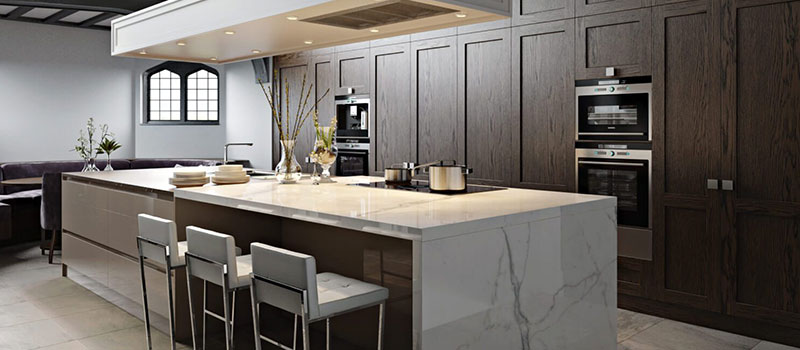 Selling properties starts with home staging photography and only the most impressive photos work for listings and ads. But no matter how good the angle and lighting setting are, pictures of an empty house don't help to sell it. Vacant properties look completely uncomfortable and uninhabitable on the photos so prospects would prefer another offer that feels like a real home. All in all, realtors and real estate marketers need to order either physical or virtual staging to get decent house photography.
Traditional home staging photography requires physical furniture arrangement first. How else can you shoot fully-furnished interiors if the furniture is not there, right? But actual staging is an expensive job. It's based on the rental of furniture, decor, lighting and accessories. On top of that, add the lighting equipment, hiring a photographer with an assistant for large properties – and you will get a bill of a thousand dollars at least.
Virtual staging, in turn, eliminates all these expenses. A realtor pays only once to the CG team alone — no additional staff, no furnishing hunt required. But since it's a budget-friendly option, does it guarantee quality and photorealism?
In this review, we compare home photography with digital staging by 5 key parameters to determine who is the real winner of the battle. Keep scrolling!
#1. Pricing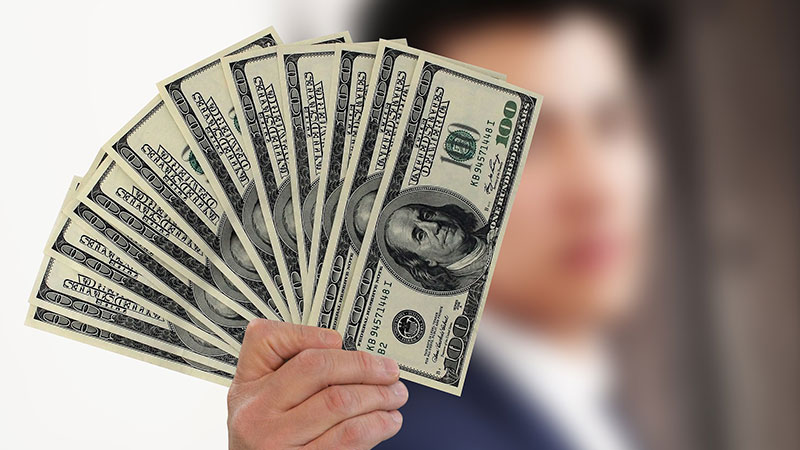 Of course, it's difficult to tell the precise cost of both home staging photography and virtual arrangement. The price for these services depends on many factors – the contractor, urgency, complexity of a project and number of pictures.
However, the cost of a traditional photography project can't be separated from preliminary physical home staging. First, a realtor has to rent furniture and decor to make an arrangement. To do so, you have to go to special warehouses that provide furnishing leasing. But those depots charge per each individual item. Therefore, to furnish an entire home with furniture, decor, lighting and appliances can literally cost a fortune.
Moreover, a real estate marketer has to hire movers at least twice. The first time to install the furnishing, and the second time to pick it up once the home is sold. Add to that a photographer's fee and bill for staging services if you work with a staging agency, and the final price of home staging photography could become astronomical.
On the other hand, virtual staging for an entire house top to bottom can be done by just one or a couple of CG specialists. It means you don't have to hire an agency, pay for furniture rental and home photography. One CG stager replaces an interior designer, movers, assistants, a photographer, etc.
In addition, the amount of furniture and decor doesn't affect the price of digital staging whatsoever. How cool is that? CG staging studios charge only for the number of photos. For example, our average price per staging is $63 for 6-35 photos.
#2. Turnaround Time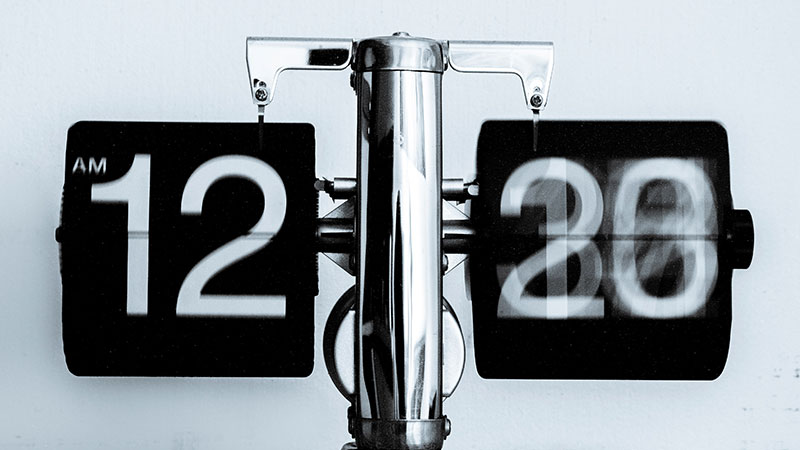 An outstanding home presentation is not something you'd like to rush about. But in terms of physical home staging and photography, it can take too much time and effort. Firstly, you need to select furniture and decor, transport it to the house, and beautifully arrange it. Only then you can call the photographer. Secondly, even after they took all the photos, a photographer needs a day to choose the best pictures and edit them. So in general, if everything goes well, the process can take about 3-4 days. But if there's even a small timing or technical problem, give it a whole working week.
Believe it or not, virtual staging of the entire home takes only 48 hours. To get a digital furniture arrangement, a realtor simply sends photos of the empty house to the CG studio and adds their suggestions on interior style. It's that simple. After doing so, a real estate marketer can focus on other projects, while CG experts create photorealistic digital staging in the shortest time possible.
#3. Adjustments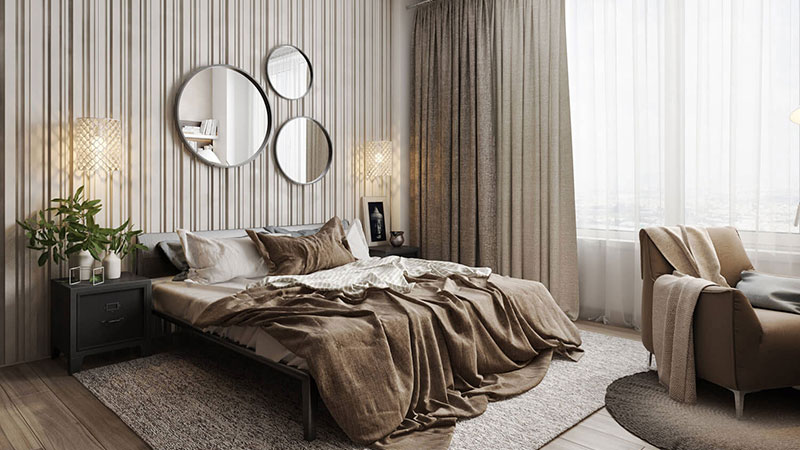 Modern graphic editors allow making any type of edits to the finished photos so all photographers use Photoshop. But you have to be very good at retouching to make those adjustments look 100% realistic. Specialists with such skills worth their weight in gold if you need to remove or add glass objects or shadows. These are some of the most difficult areas of home staging photography and they give away bad photo editing at once.
With virtual staging, you can make any corrections and they don't show up at all. It happens so because CG stagers don't put any extra layers over the picture or retouch it. Virtual staging is based on 3D scenes and any 3D model can be easily deleted, moved and modified literally in a couple of clicks. After making corrections, CG experts re-render the scene and it looks absolutely natural.
#4. Design Options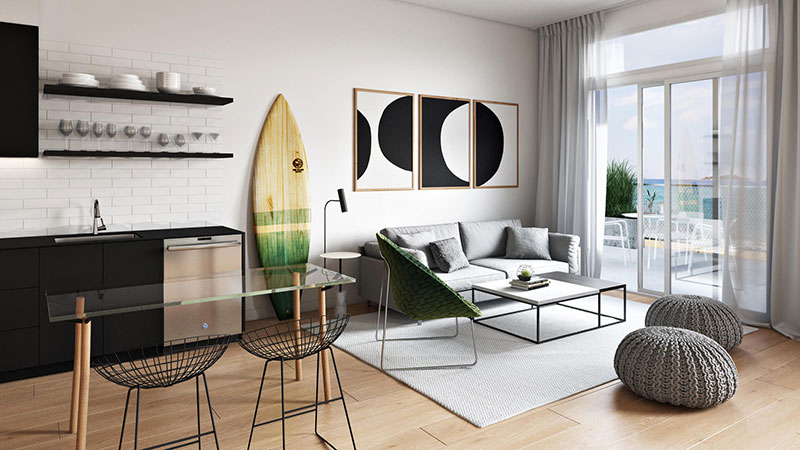 Physical staging for home staging photography is always limited. For starters, it's determined by the realtor's budget on staging. But also, you can use only furnishings that a rental company has in its catalog. As a result, it turns out that a real estate marketer has not so many design options. Thus, they often can't choose the pieces they need. 
For example, if a realtor tries to sell a luxury home they require opulent home staging with designer pieces and fine art. With physical staging, they have to spend a lot of effort to find those items at a reasonable price. Of course, it's not always possible so a realtor has to compromise. In the end, the home looks not as good as prospects would like it to be.
Since virtual staging is a digital solution, there's no problem in finding furniture pieces you want. CG studios have a huge library of 3D models and ready-made 3D furniture sets. A realtor can choose any item in terms of color, style and luxury level because the choice of 3D models doesn't depend on the price. All 3D models are equally available – from the mass-market to unique design items. Don't forget, CG companies charge only for the number of final photos and not for used furnishings.
#5. Sustainability
Digital staging is a highly flexible and sustainable solution. It can always be used for future projects — both the whole 3D scene and individual 3D models. For example, if a realtor wants to use the same furnishing for the next property, no problem. A 3D artist can easily transfer 3D models or sets from a previous project to a new one. 
And if the realtor's tasks change and they want to get a 3D tour or a 3D plan of the property, it could be made from existing virtual staging. All CG experts have to do is to take the project from the storage, add new camera angles and change some settings and make another 3D render. Therefore, there's no need to build the house in 3D from scratch.
Home staging photography, on the other hand, has no such potential. The 2D photo is just a moment fixed in the past. So to create a virtual tour for a property, a realtor has to recreate exactly the same physical staging of the home and order a 360-degree photoshoot. In short, photography can't be reused so it's an inflexible process that entails a tremendous waste of money and time.
Considering all these factors, virtual staging beats traditional home staging photography on all counts. Firstly, this modern digital solution allows you to save money on furniture rental and hiring additional specialists. Secondly, the virtual arrangement is fast and could be easily modified if needed. Last but not least, it allows a realtor to order not only the transformation of an empty real estate into a cozy home but also interior and exterior renovation, a 3D plan and a 360 view tour – and all this out of one project!
Ready to try digital staging? Contact us for virtual staging services, and our CG specialists will create photorealistic images for the whole house in just 48 hours!

What is virtual staging?
Virtual staging is the digital remodeling of the property that allows adding or removing furniture and accessories using computer-generated imagery, both 2D and 3D software. CG stagers furnish empty homes with 3D models and paste the rendered furniture set in a 2D graphic editor.
What type of virtual staging services a realtor can order?
They can order digital staging, styling, interior and exterior renovation, a 3D floor plan and a 360 virtual tour.
How CG studios create virtual staging?
First, they get the brief from a realtor and select furniture pieces that work best for a certain interior style. Then, CG artists recreate a room in 3D and put all 3D models of the furniture in it. After they render the 3D scene, they cut the furniture set out the rendering and merge it with the interior on the original photo in a graphic editor.
How long does it take to make virtual staging?
Turnaround time depends on many factors and every CG studio has different timing for virtual staging. For example, our CG experts create stunning virtual staging in just 48 hours. But to get precise TAT, contact studio managers.
https://virtual-staging.archicgi.com/wp-content/uploads/2020/08/home-staging-photography-vs-virtual-staging-View06.jpg
350
800
luzina
https://virtual-staging.archicgi.com/wp-content/uploads/2020/04/archicgi-logotype-white-300x85.png
luzina
2020-08-28 16:30:41
2020-08-21 15:51:54
HOME STAGING PHOTOGRAPHY VS VIRTUAL STAGING: WHAT IS BETTER