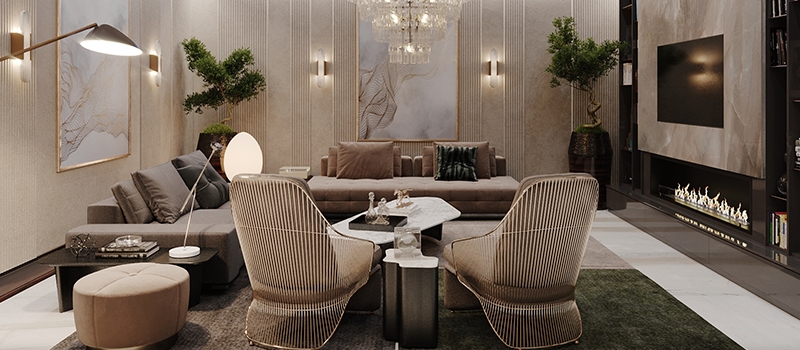 Digital staging is one of the tools for Real Estate Agencies to stand out in the industry. According to the Urban Land's Institute "The 10 trends that will shape real estate in 2020", the increase of ways to examine and act on property data and advanced tools to digitize the homeselling process will also define the success of the business. Virtual staging is exactly about it – to provide full-fledged information about the home, which will be enough to act on here and now. 
It's noteworthy that physical staging is incapable of providing this because of costly investments in the process. Imagine having the necessity to restage designs physically again and again to get new interior concepts photographed? Thus, the approach toward the presentations of listings should be revised and the alternatives considered namely CG staging.  
If done so, there might be another dilemma for a Real Estate Agency – when willing to try out virtual staging, should they use DIY apps or turn to a professional CG studio? To make the right decision, an Agent needs to learn the pros and cons of both. So here they are. 
Professional CG Studios 
Digital staging is one of the trendiest services of professional CGI firms. Although being so powerful for selling purposes, it is the fastest and most budget-friendly version of 3D rendering. Here are other undeniable advantages of such companies.  
#1. Pros:
Virtual staging for real estate suggests using high-resolution imagery, high-quality 3D models of furniture pieces herewith saving their authentic textures and materials. It also allows setting up lighting accurately, creating color variations, and adding design details.  
The 3D technology made it possible not to tell apart 3D visual content from real photos. In fact, two factors influence it – the latest digital staging software and skillful 3D artists. Usually, professional CG companies combine both. At ArchiCGI, for example, 3D specialists come with design and architecture background and work with the most cutting-edge 3D tools. Therefore, the shapes, materials and textures always look authentic while lighting is no less realistic than on photos. 
Different formats and resolutions
CGI Artists can provide visual content in a wide range of formats and resolutions for high-quality 3D renders, furniture layouts, 3D floor plans and so on. The standard result form is FullHD 1920 x 1080 but 3D studios offer custom options as well. Thereafter, they can be used for prints, online ads, web-pages, and even large-scale outdoor advertisements. However, keep in mind that the quality of virtual staging highly depends on the quality of the property's photos clients send. 
Digital staging is about tailoring a 3D model to the employer's wants and needs. CGI Artists have a base of ready-to-go 3D models or can build new ones from scratch following the employer's preferences. Everything is negotiable and modifiable. That way, at the end of the day, a Real Estate Agency will get the visual presentation of design variations exactly as they want. 
Variety of virtual staging products
CGI professionals create 3D furniture layouts, restyled and renovated interiors, floor plans, landscape designs, and even exterior renovations. Digital home staging also features virtual 360° touring. This tool allows prospects to examine every room by rotating cameras and zooming spots they want to investigate the most.
Best speed vs investments ratio
Instead of wasting time to figure out how DIY apps work, Real Estate Agents can send over their design preferences, specifications, or simply suggestions to a professional CGI company.  In a couple of days, the Realtors will get exactly what they want to showcase the selling property in the best possible way. 
#2. Cons:
Before

After
Using digital staging might be more expensive than using DIY apps. It is particularly relevant when the 3D models need to be created from scratch and customized or the project is huge in general. However, it's always possible to cut down expenses by selecting already existing 3D models from the base. 
Risk of finding an unqualified studio
Unfortunately, portfolios on the website do not always show that a CG company can take up any project. In the meantime, Real Estate Agencies can's easily identify a reliable contractor. A hired CG studio might occur unqualified or not enough competent for this particular project in the middle of it. 
It takes time, human and sometimes financial resources to find a professional CGI firm. Needless to say how long it might take for the marketing department to learn all existing studios, filter the best ones, and finally partner up with the most appropriate contractor for their task. 
DIY Apps
Design apps might seem the first alternative to go for before digital staging when Realtors want to change something in the property presentation. The applications might provide some competitive edge when knowing how to use them.
#3. Pros
Empty Space

Virtual Staging For A Cozy Bedroom

Furnished Bedroom
Most DIY apps are free with a paid upgrade. Usually, they provide basic features, such as minor remodeling and touch-ups, changing colors and shapes, etc. Also, it is possible to transform an already built room and redesign it virtually by using the device's camera, customize particular objects and even have virtual tours. Such digital tools might feature AR and VR technologies but these are paid options and require specific skills from a user. 
Total control over the process
An Agent is the one who's responsible for the proper presentation of the property. It excludes missed deadlines or any other things that can stagnate the production of design variations. In the meantime, they are in charge of the accurate and ready-to-implement presentation of the property. However, virtual staging companies permit total control too, thanks to an efficient CRM system that allows monitoring the process and make changes at any time. 
#4. Cons
Unlike digital staging where the quality depends on the CGI Artists' skillset, DIY apps require basic if not above-basic knowledge of designing. Again, the final result has to be authentic and applicable to an existing dwelling. Despite tutorials, the process of education and further implementation takes time. 
DIY apps usually face limited formats and resolutions mostly due to mobile-enabled use. It decreases the overall quality. Some do not allow tailoring the texture to the size or measuring metrics up to millimeters. With the limited number of formats and resolutions, to get a presentation-wise picture to show to a potential buyer seems almost impossible.
Often, digital furniture models concocted with DIY apps might look unrealistic due to their technical inability to keep color, shapes, textures, etc. That way, they do not fit in organically the overall design but create a sort of fake reality. Potential buyers won't fell for it and it can cost the reputation of the Agency. 
Poor functionality and bugs
When handing over the project to a professional CGI studio, an Agent has nothing to worry about. With DIY apps, the situation is opposite – a user deals with everything all by themselves. Besides, a lot of apps are still being in progress of development, and some come in beta-version. That's why users face lags, bugs, and other limitations down the line. 
A limited number of 3D models 
DIY digital tools offer a restricted number of furniture objects and only a few design solutions. Moreover, they provide basic and standardized solutions. For example, there are only ordinary door frame dimensions or windows, which doesn't allow customized planning. The latter is key when willing to meet the needs of Real Estate Agents for specific dwellings.
DIY apps save money but herewith compromise on quality, which is crucial in this highly-competitive business. Besides, it takes time to find an appropriate application and learn to use it. Choosing the other option, top-notch visual digital content for the listings rests completely on the shoulders of a professional CGI studio. They guarantee photorealism and full customization highlighting the main selling points of the property.
Are you convinced that high-quality photorealistic staged dwellings are the best option for your listings' imagery right now? Go for our digital staging services for real estate and make your homes offer irresistible. 
https://virtual-staging.archicgi.com/wp-content/uploads/2019/11/digital-staging-professional-cg-studios-vs-diy-apps-view-e1586943653255.jpg
350
800
vysotskaya
https://virtual-staging.archicgi.com/wp-content/uploads/2020/04/archicgi-logotype-white-300x85.png
vysotskaya
2019-11-11 16:30:18
2020-08-25 15:38:25
DIGITAL STAGING: PROFESSIONAL CG STUDIOS VS DIY APPS