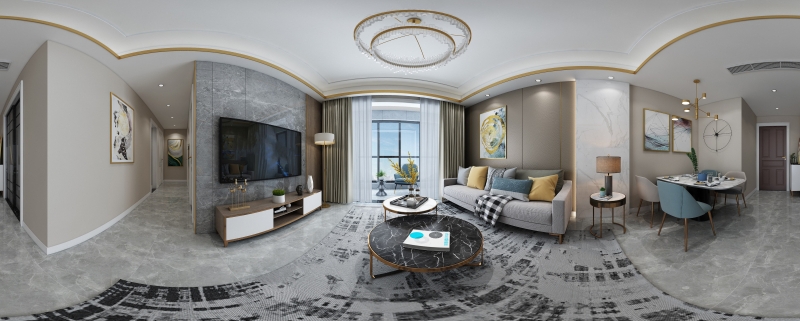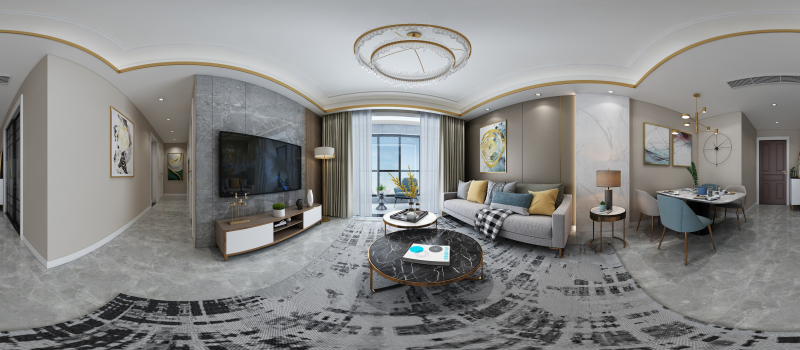 The global pandemic has changed the way realtors and real estate brokers do their business, as well as the idea of home searching for prospects. Precaution measures made it impossible to book actual viewings as freely as before COVID happened, therefore, many realtors switched to 360° view tours. Being two years into the pandemic, buyers got used to taking virtual tours before booking actual viewings, so a digital tour became a must-have for realtors. But how to make a real estate virtual tour work for you and increase your sales? 
Truth be told, wouldn't we all prefer examining new properties while sitting on a couch or being on the road? 360° view tours provide prospects with a unique opportunity to evaluate real estate at a comfortable pace and with no time limit. Using CG tours, buyers can walk from room to room to learn the home layout and zoom in any corner to see it in detail.
So, how do CG artists create life-like 360° tours? Using our virtual staging studio as an example, we are going to explain how to make a virtual tour for real estate in just 5 steps. Let's go!
#1. Submit a Scope of Work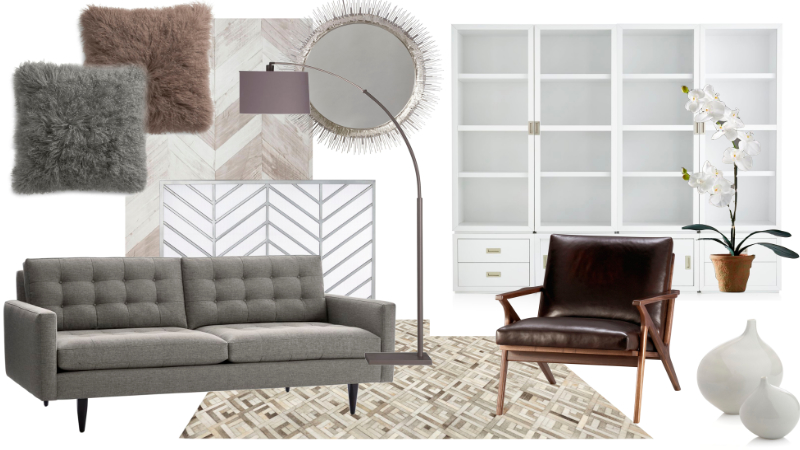 Professional CG artists know how to make a real estate virtual tour but they need to have a scope of work (SoW) as a roadmap for a project. It is a package of real estate photos, 2D drawings, measurements — literally, all the information on the property. Preparing the SoW, a realtor has to mention their target audience and provide CG artists with suggestions on interior style, mood boards, and texture references. This way, a CG team will be able to create a fully-furnished 360° tour tailored specifically to the needs of potential buyers.  
#2. Create a Virtual Model of Real Estate
Once CG artists submit the SoW, they start building a copy of the house in 3D based on its 2D drawings and photos. Then, they fill it with furniture using mood boards and photos from the realtor's references. To figure out how to make a real estate virtual tour, realtors first have to understand the preparation process that consists of three stages.
Recreating the Layout
For starters, CG artists build a 3D model of real estate in special CG software. They copy every small architectural element from the original photos so that the virtual home looks exactly like the real one. For that, they accurately recreate the window cells, doorways, arches, columns, fireplaces, etc. 
Adding Furniture and Decor
After virtual real estate is built, CG experts furnish rooms with ready 3D furniture sets. For instance, we have a CGI library with more than 500 000 high-quality 3D models of furniture and decor in our database. Using it, realtors can pick any item they want for their property or entrust CG artists to make a choice. At this point, the whole 3D house and all objects are in grayscale, i.e. have no colors and materials. The specialists leave it like that so that a real estate agent can approve the architecture and furniture layout first.
Applying Materials and Textures
Once furnishings are approved, CG artists can select materials and textures for every object in a scene. They choose textures according to the materials a realtor suggests in the SoW, or create new ones if needed. After materials and textures are applied, virtual real estate finally starts looking life-like.
#3. Set Up Lighting and Cameras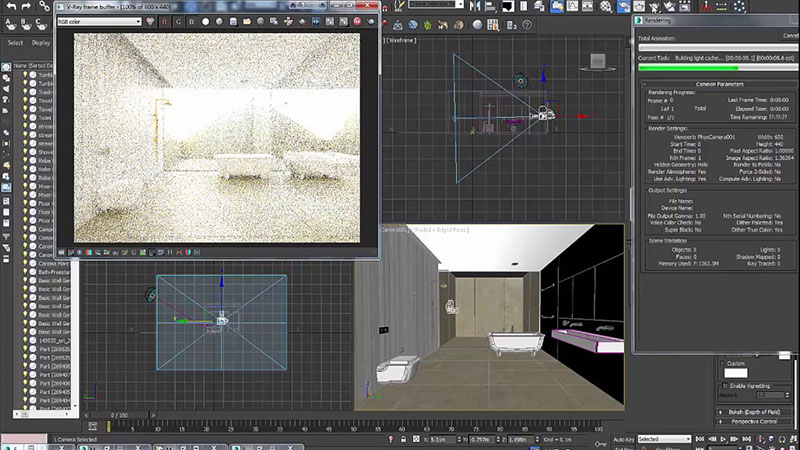 The next step in the making process of a real estate virtual tour is to set up the same lighting scheme for all the premises. That's where the realtor's mood boards come in handy. Usually, CG artists opt for natural daylighting that fills all the rooms evenly and doesn't cast sharp shadows.
Now, it's time to install cameras and take pictures. To create panoramic shots for future real estate virtual tours, CG experts put a 360° camera in each room. Every camera should face a focal point of the space and also capture doorways to other rooms. Once lighting and cameras are done, CG artists render panoramas in 3D software.
#4. Render and Edit Images Using CG Software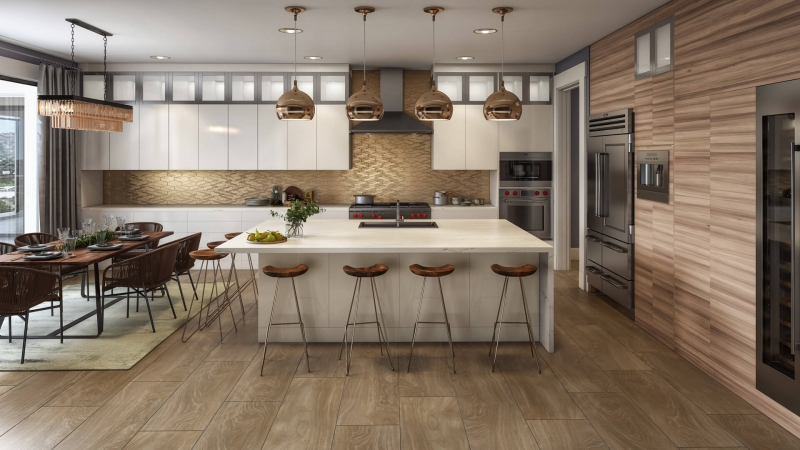 The next step is to do post-production of each real estate render. Firstly, it's important to retouch small defects if needed. Secondly, the color correction, contrast and saturation settings have to be the same for each panorama so that, when clipped together, everything will look organic and seamless. That's one of the pro tips on how to make a real estate virtual tour look realistic.
#5.  Turning Panoramas Into an Interactive 360° Virtual Tour
The last step in making a 360° tour is assembling all the panoramas and doing the digitalization. For that, CG artists stitch all the images together in special CG software. But how to make a real estate virtual tour an interactive experience?
Our specialists use CG programs such as Pano2VR where they add hotspots and navigation tools. Moreover, they can put a viewport or a 2D floor plan in the corner of the window of the tour to improve the navigation even more. Then, they save the resulting file in an HTML format that a realtor can incorporate into their website or any real estate platform with no sweat.
So how to make a real estate virtual tour using CGI services? Realtors have to prepare a detailed SoW and stay in touch with a CG team. The latter will contact a real estate agent for approval of a 3D model of a house and furnishings and send them a ready 360° tour in just a few working days! The result will look highly realistic and work for any digital real estate platforms thanks to the universal HTML file format. 
Need a life-like virtual tour for your real estate listings? Reach out to us for virtual staging services and get a top-quality interactive 360°view tour at a reasonable cost!
https://virtual-staging.archicgi.com/wp-content/uploads/2021/11/how-to-make-a-real-estate-virtual-tour-with-cg-artists.jpg
350
800
luzina
https://virtual-staging.archicgi.com/wp-content/uploads/2020/04/archicgi-logotype-white-300x85.png
luzina
2021-11-10 16:30:45
2021-11-10 15:01:24
HOW TO MAKE A REAL ESTATE VIRTUAL TOUR: 5 SIMPLE STEPS