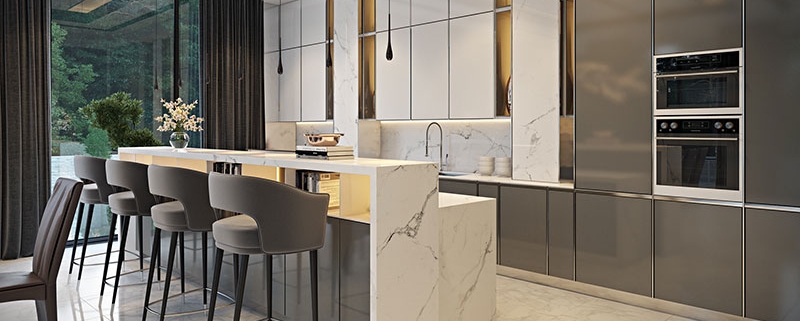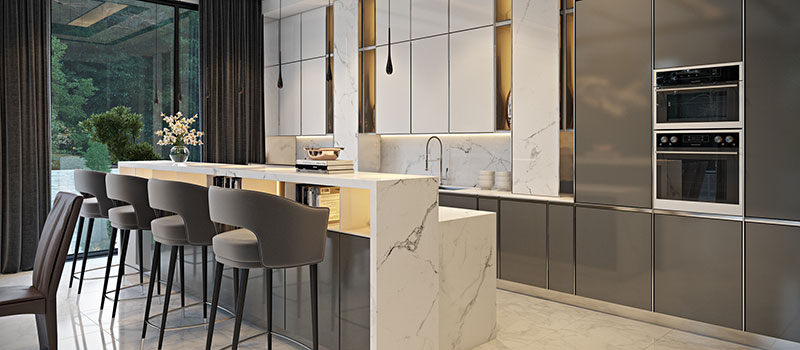 Selling an empty and outdated house, realtors realize that they must give the property a cozy and lived-in look to win a client. And if you don't know where to start, consider investing in kitchen staging first as the kitchen is the heart of a home, a place where the whole family gathers. By revamping just this one room, you will make your listing look more homey and attractive in an instant.
With virtual staging, you won't need to rent and arrange physical furnishings and decor to refresh the house. CG artists can simply select a 3D kitchen set with accessories from their 3D library and insert it into the photo of the property. How easy is that?
Moreover, using CG services from a virtual staging studio, realtors can completely transform the interior and get any kitchen design they can think of. If you feel like it's time for a new kitchen virtual staging for any of real estate objects on sale, use these 8 design ideas to steal inspiration from.
#1. Use Open-Space Planning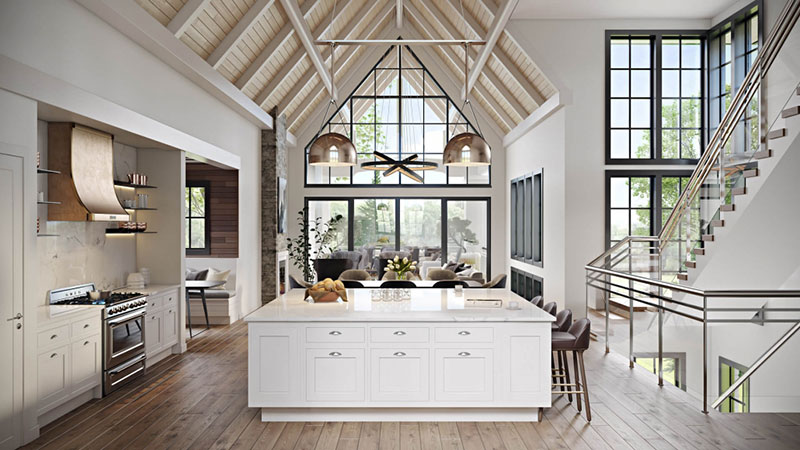 First, try changing the layout of the kitchen — for example, expand the space, integrate it into the living room area, and connect it to the patio. Also, ask CG artists to rearrange the kitchen cabinetry and island so that the kitchen becomes the focal point of the house. Using 3D software, they can stage kitchen furniture in different configurations without much effort.
#2. Experiment with Colors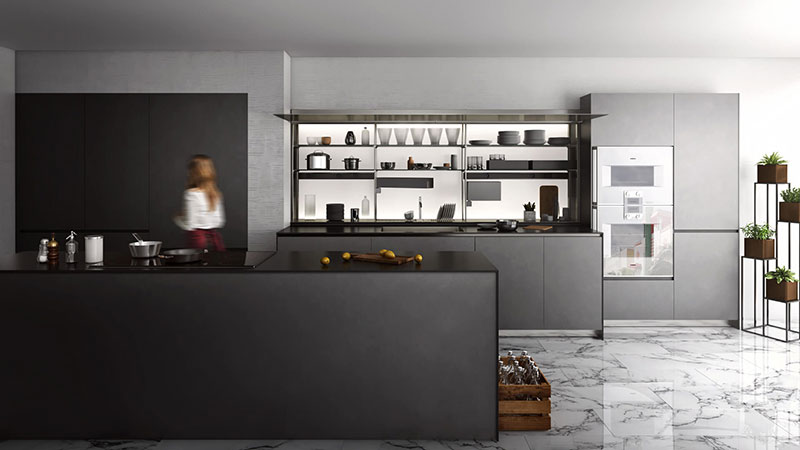 You can easily improve your kitchen staging by simply changing its colors. 3D technologies allow CG specialists to choose any color for kitchen furniture and even change the finishes using digital renovation. Just think out which option works best for your current property and choose the best color palette. For instance, you can go for trendy pastel blue or green hues, or choose something chic but not-so-kitchen like matte graphite.
#3. Try Minimalist Design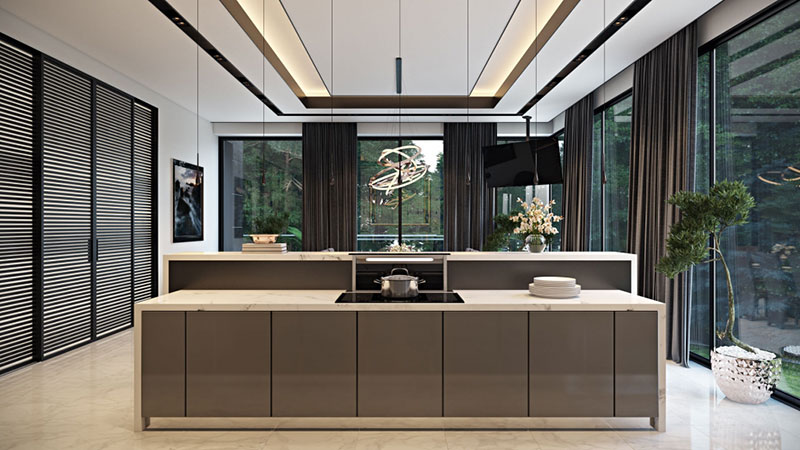 When selling a minimalist house, make sure the kitchen staging is also minimalistic, even sculptural. For such a project, CG experts reduce the amount of furniture and remove almost all accessories. It's all about clean lines, simple shapes and a neutral color palette.
As for appliances and equipment, they all should be built-in, hence, inconspicuous. When professionally done, a fully-staged kitchen will fit perfectly even in a super minimalistic interior.
#4. Play with Contrasting Materials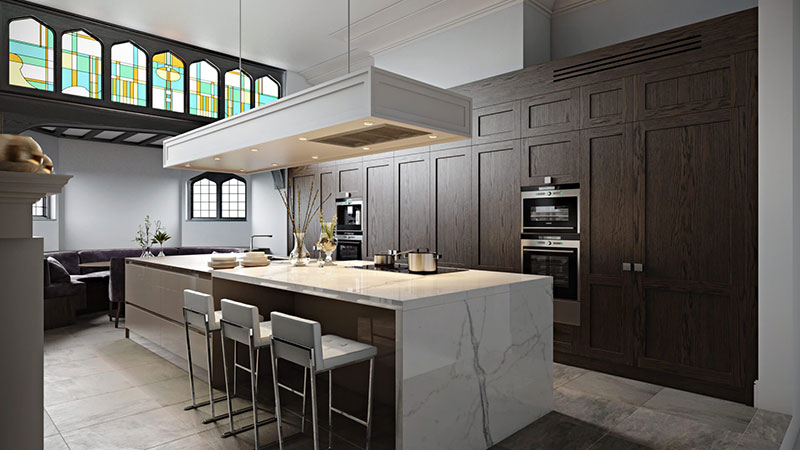 One of the most simple and effective home staging ideas for the kitchen is to use highly contrasting materials in the same space. On the one hand, it helps to visually separate a kitchen zone from a dining area. On the other, it adds depth and modern chic to the interior. 
One of the to-go design options is a combo of dark wood panels and light marble countertops, or vice versa. Also, CG decorators often match mirrored surfaces with rough textures to add more interest to the room.
#5. Add High-End Furniture Pieces and Decor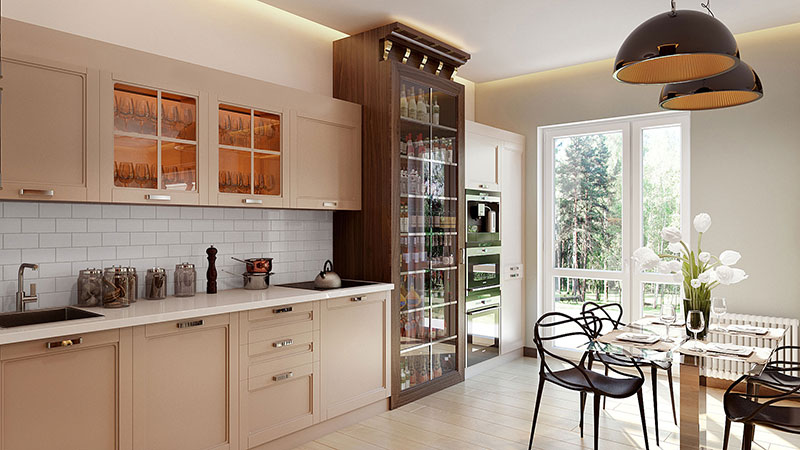 If a realtor needs to attract high-end prospects, they can enhance the luxury vibe with well-made CG kitchen staging. For that, our CG specialists add various opulent elements like kitchen appliances from first-class brands, a wine cabinet, and even art objects by world-famous artists. Such a staged kitchen will certainly help in targeting high-end prospects who expect opulent interior presentations from real estate listings. 
#6. Give a Kitchen Retro Vibes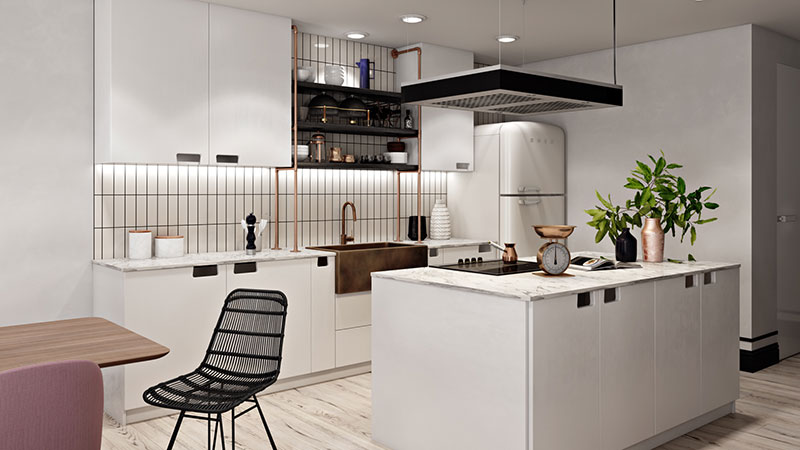 We also recommend staging the kitchen in Retro style which is one of the hottest interior design trends in the recent years. It could be a 1950-70s aesthetic that would work great for a Mid-century style house. If you opt for 50s style, ask CG experts to style the eat-in kitchen as a classic diner with bright leather or plastic furniture and themed decor like posters, neon signs, etc. To create such an interior, CG artists also add retro-styled kitchen appliances, such as the iconic SMEG fridge.
#7. Create "Invisible" Kitchen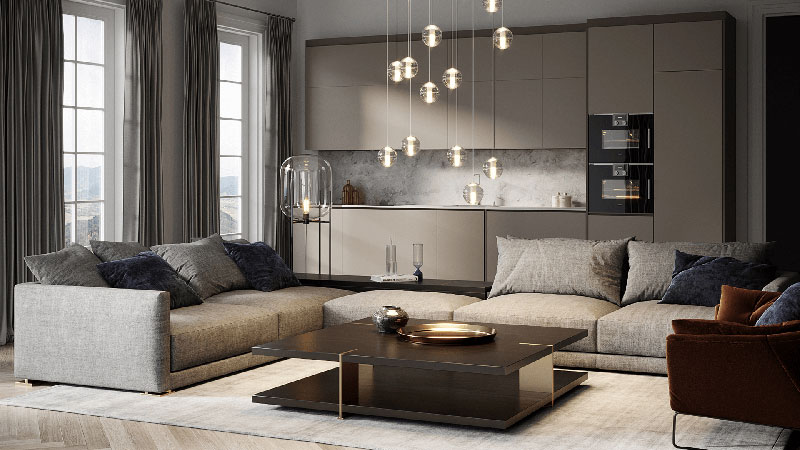 When working with small properties, realtors usually go for minimalist interior style to make the whole space look bigger and comfier. Same with kitchen staging. For such a home, one can create the almost "invisible" kitchen so it doesn't draw too much attention and let the eye freely travel over a design.
For this, CG experts remove extra cupboards and a kitchen island, use built-in appliances and modern furnishings with no handles. Then, they line up kitchen furniture along the wall and paint it with neutral and sophisticated gray hues to blend it into the interior even more. Obviously, the "invisible" kitchen staging won't work for a large family house but it's a perfect choice for a small bachelor apartment.
#8. Opt for Luxury Classics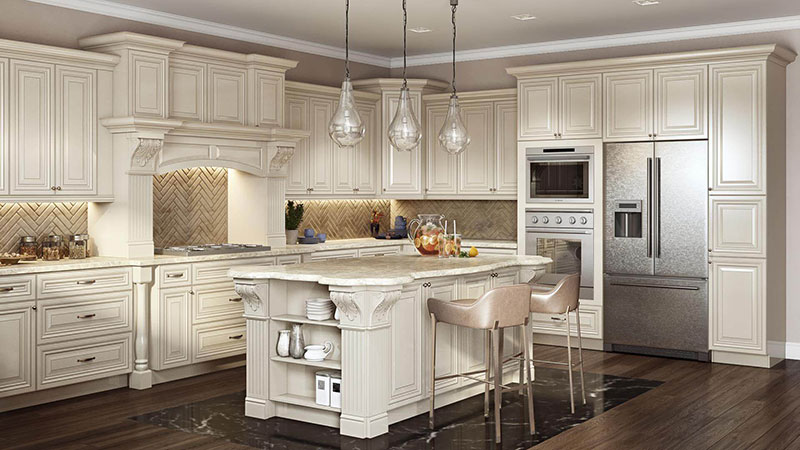 Naturally, Traditional styles don't tolerate cramped interiors. Therefore, don't use this style for a small eat-in kitchen — Traditional high-end homes must have a separate dining area. And although Traditional kitchens are spacious and might have an island with a dining extension to it, they are not made for having full meals. 
Staging a kitchen in Traditional style requires expensive antique decor and classical architectural elements like columns, moldings, etc. As for materials, CG artists often opt for mahogany, oak, cherry wood, various types of marble, stainless steel, copper, and so on.
Having the latest CG software and an extensive library of 3D models, professional CG artists can make any type of virtual kitchen staging — from Traditional to Retro 50s to ultra-modern design. To get staged images, a realtor has to provide a CG team all the information about the project, describe their target audience, and include as many interior references as possible in a brief.
Can't wait to try one of these kitchen staging ideas? With our virtual staging services, you can order an interior in any style and get ready-made CG images in just two working days!
https://virtual-staging.archicgi.com/wp-content/uploads/2021/04/kitchen-staging-8-design-ideas-View10.jpg
350
800
luzina
https://virtual-staging.archicgi.com/wp-content/uploads/2020/04/archicgi-logotype-white-300x85.png
luzina
2021-04-08 16:30:11
2022-02-11 12:02:56
KITCHEN STAGING: 8 BRILLIANT IDEAS FOR VIRTUAL DESIGN