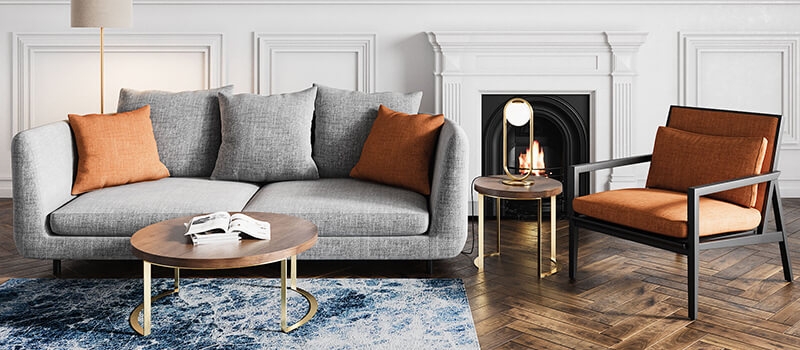 Virtual furniture staging is becoming extensively used by Realtors since it is a digital solution that is more budget-friendly than physical staging.
Now every Agent has their own website and social networks to stay in touch with current customers and attract new prospects. As a result, new Realtors' profiles and sites pop up all over the Internet and cyberspace is bulging at the seams with impressive real estate offers. So, to outstand on the market and get their piece of the pie, Agents have to come up with more original ideas on how to attract the audience than just posting listings. And the best way to do so is to create a solid marketing strategy with impressive visuals.
Here comes the problem — a Realtor already has an experience of using virtual furniture staging in the past, but usually they just uploaded digital staging pictures to listings on the platforms and the site, then double them on social media. However, that's not how an effective marketing strategy works. For a really efficient approach, a Real Estate Agent has to carefully plan what kind of content to use for emails, what works best for social networks, how to create an outstanding website and increase its conversion rate, and so on.
As an experienced virtual staging company we face different challenges from various Realtors and have accumulated some knowledge and ideas on that score. We have made a list of 5 non-standard ways to use virtual furniture staging for improving and expanding your marketing strategy, so take a look.
#1. Start a Helpful and Well Designed SEO Blog on the Website
To increase traffic to a website, successful Realtors do not limit content to listings only but keep interesting blogs about real estate. Blogs are a great way to entertain and engage the existing audience, but also attract new customers, as a result of SEO-optimization of the articles. Making these essays useful, sharing experience and giving advice allow an Agent to show their professionalism, expertise and awareness of the market, as well as raise the credibility and reputation at the same time. But most importantly, a well-thought-out SEO strategy makes the site more popular without additional expenses for Google advertising.
To make articles even more relevant, Realtors should enhance them with jaw-dropping visuals — for example, staged interiors or virtual 360 view tours. A virtual tour is even more spectacular since it allows website visitors to have a virtual walk through each room of the house, and zoom every little detail of the interior. This option makes leads stay longer on the site, immerse into the atmosphere of the house and get interested in the property. In short, a SEO blog with mind-blowing virtual furniture staging and a 360 tour could help to boost website conversions tremendously.
#2. Invest in Virtual 360 Tours and 3D Floor Plans to Boost Listings
Before

After
To stand out from the intense real estate competition, a Realtor must think and act outside of the box. Let's say, when it comes to listings, an Agent can opt for virtual home design and add a 3D floor plan and 360 tour to each of them to make a greater impression on prospects. A floor plan in 3D is a layout of the whole dwelling with the furniture and home decor — it's like a house in miniature. As for a virtual 360 tour, it is very close to a real property showcase experience since it allows future buyers to 'walk' around the home and envision themselves living there. It also adds credibility to an Agent, because it's obvious that only a top professional is ready to spend money and effort for such a presentation of the property.
Moreover, a 360 tour allows prospects to overview real estate without rush while being at home, at the office or even on the road. This is an incredible opportunity for busy customers and clients from abroad who can explore listings only online. A virtual 360 tour is also an effective tool for selling luxury properties — it makes the listing a special offer for businessmen and celebrities. It proves that property provides all the conveniences they need and is worth buying without spending time on viewing.
#3. Compose an Engaging Newsletter with Personalized Imagery Choices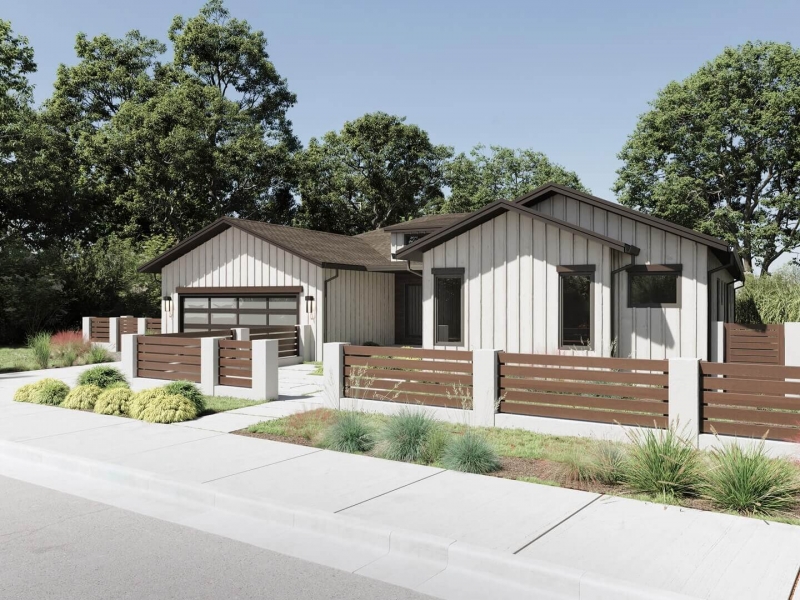 We all receive tons of newsletters and spam emails that are destined to be thrown in the trash the next second we get them. That's why a Realtor needs to make sure their email marketing is not annoying, boring and corny. To make a useful and interesting newsletter, an Agent must put themselves in subscribers' shoes to understand what kind of emails could be helpful and entertaining at the same time. For example, one can compile listings into the 'Top Offers of the Month", or 'Highlights of the Week' — if a selection looks convincing and well-designed, customers will like to keep a subscription to stay updated to the most advantageous offers. Moreover, to make the compilation clickable one must use suitable visuals.
The best images are the catchy ones — photo collages with 'For Sale' sings, specially customized images for season offers, questionnaires with striking pics, etc. Realtors have to do their homework and learn more about their target audience to prepare the most relatable content. For instance — 'Top Luxury Estates' with design furniture and antiques works for high-end prospects, a house with kids' rooms and backyard is an option for a family, and middle-cost property is for lower-income buyers. Put it simply, the more personalized email marketing is, the more subscribers it has.
#4. Create Unique Content for SMM Using Engaging Visuals
Before

After
Since everyone is on social media these days, including big brands and politics, Realtors need to promote their services and keep up with their audience on the networks, too. It means not only staying active and approachable — an Agent has to find their own style, balancing between useful business content and informal entertaining posts at the same time. The biggest issues in SMM are consistency and finding jaw-dropping content for every day to make posts that everyone likes and shares.
Virtual staging is a perfect source of ever new content for social networks — with the help of virtual furniture staging software, CG Artists can generate plenty of cool visuals from just one project. For example, a Real Estate Agent can share virtual staging of different rooms of one house, the same room with different types of furniture layouts or try different interior styles for the same house.This type of content is ideal for questionnaires and votation since it increases the engagement of the audience. Realtors can also publish collages or publish virtual 360 tours — anything that will catch the public and provoke comments, likes and shares. As a result, unique diversified content will outstand a Realtor among other Agents, increase the current audience and attract new prospects.
#5. Be Active Offline By Making Unforgettable Promo Materials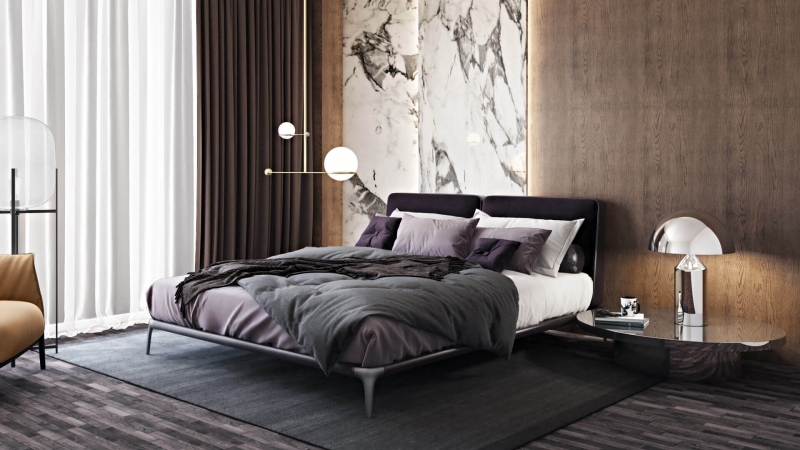 With all that blogging and rush toward likes, an Agent should not forget to attend special events and conduct offline promotional activities. For example, visiting property trade shows is essential for brand image and making a name for an agency, while publications in magazines and newspapers introduce Realtors to a new audience, which may not follow real estate news online. Again, to get creative, an Agent should consider the idea of not only buying direct advertising but also suggest an interview for sharing their expert opinion. In any case, virtual furniture staging makes first-class illustrations for both ad mockups and editorial materials.
As for brochures and leaflets, they can be distributed everywhere, including local events, meetings, and lectures. Yes, giving a lecture may sound terrifying but it's worth trying since it helps an Agent to prove their professionalism and attract the new clientele. Anyway, choosing eye-opening virtual furniture staging for real estate booklets and presentations makes this appearance more impressive and remarkable to all visitors.
To create a successful real estate marketing strategy, Realtors should stay open-minded and think creatively. Virtual staging gives all the possibilities to do exactly that by experimenting with visual content and try some bold ideas. Boosting online listings with virtual 360 tours, planing a top-notch SMM campaign, starting a informative blog with mind-blowing visuals — there is no limits with 3D technologies. But most importantly, using virtual furniture staging, Agents don't need to spend lots of money and effort on physical furniture arrangement and real estate photography — so it's a winning hand anyway.
Ready to try these ideas for your real estate marketing? Order our virtual furniture staging services and you will get top-notch visual  content for your marketing strategy that will increase its effectiveness tremendously!
https://virtual-staging.archicgi.com/wp-content/uploads/2019/11/virtual-furniture-staging-for-marketing-strategy-View01-e1586944295389.jpg
350
800
luzina
https://virtual-staging.archicgi.com/wp-content/uploads/2020/04/archicgi-logotype-white-300x85.png
luzina
2019-11-07 16:30:55
2020-04-15 09:51:39
VIRTUAL FURNITURE STAGING: 5 WAYS TO INTEGRATE IT INTO A MARKETING STRATEGY