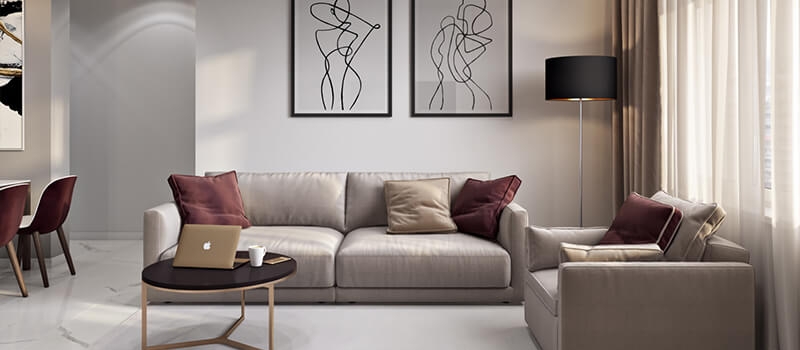 Virtual home design provides a slew of solutions for selling unattractive empty properties and transforming tacky interiors into sophisticated ones. The majority of prospects don't get interested in dull photos of vacant houses and 2D floor plans, so them booking real estate viewings is out of the question.
Therefore, getting top-notch visuals is a matter of necessity for Realtors. However, physical staging is a pricy and complicated process which includes extra expenses on furniture and transport, as well as a decorator and photographer's fee. Using virtual staging, on the other hand, is an effective alternative to traditional furniture arrangement — it provides photorealistic visual materials and is budget-friendly at the same time.
But is virtual home design really the only solution to these problems? And how it can help Realtors to attract more clients and boost sales? As a virtual staging company with a wealth of experience and expertise, we made a list of 5 secrets of how to increase sales with virtual home staging.
#1. Virtual Home Design Showcases the Property's Potential
Before

After
Virtual home design allows Realtors to get jaw-dropping images of real estate and show its true potential. Sometimes, a decent property with nice planning and surrounding goes underrated because of its current renovation state or unfriendly empty rooms in the images. But there is nothing CGI services can't fix in terms of visual content.
With the help of virtual interior renovation, CG specialists can change the color scheme of the dwelling, choose a better flooring and quality finishing materials for interior design. This way, Realtors get breathtaking pictures of renovated real estate without spending a dime on building materials, a decorator and a renovation company. Also, digital furniture arrangement helps to furnish and decorate boring empty rooms with suitable furniture, beautiful plants, and home accessories.
Virtual home staging not only shows how interiors could possibly look – it also helps to indicate the purpose of all premises and allows customizing the offer. If a Realtor is familiar with their target audience's needs, they can ask CG Artists to design one of the rooms as a kids' room or a gym, depending on the client's lifestyle. Therefore, using virtual home design for listings makes them more relatable for prospects, which draws attention like nothing else.
#2. Digital Staging Makes Mind-Blowing Presentations
Virtual home design works great for client presentations because professional CG images look 100% photorealistic. Thanks to advancements in 3D technologies, all materials, textures, and lighting look perfect on renderings. Therefore, virtual staging provides stunning photorealistic images of stylish interiors that will make an instant impact on potential buyers.
Moreover, to make a striking real estate presentation at the meeting, a Realtor can order not only static CG pictures but an interactive 360° view. With the help of this 3D technology, Artists can also create virtual home interiors and make a 360° tour around the property. This tour is perfect for listings, commercial videos, and personal meetings with clients. Paired with VR glasses, it will immerse prospects into the warm atmosphere of a house and give them the full sense of presence in their dream home.
#3. With Virtual Home Staging Any Design is Possible
Before

After
One of the biggest advantages of virtual home design is that 3D Artists, who work on it, are not limited by the catalog and warehouse stock. With 3D technologies, they can choose any 3D models of furniture and decor and even create new ones from scratch.
As for virtual interior renovation, CGI allows to use any materials, as well as change textures and colors in a few clicks — this way CG specialists can pick the best materials that will work perfectly for the interior. Since they are not limited by the budget for physical renovation, Artists can even choose luxury finishings and create an impressive polished look for real estate. This way, a Realtor can get first-class interior images without spending extra money on expensive physical renovation and furniture.
Moreover, hiring professional CG Artists with special education and skills, a Realtor can be sure about the interior style and quality of the images. Put it simply, there's no need to hire a decorator and photographer separately — virtual staging specialists combine both skills.
#4. Virtual Home Design is Perfect for International Sales
Working with international clients who can't be present on property viewings is tricky. In such cases, Realtors face the problem of how to show property through the Internet and make it an exciting experience at the same time. Often, international sales are about selling luxury real estate and dealing with busy businessmen and celebrities. Of course, this demanding type of client can be attracted only by a truly mind-blowing offer.
A virtual 360° tour is a perfect solution in such situations. Based on the 3D renderings of a house, a virtual tour allows prospects to switch between multiple cameras and zoom in the details, so they can explore each room and evaluate all benefits of real estate. Moreover, professional 3D visualization depicts all materials, colors, and lights with photorealistic quality. As a result, an interactive photorealistic 360° tour allows high-end prospects to look around the property, immerse into the atmosphere of an elegant and cozy home and envision themselves living in there.
#5. Virtual Home Design is Multipurpose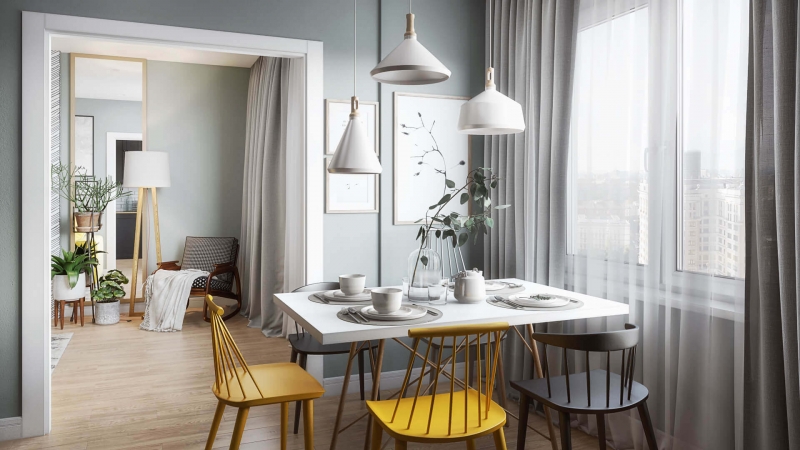 Ordering virtual home design a Realtor receives an astonishing visual content that can be used for multiple purposes, such as the Agent's website, social networks, listings, newsletters, and presentations. Moreover, the photorealistic quality of these visualizations allows Real Estate Agents to utilize them for offline promo as well — print business cards, booklets and brochures, and even use them for outdoor advertising. Overall, CG imagery is not only impressive but also a cost-friendly solution — ordering it only once a Realtor can use it for various purposes in the future.
More and more Realtors choose virtual home staging to present real estate in the most effective way. It's a powerful tool, that provides photorealistic visuals and saves the budget at the same time compared to expensive physical staging. Another cool benefit of virtual home staging is its multipurposeness — the top-notch CG images can be used for online listings, clients presentation, offline marketing and promo campaigns all the same.
Excited about new opportunities you can get with virtual home design? Try our virtual staging services for awe-inspiring visuals and dramatic improvements in sales!
https://virtual-staging.archicgi.com/wp-content/uploads/2019/10/virtual-home-design-boosts-sales-View01-e1586944428515.jpg
350
800
luzina
https://virtual-staging.archicgi.com/wp-content/uploads/2020/04/archicgi-logotype-white-300x85.png
luzina
2019-10-17 16:30:22
2020-04-15 09:53:53
VIRTUAL HOME DESIGN: HOW IT HELPS TO BOOST REAL ESTATE SALES