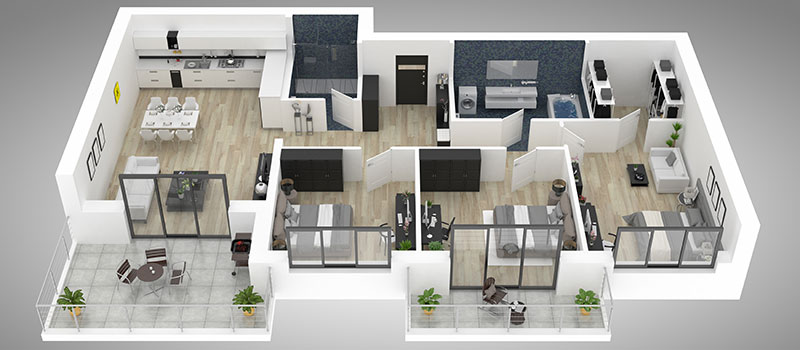 Have you ever seen the listings of your competitors in real estate and noticed that they were way more advanced than yours? Have you asked yourself how they'd achieved it? We have the answers. Firstly, they don't post photos of empty houses but digitally stage them instead. Secondly, they often add engaging CG solutions such as virtually staged floor plans to their offers.
You're probably thinking "Are those 3D floor plans necessary or are they just another marketing gimmick?" Some realtors find it easier to deal with 2D drawings because they take less time and money to make. However, not every prospect can read drafts, thus, they have little informative value.
As a virtual staging studio with years of expertise, we've done plenty of 3D floor plans and we know exactly how realtors use them to improve their offers. Based on the experience of real estate professionals, we outlined 5 ways to enhance your listing presentation using virtually staged floor plans.
#1. Virtually Staged Floor Plans Define Property's Proportions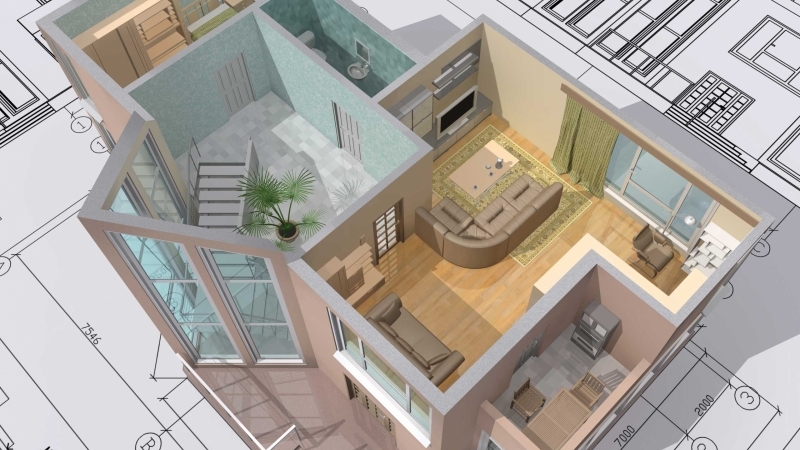 Traditionally, when creating listings for vacant properties, realtors tend to post photos of empty premises and 2D floor plans. However, with 2D drawings, it's often unclear how many furniture pieces can actually fit in the room. Also, you hardly can imagine the height of ceilings and windows based on a 2D draft.
To make virtually staged floor plans, CG artists build walls, add doors and windows — in short, they create a tiny 3D house. Then, they put in furniture, home appliances, lighting fixtures, plants, decor, etc. As a result, such a plan can properly show the proportions of the house and how much stuff can fit in each of the rooms. Having it on a listing, you don't even need lots of other images to prove that property is worth the money.
#2. Virtual Staging Reveals the Potential of Real Estate
Before

After
Let's be honest, 2D drawings are not just boring. Their biggest drawback is that they don't showсase the property as an actual existing house. After all, 2D floor plans don't have all the information prospects need — to the majority of people, they look like mere lines and gaps.
Virtually staged floor plans, in turn, bring the drawing to life and reveal the full potential of the house. Using 3D software, CG artists can show different layout options and try various interior styles. Therefore, having 3D floor plans in front of them, prospects will see what opportunities and lifestyle they can get if they go for this real estate.
#3. Digital Furniture Layout Is Easily Adaptable to Any Target Audience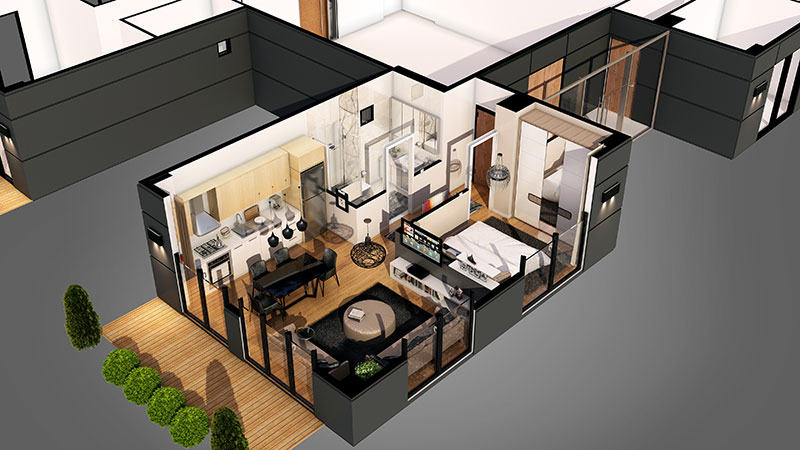 Other key benefits of virtual staging are its creative freedom and flexibility. Using CGI, 3D artists can make any type of digital furniture arrangement and they're not limited by actual catalogs of furniture and accessories. CG specialists simply go to their library of ready-made furniture sets and pick any 3D models they want.
As a result, CG artists can furnish the same property in different ways and styles to reach a specific buyer — from a large family to single Millennials. Naturally, having virtually staged floor plans tailored to a certain target audience makes a listing a highly-attractive personalized offer.
#4. Virtually Staged Floor Plans Make Listings Comprehensible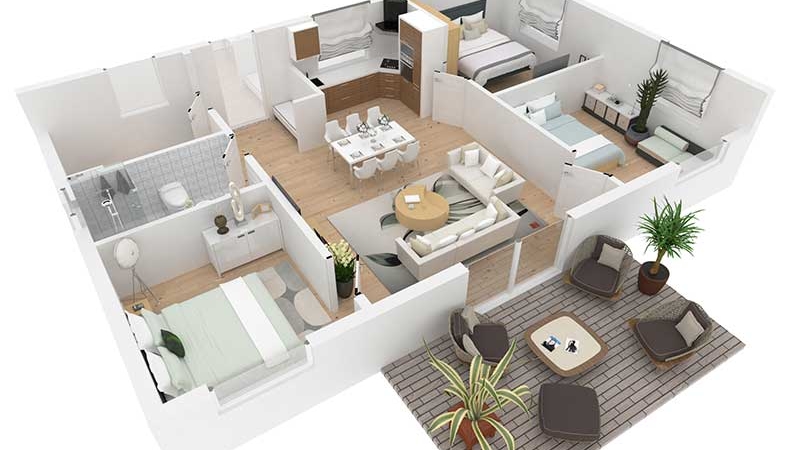 Many prospects don't really like 2D plans with all those lines and numbers because they actually can't read architectural and interior drafts. Therefore, they can get confused and feel doubtful about the offer.
Unlike 2D drawings, 3D floor plans are self-explanatory. Since they show a virtually staged house in 3D, anyone can understand them without special knowledge and training. You don't have to be an engineer or an architect to figure it all out. Therefore, opting for virtually staged floor plans, realtors get top-quality content that makes listings very client-friendly.
#5. Using 3D Floor Plans Elevates Your Professional Reputation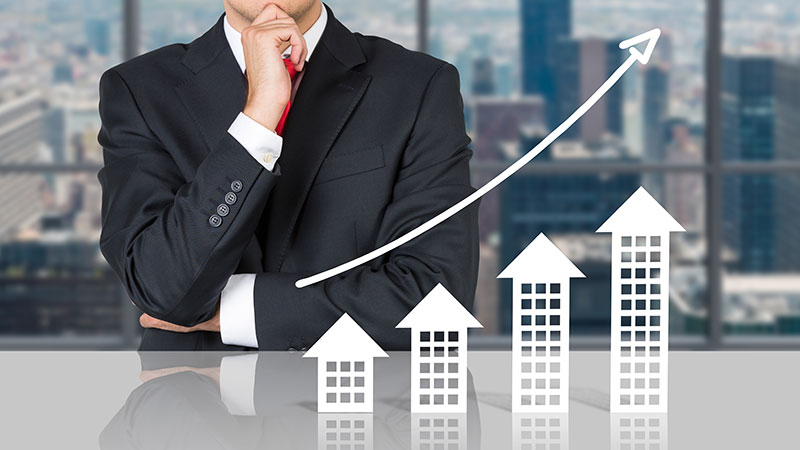 Try to put yourself in the prospect's shoes and you will see that there is nothing worse than seeing low-quality photos and 2D plans in a listing. On a subconscious level, buyers evaluate both property and a realtor based on the visual presentation. If it's not good enough, prospects simply won't trust such an offer and, consequently, a real estate agent behind it.
That's why you need photorealistic 3D floor plans and impressive virtually staged images to take listings to a higher level. Such an advanced offer means that a realtor is ready to invest time and money in the presentation of the property, hence, they truly care about their potential clients and reputation.
Virtually staged floor plans allow realtors to completely transform and elevate the listings. Instead of using dull incomprehensible 2D drawings, they provide prospects with a miniature model of their future house. With 3D plans, potential buyers can easily understand the layout and choose the property that suits their lifestyle the best.
Want to boost your real estate listings? Contact us for virtual staging services and get 100% photorealistic virtually staged floor plans in just 48 hours!
https://virtual-staging.archicgi.com/wp-content/uploads/2021/02/virtually-staged-floor-plans-for-listings-View06.jpg
350
800
luzina
https://virtual-staging.archicgi.com/wp-content/uploads/2020/04/archicgi-logotype-white-300x85.png
luzina
2021-02-23 16:30:45
2021-02-23 13:11:57
VIRTUALLY STAGED FLOOR PLANS: 5 WAYS THEY CAN CHANGE REAL ESTATE LISTINGS