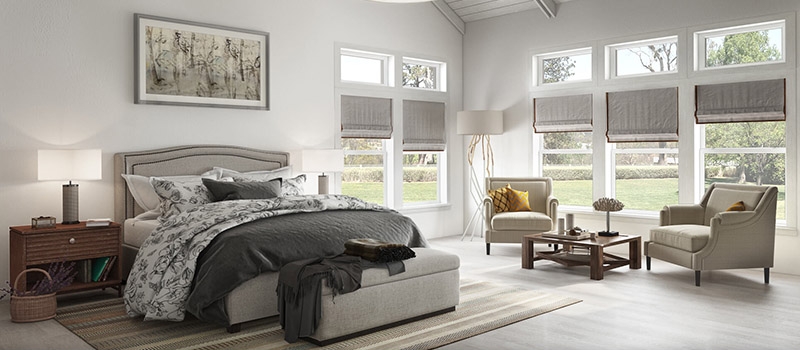 Virtual staging companies make a real estate agent's job easier and much more exciting. Each property becomes a new project with a solid marketing plan. It calls for a creative thinking process to come up with a promoting strategy, detailed listings and, above all, stunning eye-catching images.
Often, it is the visual part that becomes a decisive factor in stimulating further sales opportunities. 
Virtual staging has its pros and cons, but one thing is clear — this option is more efficient when compared to physical staging. Imagine a real estate company commissioned to sell apartments in a new suburban townhouse block. It is definitely a promising project, but the developer does not provide any marketing images, neither is there a showroom apartment to photograph. The agency has a choice to physically stage an apartment and further photograph it, or find a virtual staging firm that will design stunning images based on the provided floor plans and photos of empty rooms. The latter is more cost-saving, faster and gives an opportunity to furnish the space in the latest fashion. Thus the choice often falls on virtual staging. Yet, there comes another dilemma. What is a better option – to go to a local 3D design bureau or hire an outsource company? Let's take a look at these two types of virtual staging companies, their business model, pricing, speed, and quality of performance.
Outsource Virtual Staging Companies as Compared to Local Ones
Great virtual staging companies can be both local or on the other side of the world. Technology allows tapping into talent globally without having to leave the office or get on a plane. There are benefits, as well as certain issues that accompany the choice of an outsource company when virtual real estate staging is needed.
#1. Pros:
Before

After
Pricing is flexible.

In most of the cases virtual staging for real estate will be less expensive with outsource companies. Running an international outsource company calls for exceptional managerial talent, but it opens up an array of opportunities for international clients and allows them to employ top-quality 3D Artists at the same time. Due to their business model, such companies are able to save by cutting various overhead costs like a huge rent or taxes, find skilled speciliasts who charge less, and offer much better deals. 

Speed is uncompromised.

The reason behind this is that an outsource company works with talents from all over the world, often joggling 3D Artists in different time zones. This circumstance allows establishing round the clock workflow. Moreover, virtual staging professionals, who work with outsource companies, get a bigger variety of tasks and more flexible working conditions, thus are more motivated to work overtime. 

High quality.

This is not just a marketing statement. As already mentioned, the outsource business model gives an opportunity to search for the best talents around the globe without any limits. At the end of the day, this type of virtual staging companies can hire a professional whose skills are superb even if they live on the other part of Earth. On the other hand, a local virtual staging company can only offer a choice of next-door talent, instead of a selection of world-class CGI stars. 

Free perks. Well, nothing is completely free. However, when a real estate agent wants to save hard, an outsource virtual staging firm will make it possible. One can browse the web and find cheap, sometimes even free 3D models of furniture or other interior details. Then, a realtor sends it to an outsource company for integration and gets a rendering for a lower cost as there is no 3D modeling involved. The results will not be photorealistic as with custom objects, and not suitable for print. Yet, in some cases, such a low-budget solution can be enough, so it's good to have this option.
#2. Cons: 
Before

After
Risks appear higher.

Any kind of outsource provider, virtual staging or not, can run away with a client's money or significantly postpone the submission terms. This, however, is a seldom case with companies, building their presence on the net. The risk might accompany collaborations with freelancers, but not with big outsource studios. Moreso, virtual staging firms with a good reputation usually provide solid legal guarantees. ArchiCGI, for example, signs NDAs and warrants the result submission terms. In case of failure to stick to the schedule, the client is reimbursed with the full sum. 

Miscommunication and the lack of personal contact. Surely, it is convenient to drop by a local virtual staging company and talk business face-to-face. Nothing trumps a personal meeting. Yet when it comes to virtual staging for real estate, modern technology empowers communications to the levels of in-house meetings or better. There is always skype, facetime and the like. Some modern-day CRM platforms provide tools for real-time engagement and process control that no personal contact comes close to. For instance, ArchiCGI CRM called Archivizer is accessible on all gadget types, allowing for direct contact with 3D Artists and real-time process control.
No quality assurance. The bad press here comes from freelancers, who may indeed turn out unprofessional. But keep in mind, chances to encounter a freelance artist who does not hit the bar are much higher than to encounter a lack of professionalism within an outsource company. The latter fight hard for their internal standards, spotless portfolios and client reviews. All in all, well-reputed virtual staging companies typically employ the best talent, offering appealing conditions for top-notch professionals.
Local Virtual Staging Companies' Pros & Cons
Technology makes life easier, faster and more effective. Yet the desire for personal connection, just like the need to make this world smaller and cozier, is innate to human nature. When the need for face-to-face collaborations is dominant than looking towards a local virtual staging business is a good idea. Otherwise, there are always pros and cons to consider. 
#3. Pros 
Empty Space

Virtual Staging For A Cozy Bedroom

Furnished Bedroom
Quality assurance.

Indeed, working with a virtual staging company located a couple of blocks away is at least comforting. One can always come down, handpick virtually staged furniture replacement, have a discussion and look into the eyes of the 3D Artist who is giving you rendering services. Whether a personal contact can assure quality is under question, but it does provide the comfort of directly influencing the work. 

Better communication.

Without a doubt, a face-to-face kick-off meeting is a perfect tool to clear up expectations and talk through all sorts of questions. With a local virtual staging company, it will come as part of the package. Outsource companies may have apps and tracking systems installed, and be available for a call when scheduled. Yet a personal meeting is one thing they cannot replace, leaving it a solid advantage of an in-house 3D rendering subcontractor.

Guarantees on demand. Some outsource virtual staging freelancers do provide legal guarantees, yet in comparison to cut-in-stone warranties within the same regulation, they appear rather like gentlemen agreements. Given the sturdy nature of local-based guarantees, demanding what is rightfully yours might be easier. These kinds of trust points, however, are no less stable when working with any well-reputed virtual staging company, outsource or local.
#4. Cons
Before

Virtual Renovation

After
High prices.

Local businesses target clients in their area and thus invest a lot into brick-and-mortar marketing. Top that with rent, social packages, taxes, and high salaries, and get an escalated overhead that is included in the final price one pays for virtual staging services. 

Lack of quality and speed.

For an agency that sells luxury real estate somewhere in New York or LA, contracting a top-notch professional virtual staging company locally will not be an issue. However, if "local" means somewhere further away from a metropolitan business hub, the quality and speed might be compromised with no available alternatives. 

Expensive 3D models

. In most of the cases, local virtual staging studios use 3D models of their production and don't accept the cheaper versions downloaded from websites. As an alternative, they might offer a custom-made one, which adds up to an even higher cost. In comparison, outsource virtual staging companies are geared towards the quick and marketable results. Thus they don't shun from buying ready-made models to fill in property visual with designer furniture pieces or classy decor if it's requested by a Realtor. 
It's fascinating to do business in this day and age. Technologies envelop the entire globe, connecting demand and supply that are oceans apart. When a real estate firm needs to create a luring and effectively selling visual, they have a choice to leverage. Some might prefer a local visual staging company for the factor of human interaction and a good-old handshake. Others will turn to an outsource company, relying on its expertise, better prices, and time-effective solution. After all, outsource virtual staging companies often tap into the wide array of 3D models, hire international talent and work with hi-tech communication solutions, all of which can be decisive factors as well.  
Whether you already chose your tribe or still are debating on the local vs outsource vector, give ArchiCGI's rendering services a chance. We'll make sure your property gets a high-quality virtual staging for a pleasant price. 
https://virtual-staging.archicgi.com/wp-content/uploads/2019/10/virtual-staging-companies-in-house-vs-outsource-View-e1586944795611.jpg
350
800
vysotskaya
https://virtual-staging.archicgi.com/wp-content/uploads/2020/04/archicgi-logotype-white-300x85.png
vysotskaya
2019-10-10 16:30:18
2022-02-02 17:05:39
VIRTUAL STAGING COMPANIES: LOCAL VS OUTSOURCE