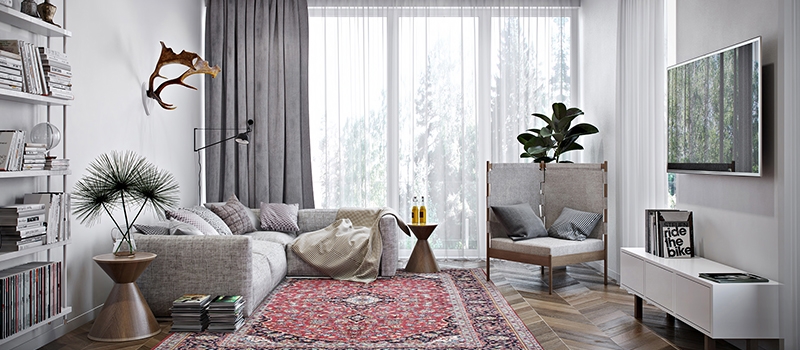 Outsource virtual staging services are increasingly in demand amongst Real Estate Agents. Fierce competition in the industry where visual presentation is key requires a new approach toward the way the property is being shown. Moreover, virtual staging solves issues that physical one is used to saddling with. 
First, to sell a house or apartment, one needs high-quality images of the listing as soon as possible. Physical staging is quite money-gobbling: to hire a staging company and photographer, rent the location and get furniture delivered there. Besides, there's no guarantee that efforts and money put in will lead to selling the home.  
Second, empty lifeless dwellings do not attract buyers. Any marketer knows, "You don't sell stuff, you sell emotions." Naturally, bland pictures of the property cannot stir emotions and feelings. Instead, they leave people clueless about whether they will feel comfy there or not. 
This and many other reasons make more and more Realtors turn to outsource virtual staging services. They help showcase the benefits of the property in the best possible way. Without further ado, let's find out the benefits of virtual staging in the realities of today's real estate business. 
#1. A Budget-Friendly Solution
Physical staging services for empty space are costly. Basically, it looks this way – one hires a stager and a photographer, sets up space by getting furniture transported, and then takes pictures of the staged property. On top of that, Such financial investments do not promise to pay off with selling right away. 
With outsource virtual staging services, things are way easier. It's enough to send photos of the rooms, provide references with desired interior design (Google images, Pinterest, etc.) and floor plans. The price point here is about $63 per image only!
#2. A Time-Saving Opportunity
Empty Space

Virtual Staging For A Cozy Bedroom

Furnished Bedroom
In this business, good timing is crucial. Otherwise, prospects will quickly opt for other agencies' listings. Again, to arrange a photo shooting and actual staging takes a few days. On the flip side, outsource virtual staging services can make a huge difference in this situation.
When turning to outsource virtual staging services, a Real Estate Agent can photograph empty rooms and get the whole home staged and images delivered within 24-48 hours. The process is even faster if the Agent picks ready-made 3D models from the virtual staging studio's database.
#3. The Demonstration of the Property's Potential
Before

After
Sometimes the house's current condition needs repairing, which obviously looks unattractive on the ordinary photo. Meantime, it cannot show the potential of the home, such as scale, high ceilings, great layout, and so on. 
Usually, Real Estate Agents hurry up to sell such "as is" property and move on to more promising projects. The reason is the owners of such houses and apartments don't want to spend money on the renovation of the places but to cash in as soon as possible. So, the best way out here will be using outsource virtual staging services.  
Outsource virtual staging services include digital renovation. It allows to add or remove things, declutter and redesign space and highlight the selling points. This way, it showcases how potentially awesome the dwelling might be, had it been fixed up a bit. By the way, potential owners might use the staged image as a reference for a home makeover in the future.
#4. Competitive Advantage
While competitors show bleak photos of empty rooms, Real Estate Professionals thinking out-of-the-box can stand out with incredible virtual staging solutions. Actually, this kind of 3D visualization is a huge asset in their hands. 
People in search of a cozy dwelling are more likely to "fell for" bright, colorful, decent options that potentially let them feel, "I'm home now." Thus, chances are bigger for a successful deal when staging dwellings in different design ways and offering such opportunities to prospects.  
#5. More Specific Offer for the Targeted Audience
Before

After
Outsource virtual staging services are custom-oriented. It means that a 3D artist can create solutions for a Real Estate Agent to target exactly the needs and wants of the customers. 
For example, to sell economy class residential property, one might order simple and lean interior virtual staging that won't embarrass buyers that have relevant purchasing power.
Or, to show luxury apartments, an outsource 3D artist can create extravagant interior designs so that people who don't even look at price tags could find the most convenient option.  
#6. Interactive Content for a Real Estate Website 
Before

Virtual Renovation

After
According to the National Association of Realtors, in 2018 50% of buyers found the residence they purchased via online services and only 1% – from a print newspaper ad. Thus, a great visual online presentation of the property is no longer an option. It's a must for those who don't want to lag behind in this highly competitive business. 
Static photos on the website won't tell about the home that much. On the contrary, virtual staging allows using online 360 view tours and, on its basis, VR tours. Both technologies make viewers plunge directly inside the house and assess all the pros and cons before seeing it with their own eyes.
#7. Versatile Marketing Visuals  
Before

After
Real Estate Services use online and offline channels to reach out to customers. In this realm, each of them needs appealing visual content. Different types of virtual staging allow getting not just listings for the website, but plenty of other 3D materials. 
For example, before-after and 360 view images are ideal for social media; VR tours are indispensable for video blogs, whereas 3D renders for catalogs and street ads pack a punch for competitors. 
To stay at the top of the game and get new opportunities within the local or regional market, Real Estate Agents and Brokers need to demonstrate the properties' value in progressive ways. Nowadays, these are outsource virtual staging services that make it absolutely possible and beneficial for all involved. They produce high-quality, presentation-wise, and compelling material for this visual-based business. Besides, virtual staging addresses the issues that physical staging cannot solve a priori, such as time, investments and equal payoffs. 
Willing to give it a try and skyrocket your showings? Go for our virtual staging services, carefully crafted by our 3D artists, and boost your deals drastically.
https://virtual-staging.archicgi.com/wp-content/uploads/2019/10/outsource-virtual-staging-services-7-solid-benefits-View-e1586944737308.jpg
350
800
vysotskaya
https://virtual-staging.archicgi.com/wp-content/uploads/2020/04/archicgi-logotype-white-300x85.png
vysotskaya
2019-10-14 16:30:20
2020-04-15 09:59:02
OUTSOURCE VIRTUAL STAGING SERVICES: 7 SOLID BENEFITS