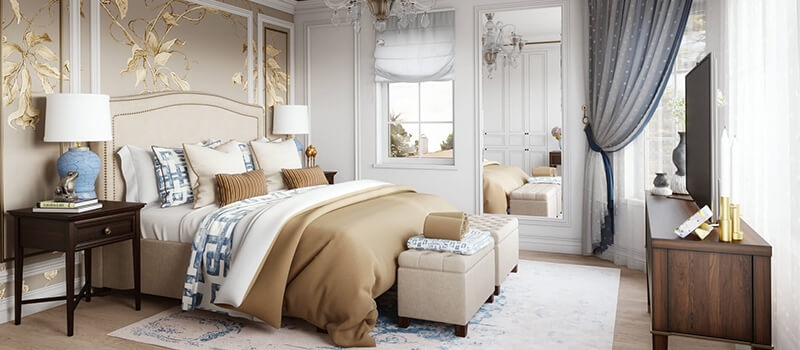 Virtual staging services are popular amongst Realtors and Private Sellers because digital staging is a fast, affordable solution for selling empty and outdated properties. Instead of spending money on renting furniture, transport and movers for traditional physical staging, Real Estate Agents can hire CG Artists who can virtually stage an entire house in a short amount of time and without extra expenses.
No doubt, there are plenty of freelancers and studios out there, waiting for a call. And even though their portfolios look impressive, the price range for their services is different. So the question is how to choose the right contractor and what are Agents actually paying for? To make a conscious choice, Realtors must first learn how virtual staging services are done and what they can expect from a reliable 3D company. As a professional virtual staging studio, we distinguish 7 key stages of a project that every Agent must know about while choosing the provider of digital staging services.
#1. Receiving the Brief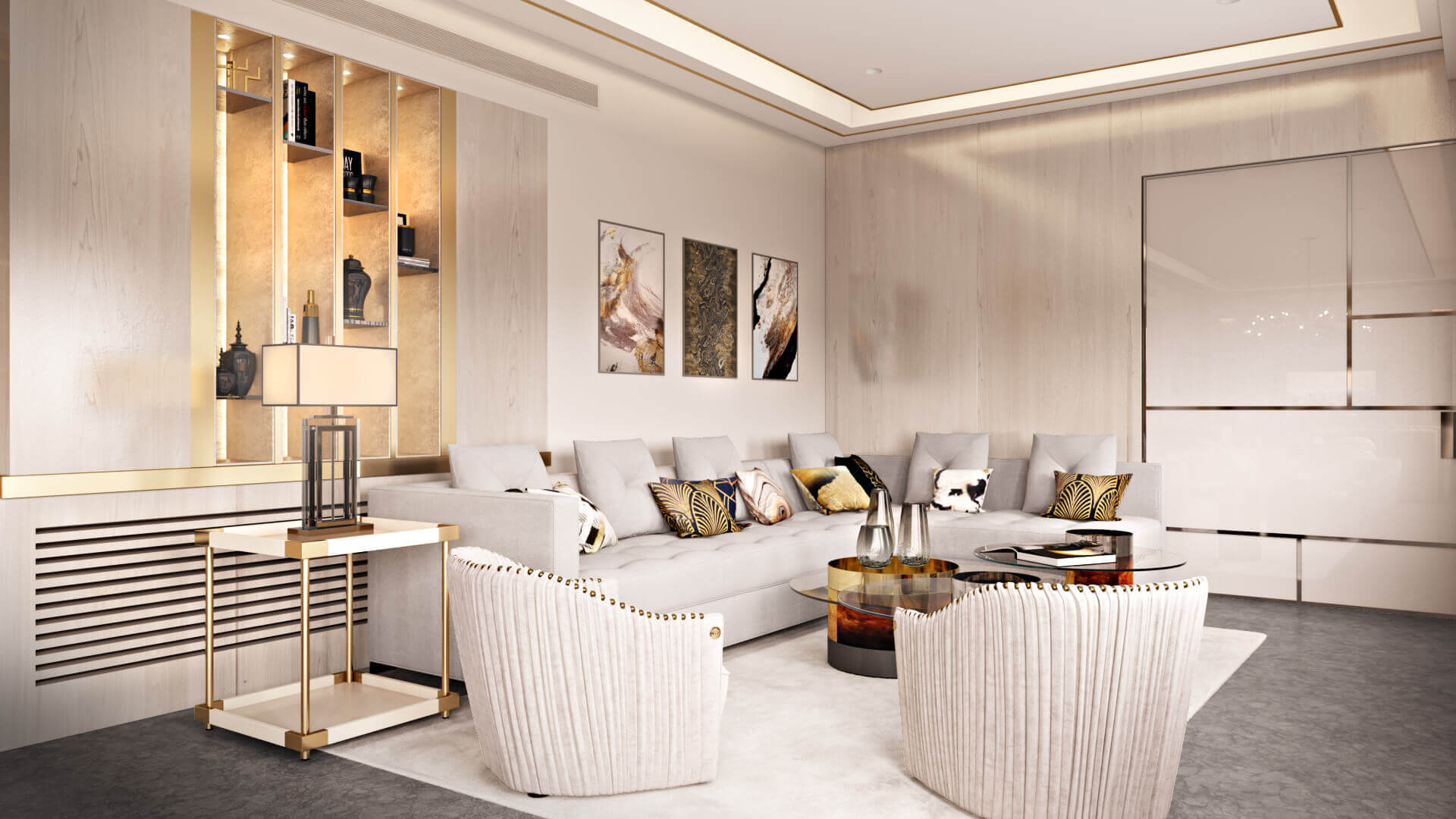 Before starting a project, a professional digital staging company needs a brief. It consists of high-quality photos of real estate in its current state and also a list of Realtor's suggestions on style. Surely, Real Estate Agents knows their target audience and what type of property prospects are searching for. Accordingly to their experience, Realtors can set a task for CG specialists to make a luxurious or modest interior, as well as choose the most suitable color palette and materials. Moreover, based on their gut instinct, an Agent can ask a studio to add a home gym or a children's room in a house for particular prospects. This way, collaborating with CG experts, Realtors can customize their offer, provide better services and win a client for sure.
#2. Choosing Suitable References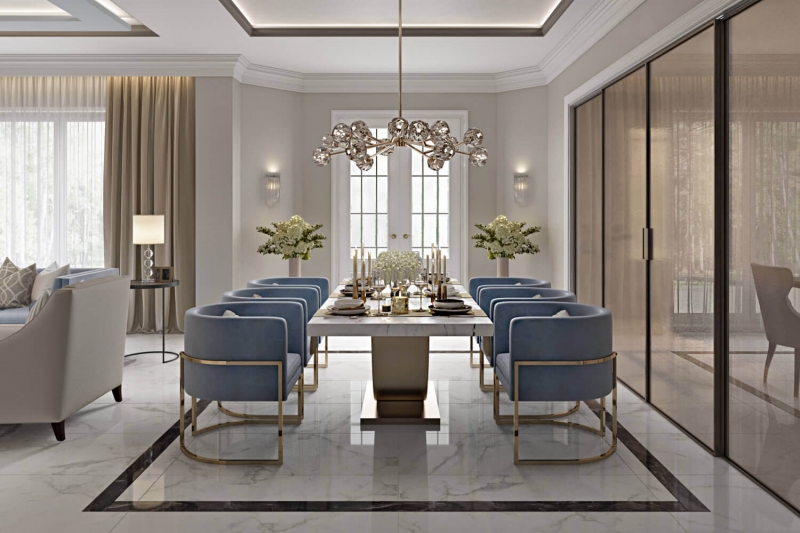 After receiving the task, CG specialists start selecting references. As professionals, they immediately know what color palette is needed, what furniture and elements will fit perfectly into the interior. Real Estate Agents can provide their suggestions with style references, sketches, drawings, and mood boards. Also, if there are particular pieces an Agent wants to use, CG specialists will find the right 3D models or make custom ones for virtual staging to make real estate look exactly as required. However, if a Realtor doesn't know what they want, they can trust Artists' taste. A top-notch virtual staging studio hires the best experts who have special education and years of experience in design, so their taste and skills are beyond question.
If dwelling interiors look outdated, simple furniture arrangement won't fix the situation. In such cases, Agents can order a virtual interior renovation service. This tool allows CG experts to change walls colors, choose another flooring and finishing materials — in other words, they can create an entirely new look for real estate. With CG technologies all materials and furnishing are available, so Artists can create luxury virtual staging or a more affordable version for the same property.
#3. Setting Up Cameras
Before

After
3D Artists use the original photo to arrange 3D models of furniture and decor in the right perspective. To get the right angle, it is vital to determine the verticals and the horizon line, or the eye point of the viewer. This way, 3D cameras will be set up correctly and will shot all furnishing and decor elements in the right position. Thus, 3D objects will be rendered accordingly to the room perspective on the original picture.
#4. Setting Up the Light
Before

Virtual Renovation

After
Determining verticals is also necessary for setting up the light correctly. When placing the main light source for future rendering, 3D specialists have to make sure that its direction and intensity are the same as the original light on the photo. If the lighting is set properly, then each 3D model will be lightened exactly as objects in a room on a photo. This means that furnishings with all shadows and flares will look organically and perfectly fit into the space. This effect turns a simple digitally changed image into a photorealistic and organic visual piece.
#5. 3D Modeling and Rendering of Furniture Set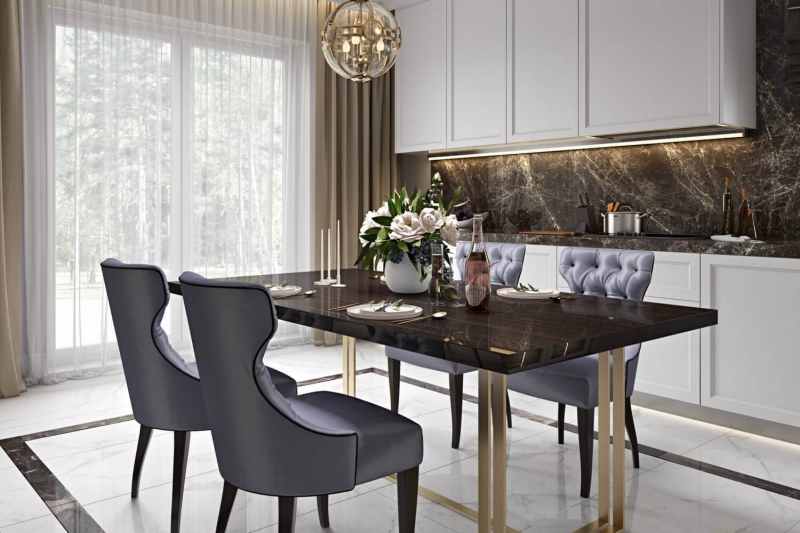 Once 3D specialists have decided on 3D models, they start building a furniture set in special software. After modeling it, they do mapping, which means applying all textures and materials. 3D soft allows Artists to set any materials, even the most demanding ones, such as glass, leather, marble, etc. Thanks to advanced 3D rendering technologies, these textures look 100% realistic on 3D visualization. After successful mapping, specialists proceed to rendering of a furniture set.
One of the biggest advantages of 3D over photography is that rendering can be changed at a moment's notice. For example, CG specialists can move an object or correct lighting just in a few clicks! This helps to precise virtual staging visualization until the final flares and shadows on a render will become perfect.
#6. Merging 3D Models into a Photo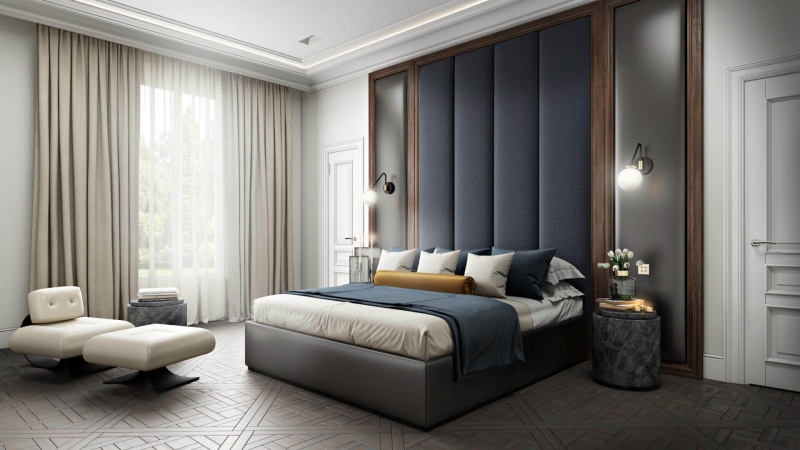 This stage is also called "compositing", because 3D specialists compose a 3D rendering and original picture together using CG soft, such as Photoshop. They insert a ready-made fully rendered furniture set into the photo, applying different layers and effects, so the final image will look solid and realistic.
To blend it all perfectly, CG experts transfer an entire composition with all shadows under the objects and flares on the glass surfaces as one piece. Compositing is one of the last stages of virtual staging where specialists must flawlessly merge furniture into a picture and correct subtle nuances and details. At this point room is already looking quite realistic, however, some post-production work is needed to be done.
#7. Post-Production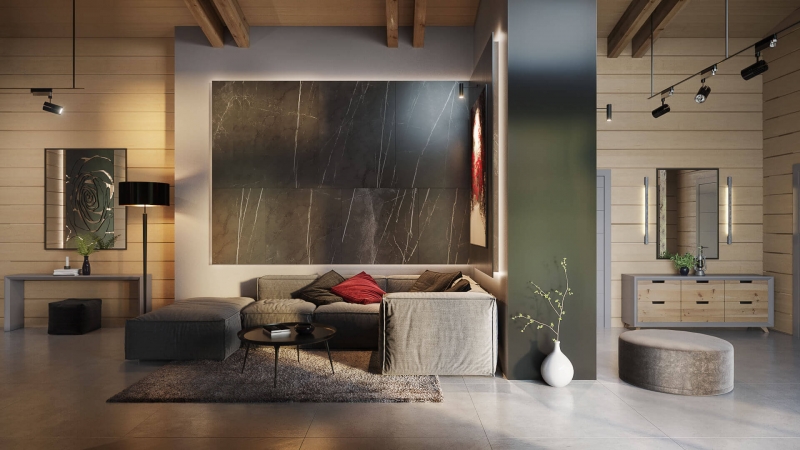 After 3D models are inserted into a photo with the help of CG software, it is important to make finishing touches to the final image. We are talking about color correction, highlighting or darkening image details, etc. The final post-production goes with any virtual staging services — this step allows to complete the look, collect all the elements and create a certain mood, so the final virtual staging image looks like a real photo.
After learning how virtual staging services are done, Realtors know what kind of information a studio needs to start a project. As previously noted, virtual staging is a structured process, but professional studio Artists can do it fast and stay organized at the same time. In addition, working with a professional studio, Agents can calculate the accurate turnaround time and make precise working plans without worrying about deadlines.
Contact us for our virtual staging services and you will get photorealistic images for listings that will attract prospects and outshine competitors' offers!
https://virtual-staging.archicgi.com/wp-content/uploads/2019/10/virtual-staging-services-7-project-stages-View01-e1586944765704.jpg
350
800
luzina
https://virtual-staging.archicgi.com/wp-content/uploads/2020/04/archicgi-logotype-white-300x85.png
luzina
2019-10-11 16:30:12
2020-04-15 09:59:30
VIRTUAL STAGING SERVICES: 7 MAIN STAGES OF A PROJECT