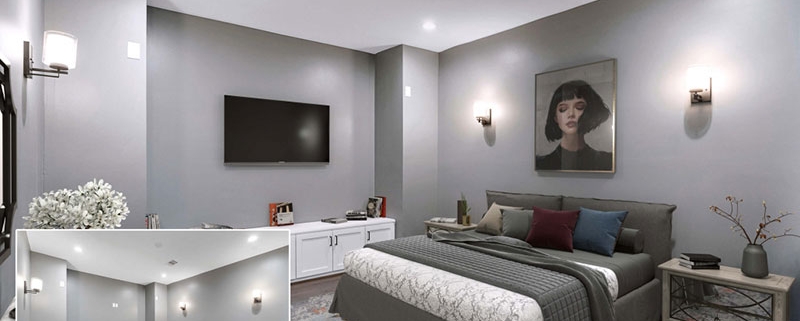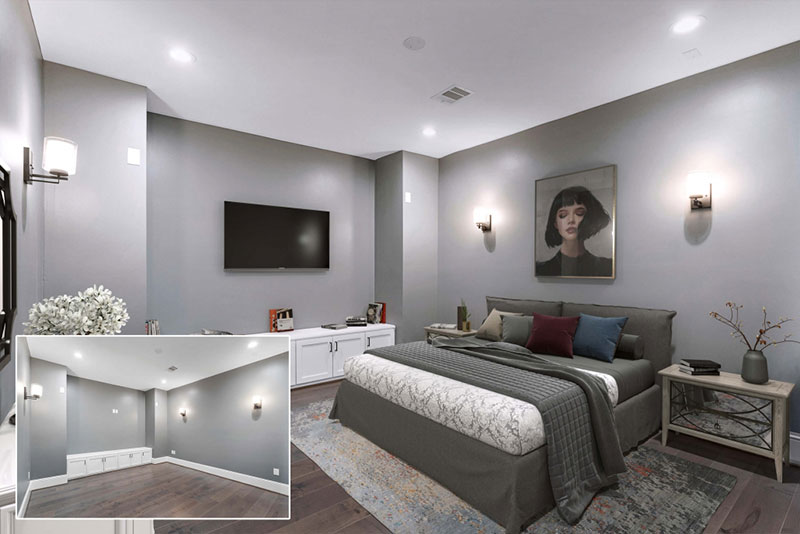 Realtors who have been on the market for a long time know that selling empty properties is quite a challenge. Such houses all look the same in the photos — unattractive and characterless. Therefore, it's too difficult for prospects to imagine this property as their home, and they opt for another more tempting offer. However, realtors can solve this problem by using physical staging or virtual house design.
Physical furniture arrangement is a traditional but also very expensive option. To begin with, a realtor has to rent or buy furniture and decor for each room, then hire movers and a photographer. And if it turns out that the house has some defects in the repair, they have to buy materials and hire building contractors. All in all, this process may cost at least several thousands of dollars.
In turn, virtual house design provides you with a great advantage of getting fully-furnished photorealistic staging without any furniture rent, purchases, and actual renovation. Just send a brief to a pro virtual staging studio and get ready images in just 48 hours. 
Intrigued? Check out 5 easy ways to make a great house presentation and save a tremendous amount of money at the same time.
#1. Furnish the House Using Virtual Staging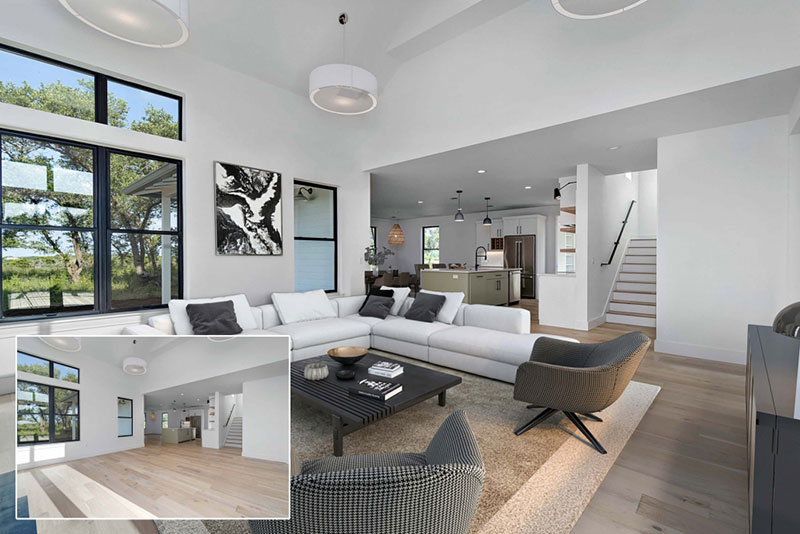 Furnishing properties with virtual house design is much easier, budget-friendly, and trouble-free for a realtor. Instead of worrying about rent and movers, they must send HR photos of real estate to a CG studio and mention the interior design style they want for this house.
Now it's up to CG artists to transform the property. To virtually fill it with furniture and accessories, they simply select ready-made sets of 3D furnishings from their 3D library. Then, they tailor them to the parameters and color scheme of the room, put them in a house, and make CG visualizations.
In the end, the whole process of virtual home design takes only two working days, and you get great visuals for listings on your websites and e-platforms, promo and marketing. It's as easy as pie! 
#2. Provide Prospects with Several Virtual House Design Options
Before

After
It is not enough for prospects to see a furnished house to make a purchase decision. They want to feel if the lifestyle it offers resonates with them. Of course, as a realtor, you can never know in advance which interior will win you a customer. So why not try to offer them the same virtual house design but in different interior styles?
For example, ask CG artists to create a virtual room design in both traditional and contemporary styles. In this case, you will have a better chance of reaching several target audiences. Besides, using these images, you can prove the versatility and great potential of a house. Just post them in listings and on social media and you will see the instant reaction of your audience. Apart from that, use these pics for online and offline adverts and newsletters.
#3. Tweak Current Finishings Using Virtual Renovation
Before

After
Often, houses for rent and sale have problems with the repair, such as cracks, scuffs on the parquet, outdated wallpaper, etc. Also, the exterior might need a little help with an uneven fence, untended lawn, or peeling paint. Of course, shabby homes can't attract prospects, but it is extremely difficult, expensive, and time-consuming to fix it all with physical renovation.
On the other hand, virtual house design allows you to tweak or even completely replace finishings and retouch the imperfections of both the interior and the exterior. If professionally done, such a renovation looks neat and 100% realistic. 
You can proudly use these images in your marketing and promo. However, when it comes to listings, you should mention that it was made using CGI. Otherwise, it will be difficult for prospects to trust you once they see the real state of the house with their own eyes.
#4. Showcase the Whole House in One 3D Floor Plan
Before

After
To put it simply, a 3D floor plan is a digital miniature house —  it has all the furniture, decor, lighting fixtures and plants installed. Therefore, it is much more informative than a 2D drawing and photos of a property. Firstly, because it perfectly explains the layout and proportions of real estate. Secondly, it shows the house in 3D, thus, prospects don't need to bother themselves with visualizing complicated drawings.
This type of virtual house design is perfect for advertising, digital marketing, email marketing, SMM, a realtor's website, etc. A 3D plan also works for printed promo and collateral  — brochures, magazines and newspapers, outdoor advertising, and even business cards and merchandising.
#5. Add Virtually Staged House Tours to Your Listings
Even if you are dealing with a completely empty house, the tour should be informative and immersive. So, you have to do a furniture arrangement. But unlike physically staged tours, a virtual one doesn't require real furniture whatsoever and looks realistic. How come?
All a realtor has to do to get a virtual tour is to send CG stagers a brief with all the materials on the project —  drawings, photos, mood boards, and so on. Based on a brief, CG artists design and furnish the virtual space first, then install 360° cameras at various points of the house — and a virtual tour is ready. 
Using it, prospects can switch between different cameras to move from one viewpoint to another. This allows them to explore the house virtually and see it in detail by rotating cameras at 360° and zooming every corner of the room.
A 360° tour is quite a multipurpose virtual house design solution. You can use it on your website, in listings on Zillow and other real estate platforms, for email marketing, or simply share a link to it in private messages.
To save money on a property presentation, realtors should switch to virtual house design solutions — digital staging, restyling, renovation, a 3D plan and virtual tour. With these CG tools at hand, they don't have to rent or buy furniture and hire various contractors. All they must do is to send all materials on the project to a virtual staging studio to get stunning CG imagery in 48 hours.
Ready to try virtual staging services? Choose our CG studio and you will get any type of CG solution of photorealistic quality!
https://virtual-staging.archicgi.com/wp-content/uploads/2021/03/virtual-house-design-5-ways-to-use-View03.jpg
534
800
luzina
https://virtual-staging.archicgi.com/wp-content/uploads/2020/04/archicgi-logotype-white-300x85.png
luzina
2021-03-24 16:30:02
2022-02-11 12:04:18
VIRTUAL HOUSE DESIGN OR HOW TO SELL A VACANT HOUSE WITHOUT SPENDING THOUSANDS OF DOLLARS