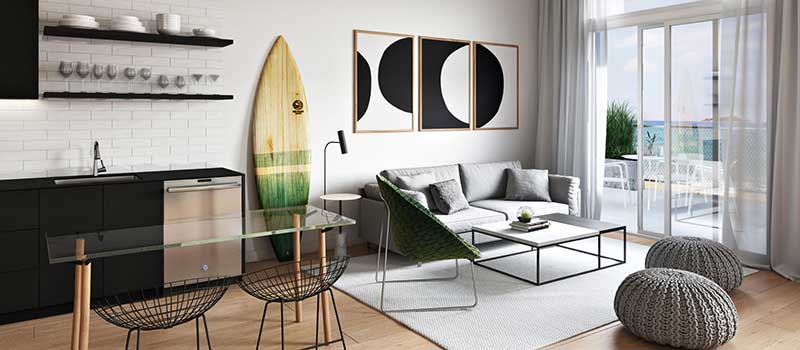 Experienced realtors and real estate marketers know how difficult and exhausting the process of selling empty properties is. When they post listings with photos of vacant homes online, prospects simply can't venture on a call and book in-person viewings. Not surprisingly, empty properties look uninhabitable and uncomfortable and it's hard to consider them as the best home choice.
Often, realtors tend to solve this problem with physical or virtual staging. But to create a virtual room design and take static pictures is not enough. Today's hit in real estate marketing is a 360 virtual tour and you can see lots of competitors already using it. They probably learned the statistics that claim that immersive virtual tours can generate 46% more sales than still images.
So how CG stagers make 360 tours based on virtual room design? Read on 5 key steps professionals take to create virtual tours.
#1. Deciding on Interior Style
For starters, CG professionals carefully study the brief they got from a realtor. The first step here is to understand who the target audience is, what is their income level, and what interior design will work best in this particular case. Surely, realtors and real estate marketers must provide a CG studio with their suggestions on style, design references and mood boards as well as add all basic property info — 2D drafts, photos and so on.
Once CG stagers have determined the task, style and color scheme for the project, they are able to create a virtual room design that suits the prospects' needs perfectly and has more chances to sell property fast.
#2. Selecting 3D Models of Furnishing and Accessories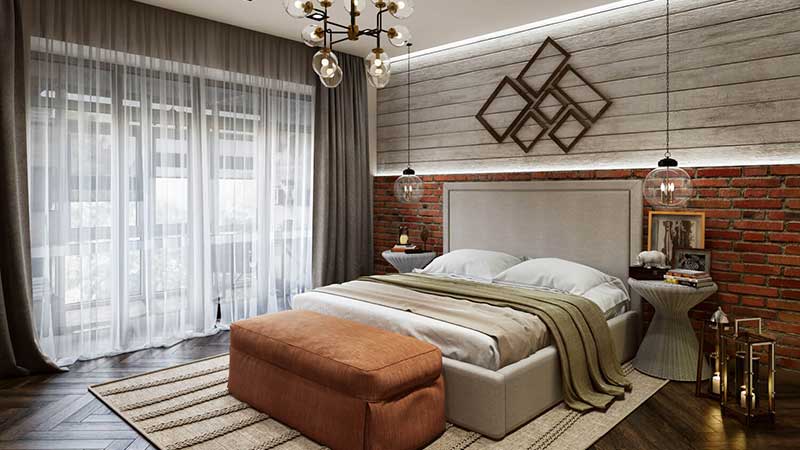 One of the biggest advantages of working with professionals is that they have all the tools and libraries of top-notch 3D models at hand. For example, our CG studio has more than 50 000 quality 3D models and ready-made sets. Using the library, our CG artists can categorize furniture and decor by style, color, purpose, etc. and find furnishings for every taste and task. No need to mention, every virtual furniture design can be easily customized and modified for a particular project.
Therefore, having access to such an extensive base of 3D models, professional CG artists can simply choose the desired furniture 3D set select matching decor to create a virtual room design they want.
#3. Building a Virtual Room in 3D Soft
To create a virtual room design for a 360 virtual view, CG artists have to build a 3D model of the property first. For that, they carefully study the 2D drawings and photos of each room to recreate the same design in 3D software.
First, CG specs create a box with the same constructional and architectural elements — windows, doors, arches, columns, ceilings, moldings, etc. They also copy the finishing materials such as wall coverings, ceiling finishing and flooring. Only after recreating the exact design for virtual rooms, they add furniture and decor to the finished 3D space.
#4. Setting Up Lighting and Cameras
The major goal of virtual tours is to showcase the whole house with the most realistic and detailed approach. Of course, prospects want to examine every corner of the property and see the high-value features of each room while using a 360 view. Therefore, CG experts must make sure that every premise is visible and well lit, even the smallest spaces like walk-in closets and mudrooms. Thus, before rendering a virtual room, CG artists have to set up the lighting and cameras first.
The most universal lighting scheme for virtual room design is natural daylight — it adds a fresh, airy and warm welcoming feeling to space. However, professional CG artists know when it's better to experiment with light to create a certain ambiance for a house. For example, sometimes it's better to showcase a living room with evening lights like a fireplace, sconces and floor lamps with shades. Using additional sources and dim lights, CG experts can create a virtual room design that is informative yet homey and serene at the same time.
After the lighting is all set up, CG artists place 360-degree cameras into virtual rooms. Usually, they install cameras in the center of the premise, to capture the whole room. But sometimes they set cameras at the viewpoints that show the most interesting design elements of the property. This way prospects can rotate and zoom in to see the house in detail and examine each room in detail. Once 360-cameras took panoramic pictures, all CG artists have to do is to stitch them together into one 360 virtual house tour.
#5. Creating a 360 Virtual Tour
After CG artists have created panoramic renders with 360-degree cameras, they transfer those images into special 3D software to stitch them together. Every 3D soft has a different toolbox in terms of creating virtual tours, but they all allow adding static or panoramic pics and placing a hotspot or a marker instead of the camera. Therefore, users will be able to click on each hotspot and navigate the space moving from one marker to another marker to see the virtual room in 360.
Moreover, most 3D programs allow you to enhance the viewer's experience even more. With some of the extra features, you can add music and voiceover to your virtual room tour, provide interactive links, text captures etc. Having these additional tools, CG artists can create a virtual room design in 360 that is even more immersive and exciting than regular 360 tours.
Professional CG artists know exactly how to build stunning digital room design and make photorealistic 360 virtual tours out of it. First, they create a perfect replica of the room in 3D. Then, they use high-quality 3D models and ready-made 3D sets to furnish the house. After that, they arrange lighting and cameras and make top-notch 3D renderings that become a realistic 360 virtual tour.
Searching for contractors that can create a virtual room design from scratch? Use our photorealistic virtual staging services to get a mind-blowing 360 tour made by experienced professionals!

What is a virtual room?
A virtual room is a 3D copy of the actual room that CG artists build in 3D software. Such a 3D model is a perfect basis for creating virtual staging, remodeling, 3D floor plans and 360 virtual tours. Depending on the task, CG specs can adjust a virtual room and set up cameras in a special way.
How CG artists create a virtual room design?
First, they use 2D floor plans and photos of the house to recreate the main structures – walls, floors and ceilings. Then, they extrude the 3D model to make windows and walls. Once the framework is ready, they apply textures and materials and finish the creation of a virtual room with adding furniture and decor.
How much does a virtual tour cost?
The price of 360 virtual tours depends on many factors including the contractor, deadline and project complexity. In our studio, the average cost of 360 view is $186 per photo.
How long does it take to create a virtual tour?
Again, turnaround time varies because of many reasons and every CG company has its own terms. Our CG specialists can create a 360 virtual tour in 48 hours on average but consider contacting our client managers to get accurate TAT for your project.
https://virtual-staging.archicgi.com/wp-content/uploads/2020/09/create-a-virtual-room-design-5-steps-View01.jpg
350
800
luzina
https://virtual-staging.archicgi.com/wp-content/uploads/2020/04/archicgi-logotype-white-300x85.png
luzina
2020-09-09 16:30:22
2022-02-11 12:06:35
CREATE A VIRTUAL ROOM DESIGN: HOW PROFESSIONALS DO IT