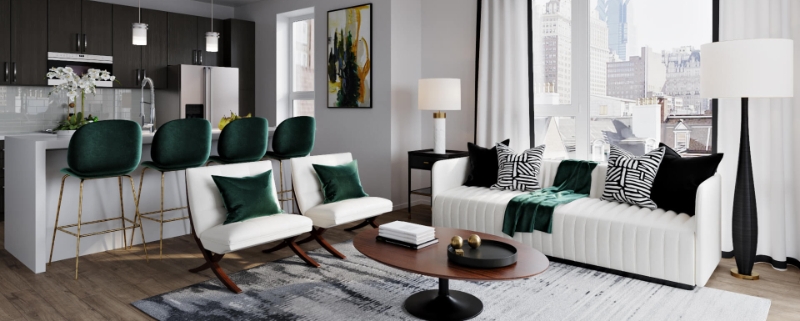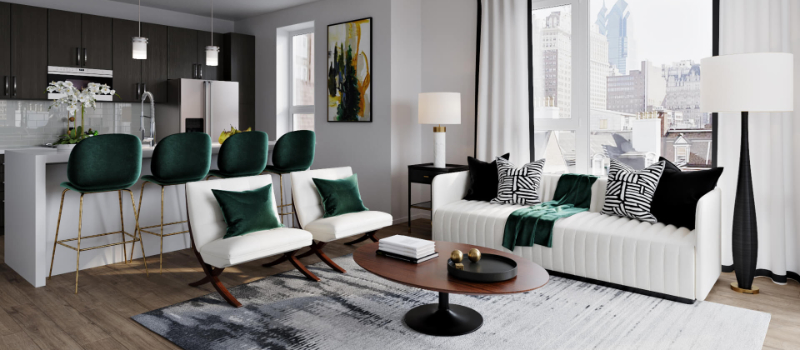 Selling an empty house could be tricky even for experienced realtors. Since such a property demonstration lacks attractive features and doesn't look homey, prospects often pass by. For the better presentation of the house, an agent has to find a way to furnish it with stylish items and decor. They can hire an interior decorator for physical furniture staging or go through the virtual interior design process. 
Actual furniture arrangement takes plenty of resources, and we mean it! See for yourself — a realtor has to spend a lot of money on furniture rent and transport. Plus, they must invest their time and energy in the selection and arrangement of the objects and supervise the whole process. In turn, virtual interior designers don't need any physical furniture and can create stunning designs in just a couple of days. 
So how do artists from a virtual staging studio work on interior design for real estate? Here are 5 key workflow stages of the process that all realtors should know before ordering one.
#1. Submitting a Brief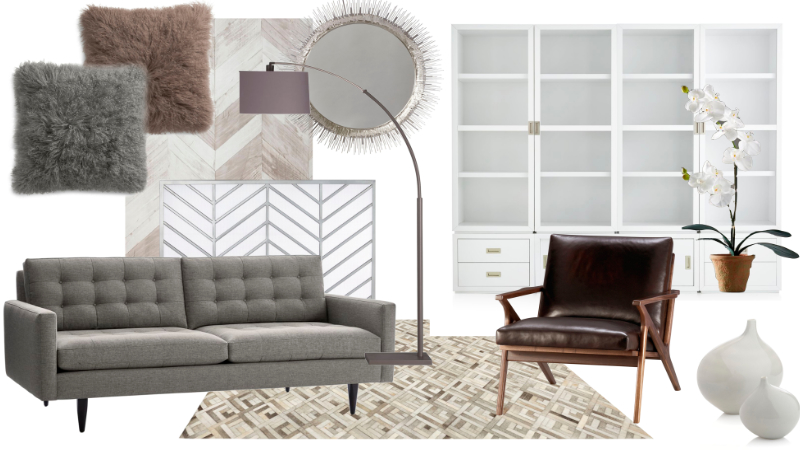 The virtual interior design process begins with a realtor preparing and sending a brief to a virtual staging studio. The package should include a variety of materials that can help CG artists to create real estate interior design. Let's take a closer look at what exactly they need.
Basic Info
First, CG artists require HR photos of real estate, 2D drawings, and room measurements. With this information at hand, they will be able to understand the scale of the premises and evaluate the workload. Also, a real estate agent should indicate their target audience and provide their suggestions on style for digital interior design.
Moodboards
To outline their style preferences, a realtor can add mood boards to the brief. Those could be Pinterest boards, Instagram accounts, literally, anything that gives the idea of what kind of virtual interior design an agent wants. In turn, CG artists go through all the references, ask clarifying questions, sketch their design ideas and approve them.
#2. Recreating the Space in 3D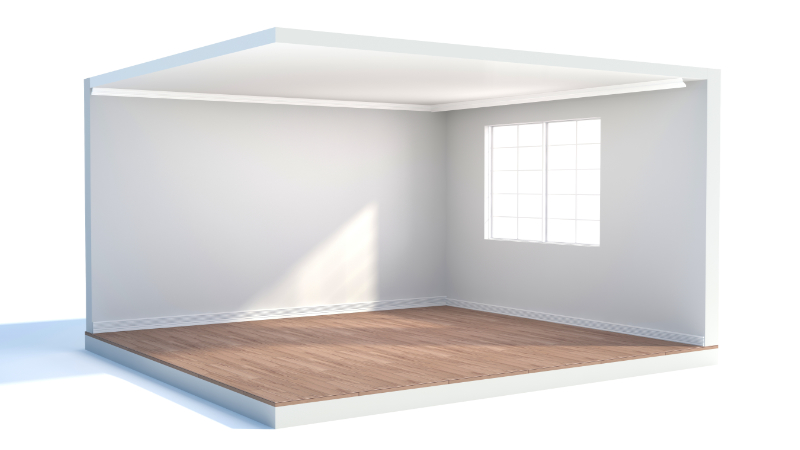 Once CG artists get all the info they need for the virtual interior design process, they proceed to 3D modeling. To start with, they recreate the room in 3D software. They put up walls, floors, and ceilings, and add all the elements that exactly repeat the original interior — columns, arches, doors, windows, etc.
The point of creating such a 3D "box" is to imitate a real environment with life-like lighting and texture settings. Here CG experts will put 3D models of furniture and decor and install 3D cameras before they can render the whole scene. 
#3. Selecting Furnishings and Decor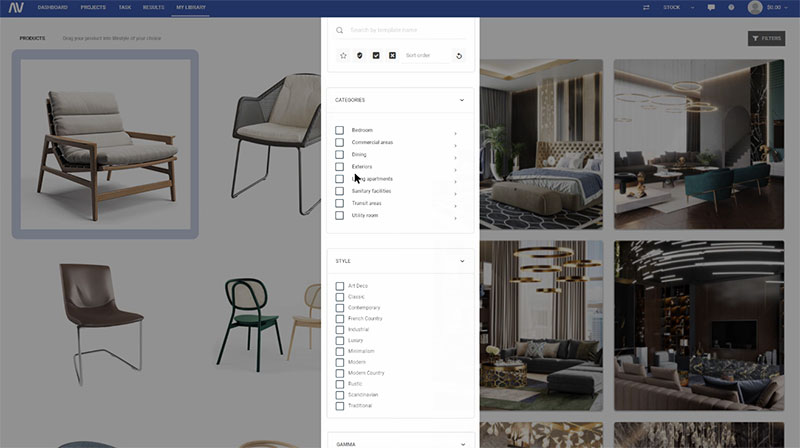 Now, this is where the virtual interior design process becomes really fun and creative. CG artists start furnishing rooms with pieces from the 3D library of furniture and accessories. For instance, we have more than 50 000 individual 3D models and 6500 ready furniture sets for different rooms. Thus, our CG stagers have no problems with finding suitable pieces in any style.
Moreover, a realtor also gets access to the 3D library so that they can browse it and select the pieces they'd like to see in virtual interior design. If they don't have time to pick furnishings themselves, they can fully entrust this process to a CG design team. The experts will choose the best options, set up materials and textures, and experiment with furniture layout.
#4. 3D Rendering Process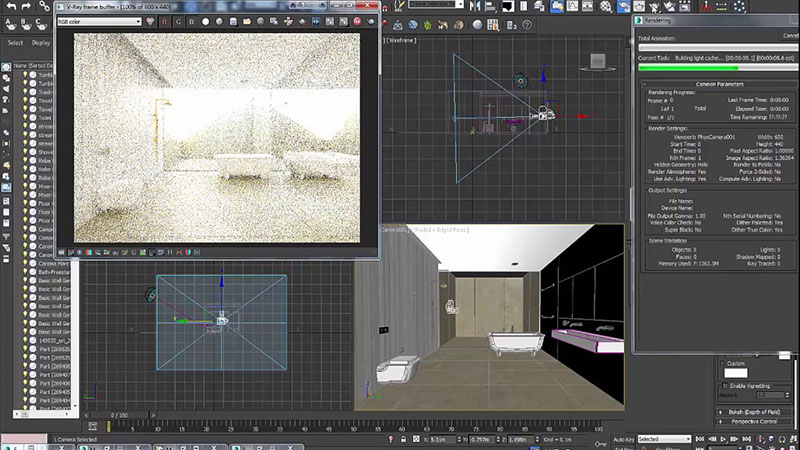 Before starting a 3D rendering process, CG artists should make sure that all lighting and camera settings match those of the original photo. If they reproduce them exactly, their virtual interior design will look 100% realistic. How do they do it?
Installing 3D Cameras
When CG artists set up 3D cameras, they have to find the precise angle of the original real estate photo. To do this, they carefully install the cameras in 3D software and adjust the horizon level until the perspective is perfect. 
Setting Lighting
Whether the original real estate photo has a natural or artificial lighting scheme, CG artists have to replicate it accurately in 3D rendering. They analyze the initial photo and add as many light sources as needed to a 3D scene they've created. Once they get it, they finish the process by adjusting the temperature of light and the angle of reflection so that all the objects in the room cast life-like shadows. After it's all done, they push the render button.
#5. Post-Production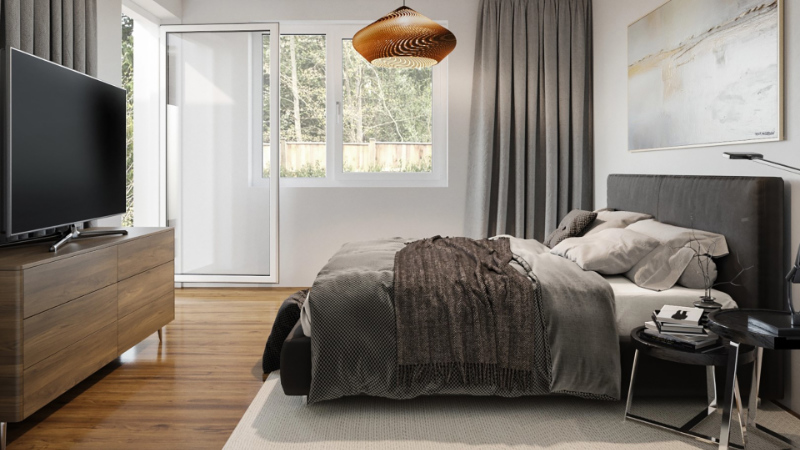 Experts finish the virtual interior design process by cutting out a furniture set from the 3D visualization and paste it into the original photo. Since the 3D rendering has correct light and shadow settings, all the objects look organic even after being glued on top of the real estate pic. So what 3D artists usually do at this point is retouch an image and adjust visual settings such as brightness and contrast of the final photo.
The virtual interior design process resembles the physical one a lot. In both cases, one needs to have photos of a property in its current state, 2D drawings of all premises and mood boards in style. The difference with digital interior design is that all the process goes on in 3D software. CG artists pick furnishings and decor from a library of 3D models, set up textures, lighting and cameras before they render the scene. The last step is post-production in which 3D experts cut out rendered furniture pieces and paste them into the original real estate photos. 
Excited to try the virtual interior design made by professional CG artists? Order virtual staging services right now by clicking on the link, and you'll get top-notch interior design for your property in just 48 hours!
https://virtual-staging.archicgi.com/wp-content/uploads/2021/08/virtual-interior-design-process-View07.jpg
350
800
luzina
https://virtual-staging.archicgi.com/wp-content/uploads/2020/04/archicgi-logotype-white-300x85.png
luzina
2021-08-27 16:30:35
2021-08-27 16:14:34
VIRTUAL INTERIOR DESIGN PROCESS: 5 WORKFLOW STAGES