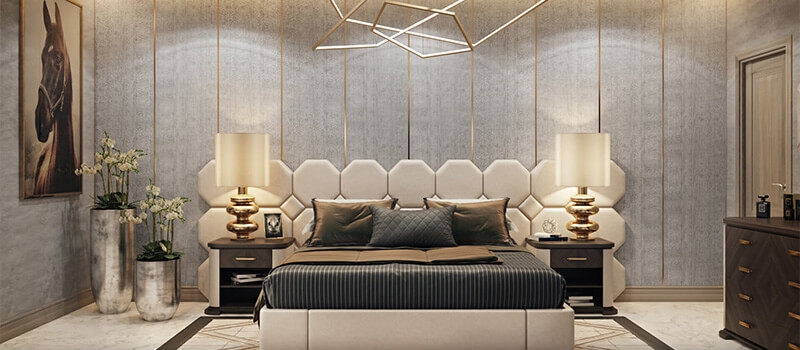 Searching for a new home, prospects are looking through dozens of listings daily. They quickly scroll through the offers with empty rooms and tacky interiors before remarkable traditional or virtual property staging catches their eye. Therefore, to put some extra effort into staging is often the only solution for realtors to actually sell properties.
However, physical staging and photo sets require big expenses on furniture, transport, decorators and a photographer. Most importantly, the only kind of visuals that a real estate agent gets from the traditional furniture arrangement is static photos. Virtual property staging, on the other hand, provides plenty of imagery including 3D plans and 360 view tours. Also, digital staging is more a budget-friendly option because there's no rent of a studio and extra specialists involved. 
So how can virtual property staging help to make awe-inspiring listings and drive sales? As a virtual staging company, we offer 5 tips on how to sell more using various digital services. Read up!
#1. Virtually Staged Property is More Appealing than Vacant Rooms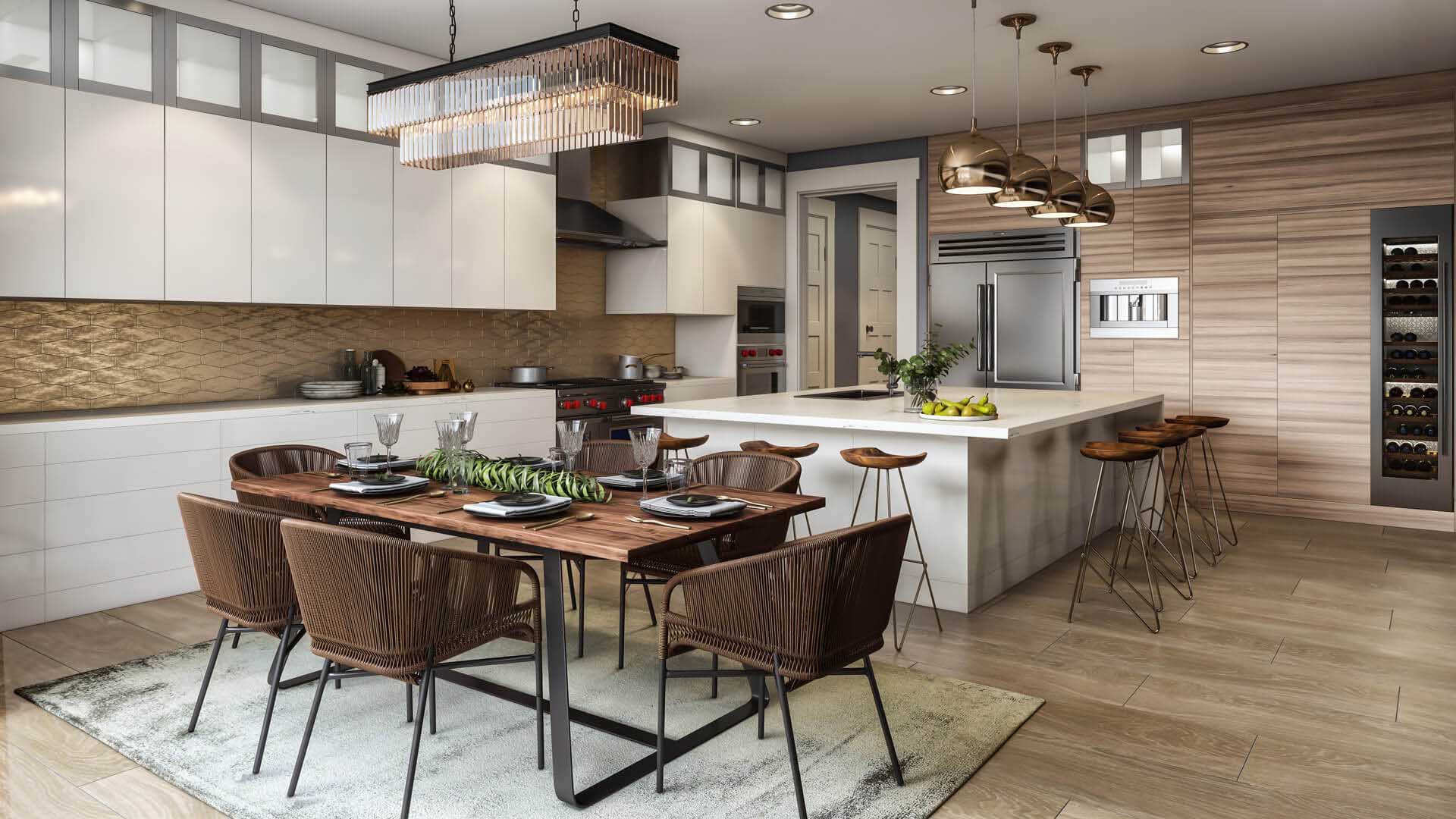 Digital staging technology allows filling empty rooms with stylish furniture and decor in order to give the house a habitable cozy look. The only thing a CG studio requires for virtual staging is high-quality photos of the property and realtor's preferences in style and interior details. 
The specialists from well-reputed CG companies have professional experience and design education, so they can select the best furniture and accessories to create top-notch photorealistic virtual property staging. Choosing a digital solution, a realtor can get impressive images of a fully furnished property and don't spend a dime on furniture rental, transport, a staging agency, and a photographer.
#2. Virtual Outdoor Renovation is Freshening Up the Exterior Appearance
Before

After
It's impossible to sell a house using interior images only – prospects want to see its exteriors, too. However, if the property is not very appealing from the outside, these photos can push away buyers. Surely, neither the current homeowner nor a realtor will invest in outdoor renovation and landscaping since it costs so much.
In such cases, digital outdoor renovation is the most effective and money-saving solution. Using special CG software, artists can make an exterior renovation without physical changes to the house. For example, they can remove unattractive elements from the photos, such as garbage bins and a cracked walkway and add nice outdoor decorations instead. Moreover, if the photo is taken in the cold season and the lawn is not green enough, CG specialists can add lush greenery and make a rich green lawn. Therefore, using virtual property staging for outdoor renovation helps to refresh the house exterior without extra effort and financial investment.
#3. Virtual Property Staging Provides Flexible Listing Customization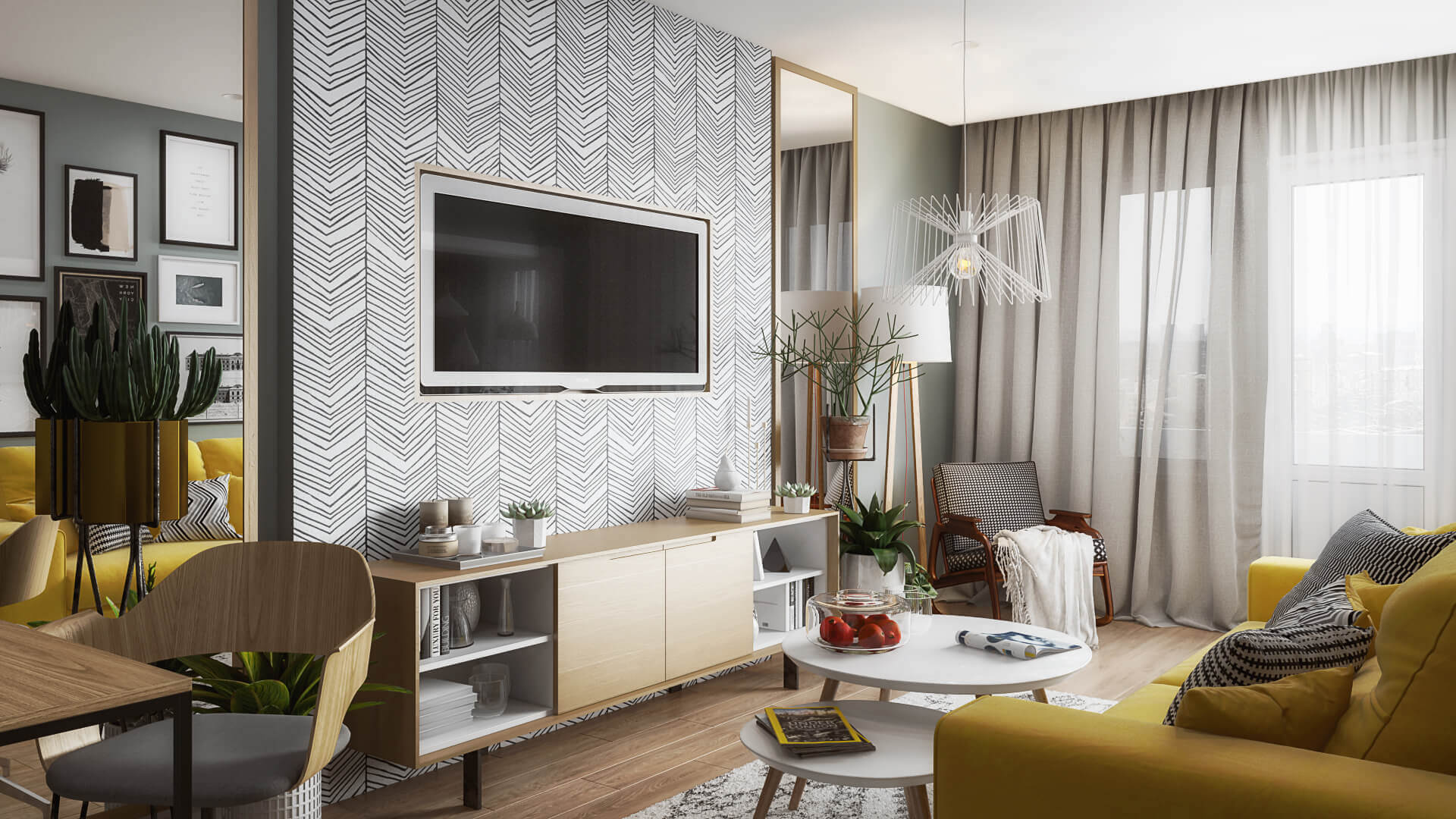 Digital interior styling provides a huge opportunity to show several virtual furniture layouts for one property or customize the offer for different target audiences. For example, a realtor can make a few alternative solutions from one home plan to make the house attractive both for a bachelor and a family. Let's say, a kitchen with the isle and a dining zone is perfect for a family with kids, while a bar counter instead of a dining table works better for a busy single tenant.
No doubt, using traditional physical staging for such customization is too pricey and burdensome. Changing furnishings means that a real estate agent has to order a bunch of different furniture and decor items, pay movers for extra hours and make lots of rearrangement. Using digital staging software, on the other hand, CG artists can make virtual property staging quickly and for less money, since no actual furniture and staff are needed. As a result, a realtor can provide a listing with several interior options that at some point will please one or another target group.
#4.
3D Floor Plans Give Technically Accurate Information about Real Estate
Before

After
Every property listing has to provide floor plans by default. Usually, it's a dull 2D drawing of an empty house that looks like mere lines and numbers. Of course, not every client can imagine the proportions of the house and get a general understanding of where and what rooms are on this plan.
Unlike 2D drawings, a 3D floor plan takes the layout presentation to the next level – it's an impressive and colorful illustration of the property in 3D. A 3D floor plan looks like a lovely house in miniature with all the finishing, furniture, lights and decorative elements in it. Therefore, even one 3D floor layout with virtual property staging is enough to attract prospects and make them click on the listing. Moreover, since this type of plan is informative enough, sometimes future owners can book a property viewing without any more questions – they get what they need to know just by looking at the 3D plan. Thus, there's no need to provide 3D visualizations of each room to get prospects interested.
#5. Immersive Virtual 360 Tour Is Close to Real-Life Viewings
A 360 view is a huge achievement of modern 3D technologies. It is a spectacular and convincing solution since it's a virtual home that looks 100% photorealistic. Using a 360 virtual  tour, prospects can 'walk' from room to room, switching from one camera to another to understand the planning and examine property by zooming every interior detail.
One of the biggest advantages of the 360 tour is that future owners don't need to get the whole family together to go to the house viewings. With advanced 3D technology, they can sit with the laptop and have a virtual walk around the property, so they can explore it and discuss its pros and cons before even meeting a realtor. The option of online viewing is especially convenient for busy customers and clients who want to buy real estate abroad. Moreover, a 360 tour added to the listing can tremendously increase the number of views and make listings to stand out from the rest of the offers on the market.
Virtual property staging is a highly beneficial option for realtors – the only thing they must provide a CG studio to get jaw-dropping images are high-quality photos of real estate and style suggestions. This small effort is enough to get virtual property staging pics without organizing physical staging and photo shoots for the whole house. 
Therefore, digital staging saves realtor's money – one doesn't need to rent staging items, hire a decorator, movers, landscape designer, and a photographer to get a beautiful indoor and outdoor staging. CG studio's specialists combine all these functions!
Ready to try digital property staging? Contact us for virtual staging services, our first-class visuals will impress the prospects and raise your sales to the skies!
https://virtual-staging.archicgi.com/wp-content/uploads/2019/12/virtual-property-staging-how-to-boost-sales-View01-e1586941195875.jpg
350
800
luzina
https://virtual-staging.archicgi.com/wp-content/uploads/2020/04/archicgi-logotype-white-300x85.png
luzina
2019-12-27 16:30:41
2020-04-15 09:00:01
VIRTUAL PROPERTY STAGING: HOW IT HELPS TO DRIVE SALES