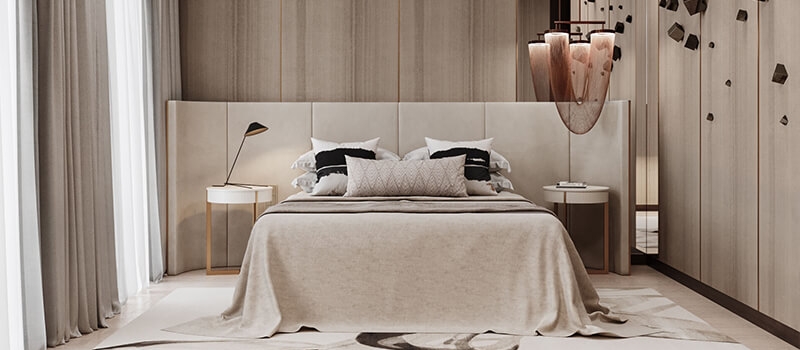 The cost of virtual staging is kind of a mystery for Realtors who used to traditional physical staging. They surely know that the price of a physical one depends on furniture and transport rent, and also includes a staging consultant's fee.
But what are they charged for in the case of virtual staging since it is a digital process with no actual expenses? When a Real Estate Agent googles virtual staging services, they can't understand why the prices are different in every CG studio, what affects the cost of virtual staging and how to choose the best contractor that will provide first-class quality and save their money at the same time.
As an experienced virtual staging company, we know exactly what the price depends on and can give Realtors some hints on how to get jaw-dropping visuals and use the budget wisely.
#1. Type of Contractor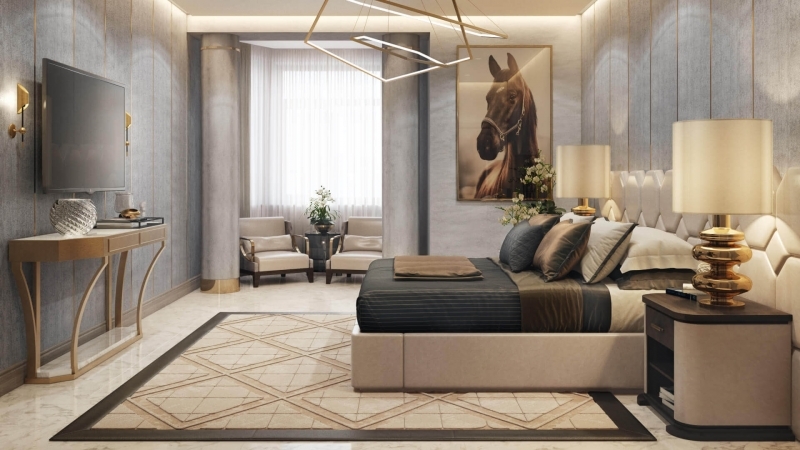 The price of virtual staging services depends on who provides them — a freelancer or an in-house CG Artist. Both options have their pros and cons, but not only the cost for virtual staging depends on this choice – the quality of the visuals and the turnaround time are also different in these cases.
A virtual staging studio rents an office hires employees, pays salaries and taxes. Surely, it affects the cost of the services. A freelancer, on the other hand, works at home and doesn't pay the staff or rent for an office, which is why they take less money for the project.
However, a freelancer often takes too many offers, so they fail deadlines, send poor-quality images to the client or even disappear. In such cases, a Realtor is not only gets rattled, but they also have to waste their time on trying to reach a freelancer in order to find out what's wrong with the project. As for a CG company, it values its reputation, guarantees the quality and respects deadlines. This means, they provide first-class CG imagery to clients and complete the project even in force majeure circumstances.
#2. Brief Detailization
Before

After
While preparing a brief for a virtual staging studio, Realtors should provide high-quality photos of real estate and preferences on style. Moreover, to make collaboration even more productive, they can also send additional materials that a CG team could refer to during the project, such as sketches, floor plans, mood boards, style references, etc.
When a studio receives the brief, a CG company's Project Manager studies it. If some component is missing, a PM has to make a request through a Client Manager and wait until a Realtor collects all necessary materials. Obviously, this can greatly postpone the workflow, thereby increasing the turnaround time and, accordingly, the cost of virtual staging. To avoid these situations, Real Estate Agents should consult with the Client Manager first to make sure they have all brief components ready and double-check whether everything is in the pack.
#3. Type of Virtual Staging
Virtual staging price hinges on the type of the digital service a Realtor needs. For example, adding furniture and decor to a photo of an empty room costs less than interior virtual restyling or full renovation. It happens so, because changing interior elements or finishings is more time-consuming and complicated than filling an empty image with the ready made furniture 3D models, therefore it includes the re-making the scene on top of it.
The more skills and turnaround time it takes to make CG images, the higher is the cost of virtual staging for Realtors. Following the logic, exterior virtual renovation costs more than an interior one, and an interactive virtual 360 tour around the whole estate is more expensive than an exterior project.
#4. Urgency
Before

After
The faster a Realtor needs images, the higher the price — it is fair for any type of project or service. To complete a virtual staging project on time, studio Project Managers have to change the schedule, involve more 3D Artists and occupy more computers, respectively.
This is an additional effort for professionals from a virtual staging studio because these urgent orders come on top of the others. It is vital for a studio to keep up its reputation and provide the best services so all of their projects are made on time and the highest professional level. As a result, the cost of virtual staging in urgent cases may be higher than for a regular project.
#5. Number of Images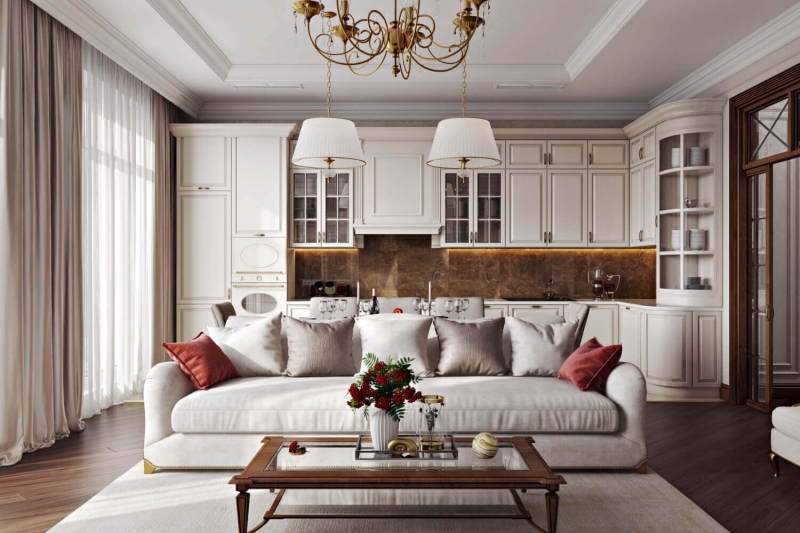 The cost of virtual staging directly depends on the number of images. After all, to create each scene, CG Artists must make 3D modeling and rendering of the furniture set, set up cameras and lighting. Surely, the cost of virtual staging may vary in different studios. For example, our company charges around 70$ for 1-5 photos, and more than 36 images will cost about 50$. However, the average price for an entire house virtual staging, which usually takes from 6 to 35 photos, is 63$ only.
In contrast with the digital staging, the price of a physical one can reach 1000$ or even more since it includes a consultation with a staging agency, rent of furniture, decor, and transport, as well as movers' services.
#6. The 3D Models' Quality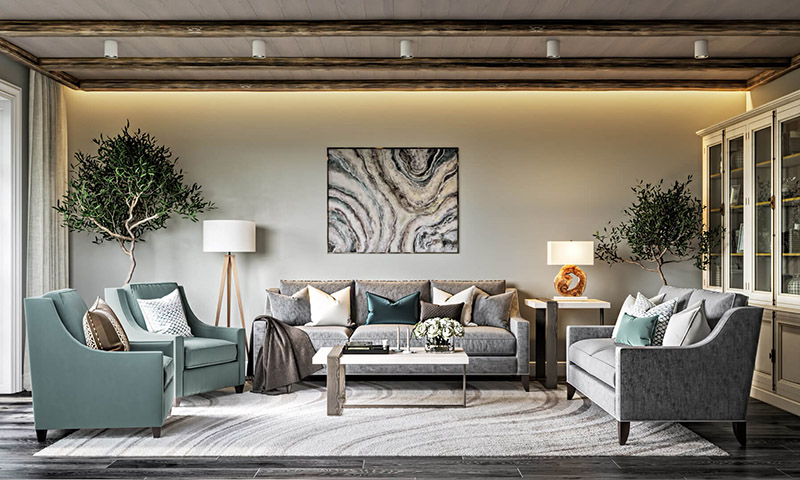 3D software allows specialists to create 3D models of any complexity and quality. For photorealistic promo images and maximum relativity, only high-poly models are suitable. As for virtual tours 360, the models of the less quality, low-poly, work the best. In any case, both options are available within virtual staging studio's services depending on a request.
Creating a scene based on photos of a house in virtual home staging software is a multi-level process. It is essential to not only pick the most suitable 3D models of furniture and decor — CG Artists also need to compile the most flattering composition, apply all the textures and render the furniture set. On top of that, every well-reputed CG studio has its own database of 3D models, accumulated over the years, so there is always an option to choose the most suited furniture and save the budget at the same time.
#7. Corrections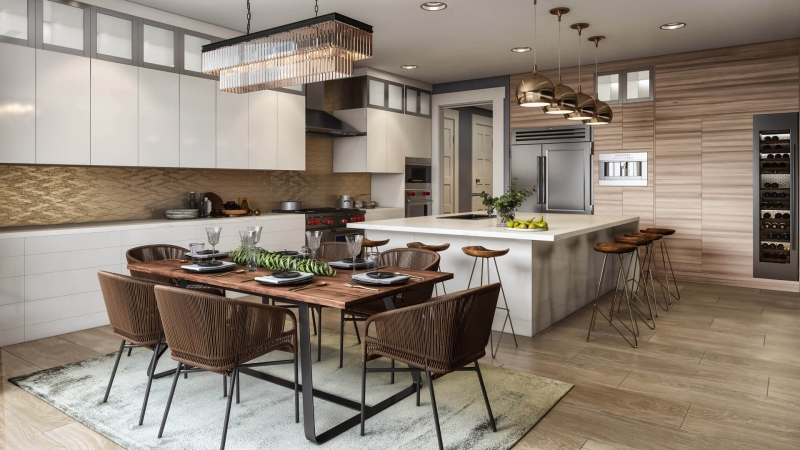 Adjustments is a normal part of every workflow and a far-sighted CG company is always open to a productive collaboration with the client. For instance, our studio makes free edits that don't exceed 60% of the project cost. Small corrections, such as changing the color of an item could be not as serious as re-making the scene completely.
However, if after 3D Artists created the scene and filled it with 3D models selected and approved before, a Real Estate Agent wants to change the design, this is considering a new project. Therefore, the cost of virtual staging could be different in the end.
Overall, the cost of virtual staging depends on Realtor's requirements, the number of photos, turnaround time, and so on. There are several ways for an Agent to save money and pay less for high-quality images. They can provide a studio with the most complete and detailed brief, so they won't waste any time in the future sending the missing materials. This also helps to prevent lots of corrections and misunderstanding between the client and the studio. Hence, the most important thing is to choose a responsible contractor who will work efficiently, as well as respect their clients and deadlines.
Interested in virtual staging services for your real estate business? Order them from our experienced professionals and you will get awe-inspiring images for listings on time!
https://virtual-staging.archicgi.com/wp-content/uploads/2019/10/cost-of-virtual-staging-7-factors-View01-e1586944380904.jpg
350
800
luzina
https://virtual-staging.archicgi.com/wp-content/uploads/2020/04/archicgi-logotype-white-300x85.png
luzina
2019-10-28 16:30:30
2020-04-15 09:53:05
COST OF VIRTUAL STAGING: 7 FACTORS THAT AFFECT IT