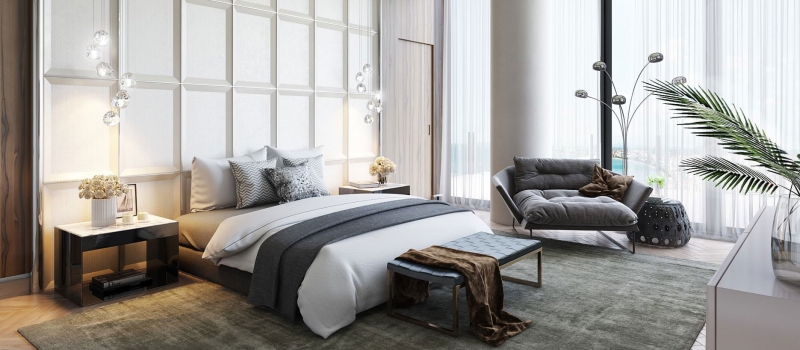 The power of 3D technology can't be overestimated — it literally creates a new reality and is popular in architecture, product design, game and film industries. We say the time has come for realtors and real estate marketers to try a cutting-edge real estate presentation in 3D. 
Experienced realtors remember what property staging was before. They used to hunt for inexpensive furniture rental, hire movers to physically replace the furniture, tinker with the interior renovation, etc. And, most importantly, do it fast, very fast and ultra-fast to outstand the competitors.
With 3D, the rat race is finally over. All you have to do for top-notch digital remodeling is to take pictures of the property in its current state, send them to a virtual staging studio and get a stunning real estate presentation in 3D in 48 hours. 
However, having 3D with its infinite opportunities at hand, what type of CG services to order? Do you need virtual styling or simple staging is enough? Keep scrolling to learn 5 basic virtual staging services and pick ones you want to try.
#1. Virtual Staging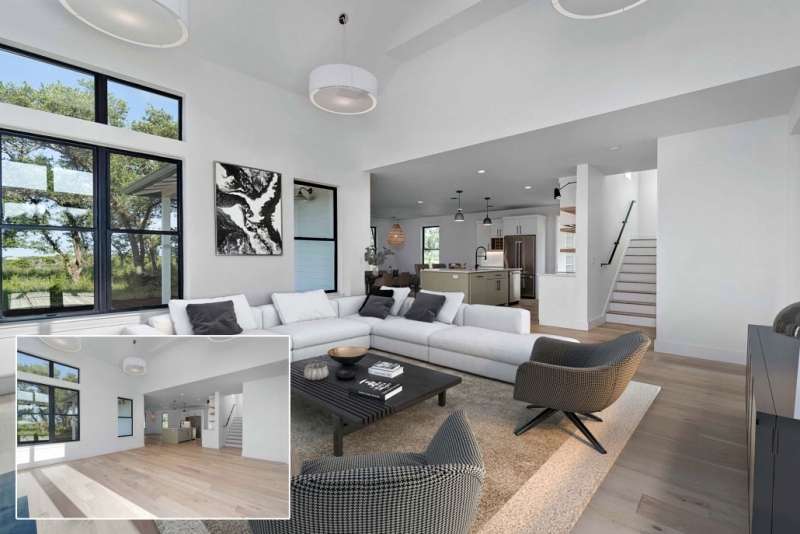 Virtual staging is the process of filling empty rooms with furniture and accessories using 3D technologies. In short, CG stagers recreate the room from the photo in 3D and then add 3D models of furniture, appliances and decor to the pic.
To make a real estate presentation in 3D with furniture, CG artists pick the most suitable pieces from their 3D library. This library contains thousands of quality 3D models of various styles so the digital staging process is convenient and fast. Also, they use ready-made 3D furniture sets for every room to accelerate staging even more. 
After CG stagers selected 3D models, they change the color and texture of the objects so they could perfectly fit them into the existing interior. The final step for stunning home presentation is rendering the whole set and adding it to the photo using the graphic editor, such as Adobe Photoshop.
#2. Virtual Styling
Before

After
Virtual styling is the digital replacement of existing furniture and decor with new items. This CG solution helps to transform outdated homes and modernize them with stylish pieces that complement each other and the interior itself.
Digital styling not only improves a real estate listing presentation but also helps to target audiences for certain properties. For example, with this CG tool, a real estate agent can customize the listing and target it at high-end clientele or middle-class prospects, depending on the realtor's purposes. All they have to do is to send a brief with suggestions on style and level of income of potential buyers to a CG staging firm. The rest is up to CG experts who have plenty of experience and know how to get the required type of real estate presentation.
To make virtual styling, first, CG stagers remove the old furniture in Photoshop and fill an empty room with new pieces, as they usually do for virtual staging. Surely, the resulting images of before and after real estate presentation in 3D could be simply shocking yet visually pleasing.
#3. Interior & Exterior Digital Renovation
Before

After
The term "renovation" speaks for itself. The only difference between physical renovation and a digital one is that the latter doesn't require any expenses on materials and construction labor. CG stagers do all the main virtual remodeling work in a graphic editor by retouching some elements and adding new ones for a fresh home presentation.
For interior renovation, CG artists can completely remove the old finishing, replace flooring and repaint the walls of real estate. Often, an overall good quality home can look gloomy and uncomfortable only due to the bad color choice. You will be surprised how easy it is to change real estate presentation only by repainting rooms in lighter colors.
As for the home exterior, let's be honest, not all realtors pay attention to it. However, prospects do. Of course, they want the outdoor space of their future home to be clean and nice so its presentation matters. Therefore, to get those clients, a real estate marketer has to invest in an exterior digital renovation.
With the help of CG software, stagers can easily remove a trash can from the yard, add flowers and greenery to the front lawn, patch up cracks and change the color of the walls. Of course, the real pros never overdo the digital makeover to the point where real estate becomes unrecognizable. Instead, they pay attention to detail and polish up a house just a little to get a same-but-better home presentation.
#4. 3D Floor Plan
Before

After
A 3D floor plan is an excellent replacement for 2D drawings and schemes that realtors usually use in real estate listings. No doubt, these 2D plans made of lines and gaps don't really help prospects to understand the layout and envision a house in 3D. 
Moreover, potential buyers can't estimate nor the size nor the height of the rooms based on 2D drafts. So since 2D floor layouts are more puzzling than useful then maybe it's time to try a more impressive real estate presentation in 3D? 
A 3D floor plan is a miniature model of real estate that already has all the finishing, lighting, furniture and accessories in it. Therefore, a 3D plan provides a better home presentation and explains the furniture layout of the house perfectly. 
Moreover, this type of floor plan alone may be enough to showcase the house without additional photos of the rooms. Not to mention the fact that a cute 3D floor plan invokes nostalgic memories of a dollhouse everyone had in childhood, it's also a highly-informative and convincing CG tool for a detailed home presentation.
To create a 3D floor layout, CG artists use a 2D plan of the house and its photos as a foundation. Based on this input information, they recreate the entire house in 3D, each floor separately. After that, they add wall coverings and flooring, and then arrange the furniture and decor to achieve the final cozy look.
#5. A 360 Virtual Tour
A 360 virtual tour is a guaranteed super attractive offer that beats off all other traditional listings with photos. No surprise, a virtual tour is not even a real estate presentation in 3D but an interactive 360 view. 
With the help of such digital tours, prospects can virtually walk around the house, rotate the camera 360 degrees to see real estate in detail. This option allows buyers to take their time to review a home online before ordering a physical viewing. 
Moreover, a 360 virtual tour is not just a joyful and convenient way to examine the property without rush. Sometimes, it's the only chance to give buyers a proper home presentation of real estate abroad. Using a 360 tour, prospects can remotely explore every corner of the home to make sure they get the best offer on the market.
In order to create an interactive 360 ​​tour, CG artists make virtual staging first, then install 360-​​cameras within the 3D model of the house. After that, they take panoramic pictures of each room, glue them together in a special CG soft and set up visual markers that help to move around the house. 
The resulting imagery not only makes a wow listing presentation. A realtor can post a virtual tour on almost any online platform including social media, which tremendously increases their chances for a successful deal.
Today, there are lots of ways to create an outstanding real estate presentation in 3D and every realtor can select the best option for their purposes. You can furnish empty homes using virtual staging, restyle old-fashioned real estate with virtual styling service and try interior or exterior renovation for a shabby property. If you want to go further for advanced real estate marketing, use a 3D floor plan and a 360 tour that will knock prospects' socks off and make your listing a top offer.
Want to get the best real estate presentation in 3D? Now that you learned all about virtual staging services, you can choose the most effective solution to boost the property imagery and increase sales!
What are the 5 basic virtual staging solutions?
Those are virtual staging, virtual styling, interior and exterior renovation, a 3D floor plan and a 360 virtual tour. A realtor can choose any of these CG materials to improve the property presentation or combine several options for a greater effect.
What is virtual styling?
Virtual styling is a process of digital replacing current furnishings and decor with new objects. This is a great solution for outdated homes or randomly-furnished interiors that have no style whatsoever. In such cases, CG stagers can decide on design aesthetics and create matching furniture arrangements that will make modern stylish interiors.
What is a 3D floor plan and how it is made?
A 3D floor plan is a three-dimensional model of the whole house. Such imagery displays a home with all finishing, furniture, accessories, home appliances and lighting —- up to the smallest details. A 3D floor plan is one of the advanced CG materials that are entertaining and useful at the same time. Using it, prospects can clearly understand the layout and easily envision a 3D home becoming a real one.
What is a price for a 360 virtual tour?
Prices for virtual tours vary in every CG staging studio. Therefore, the best option here is to contact directly a client manager for relevant price list. In our studio, we charge $189 for a virtual tour made of 6-35 photos.
https://virtual-staging.archicgi.com/wp-content/uploads/2020/08/real-estate-presentation-in-3D-5-tools-to-use-View03-e1597089790200.jpg
350
800
luzina
https://virtual-staging.archicgi.com/wp-content/uploads/2020/04/archicgi-logotype-white-300x85.png
luzina
2020-08-12 16:30:55
2020-08-27 07:47:08
REAL ESTATE PRESENTATION IN 3D: WHAT CG MATERIALS TO TRY