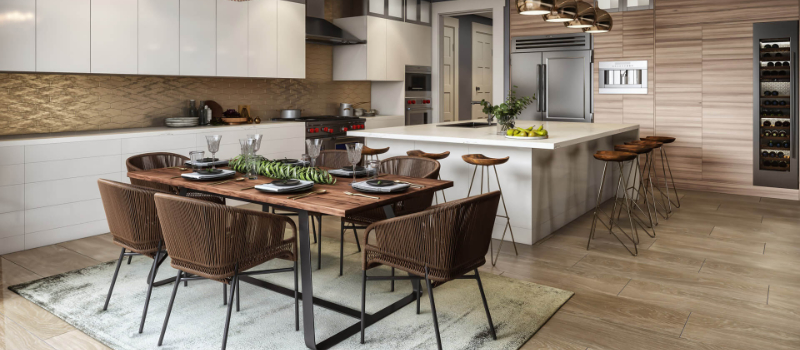 Many realtors and real estate brokers use CGI in real estate marketing and promo. Understandably so, this technology does miracles to property pictures as it allows filling empty homes with furniture, improving finishings, and even completely renovating houses virtually.  
Moreover, since all the improvements are done in CG software, realtors don't have to worry about physical home staging and remodeling. This way, they can save their time, money, and energy on images and invest them into real estate marketing campaigns and ads.
As a virtual staging studio, we know all about CGI and how it helps realtors to promote better and sell faster. Keep scrolling to learn 7 surefire ways CG solutions can skyrocket real estate marketing campaigns!
#1. Sell Off-Plan Real Estate with Photorealistic CGI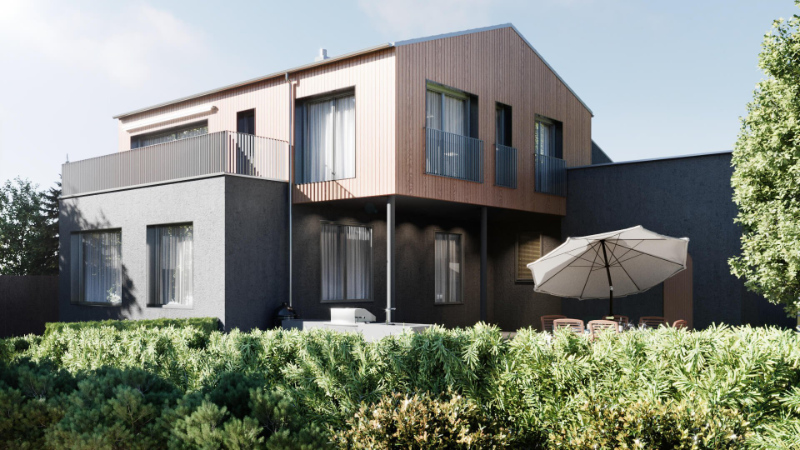 Often, realtors sell homes "off the plan", i.e. properties that haven't been built yet. In such cases, there is no other solution but to use CGI in real estate presentations. Professional CG artists can deliver photorealistic 3D renderings of the house and complete it by a beautiful garden, furniture, and decor. Such 3D visualizations give potential buyers an idea of how real estate will look once it's finished and showcase its key features.
#2. Make Client-Friendly Listings with Self-Explanatory 3D Floor Plans
Before

After
Another brilliant idea for real estate marketing is to replace all 2D drawings with 3D floor plans. These are self-explanatory, thus,  prospects don't need any special architectural drawing knowledge to understand real estate layout. Unlike a 2D draft, a 3D floor plan is not just a set of lines and gaps, it shows a house in miniature. 
One glance at this CGI would be enough to figure out the number of rooms and their layout, as well as the height of the ceilings and general proportions of the dwelling. By using such CGI in real estate listings, realtors can eliminate buyers' doubts about a property and reduce the number of questions they might have in advance.
#3. Create a Jaw-Dropping Single Property Website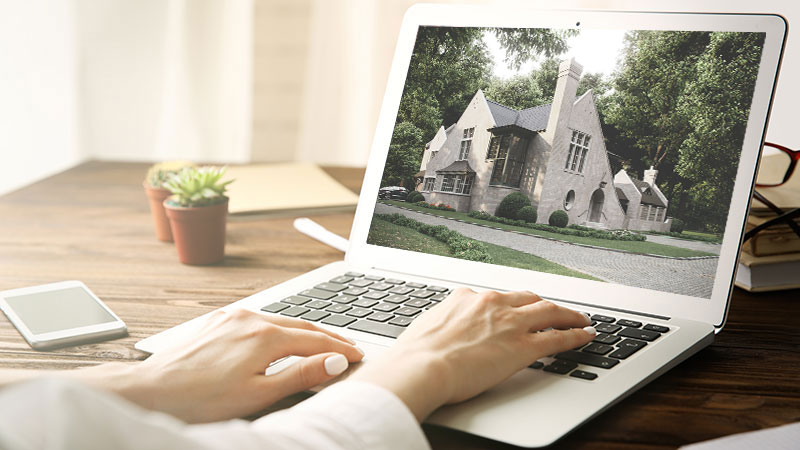 A single property website is a perfect real estate marketing tool when it comes to luxury homes. The site should store all data and CGI of real estate: marketing copy, exterior and interior images, 3D floor plans, neighborhood photos, a virtual tour around the property, and such. 
The individual property website is where customers come from all online ads and SMM. Therefore, realtors have to be sure it provides first-class real estate CGI to strike a chord within high-end prospects.
#4. Improve Real Estate Visuals for Print Collaterals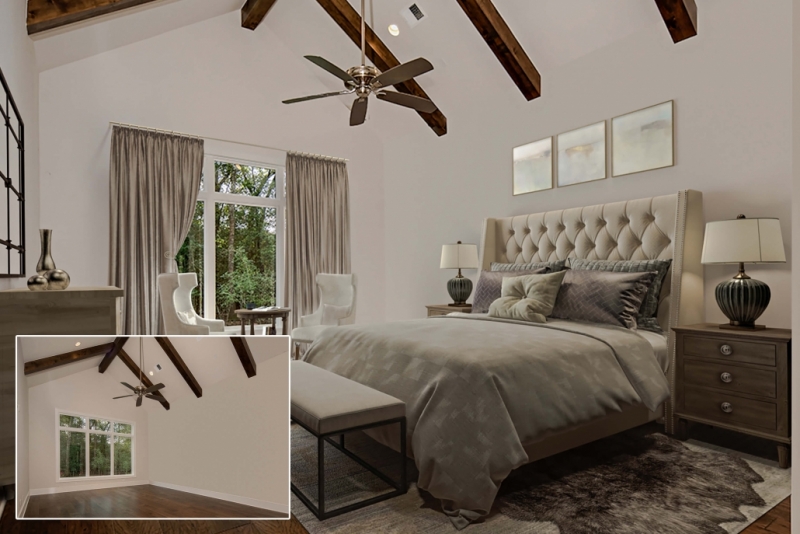 Using CGI, realtors can get mind-blowing visuals for print collateral materials such as a property brochure, leaflets, postcards, posters, door hangers, you name it. Even if the house's outdoors or indoors don't look their best, CG artists can improve their photos in no time.
Not only are they able to retouch some minor defects in CG graphic editors, they can also refresh the wall paint, trim the lawn and add greenery. Such small improvements look natural and not over-the-top so real estate images don't make a false impression on prospects.
#5.
Give Email Subscribers a Virtual Tour Around the House
We recommend realtors reconsider their email marketing and break the monotony of newsletters by sending subscribers invitations to virtual viewing of the house. Virtual tours are a highly engaging, interactive, and non-binding way to see a property. Prospects don't even need to allocate special time for that. They can examine properties in between business meetings or while being at home with their families.
First-class CGI in real estate email marketing makes subscribers click on the link that leads to the realtor's website. Here they can spend a good 30 minutes virtually walking around the house. Soon they will find themselves browsing other listings on the same site to compare the options. Needless to say, virtual tours can skyrocket website conversion with its immersive and engaging qualities.
#6. Use Life-Like CGI in Real Estate Social Media Marketing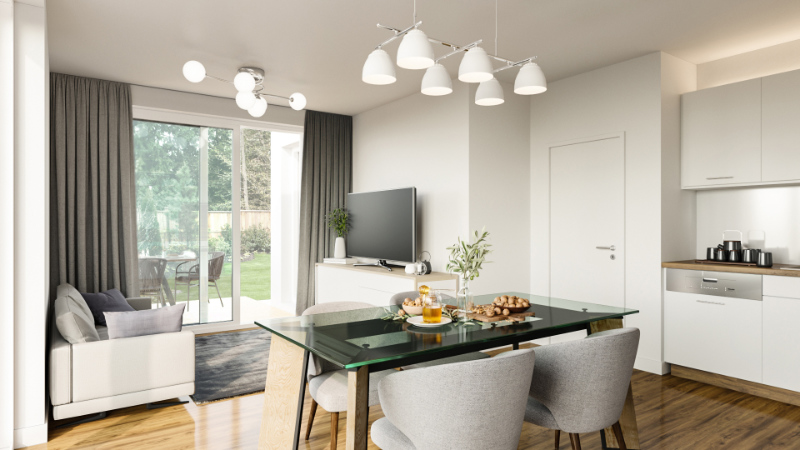 Using CGI in real estate social media marketing provides realtors with a bunch of visual content at no extra cost. For example, CG artists can use the same property and restyle or virtually renovate it in different ways. Or, create several 3D floor plans for one house. 
By posting this CGI on social media, realtors can spark conversation with their audience on what options they like more. This way, they not only get ever new content to impress their followers but establish a more solid interaction with them.
#7. Perfect Real Estate Images for Online and Offline Adverts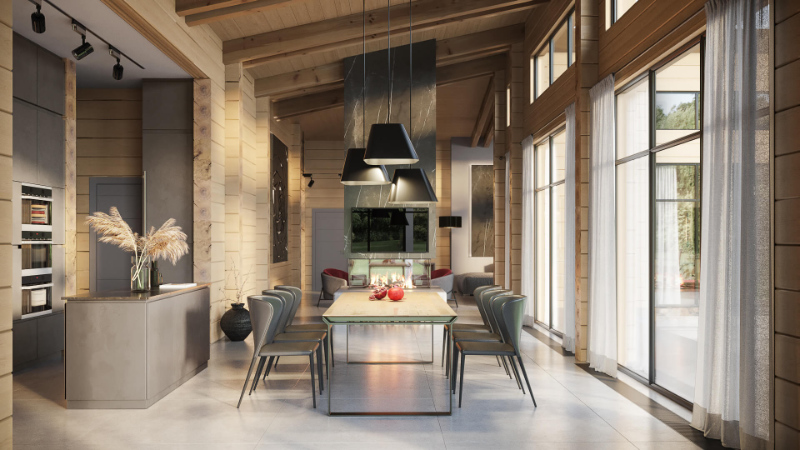 No one disputes that realtors have to advertise their services with striking house visuals. And the best way to get those is using CGI in real estate promo. Since it's an advert, CG artists can use their imagination and spruce up the image so it gets instant attention. 
With the help of CG services, empty houses can be restyled, staged with new furniture, and even renovated inside and out. After the property picture is improved, all that's left to do is add a marketing copy or on top of the advertising layout.
So what benefits can realtors gain from computer-generated technology? With CGI in real estate, they can start promoting off-the-plan properties and sell those long before they are completed. Using 3D, agents can also enhance their email marketing with innovative and engaging virtual tours. No less important, CG services allow realtors to create killer content for their social media and improve print collateral and online/offline adverts.
Ready to get stunning CGI for your real estate marketing? Order virtual staging services from us, and you will get cutting-edge CG solutions for all your marketing goals!
https://virtual-staging.archicgi.com/wp-content/uploads/2021/09/cgi-in-real-estate-marketing-View07.jpg
350
800
luzina
https://virtual-staging.archicgi.com/wp-content/uploads/2020/04/archicgi-logotype-white-300x85.png
luzina
2021-09-10 16:30:03
2022-02-11 11:33:13
CGI IN REAL ESTATE: 7 EFFECTIVE WAYS TO USE IT FOR MARKETING CAMPAIGNS