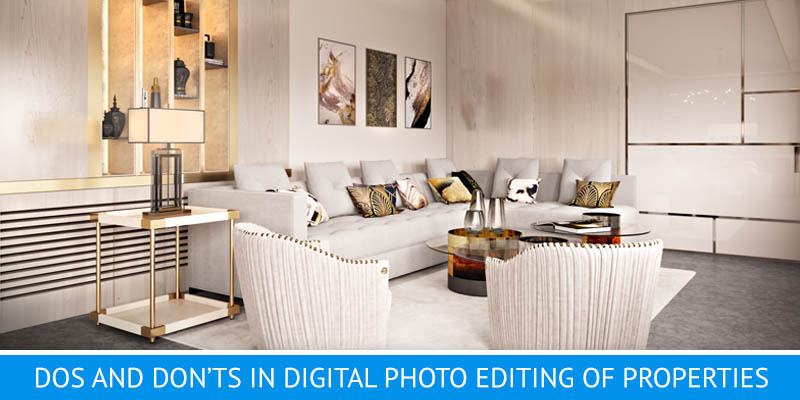 Realtors often have to deal with empty dull houses with the same layout while trying to take the best pictures for the listings. Apparently, photos of vacant homes don't sell well because the prospects only look through listings but show no interest in them. Instead, they call competitors who provide attractive virtual staging for properties. Therefore, there's no other choice for a realtor but to find a way to make an empty estate look like a cozy house.
To get attractive visuals, sometimes a real estate agent decides to photoshop the images of the property themselves or hire a self-taught freelancer. As a result, often the properties in pictures look unrealistic — the most common mistake is that furniture looks like a piece glued to a basic collage. 
At the end of the day, even experienced realtors can get confused when it comes to photo editing of virtual staging for properties —  do these images really can replace real photos? In this article, we selected the key dos and don'ts, to clear once and for all what is proper photoshop editing. Without further ado, let's get into reading!
DOs
#1. Find the Best Suited Furniture and Decor for Each Property
Before

After
Working on virtual staging for properties, one must first decide on the interior style and the purpose of each premise. To make it right, a real estate agent has to determine their target audience in the first place. For example, the same property could work both for a family and a bachelor, depending on different floor layouts and furniture choices. So based on the neighborhood, price, and other factors a realtor can predict what kinds of prospects are looking for it. Then, a real estate agent sends HD photos of the estate and style suggestions to a CG studio, and they can select the most suitable furniture and decor.
Realtors must know that professional CG artists have design and art education, as well as a developed sense of style. Therefore, they can choose the best furniture options for any type of property even without style recommendations from a real estate agent.
#2. Follow the Horizon Line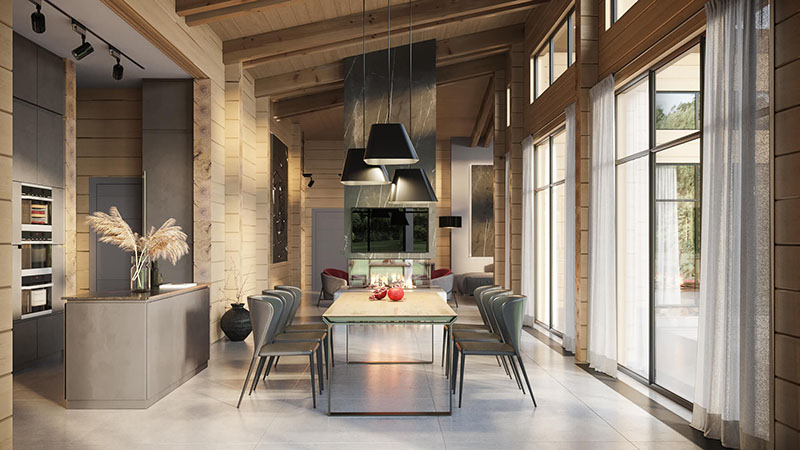 To build virtual staging for properties with the right perspective, one needs to take into account the horizon while setting up the cameras. Only by finding the accurate camera angle, a CG artist can render the furniture set from the same perspective as the original room was shot. Thus, when an artist proceeds to edit the pictures in Photoshop, all objects look proportionate to the environment and fit the room perfectly.
#3. Retouch Pictures Naturally
Before

Virtual Renovation

After
Retouching is very meticulous work that requires strong concentration and excellent skills in Photoshop. CG artists must attentively retouch the pictures for virtual renovation —  whatever object they remove, they must also erase its reflections from all the glass and mirrors, as well as retouch its shadows.
While adding an object to the images of the properties, CG experts should carefully blend its edges so that it doesn't look like it was pasted into a collage. Unlike virtual staging dilettantes, professional CG artists understand how to completely fit a furniture piece by adding volume to it and shaping it with natural shadows and light.
DON'Ts
#1. Don't Lose Sight of Extra Elements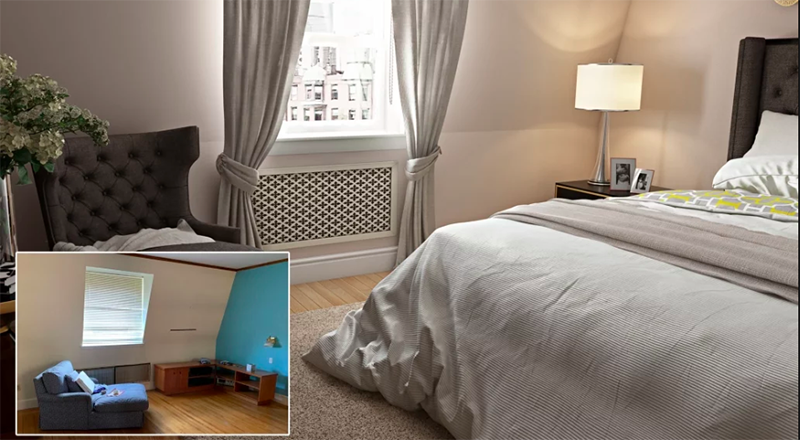 By extra elements on the photo of properties, we mean various redundant objects that prospects don't want to see in their future home. Firstly, the previous owner's belongings — family pictures, clothing, or trophies on the shelves. Secondly, small but annoying details, such as stickers or magnets on the fridge, garbage bins, and other stuff — everything should be completely removed from the image. Remember, successful virtual staging for properties starts with a neat, fresh and welcoming home.
#2. Don't Blur or Sharp the Image Too Much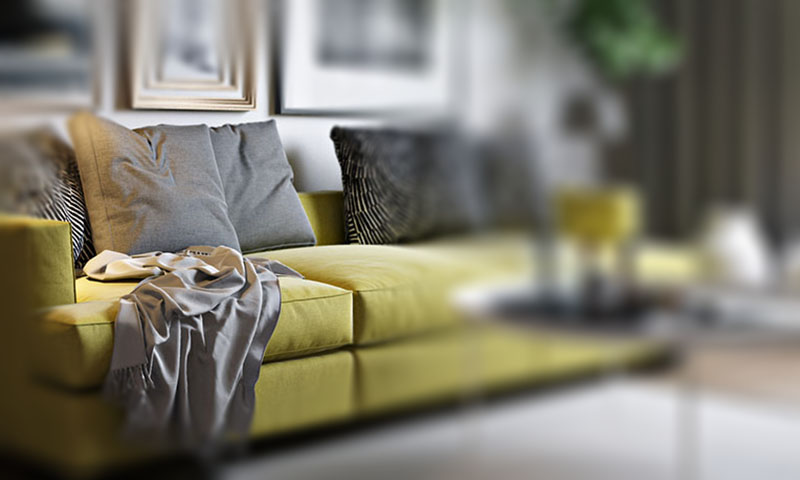 Professional CG artists never overdo the sharpness or blurring of the photo, because usually those tricks are meant to create a false impression. Amateurs sometimes blur individual parts of the pictures in order to hide something —  for instance, to obscure the redundant things or cracks in the walls. The inverse idea here is to give the photos extra-strong sharpness to supposedly improve the resolution. 
However, all these bootless efforts don't make actual photos become more attractive for prospects. Overdone pictures look fake so potential buyers won't trust them and find these images simply annoying.
Collaborating with a professional CG studio, on the other hand, guarantees that virtual staging for properties will be executed exquisitely. Realtors can be sure that final images will be of such high resolution that they even can be printed for a billboard. As for the flaws, such as small cracks or scuffs, experienced CG artists will neatly retouch them in Photoshop without messing up the whole image.
#3. Don't Get Carried Away With Filters and Color Correction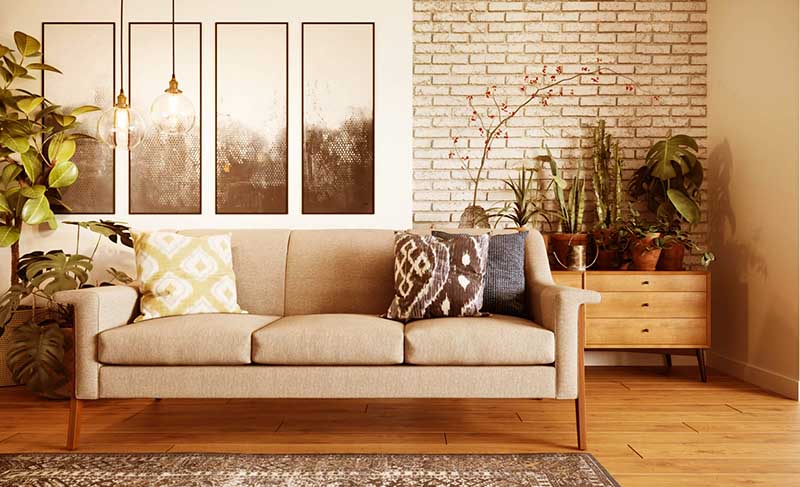 Often, CG artists want to make properties look more attractive using Photoshop filters and color adjustment. Thus, to add coziness to the room or create a nighttime lighting effect, they make the image warmer by changing the color range. Surely, a bit of color correction works fine and can balance out the whole space. But excessive manipulations with color and contrast lead to nothing but failure.
True CG experts in virtual staging for properties know how to create both day and night lights, using special CG software. Moreover, they have plenty of experience and can come up with the best visual solution for any type of real estate. For example, for properties with a spacious living room, CG artists can choose bright sunlight effect to emphasize the roominess of the premise. And to enhance the sophisticated interior of a bedroom, they can create intimate evening light. As a result, virtual staging for properties doesn't lose its realism but showcases the house with different atmospheres.
Working with professional virtual stagers, you can avoid many mistakes in photo editing that beginners or amateurs usually make, providing realtors unsatisfied results. Specialists in well-reputed CG studios have years of experience and adhere to high standards of quality. On top of that, CG experts never lose sight of small details and select the best furnishing and decor for any property.
Need mind-blowing virtual staging for properties? Contact us for digital staging services and you will get outstanding images of top quality in no time!
https://virtual-staging.archicgi.com/wp-content/uploads/2020/03/virtual-staging-for-properties-dos-and-donts_View06-e1584446119457.jpg
350
800
luzina
https://virtual-staging.archicgi.com/wp-content/uploads/2020/04/archicgi-logotype-white-300x85.png
luzina
2022-05-10 16:30:57
2022-05-09 17:59:54
VIRTUAL STAGING FOR PROPERTIES: DOS AND DON'TS IN DIGITAL PHOTO EDITING