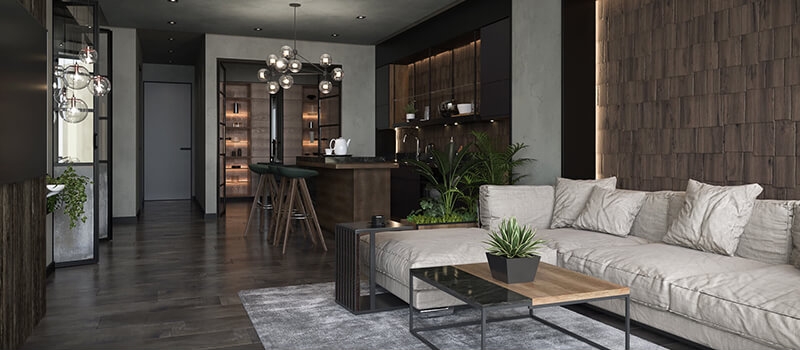 Virtual staging services always come in handy when realtors strive to sell empty or shabby properties. No matter how professional a photographer is, such dwellings look dismal and uninviting in photos.
Unfortunately, with pictures like that, a listing hardly ever attracts prospects. Even a house with a good location and layout can remain idle because of dull photos. In such cases, real estate agents order physical or virtual staging to furnish a property and make it look lively and fresh. However, choosing traditional furniture arrangements, realtors face crazy expenses on furniture rent, movers, and transport.
On the other hand, virtual staging is an effective alternative that works both for interiors and exteriors. Using it, the agents don't have to spend money on physical staging and house renovation to get attractive images. All they have to do is to provide a CG studio with high-quality photos of a property and make suggestions on styles and aesthetics.
CG technologies are developing rapidly, so lots of virtual staging services from various providers are turning up on the market. At the same time, realtors want to find the best solution to save money and get jaw-dropping images for promo. Naturally, going for digital staging is a perfect solution for them. But how can they choose a professional contractor for this job and what to order from them? As a professional virtual staging studio, we made a list of 6 key types of virtual staging services that every real estate agent should know.
#1. Virtual Furniture Layout for Empty Dwellings
Virtual staging artists can turn an unattractive empty property into a stylish home everybody dreams of. With the help of CG technologies, they place furniture to the photos of empty rooms, add nice decor, plants, wall art — and voilà! — a dull vacant space turns into a cozy sophisticated home.
Thanks to CG technologies, virtual staging specialists can provide images of photorealistic quality. Surely, it depends on the skills of CG Artists and computer resources. That's why professional 3D studios are a better choice for virtual staging services – they hire qualified specialists and buy the newest software so they can guarantee awe-inspiring CG pictures, indistinguishable from traditional photos.
#2. Fascinating Digital Re-Styling
Before

After
Virtual restyling is a digital replacement of existing furniture and decor with new pieces. It is especially useful for upgrading outdated real estate photos. Using special software, 3D artists can get rid of old furniture and all sorts of unattractive stuff like fridge magnets and the owner's personal belongings from the photos. After that, they choose the best suitable furniture, accessories, and art to fill blank walls and inject more personality into the dwelling.
As a result, a realtor gets photos of a fresh modern dwelling without spending money on removing old furniture and renting staging pieces. Virtual staging services reveal the potential of an old property and give prospects an idea of how the housing may look with small updates and new stylish furniture.
#3. Virtual Interior Renovation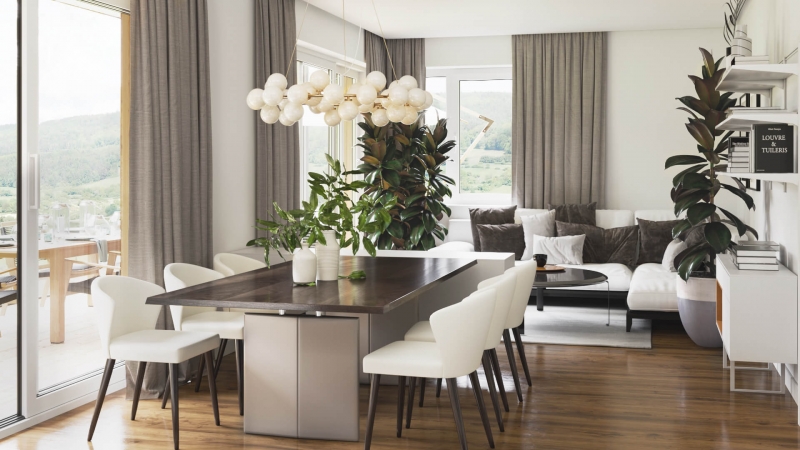 Virtual interior renovation works perfectly for a worthy dwelling that is not in demand despite a good layout and high-quality building materials. Sometimes these benefits can't win prospects' attention because the interiors are in bad condition. In such cases, photos simply don't do justice to the property as its true potential gets overshadowed. Therefore, no matter how much money a realtor invests in a promo of such a listing, prospects most probably will skip it.
Besides, not every home seller wants to spend money on its renovation before putting real estate on the market. In such cases, virtual staging is the best solution that will make a dwelling look attractive without its physical renovation. CG specialists can refresh or completely update tacky interiors using modern digital technologies. With a virtual renovation, they can change finishing materials, wall color, and floorings so the house can become more presentable for potential buyers.
#4. Spectacular 3D Floor Plans
Before

After
Architectural drawings are a stumbling block for many prospects — not everyone can read them. For such customers, all rooms on 2D drawings look like lines with some gaps and numbers. Нence, prospects can't understand the layout or parameters, and, of course, can't envision this drawing as a real home. That's why a 3D floor plan works better for listings — it's a digital model that showcases a dwelling in 3D.
Looking at the 3D floor plan, potential customers can get the whole picture of a property — they can see a 3D model of the entire house and understand the layout and other details of all premises. Moreover, a 3D plan shows important architectural benefits of a dwelling, such as big windows or glazing walls that are impossible to understand from 2D drawings. It also showcases how spacious the property is better than any drawings or photos.
#5. Powerful Exterior Transformation
Before

After
An exterior renovation is a cool service for outdoor home presentations. It is especially useful for nice houses with slight drawbacks, like a neglected garden or a bad lawn. In such cases, the photos need a little help to get an attractive makeover so realtors can show prospects that real estate is worth its money. In these circumstances, virtual staging services are the best way to draw prospects' attention to a property with good architecture and location, without making an actual exterior renovation.
CG artists can slightly improve the look of a house — remove unnecessary elements from a photo, repaint walls, and even create a green lawn and plant flowers in front of a porch. For prospects who buy a house in its current condition, digital renovation could become great assistance for future changes. With the help of such digital transformation, potential buyers can understand what can be done for a property and how to recreate this stunning look in real life.
#6. Immersive Virtual 360° Tour
A 360° virtual tour is one of the most powerful virtual staging services that showcase a property in all its glory. It is based on a rendered 3D model of the entire house. Using this tool, prospects get the opportunity to examine every room by switching and rotating cameras, as well as zooming in on every interior detail.
Moreover, this interactive service recreates a feeling of real presence inside of a dwelling. Moving around the house, future owners can check out its stylish interiors and immerse into the nice cozy atmosphere, created by 3D artists. A virtual 360-degree tour is a reasonable solution for realtors who sell real estate abroad or have busy clients that can't come to the viewing.
Thanks to the development of CG technologies, virtual staging services help realtors to sell more without unnecessary costs. These digital tools can solve various problems — from filling empty rooms with furniture to making a complete interior and exterior virtual renovation. In addition, virtual staging for real estate marketing is multifunctional and can be used for online and offline promo, client presentations, and email campaigns.
Got interested in new opportunities for real estate marketing? Order digital staging services from our studio and you will get stunning photorealistic pictures without spending money on physical staging and renovation.
https://virtual-staging.archicgi.com/wp-content/uploads/2019/09/virtual-staging-services-6-types-View04-e1586944826708.jpg
350
800
luzina
https://virtual-staging.archicgi.com/wp-content/uploads/2020/04/archicgi-logotype-white-300x85.png
luzina
2022-06-02 16:30:34
2022-06-02 01:56:07
VIRTUAL STAGING SERVICES: 6 KEY TYPES