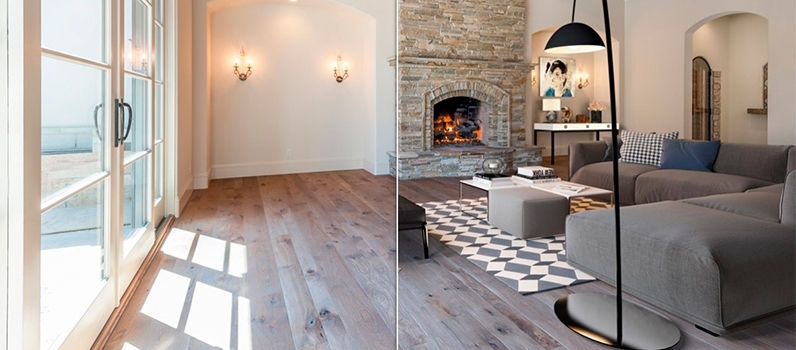 Virtual interior design is one of those unquestionable tech gifts to the world, especially to those of us planning the renovation of a new home. Creating design ideas on your lap is a fantastic exercise before rushing into the rogue adventure of home remodeling.
Luckily, there are a plethora of apps out there to turn your ideas into more or less perceptible visuals. Most of them promise the seamless process along the way, and spot-on designs at the output, often topping those with some additional services, like access to their online shop, some sort of home depot expense calculator, etc. 
We dug into the endless offer of DIY virtual staging apps and found those that have the finest, tastiest and most elegant offer in terms of designs, usability,  sustainability, and user satisfaction. 
#1. RoomScan Pro
One of the sleekest apps for DYI virtual interior design, RoomscanPro offers seemingly simple steps to start the virtual room design. "Use your iPhone 6s, iPhone SE or above camera to scan the floor and accurately add walls in seconds", offers app description. For more advanced users, there is an option to use laser measures due to its integration with Leica & Bosch. This is perfect to get precise measurements on the plan, but hardly doable if you are not exactly a design professional. Once the interior design is done, options to save it, export, send or print are all free. The lovely feature of RoomscanPro is its ability to recognize the furniture, that's already in the room, and place it on the scanned plan. Then the interior design items, even as complex as fireplaces, can be moved around and replaced by a tap of a finger. 
Despite the thought-through features of this app, many users do find it a bit on the over-complicated side. Multiple tutorials, as well as try-and-fail tactics, will surely help if one has lots of time on hands. RoomscanPro is specifically an iOs, compatible with iPhones only. On top of that, most of the features are available on a paid subscription basis. 
#2. Planner 5D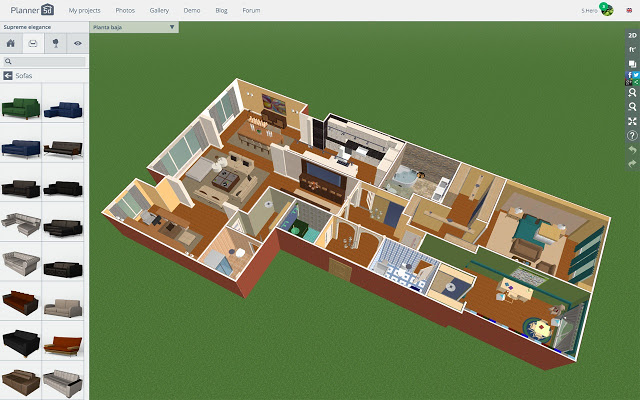 Whether doing some minor touch-ups or remodeling from scratch, Planner 5D is an excellent tool for virtual interior design. It's relatively simple, as most of the virtual design apps are. The definite attraction is that the app taps into some powerful technologies, such as AR, VR, etc. It also supports various drawing devices, offers more than 3000 objects of interior decor and furniture pieces, implements 2D and 3D tapping function, allows to change objects' colors, textures, and even shapes. Planner 5D is a multiplatform solution as it recently added options for collaborative sessions as well. 
The drawbacks are also palpable and worth mentioning. Most of the useful features and interior design objects are available on a paid basis. Also, while the virtual design app is still not synchronizing well between mobile and desktop versions. 
#3. Magicplan – 2D/3D floor plans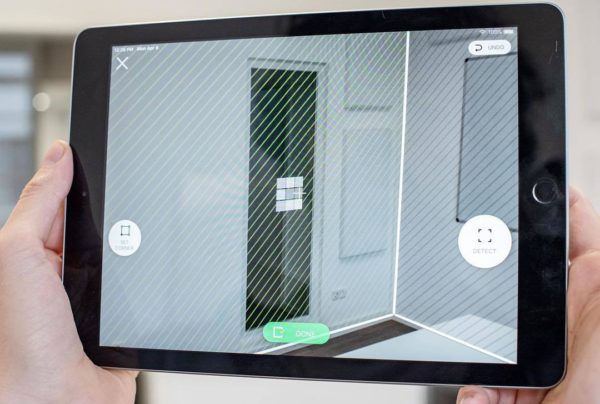 This fantastic tool for virtual interior design is rated among the best. Its developers claim that their technology lets its users transform built space into data using just a mobile device. The app lets you scan the room with a phone camera only, applying laser distance Bluetooth meter technology for more precise measures. It detects room objects effortlessly, even relatively flat ones, such as windows and doors, and generates statistics, such as distance, room area, ceiling heights, etc. 
The app also offers 1000+ objects, including plumbing and electrical devices, but also lets the users create their customized objects. Like most others in the pantheon of virtual staging apps, Magicplan allows creating virtual tours and 360 panoramas. Besides, its user can generate shopping lists and budgets based on the designs created as well as watch numerous how-to's and tutorials. There are also simple but valuable features, such as adding notes or backing up your designs on the cloud. 
The drawbacks are typical – it's laborious to master, most of the objects and features are locked until you are a paid user. Moreso, it's impossible to export anything, until you pay. This is unlike some other interior design tools, where exporting to all sorts of formats is available in freemium versions, like in the case of RoomscanPro, for example. 
#4. Home Design 3D 
Home Design 3D is more than a virtual interior design app as it's tailored specifically for designing multi-floor houses. It's equipped to work with various construction details, such as the thickness of walls or stair flights, number of floors, room plans, adding doors, windows, and hallways. However, Home Design 3D doesn't stop there. It got fantastic functionality for interior design, where one can choose from a couple of thousands of objects to decorate any chosen room. Importing and exporting, cloud storage, multi-platform support, and 3D virtual tours are all there. 
The drawbacks of this virtual home design tool are complexity and necessity to pay to get any decent feature. The other limitations are the inability to adjust the texture to size or measure values up to a millimeter.
#5. Homestyler Interior Design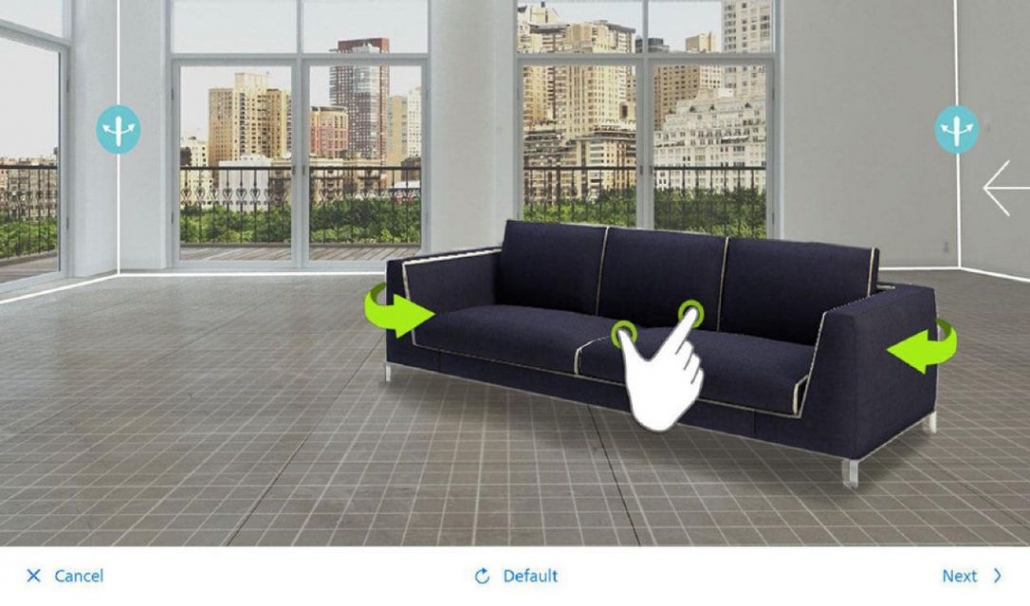 The app is positioned as a completely free tool that offers a wide range of features for virtual home and interior design. One can create, save and share a designed home or a redecorated room. It is also a type of social media, where you can share your virtual stagings and get feedback in the form of likes and comments. To start virtually staging a room, the user can either photograph the actual room with a phone camera or build it from scratch by adding walls to a floor plan. It got thousands of furniture pieces, appliances, plumbing, and electronics — all coming from retail giants like Target, IKEA, Crate & Barrel, etc. 
Since its a social media, it opens up the world of new contacts and in some cases may allow finding a design professional or interior decorator for feedback or an actual project. The application is free for obvious reasons – it acts as an advertising ground for various homemaking retailers. 
On the downside, Homestyler suffers from various lags and bugs and is too primitive in comparison to the other solutions out there. For example, it does not offer convenient furniture resizing, it's not 3D and does not allow to view the room in motion, often it is not working well and is shunning out on the users.
#6. Room Planner – Design Home 3D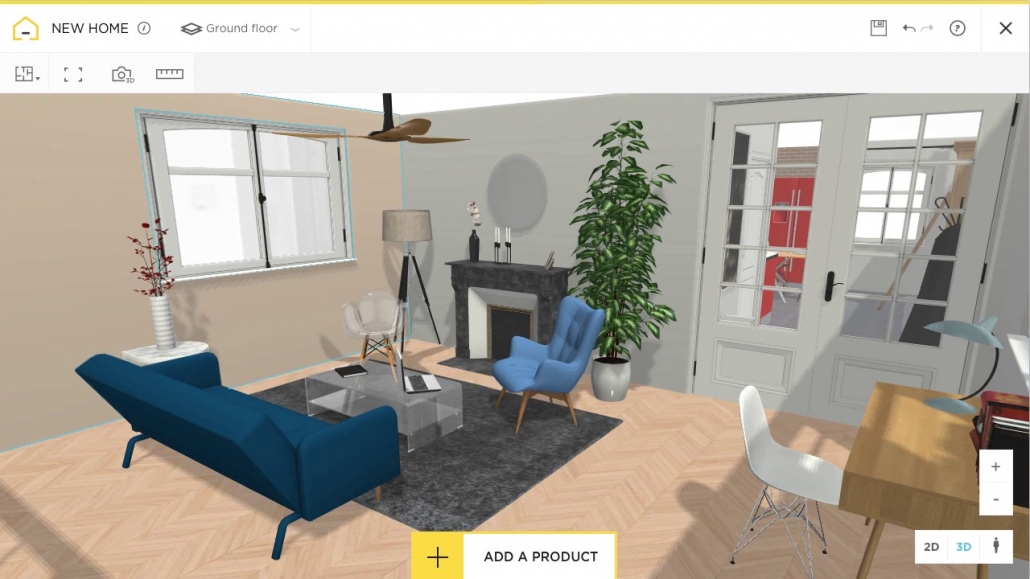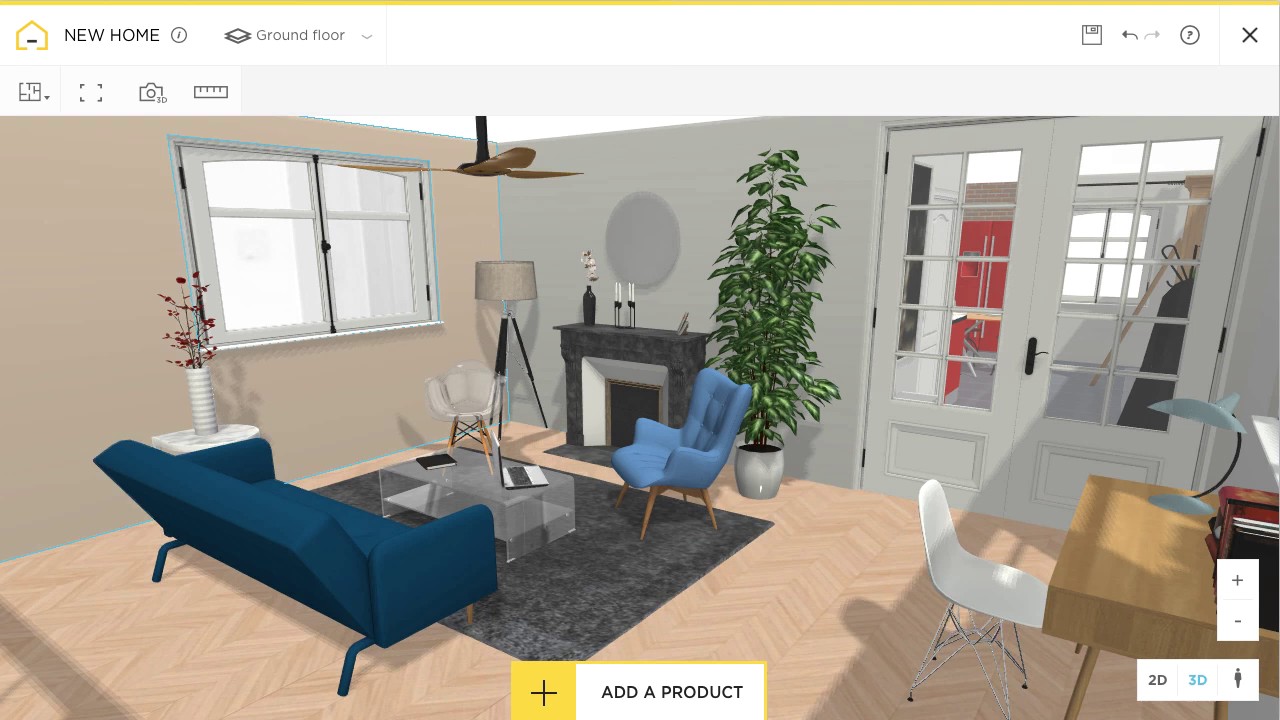 Another packed application for virtual interior design, Room Planner – Design Home 3D offers an array of solutions from visualizing a house from scratch, to designing interior or making minor changes with some furniture replacement. The tool offers hints, so-called designed themes set up by industry professionals. These can be great starting points for amateur users and are all-set interior designs for a given bedroom, kitchen, bathroom, etc. 
Loaded with around 5000 objects of latest designer furniture, as well as a pretty much full IKEA catalog, it allows decking the room with items of any price segment. Room Planner got the typical features of color and pattern change, working more or less smoothly. There is also a useful feature of making snapshots that are well-sized and marketable. 
Naturally, there are issues to counteract all the goodies. First, almost any feature is locked and available only in the PRO version, billed on an auto-renew basis. Some solutions are over-standardized. For example, there are only standard window or door frame sizes, which makes it difficult to do interior planning for older or more personalized houses and apartments.
#7. Housecraft 
Housecraft is probably one of the least serious apps for virtual interior design. Their interface is performed in a graffiti-like style. It is very simple and allows users to play their renovation like a game. It's also one of the newest, having been rolled out only 2 years ago. We added it to the list for its user-friendly approach, potential, great user reviews, and affordability. 
Available on AppStore only, it calls for an iPhone or iPad camera to scan the room with the use of augmented reality technology. Housecraft objects are scarce but easily manageable, allowing for basic room reorganization or quick interior design sketching. Everything is 3D, objects are easily rotatable and resizable. The app has a built-in video recorder, which allows sharing what happens in Housecraft with friends or family. 
The drawbacks come down to utter simplicity. You really cannot go too far with this app. The selection of objects and features is very basic. It serves more as an entertainment piece for a younger audience than a professional tool for virtual staging renders.
Visual interior design apps are not rare findings these days and do have a list of leaders or customer favorites. Most offer a decent selection of furniture objects, allow to work with colors, textures and, to an extent, with sizes and resizing. In the best-case scenario, you'll be able to scan a room and completely refurbish it, even if it is full of old items. It is obvious, however, that mastering interior design app takes time and effort. They are still full of bugs, even the best of them, often making it a frustrating experience for the user. Seldomly the quality of renders is marketable or photorealistic, as these apps are mostly geared towards personal use and quick results.  
Are you looking for virtual interior design to equip your real estate listing with stunning photorealistic imagery and apps won't measure up?  Contact us with no hesitation — we'll get your real estate up and selling quickly through stunning imagery and A-class virtual staging services.
https://virtual-staging.archicgi.com/wp-content/uploads/2019/11/virtual-interior-design-7-apps-for-renovation-view-e1586944326851.jpg
350
796
vysotskaya
https://virtual-staging.archicgi.com/wp-content/uploads/2020/04/archicgi-logotype-white-300x85.png
vysotskaya
2019-11-01 16:30:16
2020-04-15 09:52:11
VIRTUAL INTERIOR DESIGN: 7 APPS TO RENOVATE A PROPERTY