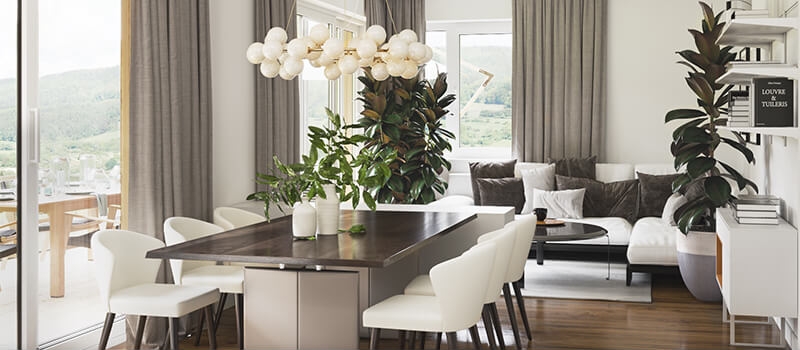 360 virtual staging gives prospects a complete picture of a property, showing not only selected angles but an entire real estate in a 360 view. That's why Realtors choose more effective and cost-saving digital staging done by a virtual staging studio.
Experienced Developers and Realtors are well aware of how difficult it is to sell empty housing — mere drawings and photos of rooms without furniture are not enough to impress potential buyers. Such images look dull and unappealing, while drafts are not always clear to prospects. On the contrary, visuals of a fully arranged home are more profitable and could be used for a property website, listing platforms, offline and online advertisement alike.
On top of that, Realtors invest in Google ads and expect them to pay back all marketing investments. However, when prospects are searching for listings on the Internet, they still see a lot of competitive offers shown by Google. Thus, Real Estate Developers shouldn't hope that the advertisement itself will increase the website's conversion. But how else to achieve an outstanding appeal of a site and what tools can help with it?
As a virtual staging company, we know exactly how Developers can increase the website's conversion by using interactive CG instruments like 360 view. Let's take a look at the 5 best ways of using virtual staging 360 for the web.
#1. 360 Virtual Staging for Home Page
According to Chartbeat analytics, people spend an average of 15 seconds on one website page, and many don't even go beyond the home page. This means that to make visitors stay on the site, a Developer has to get them interested in a property at once. For this purpose, real estate specialists can order physical or virtual staging to get attractive promo — jaw-dropping visualizations, a fascinating video, and an interactive 360 view.
A 360 virtual staging tour not only looks impressive on the home page but, most importantly, it gets visitors more involved. This tool allows prospects to move cameras as they want and see even the most distant corners of a dwelling. Using 360 view,  they can examine a property right on the main page of a real estate website without searching for the listings section. As a result, visitors will stay longer on a site and most likely would like to see the place personally.
#2. A Residential Virtual Tour for Listings
A property website should contain descriptions of all types of apartments along with 3D floor plans and detailed visualizations, but a 360 view can be a trump card that will beat the competitors. By choosing 360 virtual staging for real estate, a Developer can show house in all its glory — all rooms, halls, and outdoor terraces. A virtual tour allows potential buyers to switch camera views themselves and look all around the place, moving from one point to another. Prospects will be able to see every detail they are interested in, zooming in and out of the picture as they want. This will help them to understand the layout of a dwelling, and experience the real presence inside of the house at the same time.
While competitors are trying to arouse the interest of prospects with images only, advanced Developers provide a 360 virtual staging for every type of real estate. In this way, they allow potential buyers to get familiar with their future home and immerse into the picture of a beautiful stylish house. After prospects envision themselves in this space, they most likely would want to experience it in person and immediately book a visit to a property.
#3. A Public Spaces Tour for News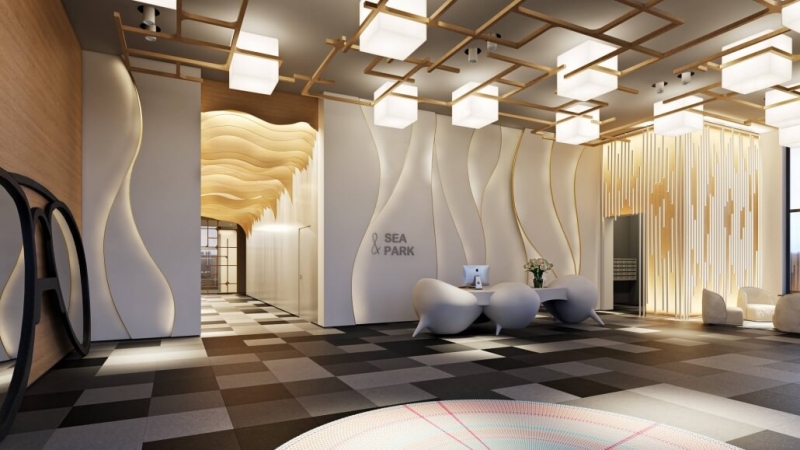 A Developer's clients usually subscribe to news to receive the current information about the construction process. Following the updates, they are the first ones to discover new features of the complex, such as updated infrastructure and public spaces.
Virtual staging images showcase the final look of public areas that are under construction, for example, a renovated entry hall, a modernized fitness zone, or a new restaurant. However, choosing a 360 view, prospects have an opportunity to examine interiors more thoroughly and from all possible angles. This way they can get sure that not only their real estate looks stunning, but the environment around their home is comfortable too. After exploring public interiors and equipment, future residents will appreciate the additional advantages of real estate and get the whole picture of what they pay for.
#4. Virtual Newsboards for Special Offers
Potential buyers often subscribe to special offers even if they don't plan to buy a property at this very moment. Prospects monitor discounts so they can seize the opportunity to buy their dream home cheaper. When a Developer runs a real estate marketing campaign with discounts on housing, a special offers section must be regularly updated with the most attractive visuals.
Naturally, with virtual staging rooms already look better than photos of empty dwellings. However, a 360 view is a real wow-factor of any listing. When prospects get a mail with a unique offer enhanced with a 360 virtual staging tour, no one will resist the temptation to click on a link and explore a listing more in detail.
#5. A 360 Virtual Tour for a Video Blog
Surely, potential buyers weigh all pros and cons when choosing a home, so they want to see as much visual proof as possible. Digital staging images work well, but to make a more vivid impression on prospects, a Realtor should provide a spectacular video about a property.
Video is a powerful creative tool for getting buyers' attention and it should be used to the maximum. For example, a blog could be updated with an interview with Architects and Developers, or homeowners talking about how they love their new apartment. Their story, alongside a surroundings footage and a 360 virtual staging tour, enhanced with beautiful music, is the most effective promoting review. Moreover, such a tour can showcase the functionality of a house — how rooms are arranged, how well interior zoning is done, and what furniture fits this space.
A 360 view is more effective than just a beautiful static picture. It is an opportunity for prospects to discover their future home and get their personal experience with property without visiting it. A 360 virtual tour is perfect for a real estate website because it makes an instant impression on visitors and motivates them to stay on the site and surf it through. Thus, going from page to page and learning about offers in-depth, prospects are increasingly imbued with an idea to book a viewing and buy a property.
Ready to boost your website conversions? Try our virtual staging services to spark instant interest from the audience and sell real estate several times faster!
https://virtual-staging.archicgi.com/wp-content/uploads/2019/08/360-virtual-staging-for-website_View01-e1586945034854.jpg
350
800
luzina
https://virtual-staging.archicgi.com/wp-content/uploads/2020/04/archicgi-logotype-white-300x85.png
luzina
2019-08-21 16:30:53
2020-04-15 10:03:58
360 VIRTUAL STAGING: 5 WAYS TO ENHANCE A REAL ESTATE WEBSITE