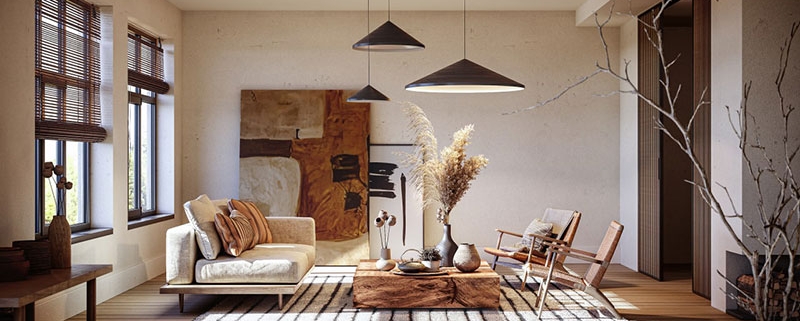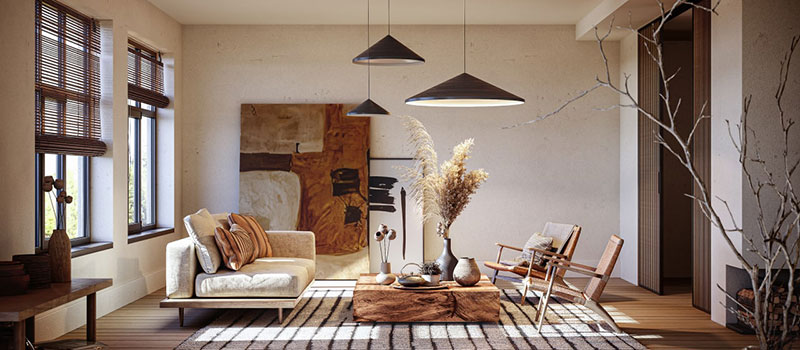 Selling fixer-upper homes is always a challenge for real estate agents and brokers. As-is property is often shabby and outdated — there are cracks in the ceiling, worn-out parquet, stains on the wallpaper, etc. In such cases, agents have to use either physical or virtual interior renovation design to improve the repair.
However, actual renovation is a serious financial investment. And though the owner of the property wants to sell it at a good price, they usually have no intention of investing in real estate remodeling. 
Therefore, the only solution here is to order digital interior renovation from a virtual staging studio. Such repair doesn't require purchasing actual finishing materials and hiring constructors. A realtor just sends a brief with property photos and style recommendations to CG stagers and gets realistic images of the renovated house in a couple of days. 
So what opportunities do realtors get from virtual interior renovation design? Read on 5 ways how it can improve the property look without making any major effort.
#1. Create an Optimal Floor Layout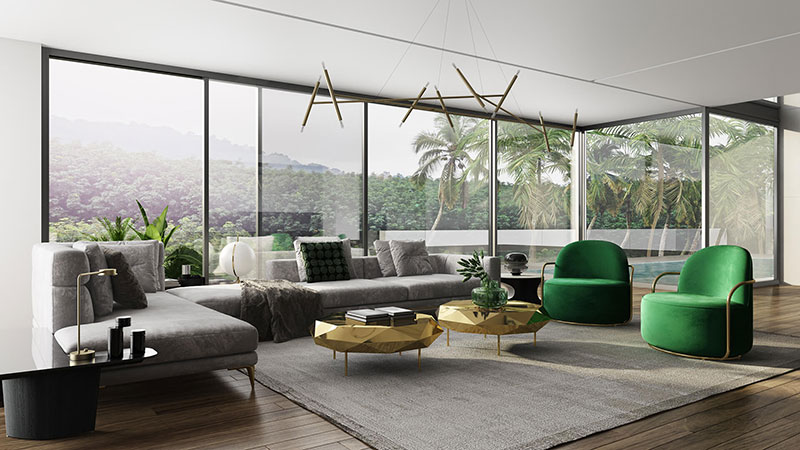 According to Forbes, prospects and investors tend to buy homes with open concept floor plans or remodel small properties to get larger-looking rooms. In other words, spacious properties appear to sell faster and at a better price. Most commonly, people want a house to have a master bedroom with an en suite, as well as a large open kitchen and living area. Obviously, such a remodeling in real life requires expensive construction work and takes ages.
On the other hand, CG stagers can easily redo the layout of the house in just one or two working days, using 3D software. For instance, they can remove the walls and combine several premises into one expanded area. This way the key rooms such as a kitchen, bedroom, and living room will look spacious and welcoming.
Of course, it is crucial to add real photos and existing plans to the listing in order to avoid misleading prospects. Realtors should also indicate that interior renovation design was done using CGI and is just a recommendation for future remodelings. In fact, CG replanning is meant to demonstrate the potential of a house and inspire buyers to give an offer a chance.
#2. Retouch and Restore Interior Elements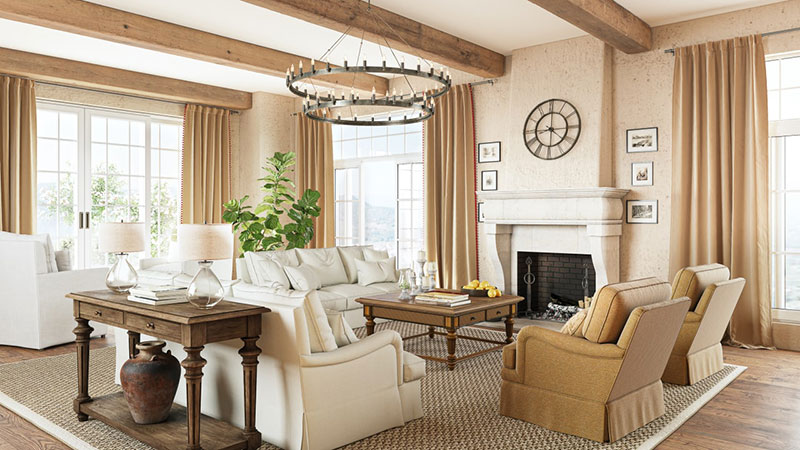 CG software is also useful for removing all unnecessary objects and personal belongings of the previous owners from real estate photos. Depersonalizing is important because nobody wants to see pictures of their future home with other people's stuff in it.
Using CGI, 3D artists can not only declutter premises but also retouch minor defects such as cracks and stains. After all, houses get worn out just because people live there. And with pets and small children, real estates are exposed to even more wear and tear.
Professional CG artists can easily restore architectural and interior elements such as stairs, columns, ceilings, moldings, window casing and sills, etc. Naturally, depending on the condition of the house, interior renovation may take more time and effort. Sometimes, it is easier to replace old items with new ones than restore them. So, before ordering interior renovation design, realtors should consult with 3D studio managers.
#3. Experiment with Color Palettes
Before

Virtual Renovation

After
With interior renovation design, one can freely experiment with color palettes just by clicking on the menu of CG software. Of course, it is difficult to imagine something like that happening with actual renovation where every replacement costs a packet.
As for artistic taste, realtors can fully rely on architectural 3D artists as they know everything about interior design and follow the latest world trends. Therefore, they pick trendy colors and hues for virtual renovation and create a design that stands out from the rest of the listings with impersonal look-alike interiors.
#4. Use Opulent Finishing Materials and Textures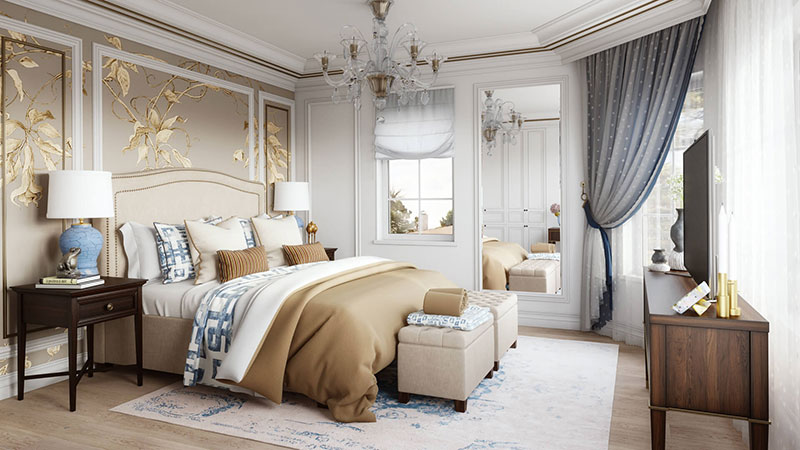 Naturally, in real life, one uses luxury finishing materials only for high-end properties. For middle-class houses and below, home sellers never go to the expense of opulent materials. In turn, using CGI, 3D artists are not limited by prices so they can make a super-luxury interior renovation design for any type of real estate.
Usually, CG artists select finishing materials from their library so texturing goes fast and smoothly. But when it comes to complex custom textures, those can take more time and effort to make. Depending on texture detailing and turnaround time, the cost of CG renovation can increase.
#5. Put Trendy Furniture, Appliances and Decor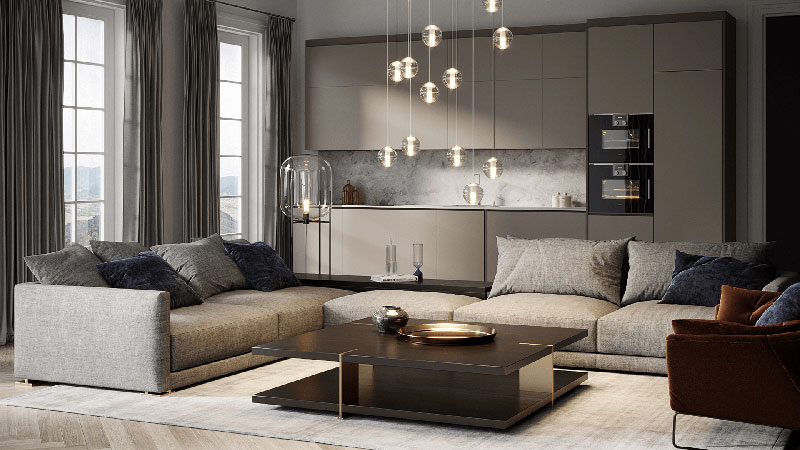 Virtual interior renovation design is an easy and effortless way to replace all old furniture with new modern pieces. This applies not only to furnishings though, but also to bathroom and kitchen equipment, lighting, interior art, and even the smallest decor items.
To re-furnish the room, CG artists first erase current objects from photos using graphic software like Photoshop. Then they pick ready-made 3D furniture sets from their 3D library, customize them, put 3D models in a scene and render it. After visualizations are ready, CG experts cut the furniture set out from the image and post it in the property photos. 
By collaborating with CG artists on virtual interior design and renovation, realtors get the opportunity to improve a house without extra expenses. CG experts could both add minor touch-ups to the problematic areas and completely remodel a house. In particular, they are able to transform the layout, change the color palette, as well as replace all finishing materials and furniture. With virtual design at hand, real estate agents can showcase the property's potential and customize the offer to a certain target audience.
Need interior renovation design for your properties? Contact our managers for virtual staging services and get life-like CG house remodeling in 48 hours!
https://virtual-staging.archicgi.com/wp-content/uploads/2021/06/interior-renovation-design-View05.jpg
350
800
luzina
https://virtual-staging.archicgi.com/wp-content/uploads/2020/04/archicgi-logotype-white-300x85.png
luzina
2021-06-01 16:30:52
2021-06-01 08:14:00
INTERIOR RENOVATION DESIGN: 5 WAYS DIGITAL STAGING CAN HELP WITH IT