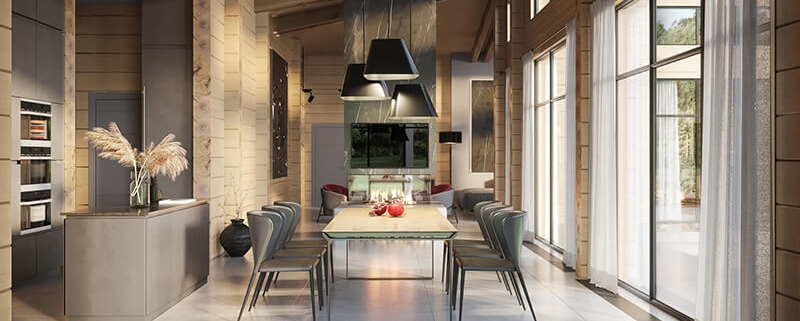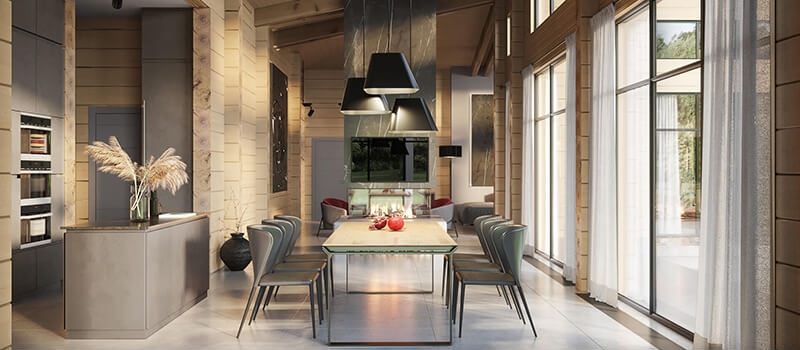 Virtual home staging is an excellent solution when Realtors are trying to sell empty or outdated properties. The thing is, because of such dull photos, a listing looks unappealing to potential customers.
Hence, they don't call a Realtor, so real estate stands idle on the market for who knows how long. Experienced Agents understand that even the minimal furnishing can solve this problem at once, but homeowners don't want to spend their money on physical staging. On the other hand, they would like to sell a house at the best price possible. So how can an Agent get competitive images and save money at the same time? In this situation, virtual home staging sounds like the most rational choice.
However, not all prospects trust listings with digital staging. They know CG technologies are widely used in real estate marketing, and sometimes dwellings look much worse in real life than on listing photos. 
And yet, to attract potential buyers and bring them to the showcasing stage, Realtors still need first-rate pictures. So, is virtual staging an option and what are the risks of ordering it from a virtual staging company? Read the list of benefits and disadvantages of virtual home staging and decide if it is worth trying.
Cons of Virtual Home Staging
Before

After
#1. CG Staging Can Create a False Impression 
Many prospects know about virtual staging and how dramatically it can change the property's photos, so it's harder for them to trust digital staging images. This could probably be the biggest drawback of virtual home staging, but there is also a solution to it. When communicating with clients, a Realtor should warn them that CG technologies were used in making these pictures. 
However, virtual staging allows future residents to see the real potential of housing and envision how their interiors may look like. It is also important to mention, that digital staging allows prospects to understand the proportions and spaciousness of rooms and get a full picture of the house. In the end, photorealistic virtual home staging made by professional 3D studio only helps to polish up the property's look like an icing on a beautiful cake. 
#2. Virtual Home Staging Can Put Too Much Gloss
Empty Space

Virtual Staging For A Cozy Bedroom

Furnished Bedroom
Some Agents may fear of a risk to overdo real estate 3D visualization. For instance, it can happen if Realtors ask bring too much gloss to it by putting luxurious furniture into a modest house. As a result, its pictures look quite unreal relative to its price, so prospects may think that a listing could be a fraud and skip it. For this reason, a 3D Artist who makes virtual home staging must have a good taste and vast experience to keep it real.
Professional Artists from a high-end 3D studio have a special design education and advanced skills. Therefore, they know what style will work perfectly for a particular dwelling and choose the most suitable solution. To get the best visual presentation for a property, Realtors should provide a 3D studio with their suggestions on style and budget. This way, they can be sure that final CG images will depict real estate according to its status.
#3. Hiring Freelancers for Virtual Home Staging is Risky
Although, there are different types of virtual staging software, not every Realtor knows how to work with it and has no time to make CG visuals themselves. In this case, some Agents choose to hire a freelance 3D Artist. However, sometimes one just can't rely on freelancers — they may fail the deadline, make low-quality images, and even disappear with the money. 
Therefore, the best choice is to contact a professional studio for virtual staging solutions. First of all, it is a steady option because studio's Artists went through a tough competition to get the job, so their professional skills are out of the question. Moreover, 3D Artists work in a team with Project Managers who control their workflow and take responsibility for keeping to the deadline. It is also very important that a high-end CG company has the best equipment and the latest virtual home staging software. Thus, there's a  solid guarantee that Realtors will receive top-notch images just in time.
Advantages of Virtual Home Staging
Before

After
#1. Virtual Staging is Cost-Saving
One of the main advantages of digital staging is that it is a budget-friendly option. With virtual staging, a Realtor doesn't need to spend money on physical interior arrangement, which includes furniture and transport rental, as well as hiring movers and a photographer. In the end, the traditional home staging expenses for the whole house could be more than 1000$ per month, while the price for its digital alternative is an average of 60$ for 30 photos. 
Such a reasonable price is explained by the fact that no additional resources are needed to create CG images. The main thing that affects the cost of virtual staging is turnaround time or TAT. TAT, on the other hand, depends only on the time a 3D Artist spent working on the project. Also, it is possible to reduce TAT thanks to to the smart time-management and powerful computers that professional virtual home staging companies equip their employees. Thus, in-house studio Artists have all the opportunities to work quickly and efficiently, spending less time, and saving Realtor's money.
#2. Digital Staging is Faster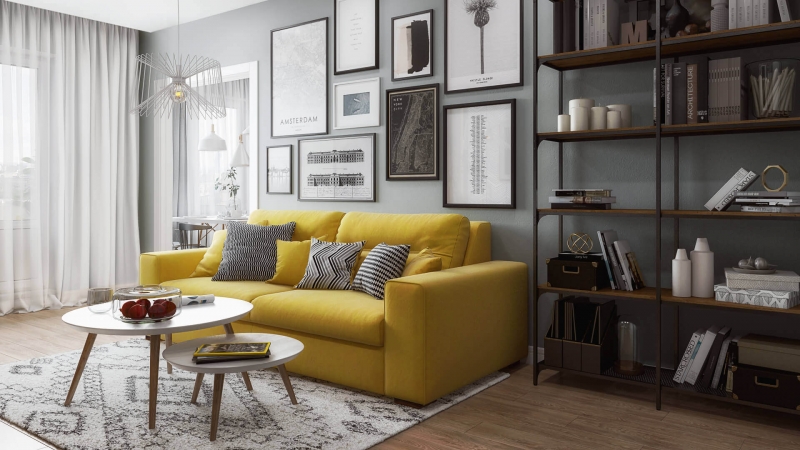 The process of making high-quality CG images depends on 3D Artists' skills and equipment only with no external factors. And, as mentioned above, a reliable CG studio has everything they need for a fast and effective workflow, so a Realtor gets the impressive result without a delay. On the other hand, there are so many risks that can postpone or even stop the physical staging process. These could be the lack of necessary furniture in the warehouse, a broken transport, or an unreliable moving company — even one small obstacle can delay the staging for a day or more. 
#3. Artistic Vision Has no Limits with CG Imagery 
Before

After
Unlike decorators who make physical staging, 3D Artists are not limited by the catalog of real furniture. Moreover, they don't need to pay attention to prices and calculate the final bill for an entire equipment set. Using CG technologies, Artists can choose any furniture models for the virtual home staging — all they need are high-quality photos of a dwelling and Realtor's suggestions on interior style. This way, an Agent can adjust digital staging for any target audience by choosing a modern or a traditional interior style, as well as making it minimalistic or adding more opulent elements to it.
#4. Virtual Home Staging Unveils the Best of Real Estate 
It is difficult for prospects to understand the size of the house and room proportions without furniture. They simply can't appreciate the architectural advantages of a property, such as high ceilings until they see pictures of a full-furnished room. In fact, the only way to convey the dimensions of the room on the photo is to fill it with objects of different sizes. This way, the human eye will be able to determine the proportions of the room, by comparing the size of objects in it. 
In addition, virtual home staging is an amazing opportunity to showcase the subtle features of the dwelling that are not so visible on photos. For example, to emphasize how spacious is a house, 3D Artists can use added lighting, neutral furniture, and wall mirrors to expand the room and open up the space. To draw prospect's attention to high ceilings and large windows, CG specialists can furnish the room with light low profile furniture and lightweight materials, and so on.
#5. Virtual Home Staging is Multifunctional 
Before

Virtual Renovation

After
Another big benefit of virtual staging is its versatility. Having ordered it only once, a Realtor receives visuals that can be used for multiple purposes – on a website, social networks, for listings on special platforms, email marketing, etc. Moreover, unlike traditional photos, virtual staging is a more flexible option — it allows to update furnishing, replace decorative elements and change interiors at any moment if necessary. This way, the visual content can be adapted and used for various promo channels in the future.
In addition, jaw-dropping CG images look great in print magazines, brochures, booklets, and even outdoor advertising. Speaking of magazines, photos of empty rooms don't work there either — property should look as stylish as possible both for ads and editorial materials. Moreover, top-notch images are perfect for Realtor's booklets and brochures to outstand an agency among competitors on real estate exhibitions. As for outdoor advertising, billboards and banners require eye-catching visuals, so only mind-blowing pictures get bypassers' attention.
Surely, Real Estate Agents should weigh the pros and cons of virtual home staging before ordering it. However, what are the risks? Virtual staging doesn't take much of your effort, it's an affordable and time-saving solution. One of its biggest advantages is photorealistic quality that outstands a listing among other offers on the market and attract prospects. Equally important, with the help of CG technologies Realtors can avoid crazy expenses on physical staging. Collaborating with 3D Artists, Agents can save the budget on pictures and invest their money into the promotion of services and listings.
If you have decided to try virtual home staging, contact our 3D studio for virtual staging services and get a 100% photorealistic high-quality images at a reasonable price.
https://virtual-staging.archicgi.com/wp-content/uploads/2019/09/virtual-home-staging-pros-and-cons-View01-e1586944886249.jpg
350
800
luzina
https://virtual-staging.archicgi.com/wp-content/uploads/2020/04/archicgi-logotype-white-300x85.png
luzina
2019-09-13 16:30:06
2020-04-15 10:01:31
VIRTUAL HOME STAGING: PROS AND CONS FOR REALTORS