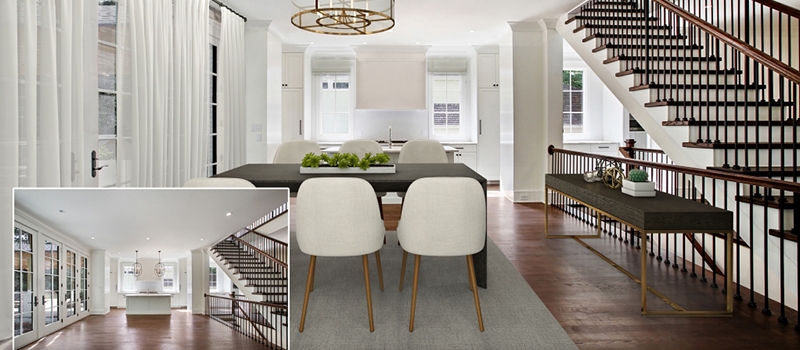 Marketing strategies for real estate are probably the biggest challenge for the agency's marketers. The reason is as simple as it is – the market is volatile and it's not easy to grab the potential buyers' attention in such a competitive environment. In the era of digitalization, it becomes more and more difficult to surprise customers, draw them into a particular sales channel and make them buy. Simple listings and home descriptions do not work anymore. Moreover, before the showing, there has to be a prelude, which absolutely happens first on the Internet. 
As a matter of fact, 4 in 10 buyers search for homes on the Internet as the first step in the home buying process. The same report of the National Association of Realtors states that 94% of millennials and 84% of baby-boomers look for their potential homes online. Thus, the question of learning online real estate market trends arises like never before. 
To help real estate marketers address such a challenge, here are 5 creative ideas for visual content that can make any online marketing channel attractive and shine amongst others. 
#1. Ebook to Solve the Problem of the Target Audience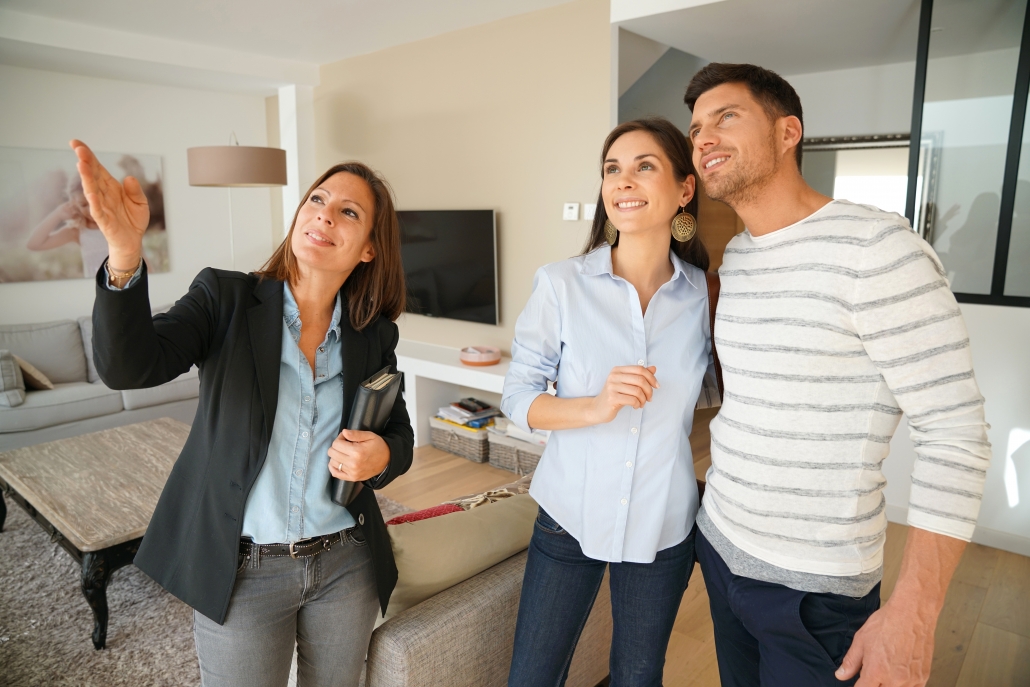 One of the most effective marketing strategies will be focusing on one big problem of the target audience and solving it with an ebook. It is not that sales-y as other tactics but presents you as an expert in the industry. Usually, they are used for the lead generation and placed on landing pages that proceed to an official website. 
So, the best way to write an ebook is to concentrate on one particular problem and provide a detailed answer to the readers. Marketers can check highly-researched real estate keywords via Google Keyword tool that also describes people's concerns. The very next step is to cover the topic accordingly, with infographics, comparison tables, photos, and so on. For example, "How to find a dream home in San Francisco?" or "Newlyweds? How to purchase mid-class property on a tight budget?", etc. It's very important to input a CTA to solicit the desired action from leads.
#2. Storytelling to Enhance Visuals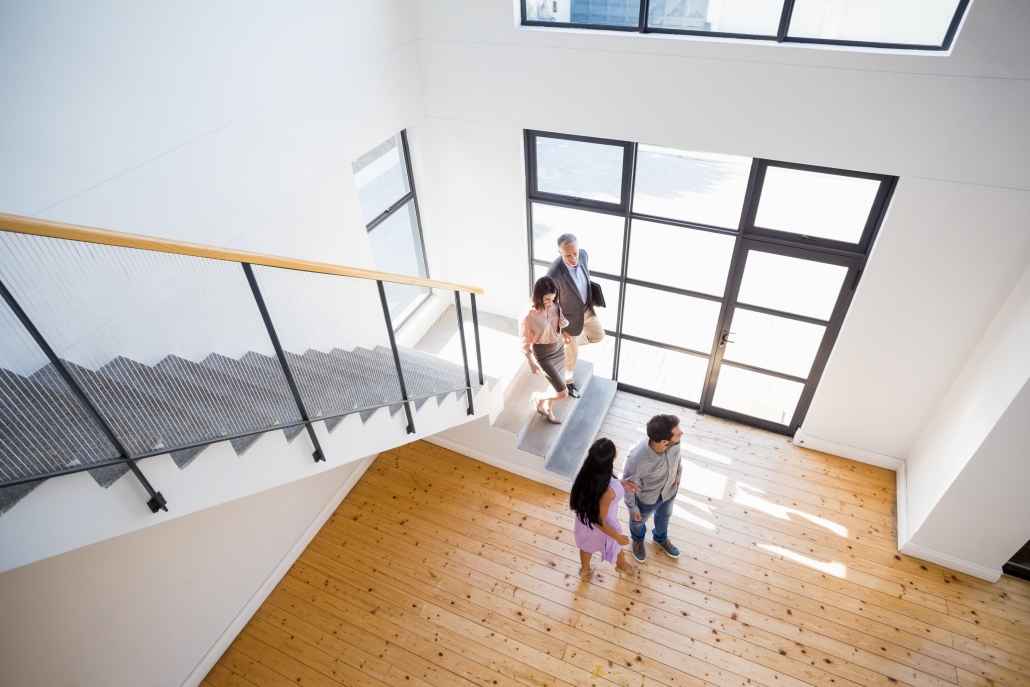 Storytelling might serve a good deal for real estate marketing. Visuals spiced up with appealing life stories can tap into people's dreams, emotions, memories, and so on. Telling the story of how a son helped parents buy a home without a mortgage will definitely resonate with grateful adult children. Or, the story about two couples that have bought a home with one mortgage will appeal to many newlyweds or young families. 
Herewith, marketers can add some photos, short videos, before-after slides, or any other evidence that a dream can come true in the life of anyone visiting your website's blog. Short targeted storytelling works great for Instagram, especially for Instagram Stories. It is recommended to use relevant hashtags and links in bio to be found by people right away. 
#3. Virtual Staging to Convince Prospects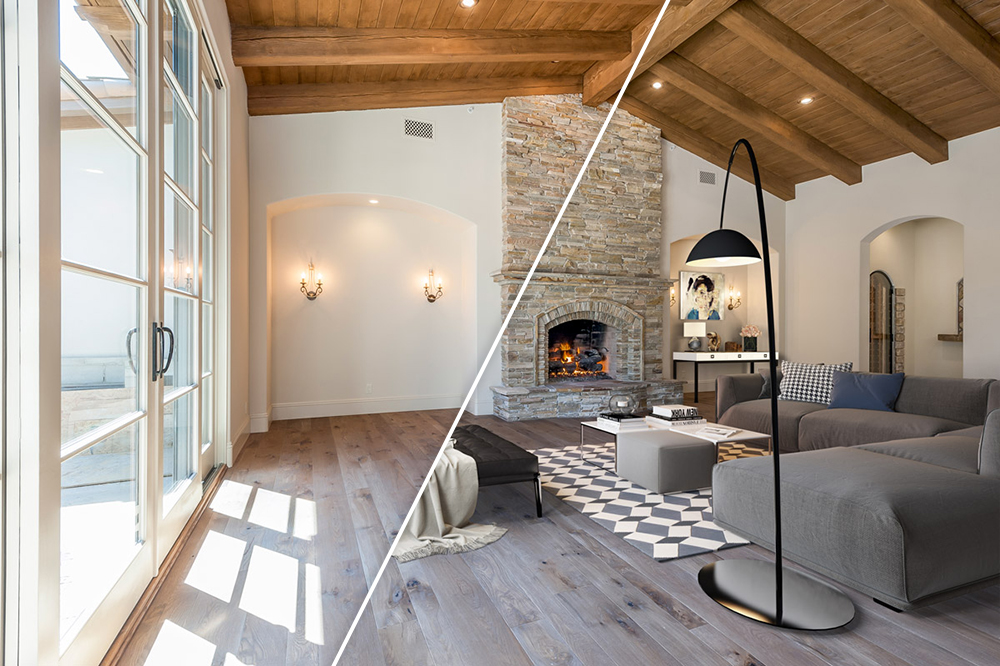 Another effective real estate marketing trick and hack – staging virtually the design of the room and this way highlighting its selling points. In fact, virtual staging came as a sheet anchor for real estate agents. They are fed up with staging the rooms physically and then have them photographed. With virtually staged photos, marketers kill many goals with one shot – it might be used as for the site, as for social media, advertising platforms, etc. Also, if real estate agents struggle with selling as-is property, virtual staging includes the decluttering feature. It means that the specialists can remove digitally certain things from the room or a house to showcase its potential. 
Virtual home staging allows designing the room by the latest trends, adding accessories, furnishings, decor elements by the needs and wants of the target audience. Prospects can have a highly progressive, realistic view of what the house could look like and assess the property from this perspective. This, in due turn, increases the chances of the property to be sold. Besides, it is proven by Real Estate Staging Association that staged homes are sold 73% faster than their non-staged counterparts.
#4. Video Testimonials to Get Trust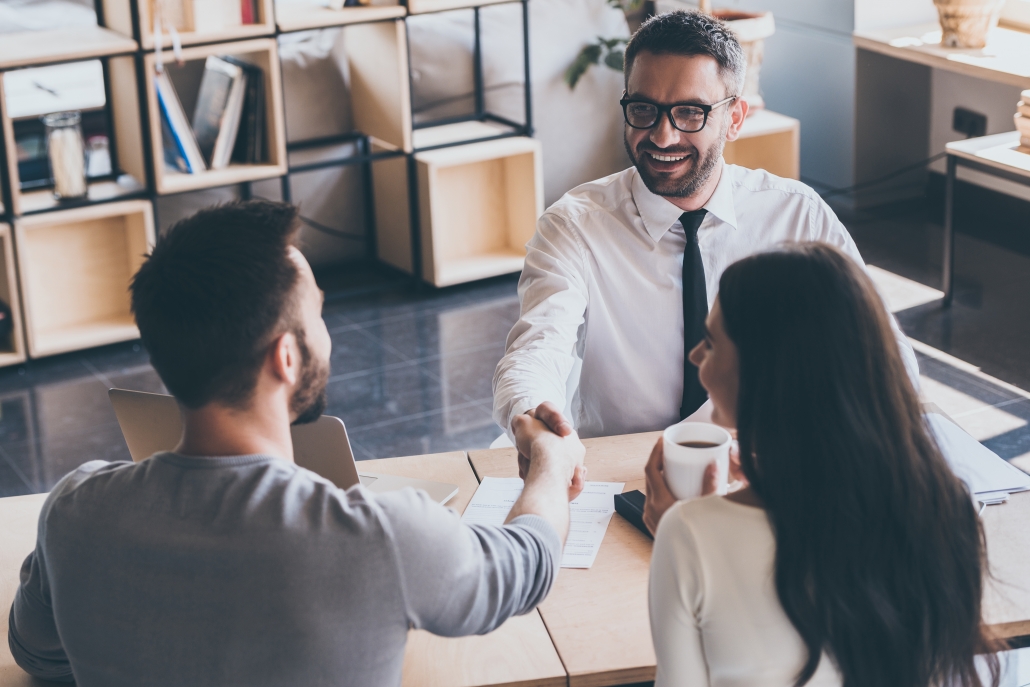 Gaining trust should be an integral part of any real estate marketing. It especially makes sense for people who are surveying luxury homes and whose commission paycheck is calculated with thousands of dollars. Thus, video testimonials are a great way to demonstrate that the agent and agency are professionals and can be trusted.  
So, these could be quick post-closing testimonials where clients share briefly their success stories. They can thank an agent by name and say how happy they are to live in their new house. Herewith, they mention all the benefits of collaboration with the agency, such as efficient marketing, well-organized communication, solid negotiation skills, etc. The video might go then to the agent's personal Youtube blog or the agency's website, be shared on social media with tagging everyone involved. As a result, it gets huge exposure and people's trust.
#5. Virtual Tours to Impress Customers
If virtual tours constitute a part of real estate marketing, the agency will always close more deals than competitors. Here's why. A virtual tour is a combination of 360° swiveling images that are interconnected allowing prospects to walk around the room or the whole residence virtually. It is a dynamic, interactive way to assess the space's every corner and the contents prior to the showing. It is super convenient for both – real estate agents and potential buyers as it saves time and meantime provides all possible insights into a dwelling. 
In simple words, a virtual tour provides an all-around and accurate preview of the home for potential buyers. It can also be accompanied by music. Furthermore, with actual VR equipment, a virtual tour can be turned into a real experience with the presence effect, even if the prospects are halfway around the world. Like virtual staging, it applies to any advertising or sales channel – be it social media page, website, or such real estate marketing platforms like Zillow and Nextdoor. 
In a highly competitive environment where marketers have to fight for high rankings on the Internet and every visitor on their website, these simple creative ideas can make a huge difference. They are able to bring diversity, dynamics, interactivity, fun and meantime expertise to already existing real estate marketing strategies. By nature, they are designed to expand and improve the customer experience on any advertising channel and by that bring about more deals. 
Willing to diversify your listings, make your website and social media pages more eye-catching and deals driving with top-notch visual content? Contact our ArchiCGI team for virtual staging services. We promise you'll shine amongst thousands in your industry.
https://virtual-staging.archicgi.com/wp-content/uploads/2020/01/real-estate-marketing-5-ideas-for-visual-content-view1-e1586940975222.jpg
350
800
vysotskaya
https://virtual-staging.archicgi.com/wp-content/uploads/2020/04/archicgi-logotype-white-300x85.png
vysotskaya
2020-01-23 16:30:09
2020-04-15 08:56:19
REAL ESTATE MARKETING: 5 CREATIVE IDEAS FOR VISUAL CONTENT