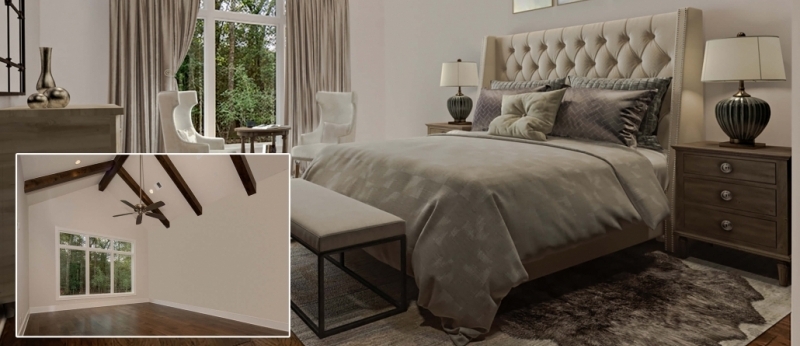 Real estate agents have been staging homes for a while as a way to attract customers. In the earlier days, this involved photography of physically staged furniture. With the popularity of 3D visualization and the rise in online shopping, however, realtors are increasingly adapting to remodeling furniture for virtual staging. 
Using virtual furniture is rewarding, and comes with a very unique set of benefits. That being said, it can be very time-consuming. Designing furniture 3D models from scratch for the purpose of virtual staging is laborious to start with, and it takes a while to reach the creative stage of the process. In a highly competitive industry such as real estate, this can be a tough act to balance. Fortunately, there is a way to find a middle ground – using readymade furniture 3D objects. These can be downloaded from various websites just like stock photos and videos, and have gained immense popularity over the last few years. 
With the ever-increasing popularity of virtual staging, the number of marketplaces and their offerings has increased by leaps and bounds. There are now hundreds of online databases that offer thousands of designs of furniture for virtual staging. This can sometimes make it overwhelming for designers who need to choose the right model at the most affordable price. How can a designer determine if the marketplace and furniture designs they want is worth the price? The key is to find the right marketplace. 
Here are the top 10 websites that designers can download 3D models from to render furniture for virtual staging:
#1. Thingiverse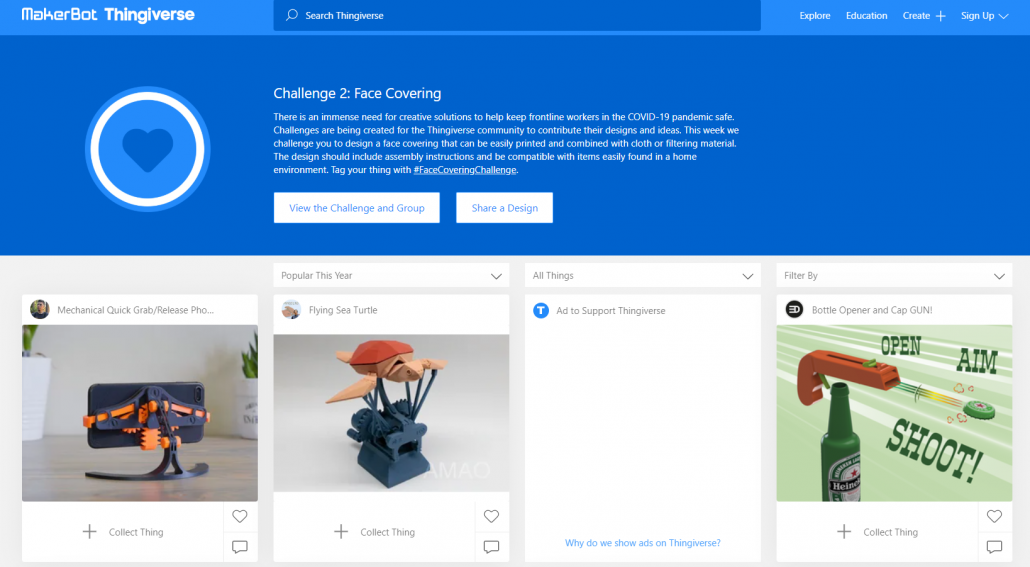 Website: https://www.thingiverse.com/
One of the biggest and most popular 3D model databases, Thingiverse was launched in 2008 and owned by MakerBot till it was acquired by Stratasys. The website has over 1,000,000 different ready-to-use models called "things." All offerings are free and open-source and licensed under the Creative Commons or GNU General Public License. All of the "things" featured on Thingiverse are extensively used by those working with hardware including Maker communities, DIY enthusiasts, and designers of furniture for virtual staging. 
Thingiverse has several customizable furniture models that are ideal for virtual staging. These are known for their practicality, vibrancy, and attention-to-detail. The website itself is intuitive and easy to navigate, making browsing on it a breeze for even the most novice of visitors. Thingiverse also has an active community of enthusiasts and professionals who are experts in virtual staging. It even has a dedicated platform for easy-to-follow tutorials suited for beginners and experts alike. 
#2. 3D Warehouse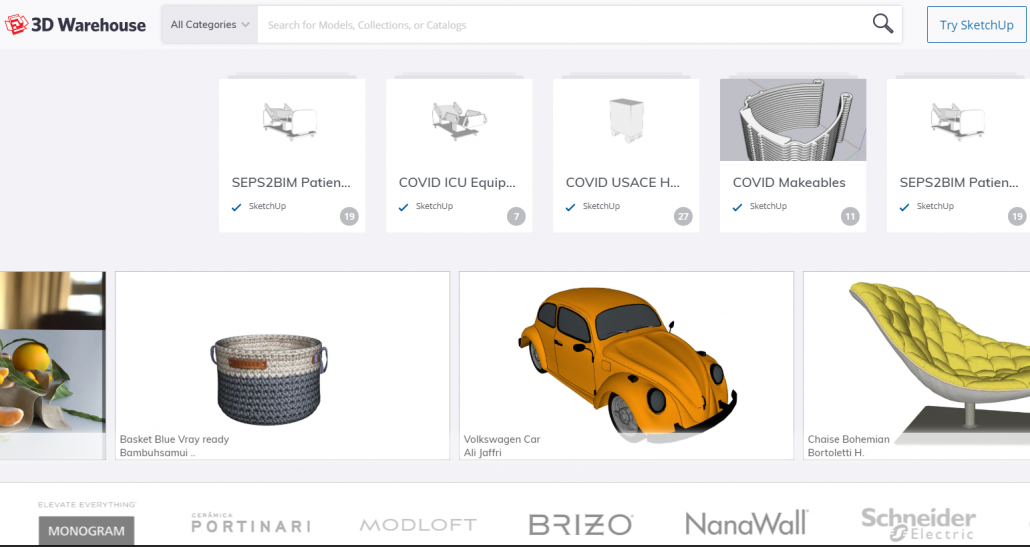 Website: https://3dwarehouse.sketchup.com/
One of the most popular offerings of the Trimble-owned SketchUp, 3D Warehouse is a specialized open library of 3D models and designs for conceptual purposes. The website hosts over 3 million free-of-cost items that are ideal for detail-oriented tasks such as scale modeling, architecture, remodeling furniture for virtual staging, and product designing in general. All of their offerings on its catalog have been originally created in parent software SketchUp, while most can be printed with the help of 3DPrintCloud. 
3D Warehouse is widely known as one of the most flexible databases. Popular among beginners and highly-skilled alike both within the SketchUp community and beyond, the website has designs that vary from simple to highly complex. Users can easily create, modify, and then re-upload their customized designs free-of-cost. The file size has a limit of 50 MB and can be downloaded directly onto SketchUp or any other software such as Revit or AutoCAD. 
#3. GrabCAD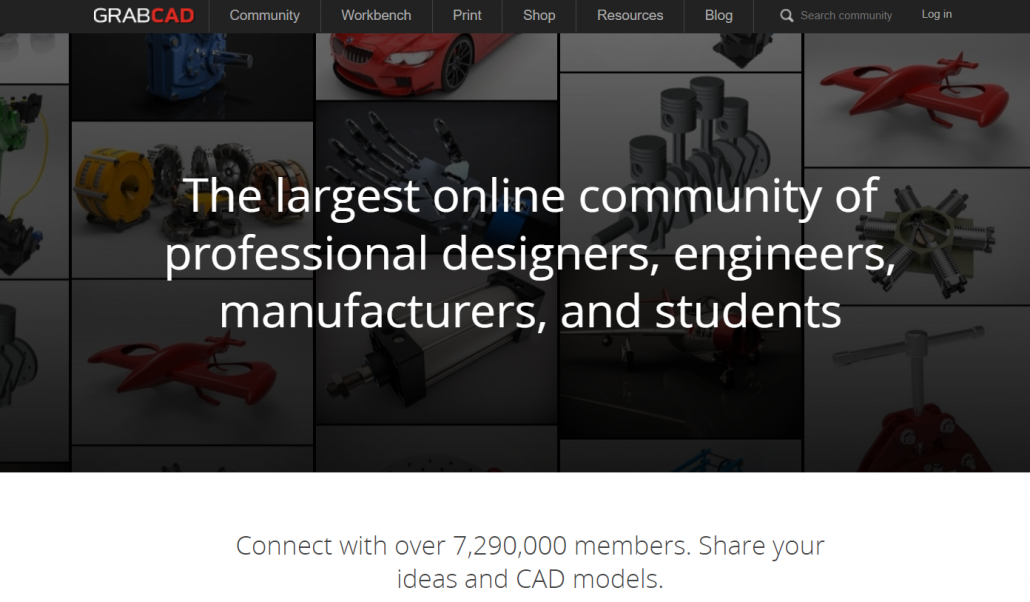 Website: http://www.grabcad.com/
Owned by Stratasys, GrabCAD is technically a cloud-based collaboration software for engineering teams to share CAD files. Though not strictly intended as a repository, GrabCAD does have a comprehensive database of 3D models that have been generated by its 5-million strong member community of engineers, manufacturers, and designers. The database itself consists of millions of free and paid user-generated designs, which are known for their versatility. For this reason, they are highly popular among a wide range of industries, including real estate, which often requires 3D modeled furniture for virtual staging.
Given its origins, GrabCAD falls a little outside the conventional database. For starters, its designs are almost-exclusively scale and technical-oriented. This means that while categories such as gadgets and furniture are included, those like art are not. GrabCAD allows users to filter items not on the basis of characteristics but on that of the software they were originally created in. The website also has added textures for each model – which is a rarity among these databases. What really sets GrabCAD apart, however, is the fact that it allows users to easily connect and even collaborate with any of the millions of professionals who are members on the platform.
#4. Cults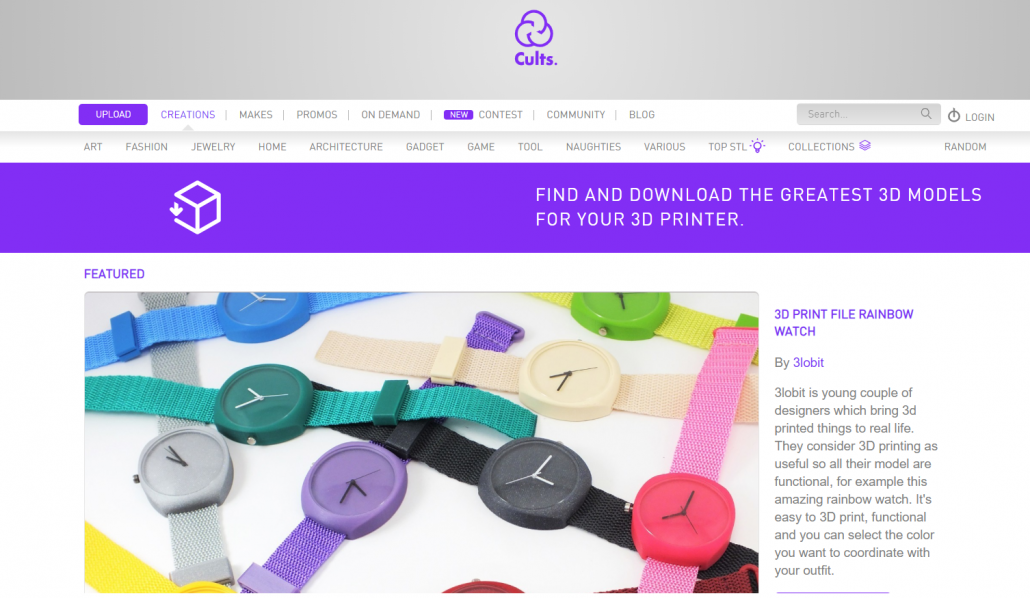 Website: https://cults3d.com/en
Founded in 2014, Cults is the first-ever fully independent marketplace where designers can easily download a 3D object. Often called the "social network for 3D printing professionals," Cults is super-popular in the virtual staging industry, and is an excellent example of smart planning and execution. For starters, the name itself is a semordnilap – spelled as "St-Luc" – the patron saint of the arts, when read from left to right. The platform also has, within a short time, managed to feature unique projects such as the BB8 Star Wars droid, and garner partnerships with the likes of 3DSlash and Boulanger. 
Cults has over a million download-able models that range from basic to high-quality professional. Most designs on the marketplace are free-to-download, but some are priced at a slightly higher rate. The database is well-arranged and can be filtered on a variety of criteria. Model types include art, fashion, jewelry, architecture, and furniture for virtual staging. Last but not the least, the website allows professionals and enthusiasts to interact on its platform, creating a targeted social network.
#5. Pinshape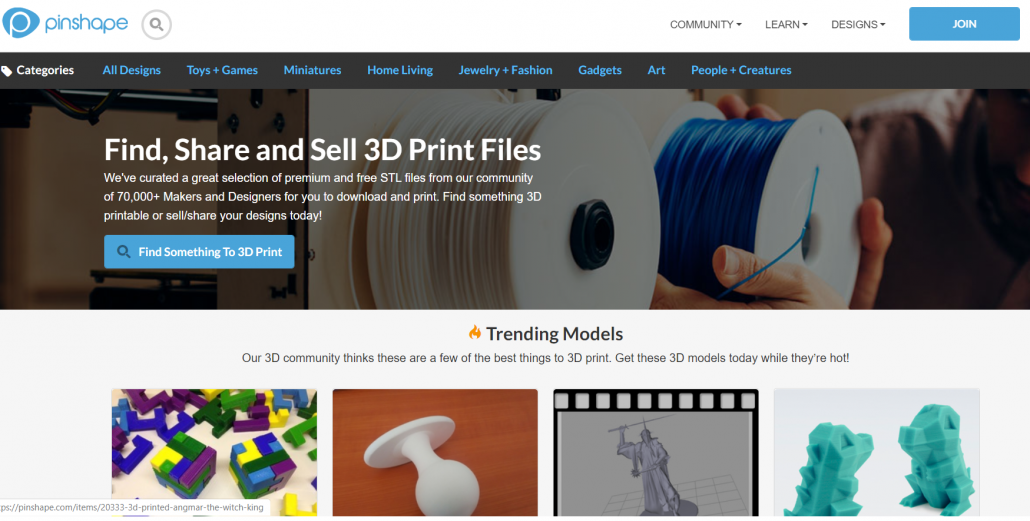 Website: http://pinshape.com/
Pinshape is an online marketplace and community, owned by the Massachusetts-based Formlabs. Often regarded as a direct competitor to Makerbot's Thingiverse, the platform boasts thousands of select 3D model designs in the form of stereolithography (STL) files. Categories include art, education, technology, and furniture, among others. Unlike Thingiverse, however, not all items on Pinshape are free-to-download – a good percentage of models here are available only at premium rates. Pinshape is known for its immense popularity amongst creatives.
Being backed by Formlabs gives Pinshape's users some distinct advantages. For starters, the website itself is visually represented and the models are logically organized, making navigation smooth and easy. Secondly, the models themselves are very versatile – ranging from artwork to complex designs, such as those used to create virtual furniture staging. Last but not the least, Pinshape has its own community of professional designers, who are always willing to help out newbies and enthusiasts. 
#6. MyMiniFactory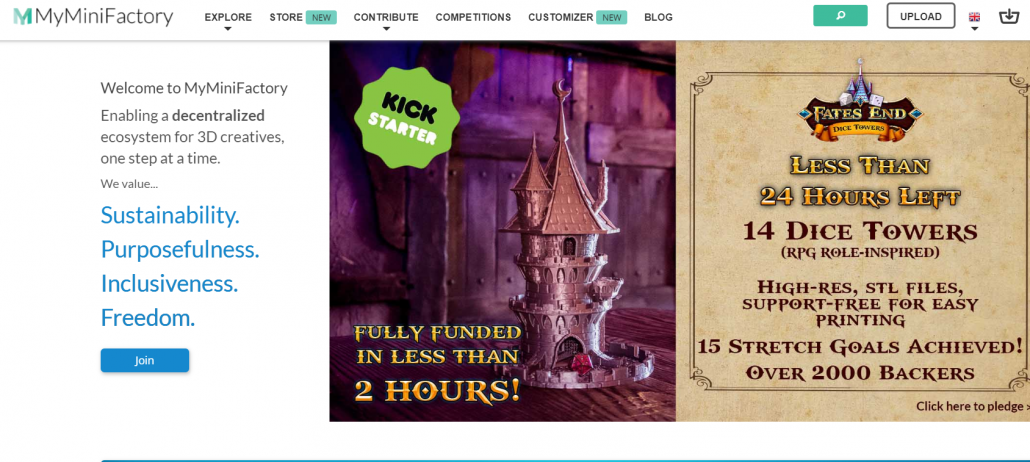 Website: https://www.myminifactory.com/
Touted as the "Youtube for 3D Printing" with over 2,700,000 active users, the London-based MyMiniFactory is an independent provider of 3D models for creatives and professional designers. Despite being launched in 2013 and being relatively new to the repository marketplace, MyMiniFactory has made a name of its own, having bagged partnerships with high-profile enterprises such as  Exxon Group, Google, and Royal Mail. It also works with furniture manufacturers such as IKEA. It's Autodesk partnership, in particular, makes it highly recommended by designers who render furniture for virtual staging.
MyMiniFactory is known to value quality over quantity and offers just over 60,000 models from around 13,000 different contributors in both free and paid versions. Every single model here is highly scrutinized for its quality and practicality and is suitable for both printing and visualization. There are several categories, including upcycling, education, art, jewelry, gadgets, and of course, furniture. It is also home to the famous "Scan The World collection" – an exclusive database of 3D scans of artifacts and statues from all over the globe. 
#7. Threeding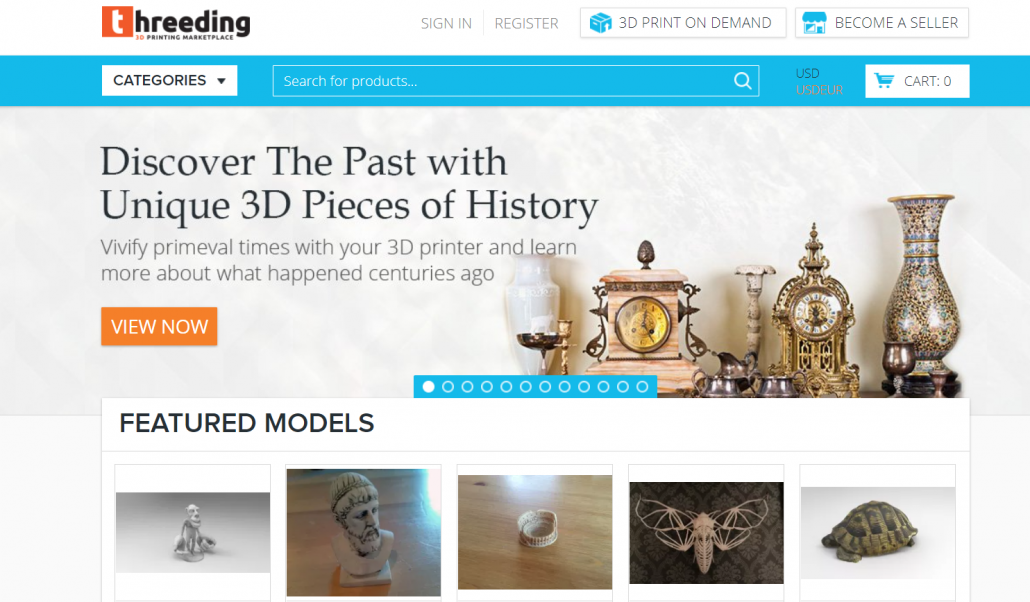 Website: https://www.threeding.com/
Started in 2013 as an online community by design students of the Bulgarian National Academy of Arts, Sofia-based Threeding has grown to become one of the most popular repositories for virtual staging. Given that Threeding is 100% bootstrapped, it does not have any high-end features. In fact, a good portion of its platform is still under construction, and many items are yet to be officially featured. With that said, the parts that do work are pleasant on the eyes and easy-to-navigate. 
Threeding is known exclusively by the quality of its materials. There are thousands of 3D designs organized into categories. Many offerings are that of furniture, making it an ideal marketplace for finding models of furniture for virtual staging. These can be downloaded as STL files in both free and pay-to-download versions. Threeding also has an exclusive store of 3D scans of artifacts from leading museums of history and archaeology in Eastern Europe. 
#8. YouMagine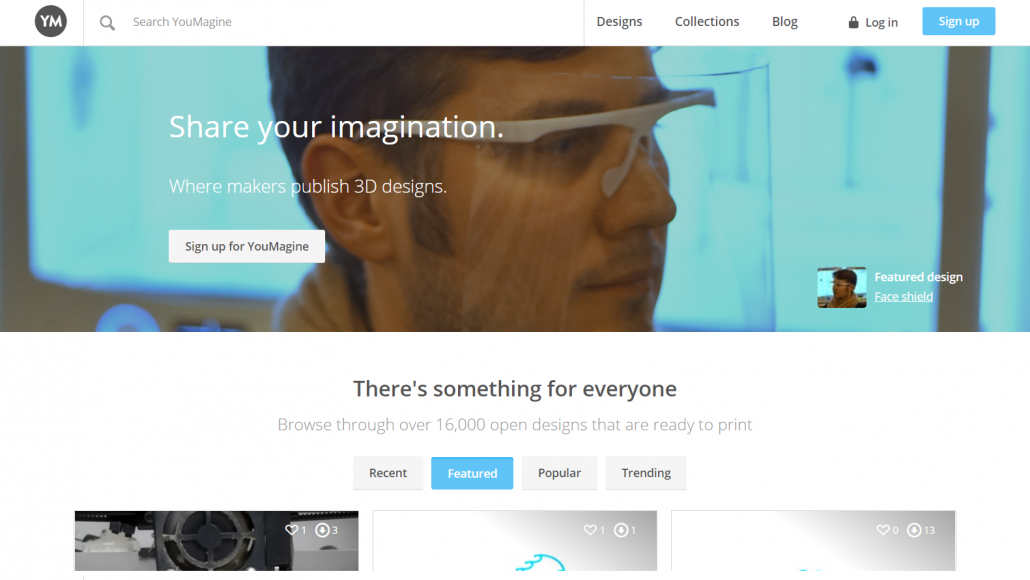 Website: https://www.youmagine.com/
YouMagine is a comprehensive database of 3D models owned and operated by the Netherlands-based Ultimaker. Like Makerbot's Thingiverse, YouMagine values open-source and free sharing and does not charge for any of its offerings. The platform features over 15,000 different designs for printing that range from basic to complex and include several different categories from art to gadgets to furniture and beyond. Examples of furniture models include the futuristic LED chair and the highly-popular DIY ping-pong table.
YouMagine's designs are known for their rich details and practicality and are suitable for visualization. There are over a hundred different models on the platform that is ideal for rendering furniture for virtual staging. Many users have reported having any model of their choice being printed in a matter of a few clicks. This comes with a caveat, however. Since the platform also caters to the latest Ultimaker 3 printer that can work with water-soluble materials, some of the complex designs cannot be printed via traditional FDM printers.
#9. Turbo Squid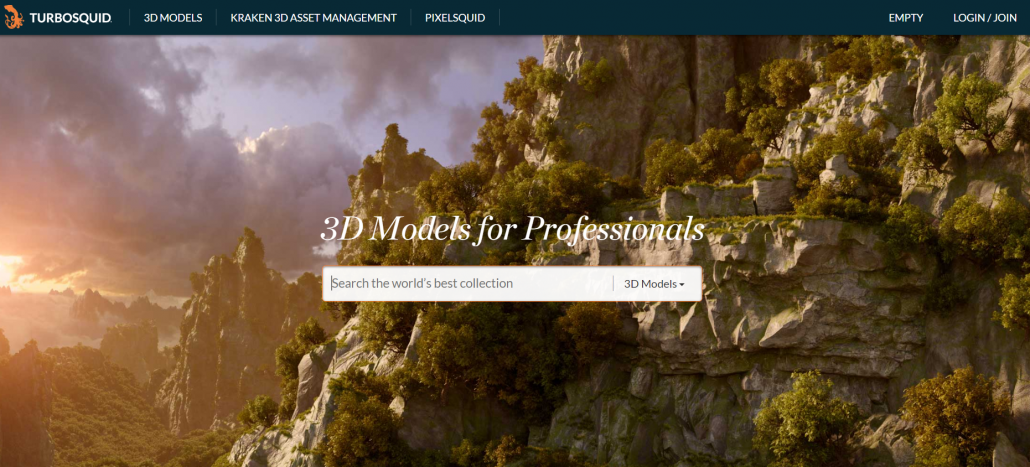 Website: https://www.turbosquid.com/
Founded by Chimera alumni Matt and Andrew Wisdom in 2000, Turbo Squid has been around for a while but has only gained recognition in recent years. Based out of New Orleans, the platform has over 20,000 active contributing designers – making it one of the largest maker communities on the internet. It hosts over 800,000 3D models in its catalog across scores of different categories such as art, furniture, technology, home, and education. It also has a separate collection of 130,000 related products like texture maps, which are extensively used in virtual staging.
Unlike free repositories, TurboSquid works by brokering the sale of pre-made models and earns revenue by charging a certain percentage of the sales amount as commission. Offerings are typically priced in the $20-$150 range, but some higher-quality complex designs can be pricier. The range is huge, and the categories covered are wide-ranging. Examples include rigged vehicles, anatomy models, and 3D modeled furniture for virtual staging.
#10. Yeggi
Website: https://www.yeggi.com/
Touted as the "Google of 3D modeling databases," Yeggi is one of the most-cited platforms of readymade designs on the internet. It was founded by German startup veteran Sebastian Karpp and is based out of Leipzig. Rather than functioning as a dedicated repository for STL downloads, Yeggi functions as a search engine that aggregates and features items from other top databases such as YouMagine and Thingiverse. Many designers who virtually stage furniture often end up here, since it pretty much features all there is to offer.
Yeggi has over 2,300,000 designs on its database. These can easily be organized on the basis of various common filters, making browsing smooth and easy. Those searching for specific items can also find them easily by entering relevant terms in the search bar. Yeggi features thousands of 3D models of furnishings, ranging from dollhouse furniture to that of high-end luxury homes. This makes it one of the best destinations for designers to find models of furniture for virtual staging.
When it comes to designing digital furniture, time is a crucial factor. Having a readymade model that designers can work from makes the process easier as well as time-saving. Databases and repositories can be very helpful, but they are not the best in terms of quality-control. Instead of wasting precious time looking for furniture models and then customizing them for virtual staging, real estate agents can directly contact a virtual staging studio. 
Virtual staging studios are dedicated to rendering 3D models and scenes for industry professionals. They have a readymade database of select high-quality items that they use to render any scene that the hiring party requires. They allow businesses and companies to get high-quality rendered scenes – without them having to spend any extra time or added creation costs. At ArchiCGI, we have over 40 000 different models in our catalog that are suitable for all kinds of occasions and purposes. 
Interested in using virtual staging for your real estate business? Contact us at ArchiCGI – our team of dedicated professionals offers top-notch virtual staging services that can take your business to the next level. We can render complete scenes with room layouts, digital interiors, and virtual tours – no extra time, cost, or experience necessary on your part.
https://virtual-staging.archicgi.com/wp-content/uploads/2020/04/furniture-for-virtual-staging-10-sites-view-e1588092283673.jpg
346
800
vysotskaya
https://virtual-staging.archicgi.com/wp-content/uploads/2020/04/archicgi-logotype-white-300x85.png
vysotskaya
2020-04-29 16:30:41
2022-02-11 12:13:13
FURNITURE FOR VIRTUAL STAGING: TOP-10 WEBSITES TO DOWNLOAD 3D MODELS