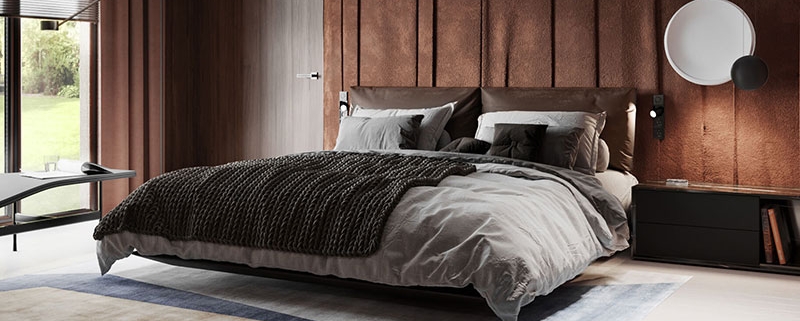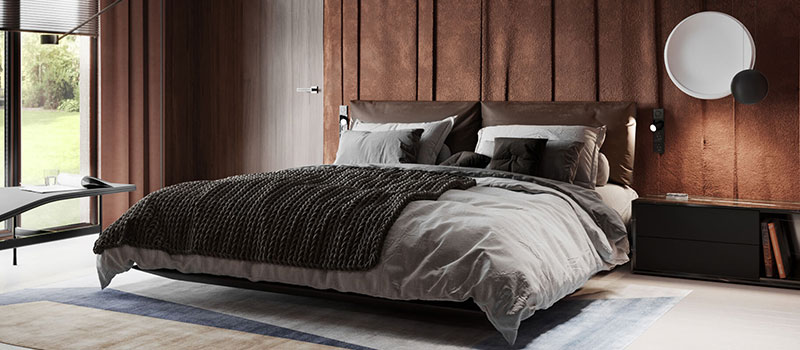 Selling empty properties on the luxury real estate market is quite a challenge for realtors. A vacant house looks uncomfortable and deserted, especially if it is a large and spacious expensive dwelling. To make this place feel like home, realtors have to rent or buy first-class furniture and hire decorators for luxury home staging. All in all, depending on the cost of a house and its square footage, the price of physical staging can go up to tens of thousands of dollars.
Moreover, both sellers and buyers of high-end homes are demanding and each one has their own taste. Realtors can't just use the same furniture staging for all projects because they're supposed to sell a unique lifestyle and experience. Therefore, one needs to find staging professionals who offer an individual approach and a slew of custom-tailored solutions.
Both these problems can be solved by choosing CGI for furniture arrangement and restyling. CG artists from a virtual staging studio can create luxury home staging in any interior style without spending a dime on physical furniture and decor. Intrigued? Here are 5 ways they can do it for you. 
#1. Furnish Properties with High-End Brand Furniture 3D Models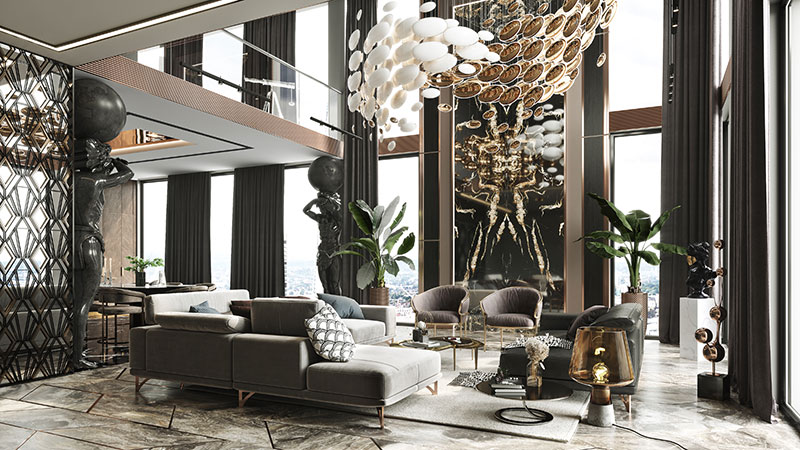 With virtual luxury home staging, you get coveted interiors that top prospects can call home and not overpay for furniture and accessories. How come? 
Reputable CG studios provide real estate agents with access to their digital library of 3D furniture pieces and ready-made sets. For example, we have 50,000 models and 6,500 scenes in various interior styles. Using the library, realtors can select any item or furniture set they like and our CG team will add it to a real estate photo.
Our database contains trendy furniture, home appliances and decor from famous designers and top brands. Thus, you can easily find ones that will work for your property. Moreover, we never use the same furnishings for different luxury home staging projects. Our CG artists tailor each 3D item and scene to the needs and tastes of your clients. They can even make a 3D model from scratch if a customer wants a specific furniture piece that we don't have in our library.
#2. Renovate Interiors Using Sumptuous Materials and Textures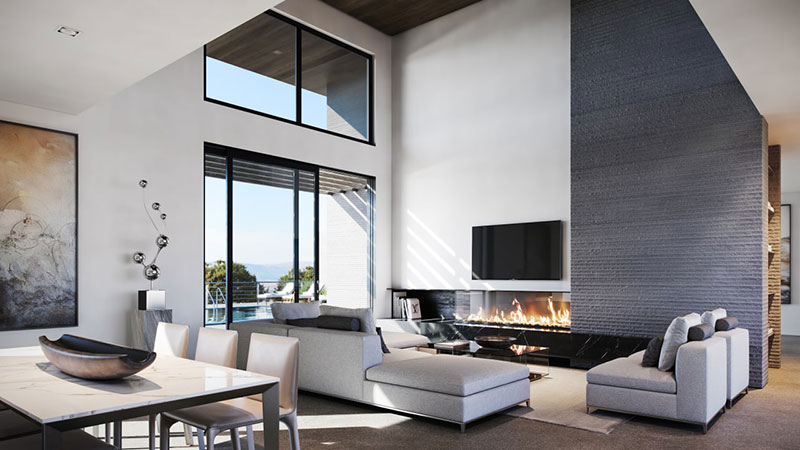 If house interiors are out of style and don't do justice to the property, it's better to reconsider the interior design and make a virtual renovation. Unlike physical luxury home remodeling, CG solutions don't require buying expensive materials and hiring a construction team. All work could be done by one or a couple of 3D artists in CG software.
With CG programs and texture libraries at hand, they can transform home interiors and use any kind of luxurious materials you can possibly imagine — mahogany, oak, exotic African woods, granite, different types of marble, silk wallpaper, bronze, leather, etc. 
However, it's important to not overdo luxury home staging with excessive decorative features and bright finishes. People buy such properties for the view and spaciousness, not for the staging. Therefore, GG artists tend to use light neutral hues and add a bit of shiny finishings here and there. This way virtual interior design won't steal the show but represent the property at its best.
#3. Decorate Luxury Homes with Top-Class Art 3D Pieces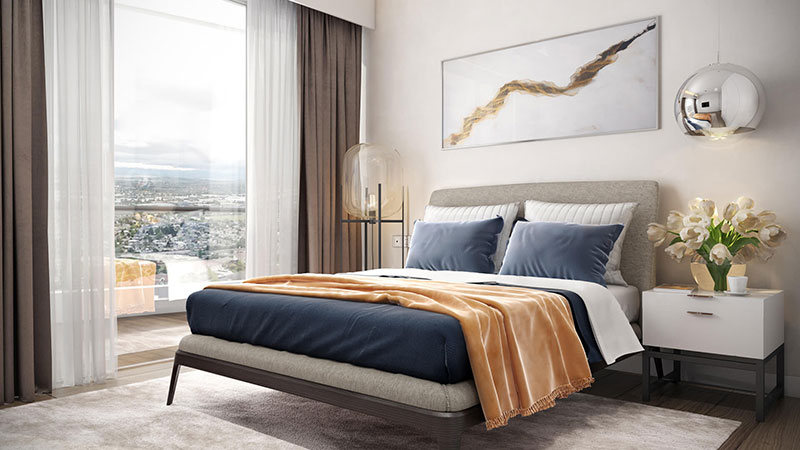 Working on luxury home staging, one should carefully select artworks to enhance the style of a property and add deluxe accents. Surely, finding art objects is not an easy task, especially for high-end houses. And though choosing expensive collectible art pieces sounds like the right thing to do, we wouldn't recommend using them unless the seller insists.
The thing is, artworks should complement home interiors but not distract buyers from the real estate itself. At the end of the day, you're not selling art. So the best option for CG luxury staging is to use low-key abstract paintings and sculptures. This way prospects will see that a house has room for art and visualize how they will display their own art collection in a new home.
#4. Enhance Opulent Vibe Using Outdoor CG Styling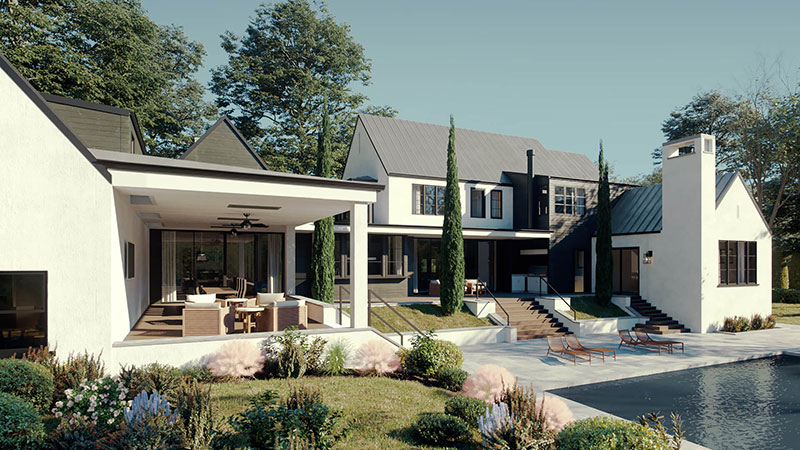 Using CGI, it's easy to improve the outdoor space too. However, it's vital to not over-transform the exterior, otherwise, you can create a false impression of the property. Our CG artists are very careful with outdoor improvements — usually, they do something simple such as refreshing the lawn, adding flowers and plants, retouching some minor defects, and repainting the house in any shade a realtor wants to.
As for the terrace and backyard, they restyle these zones depending on amenities you want to highlight — a tennis court, pool, garden, patio, and such. Our CG experts can tweak those areas and add outdoor furniture and decor, an open fireplace, or a hot tub so that the outdoors become the same welcoming and cozy as indoor spaces. 
#5. Try Various Luxury Interior Styles for Different Clients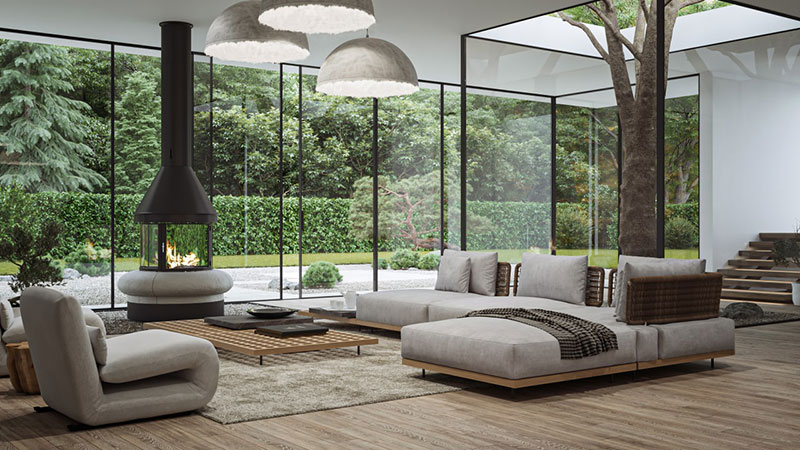 When staging a luxury home with CGI, you can try different interior styles according to your client's wishes — from austere Minimalism to classic Art-Deco to trendy Japandi or Wabi-Sabi. Based on style suggestions that you can indicate in the brief, CG experts will fill the rooms with matching furniture, home accessories, artworks, etc. Being trained interior designers and artists, they know exactly which pieces will work for certain styles.
If the seller markets their real estate as a family house, CG artists can make Traditional interiors with lots of homey elements like a fireplace, big couches with pillows and throw blankets, spacious kitchen with china cabinets, etc. In addition, they can stage one of the rooms as a nursery or kids' room.
In case clients target property as a business real estate or Hollywood mansion, you can ask CG specialists to make luxury staging in Contemporary style and add an in-home gym, wine cellar, home theater, and indoor/outdoor party areas. Most likely, it will hit the bull's eye.
CGI allows you to get professional luxury home staging and save money without sacrificing quality and good taste. Using CG solutions, realtors can order first-class virtual staging with brand furniture and get their properties remodeled with high-end materials. Also, with CG indoor and outdoor renovation, real estate marketers can improve property presentation and take their home listings to the next level.
In our studio, we offer expert virtual staging services for luxury properties that will highlight all their unique features and wow your clients. Contact our managers to start the project right now!
https://virtual-staging.archicgi.com/wp-content/uploads/2021/04/luxury-home-staging-with-cgi-View07.jpg
350
800
luzina
https://virtual-staging.archicgi.com/wp-content/uploads/2020/04/archicgi-logotype-white-300x85.png
luzina
2021-04-26 16:30:36
2021-04-26 08:13:08
LUXURY HOME STAGING: 5 WAYS TO DO IT WITHOUT SPENDING A FORTUNE