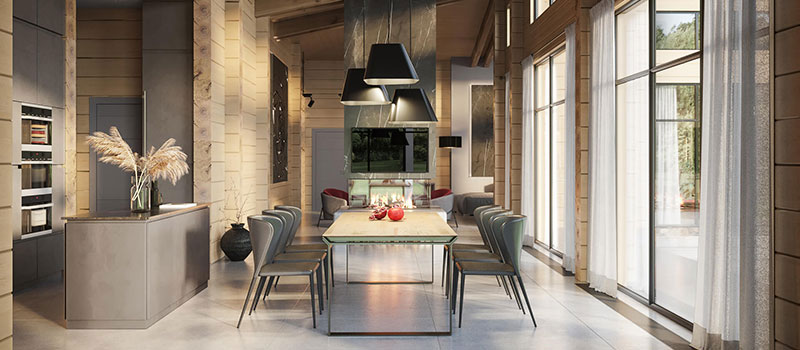 The Internet made it so easy for realtors and real estate marketers to virtually promote listings and sell properties. All you have to do is take pictures of the house, add text description, post the listing and wait for prospects to call. But it not always goes smoothly. 
First and foremost, listings with photos of empty homes don't sell. In such cases, real estate doesn't resemble a cozy home at all — it looks like a realtor is trying to sell a big white box for big money. Therefore, the only way to catch prospects' attention and make them itch to write that offer is to order physical staging or hire a 3D studio to virtually stage a room. 
Actual staging is a too laborious and time-consuming option. First, a realtor has to select and rent furniture, then hire movers twice — first to clean up the room and then to install new pieces. Also, a real estate marketer should order a professional photo shoot made by stagers and hire a photographer on top of all expenses.
To make photorealistic staging virtually, a real estate agent doesn't have to hunt for budget-saving and good-looking furniture leasing and hire additional staff. A professional virtual staging studio can make digital arrangement without extra expenses in just 48 hours. However, before ordering it, a realtor has to educate themselves on basic principles of virtual staging to know how it's done and what are the key steps.
To prevent realtors from getting overwhelmed by the amount of new information, we made an easy step-by-step guide on how CG stagers virtually stage a room. Read on!
#1. Define the Task and Interior Style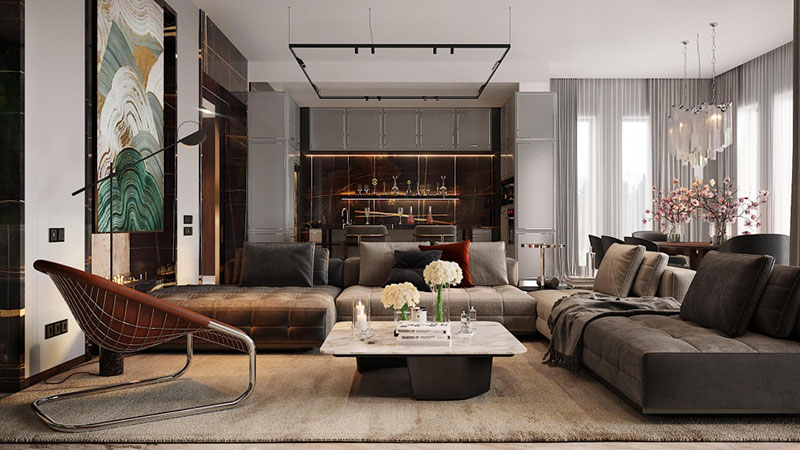 First, a realtor has to understand who is the target audience for this property. If it's a house for a big family, then CG stagers have to emphasize its comfort and child-friendliness. For this, they can virtually stage a room to denote a kids' bedroom. Also, using furniture and decor compositions, they can draw prospects' attention to a cozy dining room and a large kitchen. This not only shows the purpose of the rooms but also infuses interiors with a sense of home.
Also, before giving a task to CG artists, a real estate marketer has to decide on the interior style. Usually, it depends on the income level of potential buyers. For instance, if a realtor focuses on high-end clients, then the interior should also look luxurious to meet prospects' expectations.
To set a clear task to the CG studio, a realtor should send them a full brief. The pack may contain suggestions on style and a target audience info together with the photos of the room and visual references.
#2. Recreate a Room in 3D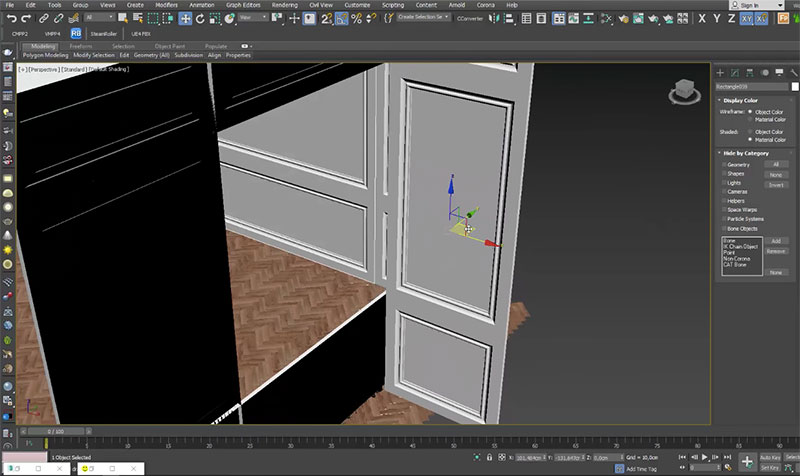 Once a virtual staging studio has received the brief, CG artists start working on the project. Before virtually stage a room, they have to build its 3D model in 3D soft with the same parameters as the current room. 
To do so, they build up the walls, add doors and windows, and carefully copy the window sashes and other architectural details. This way, a future 3D scene will have the same proportions as the current interior and will blend perfectly with the room.
Professional CG artists meticulously build the 3D scene so that when they put the furniture set inside it, all light and shadows will perfectly match the environment and look absolutely natural.
#3. Put All the Furniture and Decor in a 3D Scene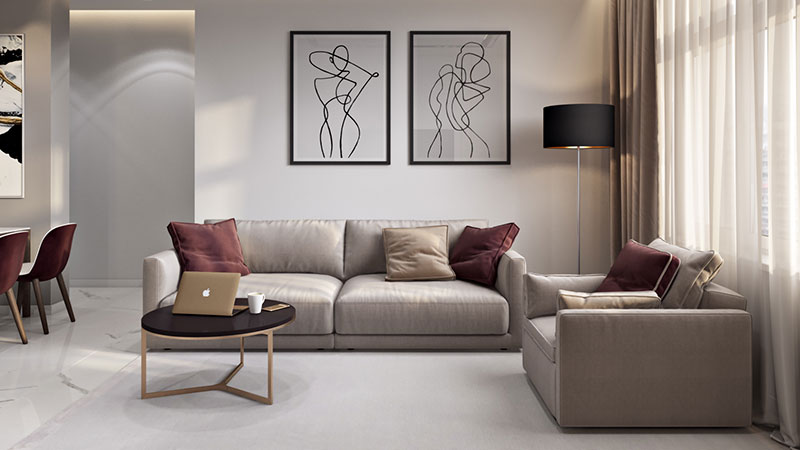 The next step of creating a new home presentation is virtually adding furnishings and decor to a 3D room. Well-reputed CG staging studios have a library of high-quality 3D models to always have the best pieces at hand. Using the 3D library, CG artists can virtually stage a room with individual 3D models or select ready-to-go 3D furniture sets. 
All 3D sets are categorized by room and contain all necessary furniture items and decor. Thus, CG stagers are able to simply pick the collection and insert it in a room in just a few clicks. Also, they can adjust a 3D set to any size of the home by virtually removing or adding individual objects. Surely, 3D libraries make digital staging convenient and fast, but using ready 3D packs accelerates the process even more.
After CG stagers select furnishings and accessories, they apply textures and set up the materials so that all items look as realistic as possible. In addition to 3D furniture collections, CG staging firms have a database of top-notch textures. Therefore, they can customize any object to the existing interior without making new 3D models.
#4. Set Up Lighting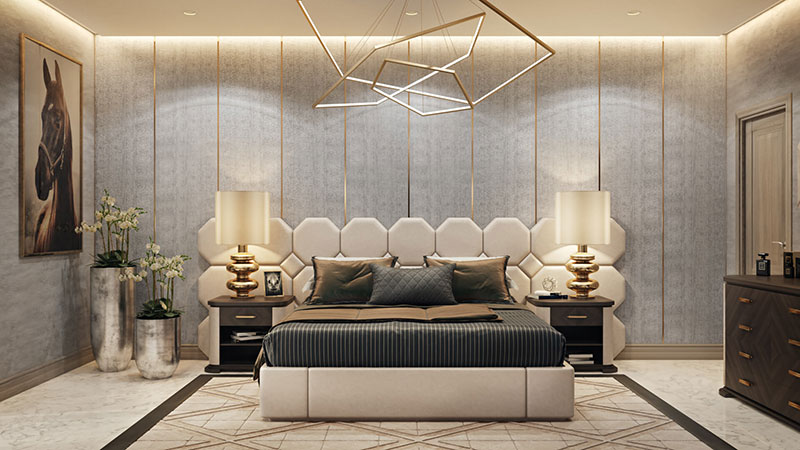 A simple furniture arrangement it's not enough to virtually stage a room. CG stagers also need to regulate the lighting and adjust it exactly the same way as it is on the original picture. By doing so, CG artists can get the same shadows and light for a 3D set, hence, achieve a 100% photoreal effect of virtual staging.
The best idea, though, is to showcase certain rooms in two different modes – both daylight and evening light. This option can increase the impression a home makes on future buyers and create an out-of-the-box listing. 
For example, if it's a spacious living room that also has a fireplace, then sunny weather will showcase it as a light, welcoming and airy room. In turn, making an evening scene for the same space with dim lights and a burning fireplace can add +100 to the homey ambiance and make a buyer-grabbing listing.
 #5. Install the Camera Views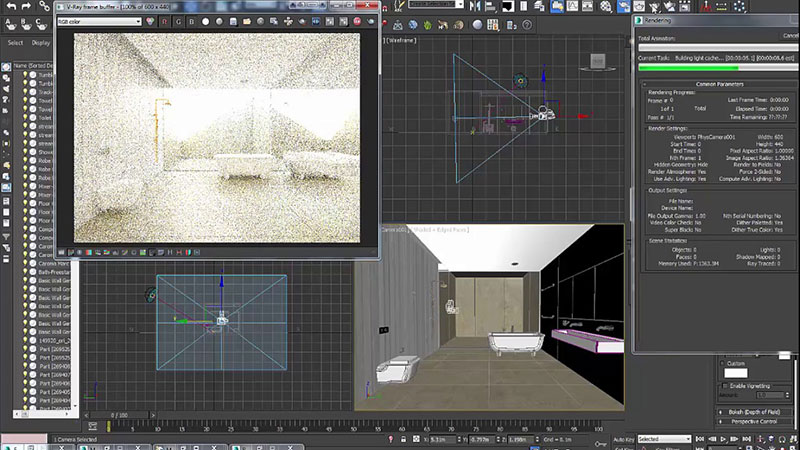 The precise configuration of the horizon line is the key to perfect virtual staging. The accurate camera position helps to match the 3D furniture set and a room on the original photo. Therefore, it's simply crucial for CG stagers to install cameras correctly and properly adjust them.
Experienced CG artists can easily determine what was the location of the photo camera when taking pictures of the home. Based on that data, CG stagers can virtually set up their 3D cameras and shoot the arrangement from the right angle with the correct perspective to paste it to the original room shot later.
#6. Render a Ready 3D Roomset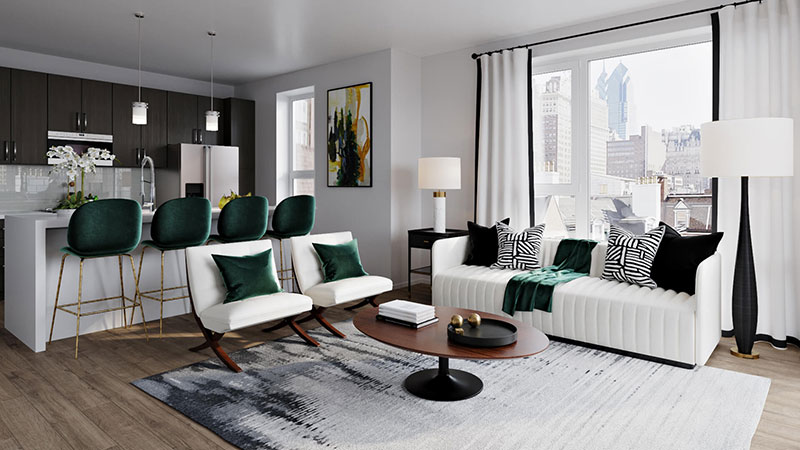 In fact, 3D rendering is the simplest step of virtual staging. All the most meticulous work, such as setup of the scene and its components, is already done. Now CG stagers have to check out the result once more, select the resolution settings and simply push the render button.
To be sure that the image will work for their business, a real estate agent can once again clarify the purpose of this visual so that CG artists choose the correct settings. For example, if a client ordered virtual staging imagery for a city banner or print promo, then CG experts have to preset the desired resolution before render and save the image in CMYK color mode.
#7. Go Through Post-Production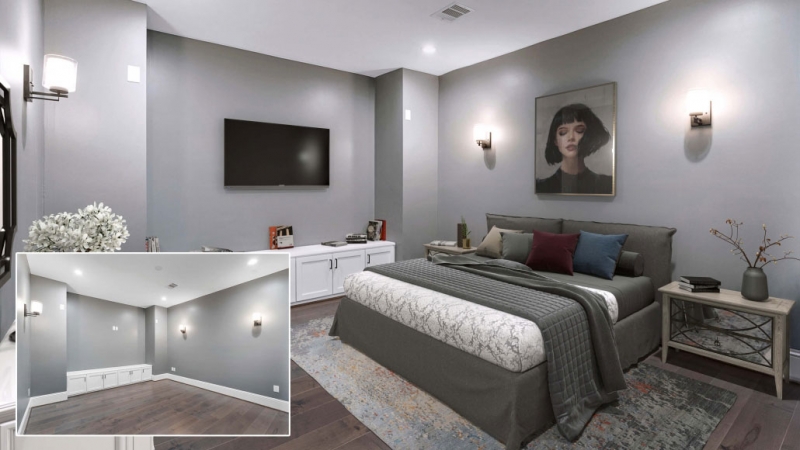 After CG stagers rendered the furnishings and decor in 3D software, they transfer the images into a 2D graphic editor, usually, Adobe Photoshop. At this stage, they cut out a furniture arrangement together with falling shadows from the 3D render and paste it into the original picture of the room.
With high-quality virtual staging, there's no need to massively edit the image in Photoshop. Thanks to the fact that all the objects were rendered in an absolutely identical room, it looks 100% natural and you can't even tell that the furniture is glued on top of the photo. 
Therefore, after they virtually put all furnishings and decor in a place, CG artists can slightly retouch the corners of the objects, adjust the shadows and highlights to blend a 3D set into the room. And as the last touch, they can do a color correction and adjust contrast and saturation for the whole image.
Of course, if you want virtual staging to work out as it should – you have to collaborate with professional CG studios. They have libraries of ready-made 3D models, scenes and quality textures. Therefore, they can virtually create compositions out of the best furnishings and decor in no time. Also, CG stagers have enough experience and knowledge to set up the right light and cameras and perfectly place the rendered 3D roomset into the photo.
Need professional help to virtually stage a room? Reach out to us for top-notch virtual staging services and our images will give your listings the winning edge and sell property in the snap of a finger!
What is virtual staging?
Virtual staging is a digital furniture arrangement. Using 3D software, CG stagers create a 3D model of a room and render it with the same light and camera settings as based on original photos.
What are the 7 key steps of digital staging?
Every virtual staging starts with getting a brief, building a 3D room, adding furniture and decor. After the 3D scene is ready, CG stagers set lighting and cameras and proceed to render. The last seventh step is the post-production of an image. CG artists paste rendered furniture set into an original photo and add finishing touches here and there.
What is a ready-to-use 3D furniture set?
It's a ready-made set of 3D models that include furnishings and accessories. Such 3D arrangements categorized by room and style so CG artists can easily find the most suitable one in their library and slightly adjust it. As a result, virtual staging with prep models goes much faster than the usual one.
What kind of a brief do I need to order virtual staging?
The full brief for virtual staging studio may include high-resolution photos of the house shot from various angles, floor plans, realtor's suggestions on style and context, as well as references on interior style and furniture pieces.
https://virtual-staging.archicgi.com/wp-content/uploads/2020/08/virtually-stage-a-room-7-steps-View09.jpg
350
800
luzina
https://virtual-staging.archicgi.com/wp-content/uploads/2020/04/archicgi-logotype-white-300x85.png
luzina
2020-08-07 16:30:49
2020-08-27 08:09:18
VIRTUALLY STAGE A ROOM: HOW TO DO IT IN 7 BASIC STEPS