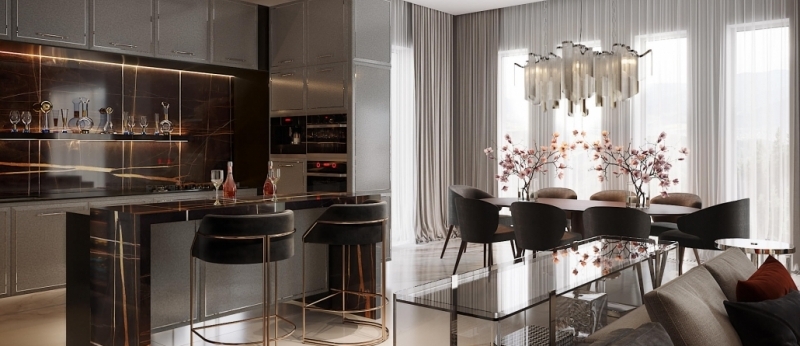 Virtual staging is a modern solution that real estate marketers and realtors use to sell outdated and empty homes. Such properties require whichever type of refreshment — from complete renovations to simple virtual staging examples of replacing furniture and decor.
Surely, home sellers have no intention to invest in physical home repair and restyling. When they put a property on the market, all they want is to get money but not spend them on its presentation. But what happens if realtors post photos of the house as it is? Needless to say, such listings look unappealing so prospects just skip them.
With CG services at hand, realtors don't need to rent or buy furnishings, hire a moving company and control the process of furniture arrangement or worse, full house renovation. All they need to do is to take photos of a home in its current state and set the task to a virtual staging studio. Therefore, choosing digital staging over a physical one, realtors save their money, time and ease the burden of selling empty or old real estate.
So how exactly can CG staging and design change real estate? Here are 5 virtual staging examples of how our experts transformed home interiors with CG imagery and won the deal for a realtor.
#1. The Transformation of an Empty Room into a Stylish Dining Zone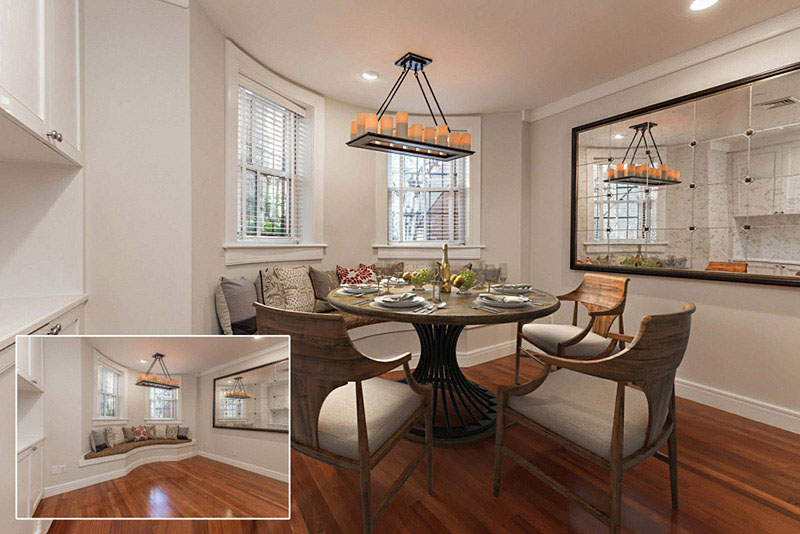 Our client sent us a photo of an empty room with a strange corner part and asked for virtual staging. They realized that adding furnishing, in this case, is vital for a proper presentation and marketing image. Otherwise, prospects wouldn't understand how to use this bay window or even consider this architectural concept as a convenient feature. And even a built-in bench was more of a puzzling element to them with no clear purpose. As a result, this extraordinary property lost points just because of photos of its empty rooms.
Our decision was to turn this space into a stylish dining room. Firstly, the circular composition of the room finally makes sense — it's a place where the family gathers around the dining table. Secondly, this idea adds functionality to the bench, making it a comfy seat for having long meals and pleasant conversations. On top of that, additional dining decor enhances the cozy homey atmosphere. Now, such virtual staging examples prove that smart furniture arrangement could completely change prospects' perception of the property and make it look as a wise investment.
#2. A Traditional Living Room's Evolution to a Transitional Design Style
Before

After
This case is a great example of how CG solutions can refresh and rejuvenate the traditional interior. Let's face it, current furniture and decor looked like obsolete things from the 80s. Thus, this property is off the radar of younger prospects who, most likely, won't give it a chance.
However, simply putting new furnishing is not enough to create a transitional living room — you have to go for interior restyling tricks and not just decorating. For example, our CG experts changed the color palette of all the furnishing to make the room look more light and diverse. They also chose stylish modern furniture pieces that are not super minimalistic and austere, so the space looks chic but comfortable and cozy. In addition, they updated the fireplace and replaced old-fashioned paintings in golden frames with contemporary abstract art.
Last but not least, CG artists have found a way to demonstrate the biggest benefit of this living area — its spaciousness. To emphasize the height of the ceilings and to draw the attention of customers to this feature, they have chosen a large modern chandelier. Such virtual staging examples show how an interior can get refreshed and rejuvenated yet retain its cozy vibe at the same time.
#3. Smart Zoning for a Small Vacant Home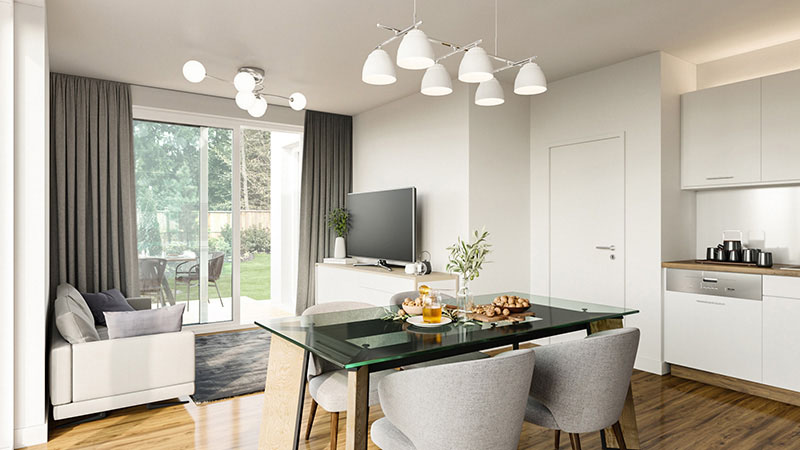 Looking at virtual staging examples, some think that there's nothing easier than stage an empty house. You just put neutral furniture all over the place and it's done. However, working on virtual staging for a house without furniture has more to it.
Surely, vacant homes look uninviting and dull. But most importantly, photos of empty space don't explain the proportions, house layout and purpose of all the rooms. Therefore, those images are non-informative and unattractive at the same time. In such cases, CG artists have to invoke their inner interior designer and create a project almost from scratch.
For example, for this small house, we had to find a way to turn this empty home into a stylish and multifunctional space. Based on their expertise, virtual staging specialists outlined three zones in the room — a living area that smoothly turns into a dining zone and then transforms into a kitchen. After that, our experts arranged simple and neutral furniture so the space wouldn't look cluttered and oversaturated. In addition, they put garden furniture to draw the prospect's attention to the patio, which is always a huge benefit for a small house.
#4. Modern Reinterpretation of Luxury Interiors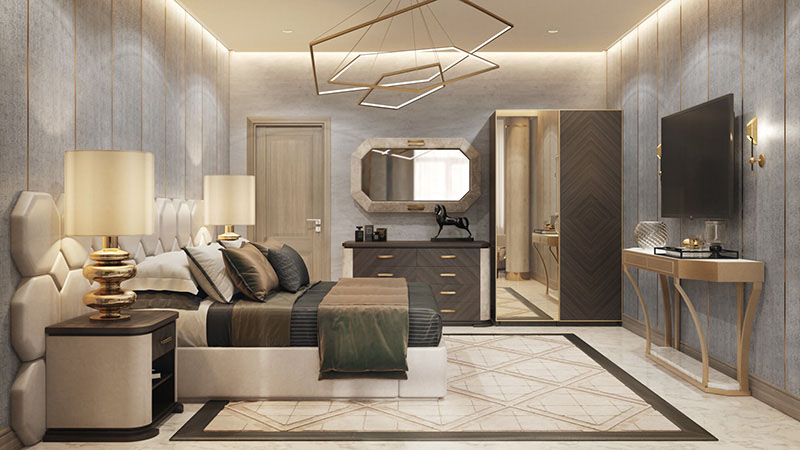 This virtual interior remodeling is a good example of balancing luxury and restrain to create a true classic-styled masterpiece. Our CG specialists transformed an old-fashioned opulent bedroom into an elegant and up-to-day design while preserving its luxury vibe.
Such examples of virtual staging prove that luxurious interiors don't have to be flashy, bulky and stuffed with gold. In the search for the balance between wealth and beauty, our experts turned to Art Deco interior style.
To enhance Art Deco design, we virtually decorated the house in restrained dark and neutral beige tones, while the gold was tastefully limited. Also, our artists emphasized the status of the property by using expensive materials for both interior elements and furniture. For example, they used marble flooring, textile wall panels, luxury wood finishing, as well as satin and silk bedding. No need to mention, that the entire interior was complemented with contemporary designer furniture and vintage decor.
#5. Remodeling of a Gloomy Basement into a Chic Lounge Space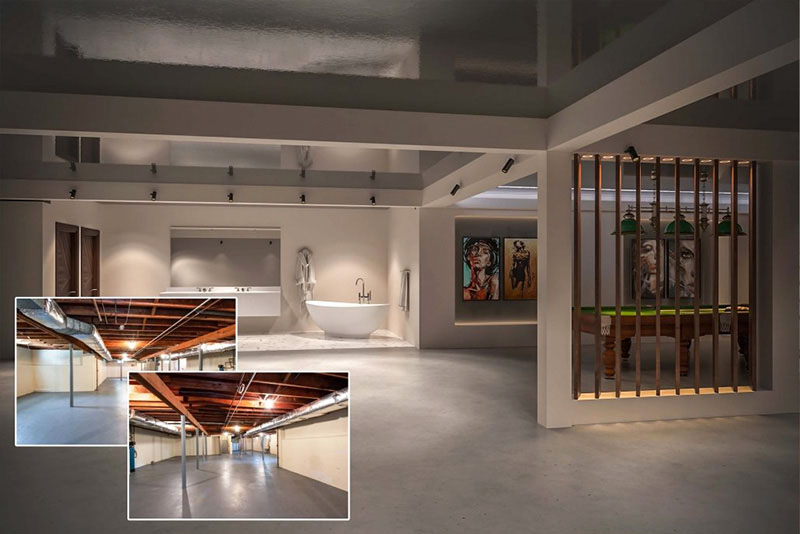 Unlike other virtual staging examples of transforming a living space, this case is about making a family lounge zone out of a non-residential area of the house. Traditionally, a large basement is considered as a big advantage of the property. However, homeowners often use it only as a warehouse where they keep old furniture, boxes and stuff. A realtor, that contacted us, wanted to demonstrate the potential of this premise and make the house layout more convenient.
To remodel this basement, we made virtual cleaning and hid ugly pipes, wires and structures. After that, our CG artists gave this space new purpose, using smart interior zoning. For example, they suggested that one could organize a home spa in a basement with a massage room and showers. On top of that, future owners could turn the basement into an entertaining zone for a whole family by putting a pool table, gaming consoles and couches into a lounge area.
As for decor and atmosphere, CG artists replaced horrible ceiling lamps with diffused hidden lighting and decorated the walls with contemporary art. This transformation example shows that CG services is a great help for realtors — with these images, they can prove that even a basement can become a winning feature for a house.
As one can see from all these virtual staging examples, CG technology can transform any type of homes and solve literally all the problems of house visual presentation. Using 3D software, CG artists can fill empty rooms with beautiful furniture and decor, zone out open space, emphasize interior features, and so on. With the help of digital restyling, specialists can completely change the ambiance of the house and make the old property look refreshed and enhanced.
Strive to give new life to outdated properties? Try our virtual staging services and you'll get stylish interior images that will skyrocket your sales!
https://virtual-staging.archicgi.com/wp-content/uploads/2020/06/vitrual-staging-examples-e1592336391775.jpg
346
800
luzina
https://virtual-staging.archicgi.com/wp-content/uploads/2020/04/archicgi-logotype-white-300x85.png
luzina
2020-06-11 16:30:26
2020-06-16 19:40:50
VIRTUAL STAGING EXAMPLES: 5 PROJECTS FOR DIFFERENT PROPERTIES