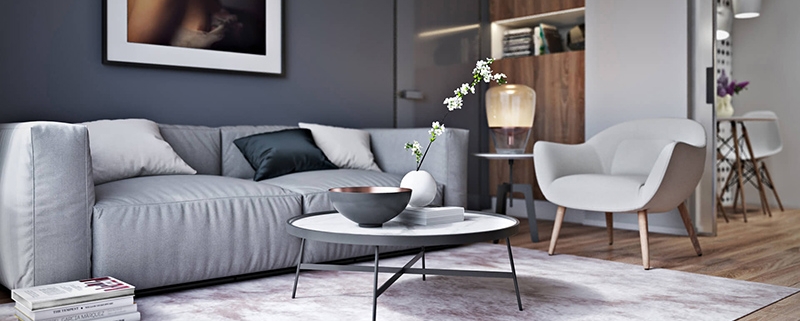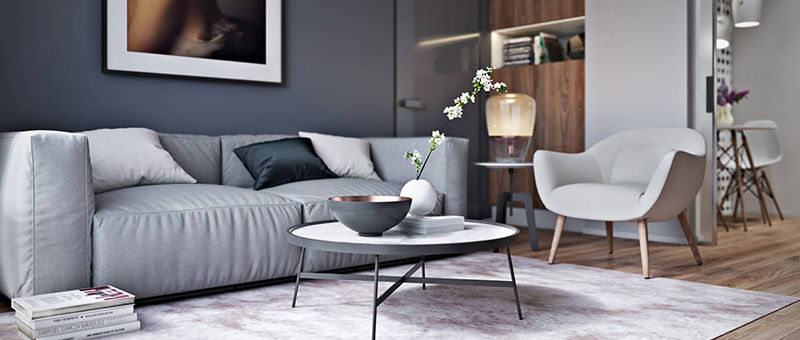 Selling empty houses is an endurance test that falls on every realtor and real estate marketer. Even if the floor layout is convenient and construction materials are of high quality, prospects still dawdle on buying the house because all they thrive for is a cozy homey atmosphere. Yep, the struggle is real!    
So how to stage a house for sale in order to create a homey environment? Decades ago, realtors had no other choice but to physically stage property and take photos. Thus, a house looks convincing and livable both in listings and real life. However, it's an expensive option that includes furniture rent, transport fees, hiring stagers and movers… In short, it's a real pain in the neck.
Today, digital solutions allow real estate specialists to get stunning staging at a lower price and much faster. Using virtual staging services, realtors have to just take a photo of a house in its current state and send it to a CG studio. Despite all the advantages, some realtors still stick to a traditional furniture arrangement and see digital staging as something fake or unknown. So what's the best option? 
In our research on how to stage a house properly, we analyze the 5 most popular ways including both physical and digital methods to find the best options. Let's get into it!
#1. Physical Staging with Bought Furniture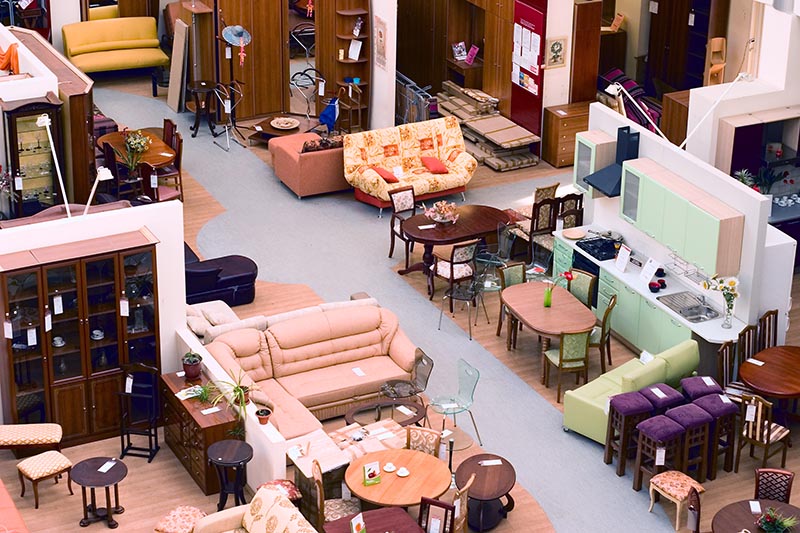 Thinking about how to stage a house, some real estate marketers end up buying furniture. Purchasing furnishing and decor is probably the most expensive staging solution, yet somebody still does it. Surely, the problem is that not all property owners are willing to spend their own money on house staging. Therefore, a realtor must be ready to buy furniture themselves, and, after the house is sold, transport it to the next property or find a warehouse for storage.
With the quality furniture that suits interiors well, prospects can agree to buy a house with all furnishings. Of course, it also increases the price of the property to compensate for all the spendings. However, buying furniture to stage a house is still a risky, time-consuming and expensive idea, so you need to think carefully if it's really necessary.
#2. Physical Staging with Rented Furniture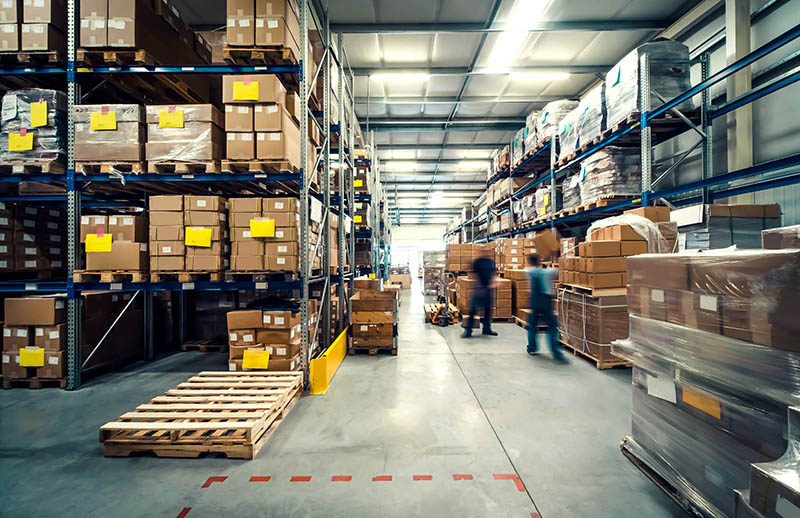 Another idea of how to stage a house with minimal costs and risks possible is renting furniture and decor. Renting furnishings is a much more cost-saving option than buying, that's why so many realtors are into it. Since this is one of the most popular methods, some warehouses specialize in leasing furniture for house staging. These warehouses provide catalogs and displays so you can select and touch objects to pick the best ones. In these furniture depots, one can find anything from furniture to utensils to stage a house from top to bottom.
However, renting has its drawbacks. Firstly, warehouses charge per each item separately. This means, that if a real estate marketer wants to rent not only furniture but also a decor, including small vases and plants, the bill for the whole set could be simply astronomical. 
Secondly, the warehouse base is limited and it's not always possible to find furniture for a specific interior. And the third drawback is the most important one. Some leases work only under a 3 months minimum rent. Therefore, if a realtor has sold the house faster, they need to rent some storage space ASAP to keep this furniture there until the rental period has ended.
#3. Physical Renovation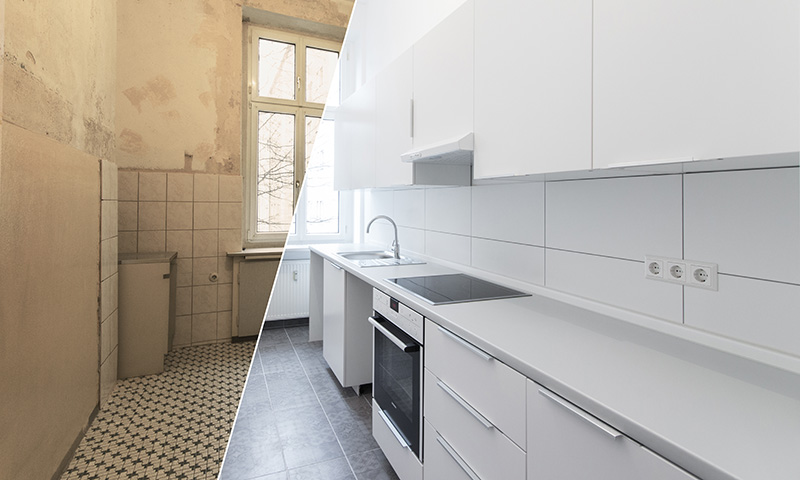 Sometimes a simple furniture arrangement is not enough for a beautiful house presentation. Let's say the property has some visible flaws such as cracks on the ceiling, broken tiles, scuffed parquet, etc., in short, the house simply needs a repair.
The question is how the realtor can convince the seller to fix the shabby house. The best idea is to point out that even a slight cosmetic repair will help to sell the property faster and at a better price. But spending extra money and efforts is a solid argument against physical repair.
Obviously, house renovation is always burdensome and labor-intensive. One needs to calculate the consumption of materials, buy and transport them, then hire a construction team and monitor their work all the time…you do the math.
Considering that this is an enormously expensive way to fix the house, the seller will try to save on everything and buy the cheapest materials. In the end, it turns out that the possibilities of the renovation themselves are very limited and the repair itself is not of high quality. 
As for renovating both interior and exterior, most of the homeowners are not ready to invest so much, so full house makeover is out of the question.
#4. Virtual Staging
Before

After
Virtual house staging is a modern digital solution that doesn't limit the imagination and possibilities of furniture arrangement. With 3D technology, no physical objects needed — digital staging is based on photorealistic 3D models of furniture and decor. Using special CG software, 3D artists can add absolutely any furniture and decor to the room, as well as change its colors and materials so that these pieces will be more suitable for the interior. 
Usually, CG artists use ready-to-go 3D models to stage a house. Moreover, well-reputed virtual staging studios even have their own libraries of 3D models and ready-made 3D furniture sets. Therefore, there is no need to create new 3D objects — CG artists can always remake or customize ready ones to create any interior styles.
Out of all 5 ideas on how to stage a house, a virtual furniture arrangement is the fastest and the most cost-saving one. Using it, a realtor doesn't have to spend money on renting or buying furniture, as well as hiring transport and movers. As for turnaround time, again, virtual staging is the champion — professional CG artists can create photorealistic house staging in just 48 hours max!
#5. Digital Renovation  
Before

Virtual Renovation

After
Digital renovation is an incredibly effective tool that allows CG artists to make any repair and redesign without extra financial costs. Using CG programs, artists can select and use any color palettes and finishing materials, including the most luxurious ones. They can do literally anything they want that will make a house look polished and modern without spending a penny on materials.
With digital technology at hand, CG artists can make both interior and exterior renovations. In terms of an outdoor job, they can completely repaint the house or make minor adjustments, such as clean the yard, fix the fence, add more lush greenery and so on.
Unlike physical house repair, CG restyling doesn't depend on construction workers whose mistakes can cost a fortune. Using special 3D software, CG artists can easily make corrections and change materials in just a few seconds. 
Every realtor is free to choose how to stage a house in the most convenient way or even combine several aforementioned methods. However, physical staging and renovation mean significant expenses on materials, furniture rent or purchase, transport, and so on. 
On the contrary, virtual staging doesn't require any of those costs, hence, it's much more budget-friendly. Besides, digital solutions are not limited by catalogs and warehouse stock. Therefore, virtual house staging boosts creativity and inspires outstanding artistic decisions. With CG services, realtors can choose any style and decorations to enhance the look of the house and capture prospects' attention. 
So how to stage a house and present it in all its glory? Try on our virtual staging services such as digital staging and renovation — and they will not only enhance the look of the house but boost your sales!
https://virtual-staging.archicgi.com/wp-content/uploads/2020/05/how-to-stage-a-house-5-ways-View01.jpg
340
800
luzina
https://virtual-staging.archicgi.com/wp-content/uploads/2020/04/archicgi-logotype-white-300x85.png
luzina
2020-05-11 16:30:37
2020-05-08 14:58:28
HOW TO STAGE A HOUSE: 5 WAYS A REALTOR CAN DO IT