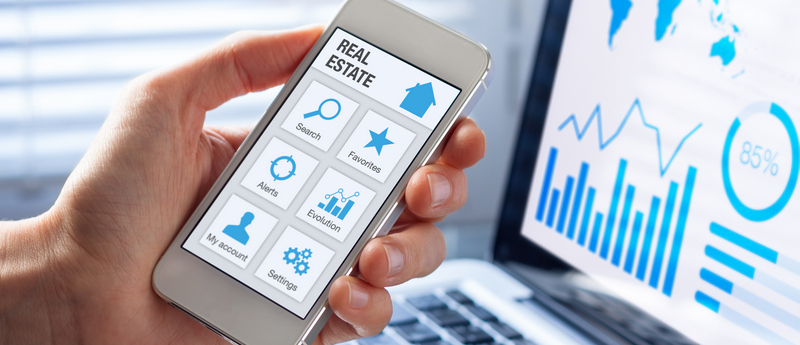 Each of us has faced the need or desire to buy, rent or sell real estate at least once in our life. Fortunately, there are more than enough different real estate marketing platforms that can be used. Hundreds of thousands of people visit them every day which means that it is an excellent sales tool for estate agents. 
So how do you make the right choice among such a variety of options? What are the best sites to post ads or search for an apartment? We have conducted research on this market, taken into account real estate marketing and picked 10 resources that are definitely worth checking. In our list, you can briefly see what these websites are and capabilities they can offer to a realtor, including virtual staging and 3D tours. 
#1. Zillow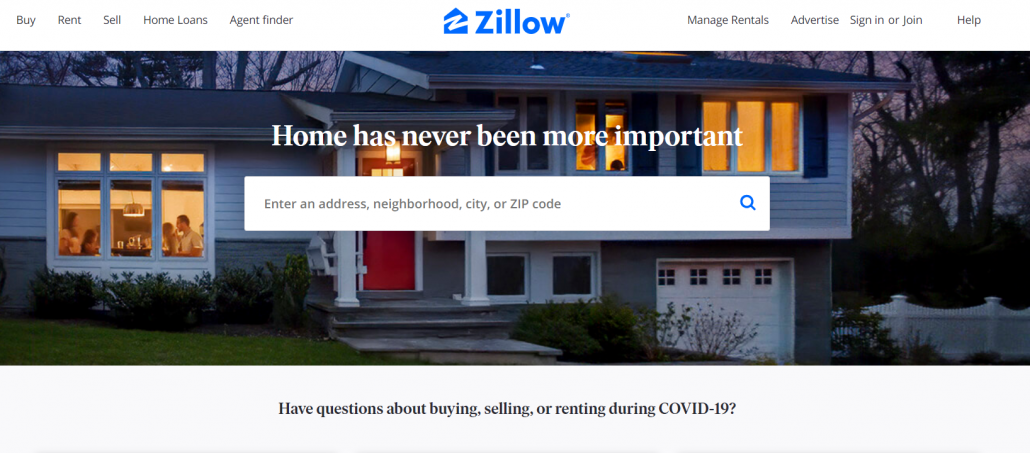 Website: https://www.zillow.com/
When we are talking about real estate marketing platforms Zillow will be one of the first options that come to mind. It has a database of more than 110 million U.S. homes and all the necessary tools which make life easier for both homebuyers and sellers. It also provides a suite of mobile apps that can be used on different devices. Apart from that, it is also possible to create and upload 360 view home tours and virtually staged presentations without any problems and use them to attract clients and promote the property. 
#2. Trulia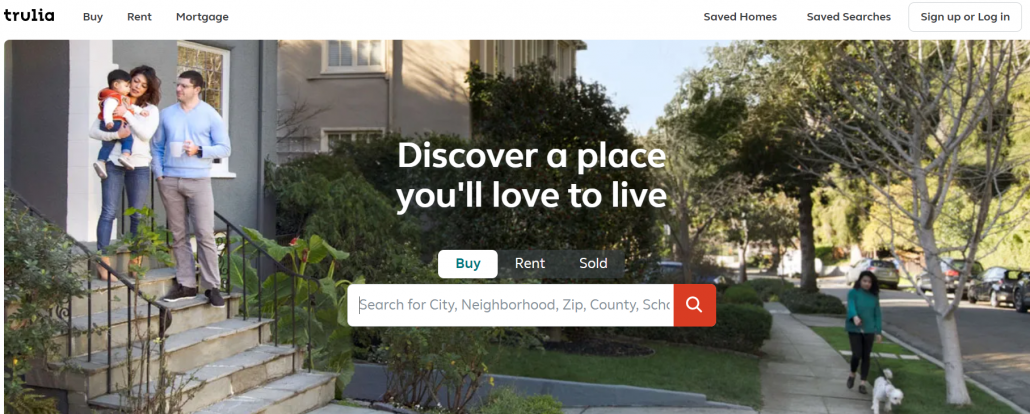 Website: https://www.trulia.com/
Trulia is a part of Zillow Group therefore it is also a great variant of a real estate marketing platform. Apart from a huge number of houses and apartments for rent or sale, it offers insights on specific locations from locals. And do not forget over 34 area map overlays people can check online in order to have a better understanding of the neighborhood and living conditions. 
#3. Realtor.com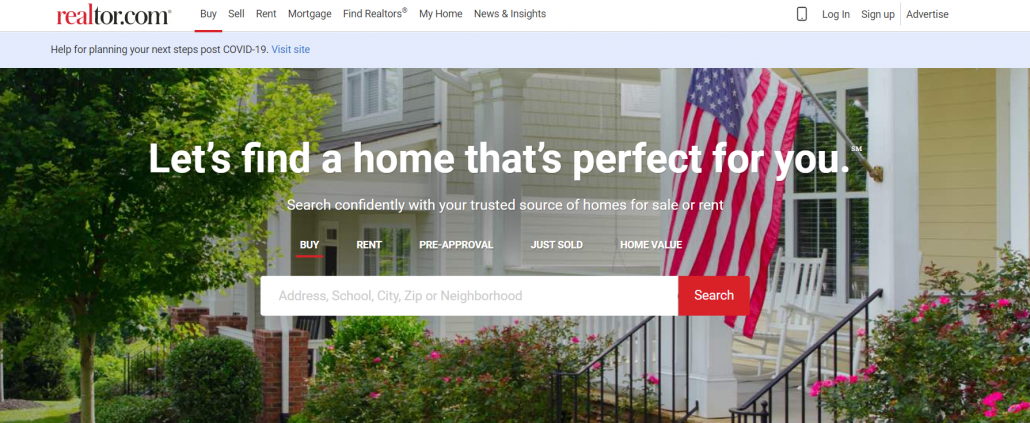 Website: https://www.realtor.com/
Many realtors prefer this site to other real estate marketing platforms as its service is very reliable and convenient. Realtor.com does a great job of connecting renters and housing seekers with agents and sellers. It also provides visitors with all the necessary information and tools to find what they were searching for or to make a catchy real estate offer. Its listings are the most accurate among others as they are inputted into regional MLS systems (Multiple Listing Services). 
#4. Apartments.com

Website: https://www.apartments.com/
Apartments.com has one of the greatest research teams that collects and verifies all the data about real estate provided on their website. It also gives the opportunity for renters to make personalized searches, check reviews, and 3D video tours of residential properties. They can also check not only photos of apartments but also a lot of virtually staged images. It is especially helpful because people can see how certain houses may look in the future. In addition, this marketing platform has convenient and user-friendly iOS and Android mobile apps. 
#5. Homes.com

Website: https://www.homes.com/
Homes.com is no different from other real estate marketing platforms and has a large database of over 4 million homes listed for sale and provides people with up-to-date information on them. Besides, the visual part of it looks great as a lot of their listings include digital staging services to highlight all the benefits of a specific house. It also has an informative 'how to' section that helps people browse through a website easily. As a bonus, you can also find a lot of tutorials and interesting articles here. 
#6. FSBO.com

Website: https://fsbo.com/
FSBO.com can be the best option for "For Sale By Owner" real estate marketing platforms. It provides two selling packages. First, one costs $99.95 for 12 months and includes unlimited photos, video upload, personal ID number, 24/7 access to update listing feature and free Redfin.com listing (but only for some states). The price for another plan is $399.95 for 6 months. Here you can get a listing on the MLS and syndication to other marketing services such as Zillow, Trulia and Realtor.com. Some of the other options can be available depending on your location. 
#7. Keller Williams Realty

Website: https://www.kw.com/
Keller Williams Realty is at the top of the list of real estate marketing platforms in terms of agent count, units and sales volume in the United States. It operates in 45 regions all over the world and has over 10,000 agents outside the U.S. and Canada. It has a wide range of house and apartment options and is very useful not only for customers but also for realtors. And, of course, it also provides a mobile app for more comfort.
#8. Better Homes And Gardens Real Estate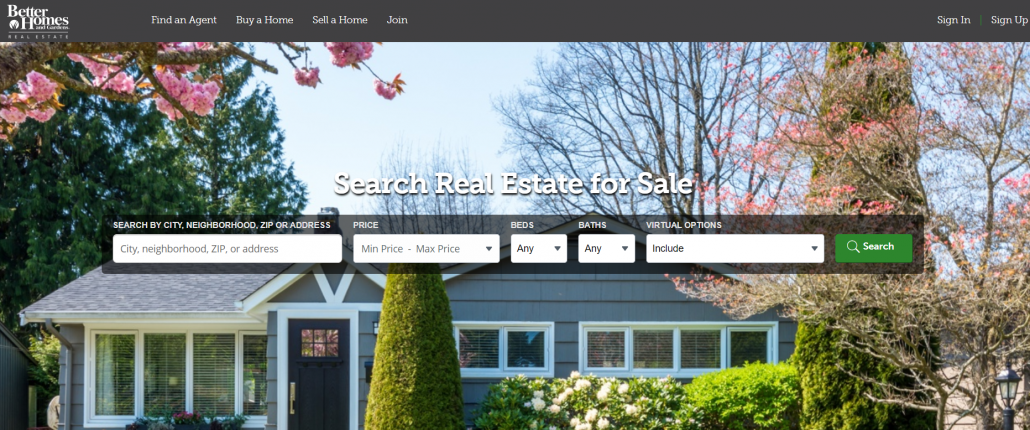 Website: https://www.bhgre.com/
Through Better Homes And Gardens Real Estate people can personalize their MLS search in order to find the best house options suitable for them. The service also provides the customer with an agent who will guide and help them throughout the whole process. Besides, Better Homes And Gardens Real Estate has a very useful free online feature that helps find a Home Value Estimate. This marketing platform allows people to upload virtually staged images and can be used on various devices. 
#9. Redfin

Website: https://www.redfin.com/
Redfin is the most famous for its map-based search for real estate, but it is not the only benefit that you can get from it. This real estate marketing platform provides full assistance of their agents and various tools to make your experience more pleasant. Redfin also offers discounts on listing fees and buyer savings programs in some markets. 
#10. Homes For Heroes

Website: https://www.homesforheroes.com/
Home for heroes has a completely different concept from all the other real estate marketing platforms. Instead of just providing customers with standard house listings, it saves money on a home for American heroes such as military officers, firefighters, police officers, healthcare professionals, or teachers. After filling an online form one of their specialists will contact you and help achieve your goals. This service cooperates with a lot of realtors, lenders, and businesses who agreed to work with a discounted fee.
Real estate websites and platforms give customers the opportunity to find their dream home providing a wide range of options. The main thing here is to pick the right service and not to get lost in this variety of listings. That is why the help of real estate agents will be more than useful here. 
While going through different real estate marketing platforms people usually pay attention to even small details. If you want your listing to be successful, do not forget that each function is important and you need various unique features to hook and keep the visitor. In order to attract your target audience, it is also worth using virtual staging services as it will make your ad look more respectable and visually pleasant. 
Want your real estate platform to be in the top list or your listing to be more successful? One thing you can do for sure is to collaborate with virtual staging services. It will definitely help improve the visual part of your work. 
What is real estate market?
Real estate market is selling and purchasing of real estate. Real estate is property consisting of land, the buildings on it, and any natural resources within the property boundaries, such as minerals, water and crops. Real estate can be categorized into four types: residential, commercial, industrial, and land.
What real estate agents do?
They keep up with local and regional market activity, research listings, plan and coordinate appointments, open houses, showings, and meetings with clients and other real estate agents, develop marketing plans, respond to incoming emails and phone calls, update websites, social media profiles, and blogs.
What is real estate staging?
Real estate staging is the preparation of a property for sale in the real estate marketplace. It usually includes temporary furnituring the home and some basic interior makeover. The main purpose is to make real estate look more inviting and appealing than simple empty rooms.
What is virtual staging?
Virtual staging is a digital transformation of the property photos. It may include digital furniture arrangement, as well as a virtual renovation of interiors and exteriors.
https://virtual-staging.archicgi.com/wp-content/uploads/2020/08/real-estate-marketing-platforms-view.jpg
345
800
vysotskaya
https://virtual-staging.archicgi.com/wp-content/uploads/2020/04/archicgi-logotype-white-300x85.png
vysotskaya
2020-08-17 16:30:20
2020-08-14 12:56:03
REAL ESTATE MARKETING PLATFORMS: 10 BEST LISTING AND AGENCY SITES