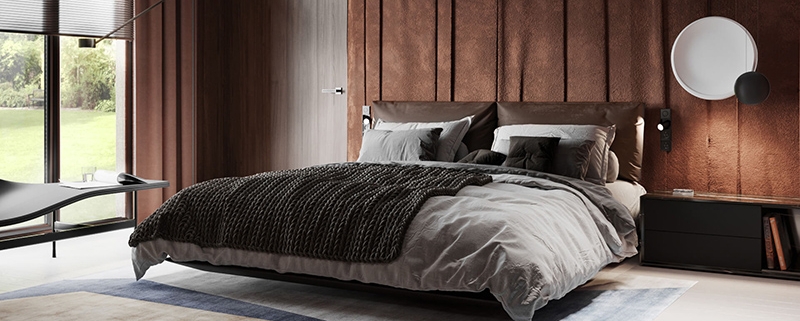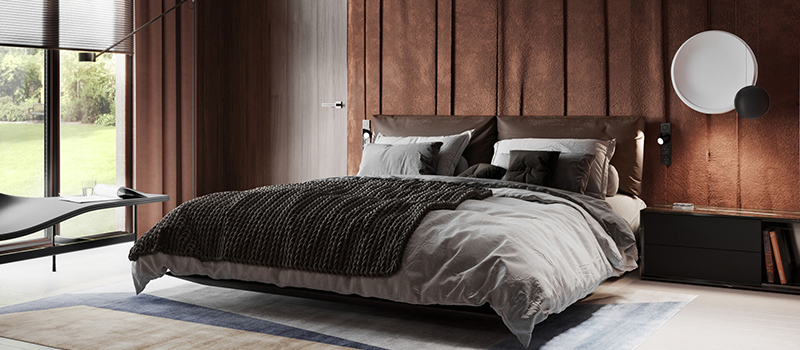 Every real estate marketer and realtor is fully committed to present properties at their best. Eloquence, physical or virtual staging, photo editing — whatever it takes, they will do it. To keep up with the modern real estate market demands and save budget at the same time, realtors often do virtual staging themselves in staging apps. However, although applications are a free and fast option, they don't provide the most realistic virtual staging. Staging in the app is often of bad quality and looks so amateurish — you won't catch a client with stuff like that.
In such cases, one should collaborate with virtual staging professionals who know how to use special 3D software, where to get top-quality 3D models and how to set up the most realistic textures. What is the secret of digital staging experts and how to spot a 3D pro? Here's a check-list of 5 key characteristics of truly photorealistic virtual staging — take heed!
#1. Use Quality 3D Models of Furnishings and Decor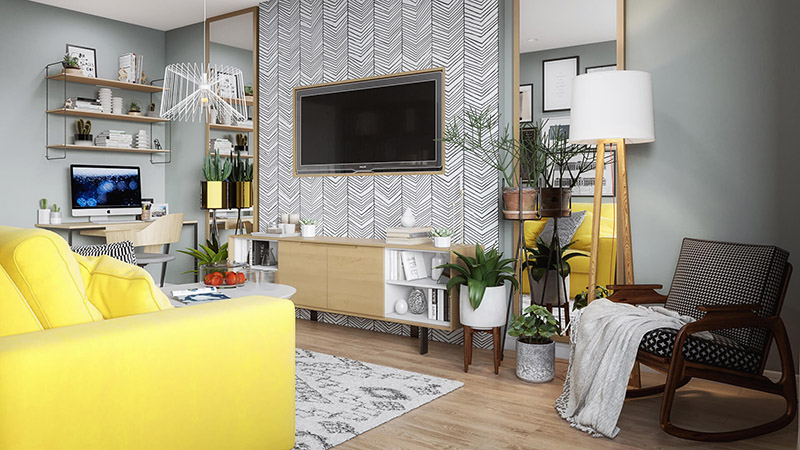 For the most realistic virtual staging, 3D artists have to utilize top-quality 3D models of furniture and decor. Using low-quality objects always betrays the artificiality of the 3D model because of holes and chips in 3D forms or seams in texture patterns. To achieve a realistic effect, it's vital to keep the geometry and textures as smooth as possible. Thus, using quality 3D models is the basics of a natural look of virtual staging.
That's why it's so important to collaborate with experienced 3D professionals. Studio 3D artists know how to work with various 3D modeling software so they can create any photorealistic object from scratch. 
In addition, a far-sighted 3D studio has stunning ready-made groups of 3D furniture and decor. For example, imagine having a complete living room or kitchen set with all 3D furnishings and textures at hand. All that's left to do is to adjust it to room proportions and proceed to 3D rendering! Surely, using realistic ready-to-go 3D models, 3D artists can do the top-notch virtual staging of a high-quality even in less time.
#2. Pay Due Attention to Proportions and Details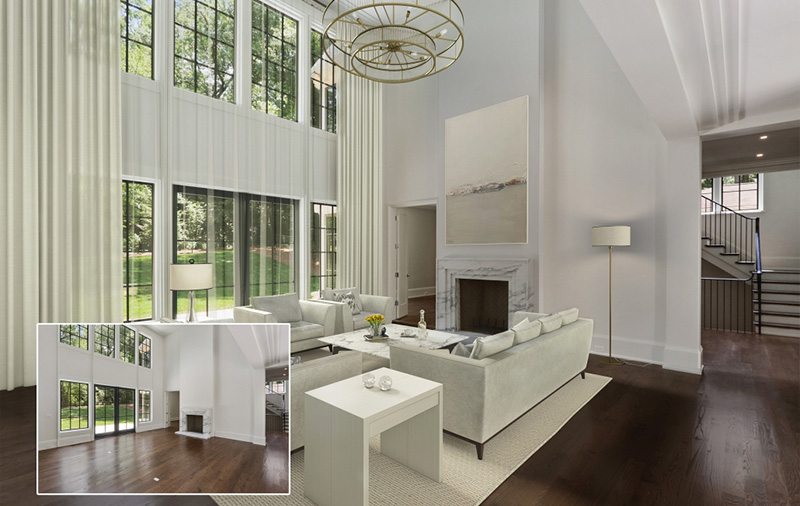 Whether 3D artists use separate 3D models or ready-made sets, it's extremely important not to make mistakes in placing 3D objects. What we mean by this, is that they shouldn't intersect each other, hang up in the air, or be disproportionate. Such errors in positions and proportions indicate that these pictures are not real photos but just a bad 3D renders.
Virtual staging specialists are well aware of these mistakes because they have special training and extensive experience. To make sure that all the contact points of the surfaces are even and accurate, 3D artists check how they put 3D models in a scene multiple times. Being attentive to the proportions and placement of 3D models is key to the most realistic virtual staging for properties.
#3. Set Accurate Horizon and Cameras 
Before

After
To create real-life virtual staging, it's important to set a precise horizon and correct camera angles before rendering. The accurate horizon allows all objects to be seen from the right perspective. This way the added furniture set will be 100% consistent with the perspective of the original photo. If all the objects are rendered in the right way and a 3D artist adds them to the photo, all the new elements look absolutely natural in the old environment.
#4. Set Up the Correct Lighting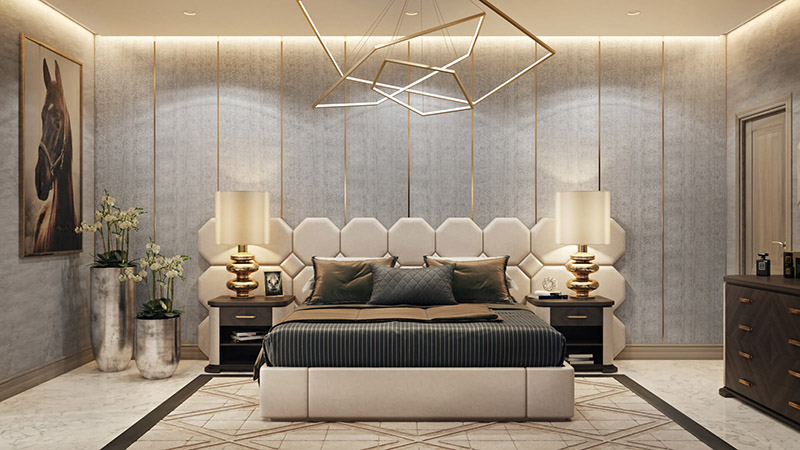 To make new furnishings look organic at the final virtual staging, it's vital to render them with the same light as it was at the original photo. If photos were shot in the bright day, then 3D artists should recreate the same sun position for their renderings so its rays and shadows fall in the same way. Thus, all the light, flares and shadows on the furniture and decor will look natural, hence, create the most realistic virtual staging in general.
As a bonus, realtors can order a virtual staging of the same room but with evening light. Having both day and night look of the house makes listings even more convincing and realistic. 
Surely, with CG technologies at hand, any photo editing is possible. Using Photoshop, 3D artists can edit the original photo to change the lighting from the windows. Then, using special 3D software, they create additional light sources — a fireplace, sconces, backlighting and so on. As a result, the night version of the house reveals the most romantic side of the interior and enhances the coziness and realism of the picture even more.
#5. Make Smooth Post-Processing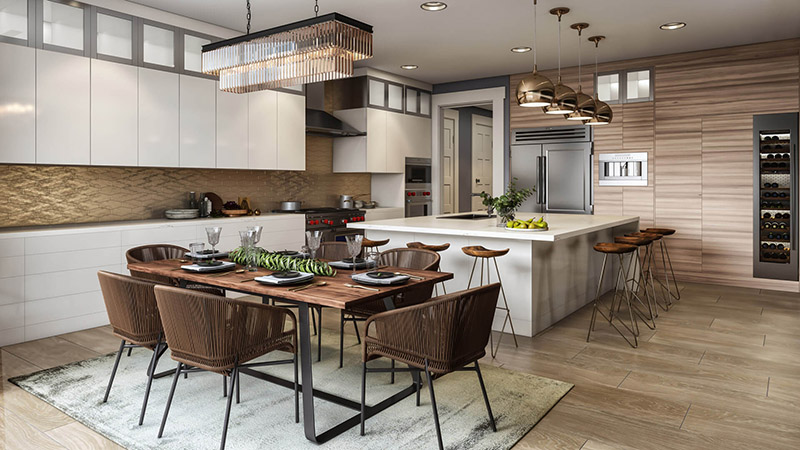 At this point, the digital furniture arrangement is almost ready. However, for the most realistic virtual staging, images need polished but inconspicuous post-processing. At this stage, 3D artists do a smooth retouch, soften the edges of the new furniture, add shadows and highlights, enhance colors, etc.
Surely, experienced 3D specialists are skilled in Photoshop and can do any type of post-processing, even heavy Photoshop editing. However, they use their knowledge wisely and don't go far with excessive post-processing, color correction or filters. Virtual staging made by professional looks complete and absolutely realistic, without extra photoshopping.
True professionals don't need advice or control. They know where to get quality 3D models, how to set up perspective, cameras and light for the most realistic virtual staging. After the group of 3D furniture and decor is ready, they insert a rendered 3D set into the original photo and add some finishing touches here and there. 
As a result, a new furniture arrangement looks 100% photorealistic, as if all these pieces have always been a part of the existing interior. Looking at such photos in listings, it's easy for prospects to believe that this house is comfortable and livable. Which is exactly what a realtor expects from digital furniture staging!
Want the most realistic virtual staging? With our digital staging services, your property will look simply stunning and become a real crowd-puller on the market!
https://virtual-staging.archicgi.com/wp-content/uploads/2020/04/most-realistic-virtual-staging-5-tips-View06.jpg
350
800
luzina
https://virtual-staging.archicgi.com/wp-content/uploads/2020/04/archicgi-logotype-white-300x85.png
luzina
2020-04-13 16:30:08
2020-04-13 12:56:44
MOST REALISTIC VIRTUAL STAGING: 5 WAYS 3D ARTISTS CAN ACHIEVE IT