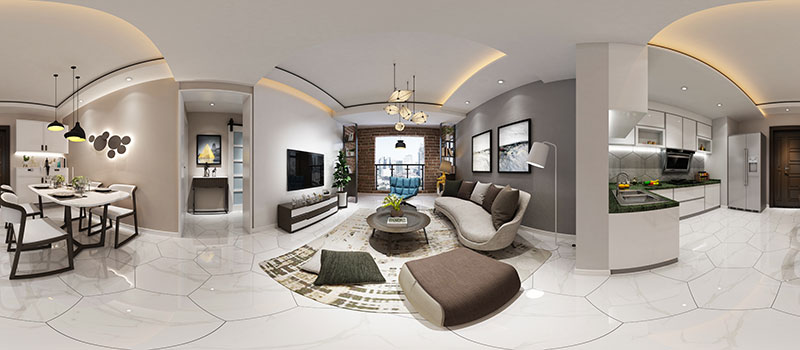 For many realtors, virtual staging has become a go-to option for getting buyer-grabbing real estate visuals. With CGI, they no longer need to rent furniture, then transport and install it — they just send photos and a brief to a virtual staging studio. In turn, CG artists create either static digital staging solutions or the best virtual tour for real estate.
The biggest benefit of a digital tour is its immersiveness. Using it, potential buyers can virtually walk around a 3D house and zoom in every corner to see it in detail. In short, a digital tour gives them a sense of presence in their future homes.
There are certain features that make virtual tours for real estate highly captivating and similar to actual viewings. Read our article on 5 key characteristics of the best virtual tour for real estate.
#1. Photorealism
First and foremost, the best virtual tour for real estate has to be 100% photorealistic. This means that a digital house must look like you can move in right away. Therefore, it has to have quality finishing and be fully furnished. 
When creating a virtual real estate tour, CG artists select the best interior style for the property, add matching furniture and decor, and set up flattering lighting. As a result, prospects don't need to use their imagination to see the potential of real estate. All they have to do is to click on a link to appear inside of a life-like virtual house.
#2. Intuitive Navigation
To provide prospects with convenient navigation around virtual real estate, CG artists add one or two viewpoints to each room. By switching between these markers, users can move around the property. This way, a 360° virtual tour allows them to explore a house in the same way as they usually do in real life.
The best virtual tour for real estate contains as many viewpoints as needed. CG experts place them in a logical order that allows prospects to intuitively follow the layout. Thereby, they don't even need 2D drawings to understand the house planning and see if it works for them.
#3. Product 360
°
View
Digital viewpoints give prospects a 360-degree view of real estate. By clicking on them, they can look around, "lift" their head to see the ceilings, and "look down" to evaluate the flooring. Besides, the zoom option allows users to explore even the far corners of the house.
The best virtual tour for real estate provides prospects with various viewpoints so they can see the whole house at 360°. For that, CG artists create multiple markers, which is especially important for large open-plan spaces. Thus, not a single interior detail will escape prospects' attention.
#4. Seamless Viewing Experience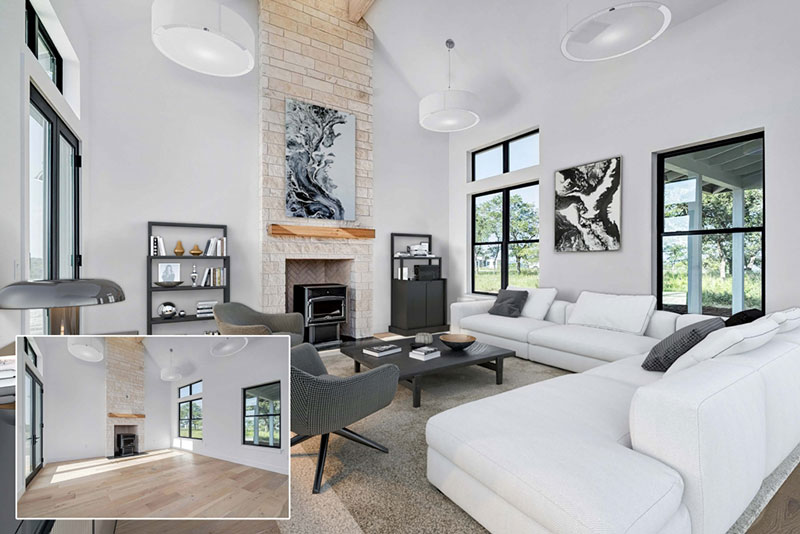 The best virtual tour for real estate offers clients an effortless and smooth house viewing. They don't need to install special software or click on drop-down menus to use a 360° tour. A well-done virtual tour can be easily incorporated into any platform and provide a seamless viewing experience via smartphones and tablets.
Moreover, the best thing is that a digital tour is entirely under the control of the prospects. They can walk around the real estate as long as they want and return to rooms they've already visited. Therefore, a virtual tour has even more exploring options than time-limited actual property viewings.
#5. Sense of Presence
One of the main keys to the immersive experience is a sense of presence and the best virtual tour for real estate can convey it. Using top-notch 360° tours is somewhat similar to playing first-person video games. 
While walking around the real estate and interacting with it, a person automatically gets emotionally involved in the viewing process. They start to like the idea of having family dinners on a terrasse, using a fireplace, or working out in a home gym. Now it is easier for them to imagine living in this house as if they are physically present there.
A virtual tour is a mind-blowing realistic CG solution for real estate marketing. It offers prospects a fully furnished digital house with an easy-to-navigate system. But the best virtual tour for real estate doesn't just showcase the property. It allows users to immerse into a certain lifestyle and realize the potential of the house before they can physically visit it. 
If you want to get the best virtual tours for real estate, contact us for virtual staging services. Our CG team can make highly immersive 360° tours that will skyrocket your sales!
https://virtual-staging.archicgi.com/wp-content/uploads/2021/03/best-virtual-tour-for-real-estate-View03.jpg
350
800
luzina
https://virtual-staging.archicgi.com/wp-content/uploads/2020/04/archicgi-logotype-white-300x85.png
luzina
2022-07-09 16:30:39
2022-07-09 16:26:19
BEST VIRTUAL TOUR FOR REAL ESTATE: 5 FEATURES THAT MAKE IT IMMERSIVE