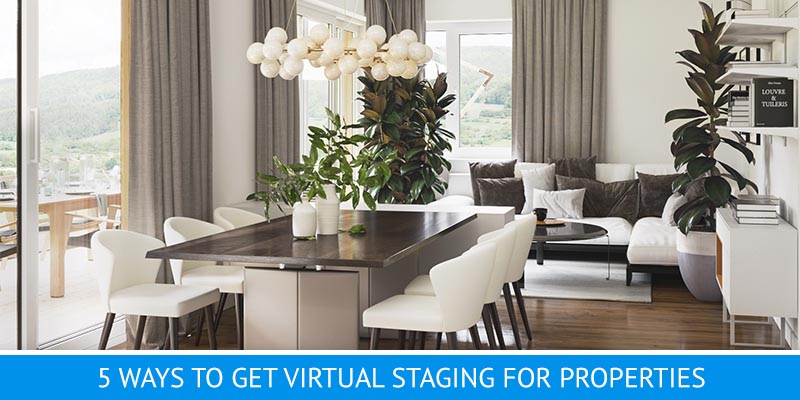 Real estate look is the main and the most frequent problem for realtors all over the globe. On one hand, vacant rooms on the photos may look neat and commodious. On the other hand, images of empty houses give uninhabitable and unattractive impression, so they don't help listings to stand out among other offers on the market. To stay afloat in this competitive environment, a realtor needs to figure out how to make the property attractive without physical staging, hence, to add virtual furniture to photos.
There are tons of opportunities to do virtual staging — DIY online applications, professional 3D soft, Photoshop editing, and so on. Regardless of which way they choose, a realtor has to spend big money on software and then a lot of time to learn it. So how to add virtual furniture to existing photos and which method is more convenient and effective? Let's dive into benefits and drawbacks of 5 ways to get virtual staging.
#1. Virtual Staging Software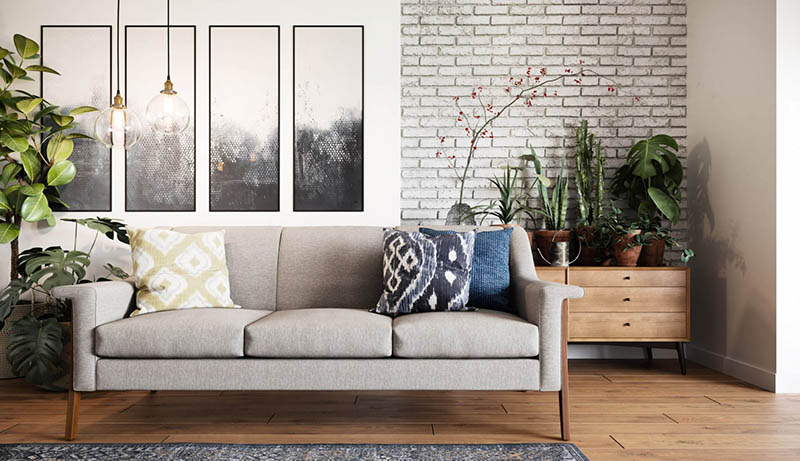 There are many special digital staging programs that realtors can try to master. For example, one the most popular soft are ARCHLine XP Virtual Stager and Real Tour Vision Software. Using these programs, real estate agents can add virtual furniture to photos and get still images or make a virtual tour of the property.
Working principles in all staging soft are approximately the same — a real estate agent uploads an HD photo of an empty premise, fill in room's parameters, then, in 3D mode adjusts the location of windows and doors, changes wall colors, adds virtual furniture to photos, etc.
All this may sound easy as ABC, but in fact, to learn these programs well, one needs to allocate additional time on top of their everyday job and probably spend nights on honing their new skills. Moreover, not all virtual staging programs are free, so a realtor won't avoid extra expenses. 
#2. Adobe Photoshop Editing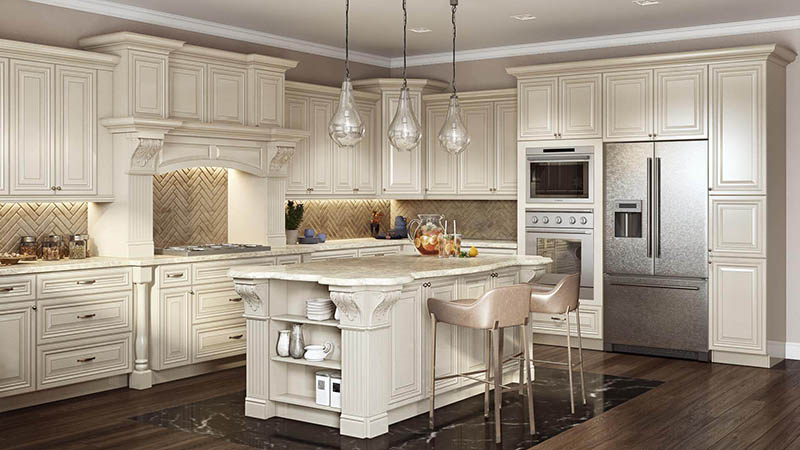 On the one hand, Photoshop is probably the most popular graphic editor on the planet. Hence, as soon as it comes to retouching or editing photos — Photoshop is the first tool that comes to mind.
In terms of virtual furniture arrangement, Photoshop is effective for putting the finishing touches, adjusting the colors and contrast. However, doing full virtual staging in Photoshop is the longest and most difficult way to go. Firstly, one has to ransack the Internet for high-quality photos of furniture and decor shot from the right perspective. And even if desired images are found, a CG artist can't just add virtual furniture to photos — they must successfully integrate it by drawing all the lights and shadows by hand.
As a result, Photoshop "staging" is often crooked and unnatural. Overall, a final real estate photo editing looks more like children's crafts or DIY collage than real pictures.
#3. Modeling and Rendering in Autodesk 3ds Max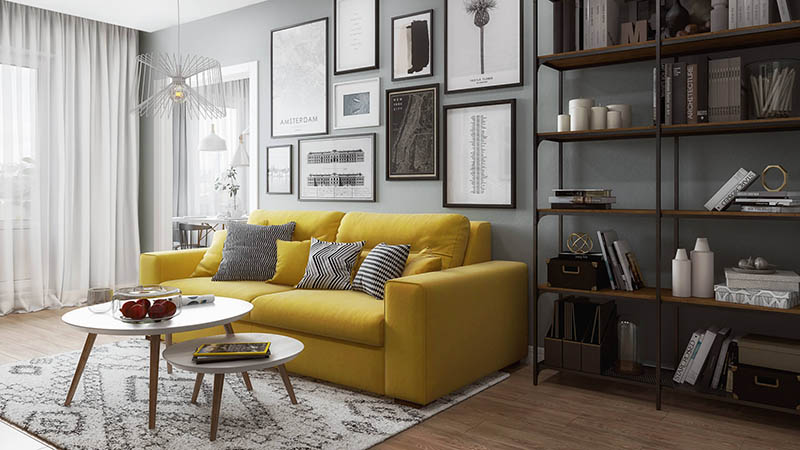 3D Max is a professional 3D program that provides stunning photorealistic imagery — both static renderings and motion solutions. However, it all works beautifully under one condition — a 3D project should be done by a competent 3D expert.
To get satisfying images, one must have professional skills and plenty of experience in 3D. Which, let's be honest, is not the case of a real estate marketer who isn't a trained 3D artist. Secondly, the price of 3ds Max software is more than $1500 per year for a subscription. Moreover, watching tutorials on YouTube is not enough for a realtor who has started learning CGI-making from scratch. Thus, one has to attend the courses for 3D artists — and these expenses go on top of the cost of software and plug-ins. 
In addition, for quick and high-quality 3D rendering, a realtor will need a powerful computer. It means that they have to update the hardware — buy new graphic processing unit, multi-cored CPU, RAM, etc.
The best solution here is to find outsourcing specialists who have all the hardware and software and can work in 3ds Max and other programs. Then realtors don't have to spend time and money on courses and equipment, but rather concentrate on their professional growth in real estate business.
#4. DIY Virtual Home Staging Apps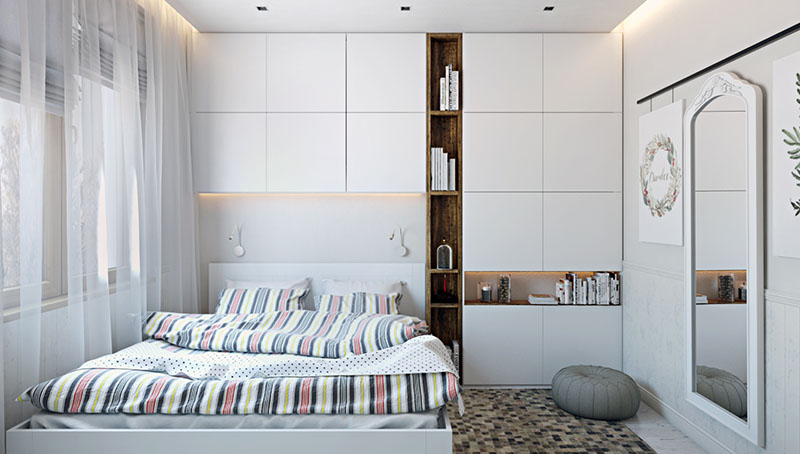 The Internet is full of various DIY home staging applications that could be used both on computers or gadgets. On the one hand, it's a convenient and affordable option — all a realtor has to do is just upload HD images of the house and add virtual furniture to photos by choosing ready items from the library.
However, the question again rests on time spent by a real estate agent on training and sharpening their skills. And what's worse, the final virtual staging in those applications doesn't look 100% photorealistic. You still have to edit images in Photoshop to add some effects, shadows and retouch pic to make it look a bit more "real". 
#5. Virtual Staging CGI Studios
Before

After
Of course, since this is an article from a virtual staging studio, readers expect unconcealed promo. However, we truly believe that working with a professional CG company is the most optimal solution.
Consider this — CG specialists who work in the studio have plenty of experience working with any property and various cases. They all have a design and engineering background and constantly improve their skills. Professional virtual stagers can pick up suitable stylish furnishing, accurately add virtual furniture to photos and even retouch flaws of real estate, using different graphic software. 
On top of that, CG studios have powerful computers and the latest software – so 3D rendering goes quickly and provides stunning imagery. Even if a realtor needs complex solutions like 360 view – a studio has enough experts and equipment to deliver the order on time and with the best quality. To use this way for virtual staging, all that a realtor needs to do is to provide 3D artists with HD photos of property and add their suggestions on style.
Modern realtors have a wide range of opportunities — to learn staging programs and apps, take 3D courses and add virtual furniture to photos themselves, hence, they must upgrade hardware and software first. However, to do jaw-dropping photorealistic digital staging at the highest level, real estate agents have to spend their evenings at the 3D courses and work hard on top of their usual job.
But you can go the most rational way – order virtual staging from a professional studio. CG studio's specialists can do virtual staging of any complexity, pick up the best furnishings and decor, re-style both interiors and exteriors, and use the latest motion 3D technologies, if needed.
Struggle with learning how to add virtual furniture to photos yourself? Better try our virtual staging services and get awe-inspiring images in just 48 hours!
https://virtual-staging.archicgi.com/wp-content/uploads/2020/03/add-virtual-furniture-to-photos-5-ways-View06-e1584700315129.jpg
350
800
luzina
https://virtual-staging.archicgi.com/wp-content/uploads/2020/04/archicgi-logotype-white-300x85.png
luzina
2020-03-17 16:30:27
2020-03-20 14:11:48
ADD VIRTUAL FURNITURE TO PHOTOS: 5 EFFECTIVE WAYS TO DO IT