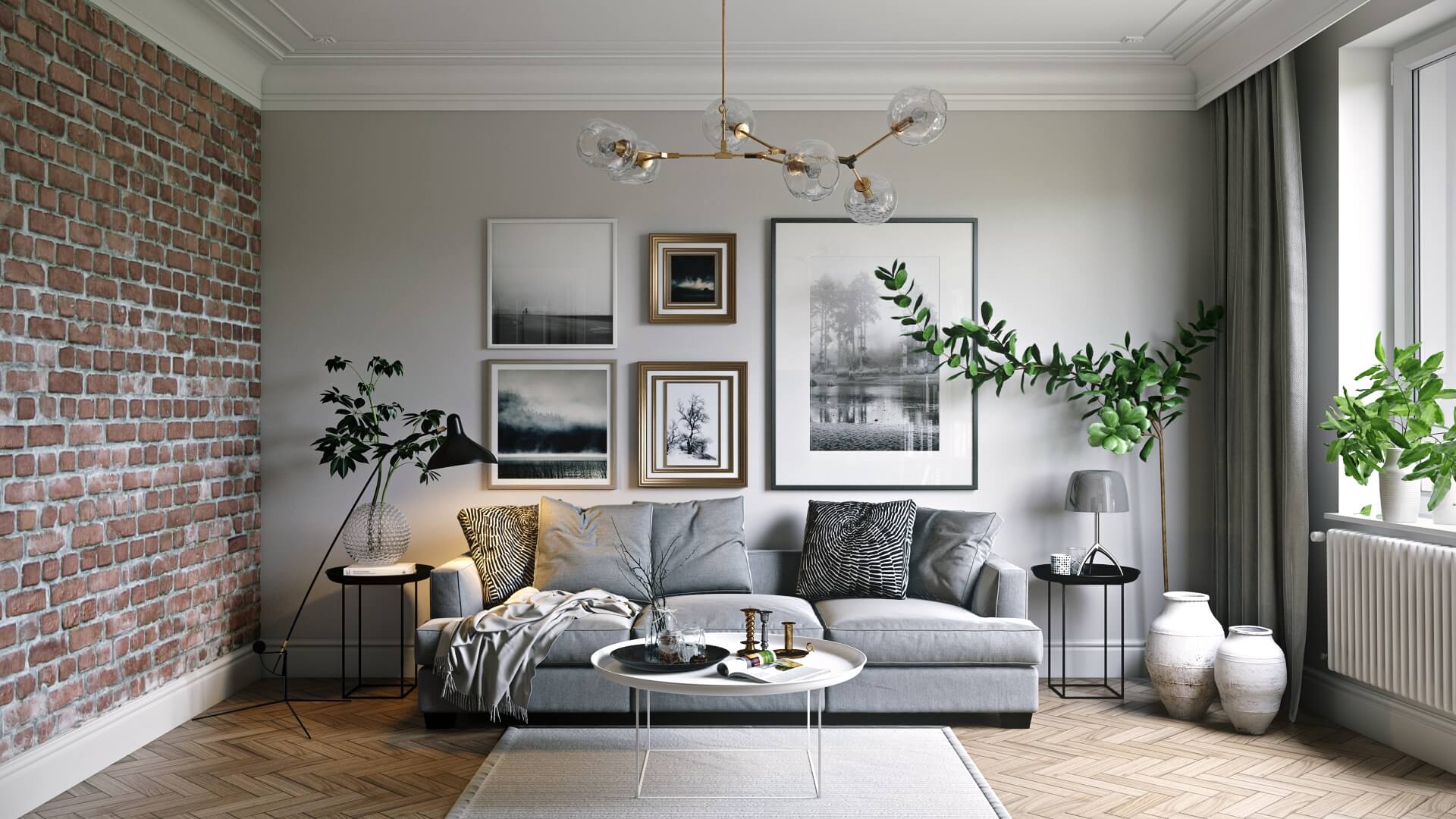 The real estate market is constantly developing, and there is a list of reasons for that. All the modern trends and technologies that have emerged recently have changed the way potential home buyers approach the matter of house-shopping. Thus, a successful real estate agent or company has to do everything possible to fulfill the expectations and to leave all the competitors behind.
Following modern home decor trends is one of the crucial factors that determines as to whether or not the property will sell. However, at times a house on sale leaves much to be desired to attract buyers' attention. That is when real estate staging comes right in. The main purpose of physical or virtual staging is to show the client how the room, the house, and the yard could look like if appropriately attended.
While physical staging is still popular and required, it comes with a set of drawbacks that virtual staging does not possess. The cost, time, the lack of options to experiment with the interior or exterior of one's dream – just to name a few. So, many real estate agents and companies refer to virtual staging and 3D rendering in general instead.
But even virtual staging won't make a lot of difference if it doesn't include a lot of decor trends that will make real estate look magazine-worthy. Since trends in home decor are changing at the speed of light, it is crucial to be aware of all the home decor trends 2020 has brought in. If you are willing to keep up with all the modern home decor trends so the competitors won't even stand a chance – all you need to do is to read on!
#1. Floral Wallpapers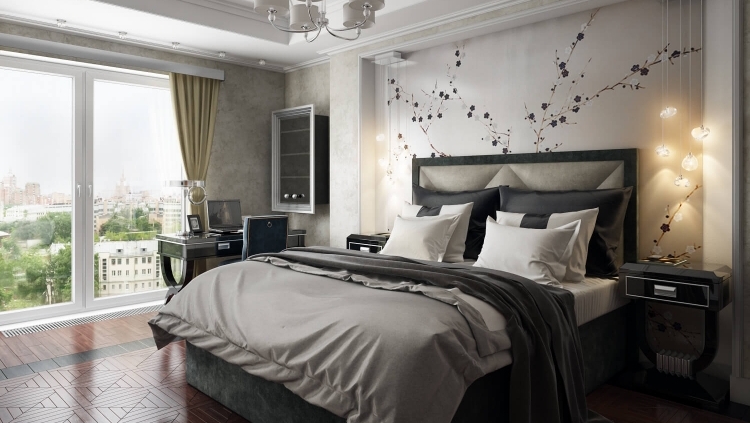 The first thought that may hit you when thinking about floral wallpapers are those seen at the granny's house. However, the recent wallpaper decor trend is a lot more up-to-date. What is more, carefully chosen floral wallpapers can serve the purpose of a flawlessly chosen accent in any environment. Think about a green, pacifying forest in the middle of the bedroom or a contrasting wallpaper-covered entry. Such an emphasis would seem otherworldly and magnetic at first, and that is certainly what can capture a client's attention and hold it long enough to make a purchase.
Another reason why the trend is gaining popularity by the day is an unlimited number of options to play around with. It is possible to fit in floral wallpapers into any room or style without making them look out of place. Even a bachelor's burrow would seem cozier and more inviting with a peonies accent in either the living room or home office.
#2. Curvy Shapes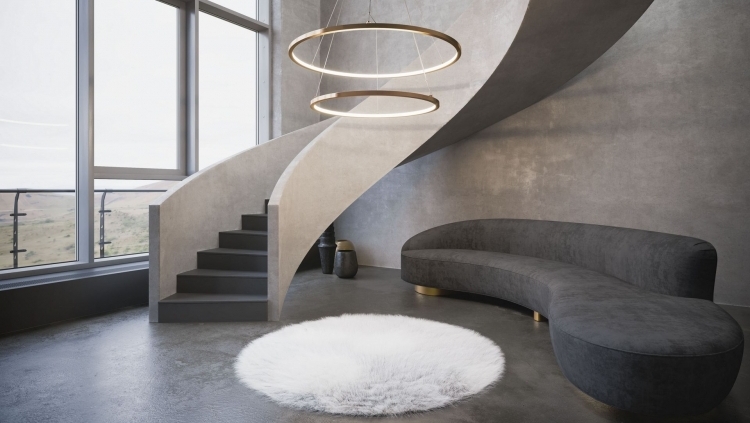 Even though home decor trends are changing rapidly, they are usually cyclic. To support the point, it should be mentioned that prevalent during the 80's tubular forms in furniture are back in style. All the curvy furniture is indeed modernized and up-to-date.
A modern living room furnished with curvy sofas, benches, and chaises is destined to promote heart-warming family conversations and cozy evenings spent together. Besides, such shapes, when arranged in the correct order, are visually appealing, thus attention-drawing and inviting. Once you see furniture staging that calls to you, it is hard to resist it, and that adds up to the purchase increase.
#3.  Earth Tones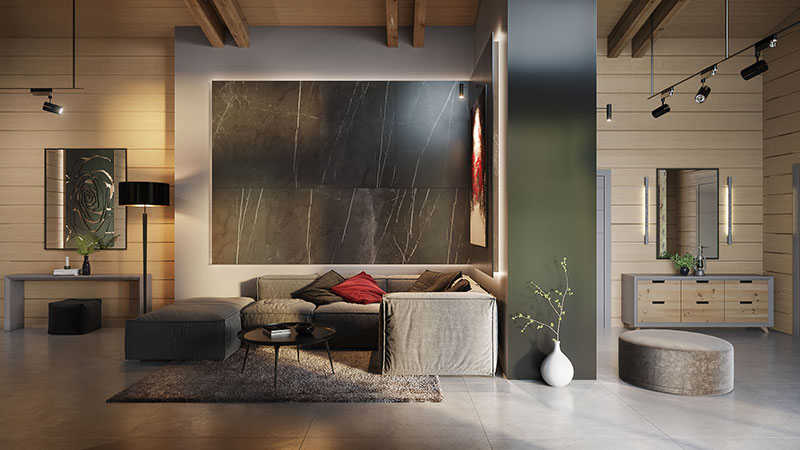 Interior design in cool tones is no longer on the top of popularity. Earthy, warm tones are the current color trends in home decor. Anything on the scale from olive green, wine, and chocolate brown to yellow ochre is in high demand at the moment.  
Virtually staged rooms with natural-shaded walls and a plethora of wood, metal, and plants will resonate with the connection to the outside world, to Nature. These elements are the ones that attract potential house buyer's attention nowadays since most people spend too much time indoors.
It may seem that such a palette offers no room for contrasting elements which are so positively perceived by the audience. However, that is not true. You can easily play around with a dark chocolate sofa amid a burnt orange room, or you can incorporate black doors into a neutral environment.
#4. Contrasting Decor With Layers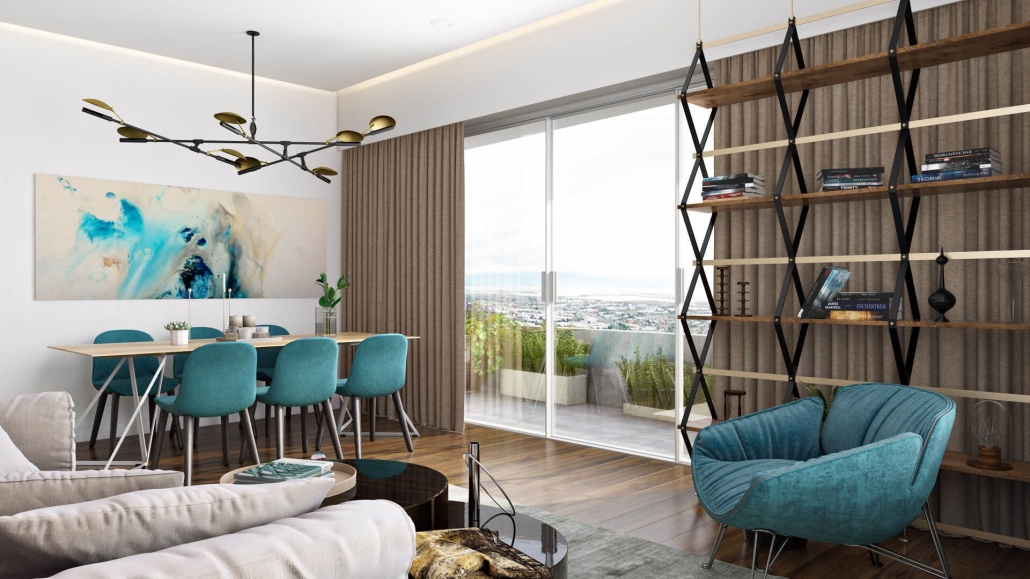 All the previous home decor trends were centered around the items that matched one another seamlessly so that there was barely any room for contrast. Even when there were opposites introduced into the design, they allowed no layering. It was either black or white, with nothing in the middle.
When working on modern luxury real estate, more and more professionals are inclined to let that 'something in the middle' in. Professionally speaking – the layered contrasting decor is at the edge of the popularity of the moment. Gradual color fading, contrasting material, and the mixture of vintage and futuristic items is no longer a taboo, quite on the contrary.
#5. Multifunctional Spaces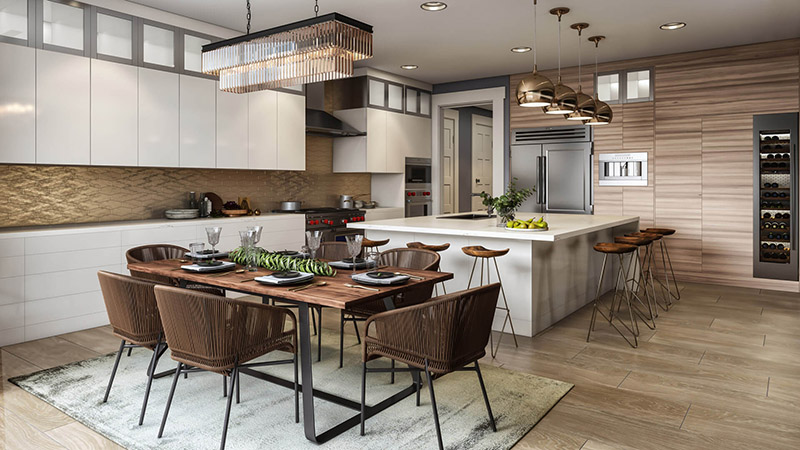 One of the newest trends in home decor is multifunctional space. These days, more and more people are working as well as studying from home. So, the property they are intended to buy should fit the purpose. That is why staging any room in such a way that it appears practical and multifunctional is crucial.
The most requested designs are the combo of the kitchen and dining room, home office and playroom, private gym and bedroom. Think about a kitchen equipped with a kitchen island that can serve both as a dining table and a workstation. Or keeping an eye on your child while working at the home office is also killing two birds with one stone. Besides, these days most sports equipment is quite compact so that it can be easily fitted even into an average-size bedroom.
#6. Home Office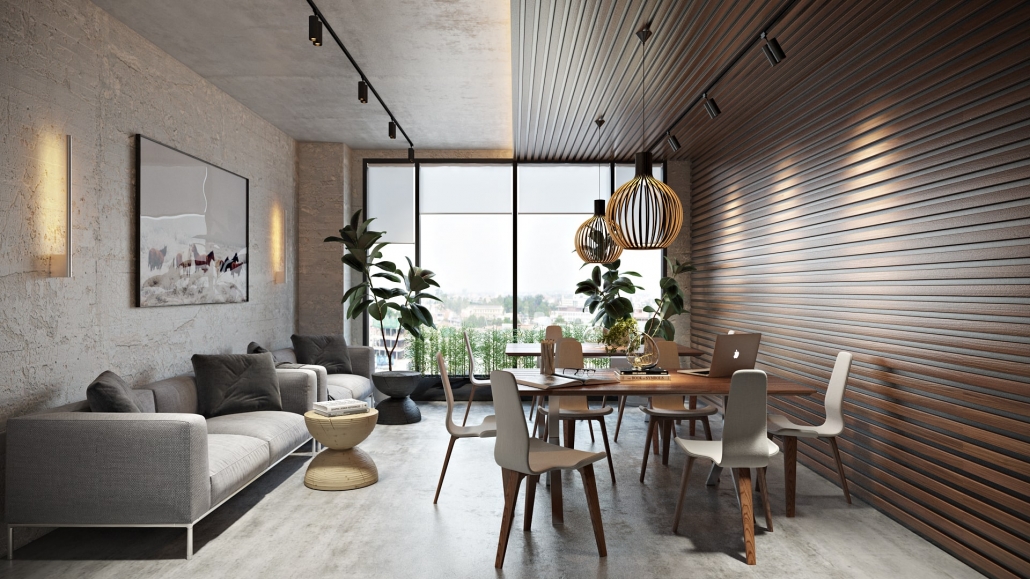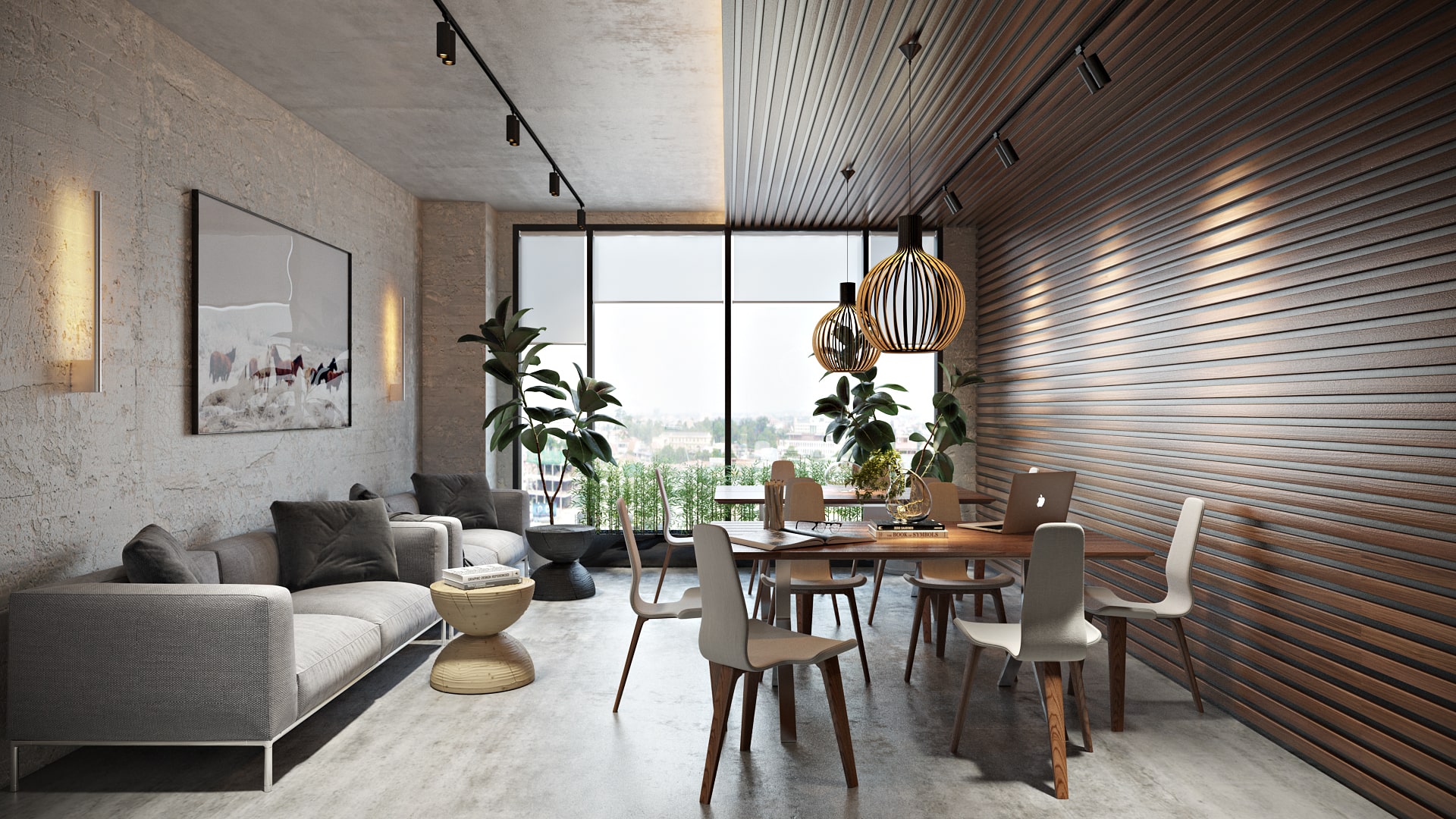 One of the most popular and requested home decor trends of 2020 is a functional home office. The number of people working from home is growing, so it is essential to show potential customers that it is easier than easy to equip a practical workspace in the house on offer.
While luxury homes come with lots of space to decorate according to a client's needs and requirements, starter-homes are a bit limited in terms of room. That is where well-thought 3D rendering comes in handy. It is vital to show the customer that working from one's bed or sofa is not only possible but is also effective.
These days, there is no need for a separate room to be transformed into a home office. The multifunctional space trend combined with skillful virtual staging is what is required to create a functional workspace in any part of the house.
#7. Canopy Bed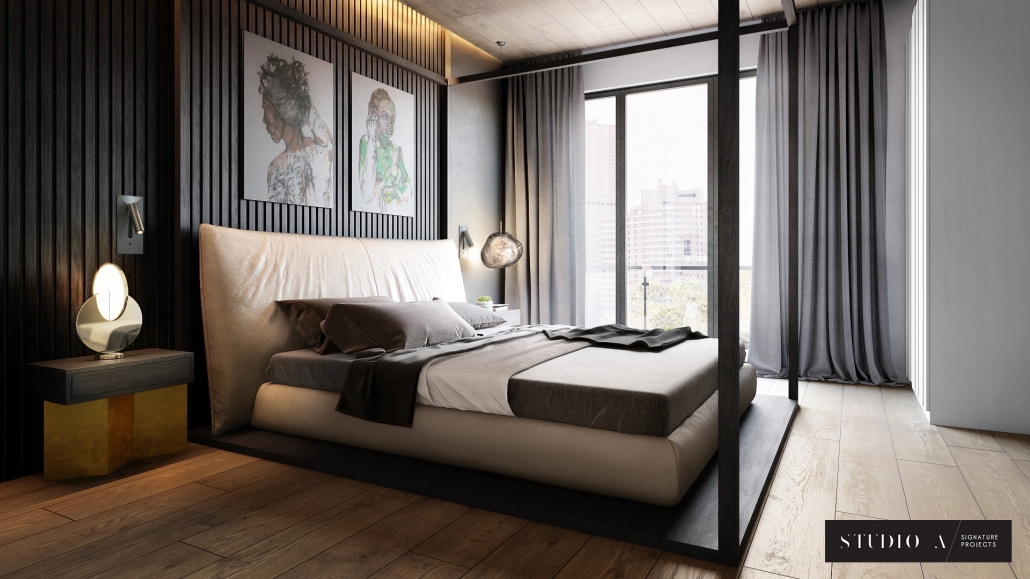 Every room in the house on sale should be appealing enough to capture the client's attention. However, in the majority of cases, a bedroom is viewed as one of the most alluring rooms in the house. Hence, when digitally furnishing the bedroom in the house, it is vital to evaluate every tiny detail.
Admittedly, the bed is one of the biggest details in the room so the most attention is centered around it. Recent home decor trends prove that a canopy bed is the most required bed type at the moment. There is no wonder why – a canopy bed is that perfect link between the present and the past. Besides, a well-designed one will trigger the potential buyer's imagination, and that can be a crucial trigger that will end up in a purchase.
A canopy bed is the universal representation of supreme comfort, peaceful nights, and refreshing rest. However, when it comes to virtual staging, it is essential that the bed is pictured in such a way that it does not overstuff but broadens and completes the bedroom no matter how large or small it is.
Modern home decor trends are numerous and versatile. However, when it comes to real estate marketing, what matters is the way you apply them to the property on offer. One of the best ways to create a fairytale-like interior that can be changed or updated in a matter of hours is virtual staging. The innovative technique is not only multifunctional but also cost-effective, which is the benefit not to underestimate.
Should you decide to boost your sales and keep your real estate business up-to-date – we know how to help you achieve that! Our team is not only highly proficient in virtual staging services but also well-familiar with all the most recent home decor trends!
https://virtual-staging.archicgi.com/wp-content/uploads/2020/07/home-decor-trends-for-virtual-staging-view-1-e1596125604378.jpg
350
800
vysotskaya
https://virtual-staging.archicgi.com/wp-content/uploads/2020/04/archicgi-logotype-white-300x85.png
vysotskaya
2020-07-29 16:30:12
2020-07-31 09:56:39
HOME DECOR TRENDS: 7 HACKS TO USE FOR REAL ESTATE VIRTUAL STAGING